Drifter Pale Ale
| Widmer Brothers Brewing Company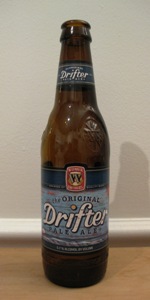 BEER INFO
Brewed by:
Widmer Brothers Brewing Company
Oregon
,
United States
widmer.com
Style:
American Pale Ale (APA)
Alcohol by volume (ABV):
5.70%
Availability:
Year-round
Notes / Commercial Description:
availability: year-round
bitterness: 32 IBU
alcohol by volume: 5.7%
original gravity: 14.0° PLATO
malts:
Pale, Caramel 20L, Caravienne 20L, Caramel 80L, Carapils
hops:
Bittering: Alchemy
Aroma: Summit, Nelson Sauvin
Dry Hopped: Summit, Nelson Sauvin
Added by madtappers on 12-23-2008
Reviews: 408 | Ratings: 962
4.52
/5
rDev
+19.6%
look: 4 | smell: 4.5 | taste: 5 | feel: 4 | overall: 4
Appearance: Copper carmel color with nice head retention and carbonation.
Smell: nice malty nose with the hops coming through, lots of citrus
Taste: WOW, this is very different; these hops give a lot of grapefruit notes, with other rich fruits following through. Not much in the way of bitter aftertaste, very smooth and inviting.
Mouthfeel: Decent amount of carbonation for a PA. Silky-smooth easy to drink
Overall: This beer has a flavor of no other pale ale, It is very approachable and has great flavor, making me yearn for another.
540 characters

3.89
/5
rDev
+2.9%
look: 3.5 | smell: 4.5 | taste: 3.5 | feel: 4 | overall: 4
Pleasantly surprised to find this kind of output from widmer. I poured it from the bottle into my chalice. The head didn't stick around for that long, the beer had a nice clear, slightly ruby hue. The smells were the highlight of the beer for me, without looking i would guess it was some combo of west coast hops. Very nice. The taste was nice because the hops came through initially but it was a surprisingly balanced pale. The nose prepared me for a near ipa style, but it was nice to have the balance between the hops and the malt. The mouthfeel definitely fit the style, and i felt like i could definitly drink a few more of these upon finishing. Spot on widmer...spot on.
677 characters
4.65
/5
rDev
+23%
look: 4 | smell: 4 | taste: 5 | feel: 4.5 | overall: 5
At Champps sports bar in Indianapolis on tap.
More of a red/amber color than I expected from a pale ale.
Tasted great, surprised me with the flavor in a good way.
Was easy to drink and was very smooth. Was through a 20 oz in literally minutes.
Ordered several and will be looking for six paks at my local Friar Tucks.
321 characters
3.89
/5
rDev
+2.9%
look: 3 | smell: 4 | taste: 4 | feel: 3.5 | overall: 4
This was my first experience with beverages from Widmer Brothers Brewing Company. Had a great grapefruit scent that carried through to the taste. Was crisp with good hop flavor. Nice amber coloring. Easy drinking and very enjoyable, could definitely have a few of these. Will be sure to look for it again.
305 characters
1.12
/5
rDev
-70.4%
look: 3 | smell: 1 | taste: 1 | feel: 1 | overall: 1
Wow, This is a Horrible Beer.It tastes like it was Fermented in Dirty Socks,with Body Order added for Flavor.The Date on the side says Feb 10 09.I don't know if thats the "Born on Date" or "Expiration Date".? Widmer Dropped the ball on this one.I liked everything else they produced.
283 characters
4.08
/5
rDev
+7.9%
look: 4 | smell: 3.5 | taste: 4.5 | feel: 4 | overall: 4
Disclaimer - I was recovering from a cold when I tried this.
Had this beer on tap at Cadillac Ranch in Tempe, AZ. This was the closest place I could find that was already carrying it, but the place is not my favorite.
Hard to judge the color as the bar was dark and lit with red mood lighting. There was virtually no head, and very little carbonation detected.
The aroma was very distinctly grapefruit, as was much of the flavor. Again, I was still a bit congested drinking this.
The taste was refreshing and clean. Very little maltiness to balance out the citrus hoppiness. Aftertaste very reminiscent of grapefruit juice. Finish had a bit of a drying effect (think tart lemonade), so not really a thirst-quencher, but a solid refreshing beer none the less.
Overall, I enjoyed this beer very much (four times over). I look forward to trying it out of the bottle at home.
876 characters
3.69
/5
rDev
-2.4%
look: 3.75 | smell: 3.5 | taste: 4 | feel: 3.25 | overall: 3.5
Has a really nice aftertaste, and "after-fragrance", but not all jasmine-tea flowery (the way regular Bud is). Doesn't have much head, but I don't suppose it's meant to--and I HATE excessive, "show-off-y" head anyway! Wouldn't hurt if the hops were slightly more bitter, but I don't mean that as a criticism; the ale's compatible with its own type.
348 characters
4.09
/5
rDev
+8.2%
look: 3.5 | smell: 4.5 | taste: 4 | feel: 4 | overall: 4
The smell of this beer is really attractive. I generally hesitate buying beer from the left coast(being from the right) but wanted to try a number of new ales. I'm glad I did. I have many friends who, despite my best efforts, drink right from the bottle. Shame on them as they would be missing a great asset of this brew.
321 characters
Drifter Pale Ale from Widmer Brothers Brewing Company
3.78
out of
5
based on
962
ratings.