Omission Lager (Gluten-Free)
| Widmer Brothers Brewing Company
BA SCORE
76
okay
65
Reviews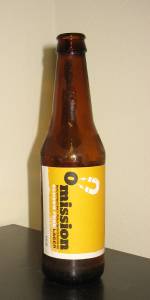 BEER INFO
Brewed by:
Widmer Brothers Brewing Company
Oregon
,
United States
widmer.com
Style:
American Pale Lager
Alcohol by volume (ABV):
4.60%
Availability:
Year-round
Notes / Commercial Description:
No notes at this time.
Added by Docer on 04-10-2012
Reviews: 65 | Ratings: 323

2.78
/5
rDev
-13.9%
look: 3 | smell: 2.5 | taste: 2.5 | feel: 4 | overall: 3
A: Poured from a bottle to a pilsner glass. Had a pale yellow color and a clear consistency. There was an inch of foamy head that lasted an average amount of time. Fair lacing.
S: Not much of an aroma here, but traces of grain and hops.
T: Tasted of hops (a mild amount), malt (again, a mild amount), grain, and corn in the finish. Not exactly what you might call a complex beer, this one tasted like a slightly better version of a Bud Light. That's not a compliment. There's simply not a lot going on in the flavor here.
M: A well-carbonated beer with a dry, smooth finish. Light-bodied.
O: To be fair, the Light Lager style does not allow brewers to make a truly great beer. That being said, this one succeeds in making a beer true to the style, but doesn't do anything more than that. Kind of a misfire.
810 characters

2.97
/5
rDev
-8%
look: 4.5 | smell: 2.5 | taste: 3 | feel: 3 | overall: 3
Poured into a pint glass. Clear, golden color with two fingers of head.
Faint smell of dry grain.
Mild bitter taste, slightly metallic, watery overall.
Crisp and light body, low to moderate carbonation.
For a light, gluten-free lager I applaud the result. By all appearances it is a superior product to most other light lagers, but it still doesn't make me want another one.
376 characters
3.41
/5
rDev
+5.6%
look: 4 | smell: 3 | taste: 3.5 | feel: 3.5 | overall: 3.5
A- Almost the palest golden that I have ever seen. Head is one finger and lasts quite well and leave some lacing.
S- Clean aroma but grainy and a hint of lemon.
T- Sweeter on the tongue than I expected. Sweet, bready, and a hint of lemon in there.
M- Light as to be expected, but nice even carbonation.
O- Good by light lager standards. Clean with decent flavors.
363 characters

3.35
/5
rDev
+3.7%
look: 3 | smell: 3 | taste: 3.5 | feel: 3.5 | overall: 3.5
I didn't buy this because it's gluten free, in fact I didn't know until I came to do this review, so they truly accomplished a normal beer without gluten. Poured only an 1/8" inch white head which didn't last long. The body is a clear straw yellow with very little effervescence. Smells of malt and grass. The taste mirrors the smell yet I'd say it's richer and creamier than mainstream lagers. Short finish but fairly long aftertaste. Better than I'd have expected.
466 characters
3
/5
rDev
-7.1%
look: 3 | smell: 3 | taste: 3 | feel: 3 | overall: 3
A - light, pale, yellow with a thin, short-lived, white head
S - sweet sorghum
T - sweet, bread, faint fruit, faint hops
M - light bodied, well carbonated, a bit thin
This has a lot of the signature gluten free characteristics. It's sweet and a bit fruity with a very little if any hop character. It's also a bit thin and very light bodied. I'll pass on this one in the future.
381 characters

3.13
/5
rDev
-3.1%
look: 3.5 | smell: 3 | taste: 3 | feel: 3 | overall: 3.5
Pours a nice clean/clear pale yellow color, nice carbonation, with a decent little fizzy white head, which leaves some minimal sticky lacing behind. The nose is malty, kinda sweet, with some caramel notes. The taste is slightly sweet, malty. More on the light body side, but still pretty nice. Overall not a bad brew, but would not buy again.
342 characters

3.05
/5
rDev
-5.6%
look: 3 | smell: 3 | taste: 3 | feel: 3.5 | overall: 3
L- Clear golden yellow with a thin off whit head. Head fades quickly to ring but leaves little lace on the glass.
S- Clean a bright nose, grain and grassy hop notes are dominate.
T- Slight sweet honey to start, followed by grassy hops and a clean slightly dry finish.
F- Light in body and high in carbonation, very clean and refreshing.
O- Nice summer thirst quencher but not much more, the 4.6% ABV makes is sessionable but I didn't find it interesting enough to do so.
474 characters
3.16
/5
rDev
-2.2%
look: 4 | smell: 3 | taste: 3 | feel: 4 | overall: 3
Pours a clear light golden with a thin white head. A bit of retention, and decent lace. Nose is of grainy malts.Nice but weak. Body is light and carbonated. Taste is grainy up front with a bittersweet finish. Crisp, and refreshing. Decent Summer session beer.
259 characters

3
/5
rDev
-7.1%
look: 3 | smell: 3 | taste: 3 | feel: 3 | overall: 3
A nice sized medium white head settles into a very thin lacing above a clear straw golden colored beer.
Light aroma of grains to sweet malt with a little bit of sourness also coming through, might be yeast or light hops.
A very light sweet grain malt taste with more sourness sneaking in there maybe also from sour mash grains or however they cook up this stuff.
This light bodied beer finishes with a light dry aftertaste.
A quite easy beer to forget, very similar to any number of light American lager beers.
514 characters

3.15
/5
rDev
-2.5%
look: 3 | smell: 3 | taste: 3 | feel: 3.5 | overall: 3.5
A-Pours an illuminated honey color. Head is very minimal. Mild lacing. Body is clear.
S-Smells nice for a Gluten free brew. Sturdy Lager components in the nose. Lager yeast, minimal grassy hops and a hint of fruit. Definite getting some honey too in the nose along with grains.
T-Akin to the nose and again, solid for a Gluten free brew. Honey is still there and the grains as well. Airy animal crackers. Fruity with the yeastiness. Not bad for what it is.
M-Fuller bodied for a Light lager. Medium carbonation with a bit of slickness.
O/D-Probably the best Gluten free brew I have had. Can stand up to most Light Lagers without a problem. Good job by Widmer.
664 characters
3.38
/5
rDev
+4.6%
look: 3.5 | smell: 3 | taste: 3.5 | feel: 3.5 | overall: 3.5
Super hot day, hope this is refreshing. Never found a gluten free beer that I liked so far, so hopefully this will get there.
Pours a light fizzy almost one finger head that fades fairly quickly over crystal clear watery honey golden color.
Nose has a big crisp fruity lager, quite fruity but some typical lager and some over fruity, light malts with a hint graininess, light of what seems like a golden malt like profile and hint of fruity hops.
Taste has a light honey flavor, light golden toasty malt like profile again surprisingly. Just a hint of sweetness, as the lager flavors kick in, hint of lager fruit and nice crispness. Juicy flavors and on a hot day quite a thirst quencher. Light grassy hops. There is also a bit of a husk or grainy flavor. Finish is dry and crisp, light lingering bitterness and hint of floral fruity hops as well as lager flavors.
Mouth is lighter bodied, decent carb.
Overall not bad, light overall but quite drinkable and thirst quenching. Nice malt-like flavors although lighter and not quite the same as if they used real malts, hops are practically non existent, but nice lagering as well. So pretty decent for a gluten free beer, or possible just because I was so thirsty and it was so hot.
1,236 characters
3.23
/5
rDev 0%
look: 3.5 | smell: 3 | taste: 3 | feel: 4 | overall: 3.5
12 oz bottle was poured into a pint glass. First time reviewing a GF beer, so here we go.
Appearance: The beer poured a one finger that has reduced to nothing. Golden straw yellow with great clarity and signs of carbonation coming up through the glass. Pretty basic and straightforward aroma
Smell: very bready. Almost like a pilsner malt aroma. Grainy and some sweet notes also. Low hop profile too.
Taste: For a GF beer, this is the most drinkable one I have yet to find. Bready and grainy notes up front for a light lager. Can't really taste anything else.
Mouthfeel: smooth, crisp, refreshing, light on the palate, medium carbonation, and super easy to drink.
Overall: Very tasty light lager gluten free beer. You wouldn't expect it, but a keeper in my minds. Happy to have gotten this after volunteering at the ACBF and good to find out that it is made by Widmer.
873 characters

2.42
/5
rDev
-25.1%
look: 1.5 | smell: 2 | taste: 2.5 | feel: 3.5 | overall: 2.5
Gluten free is becoming a trend it seems, not surprised that Widmer has jumped aboard with light examples of this beer type.
A- Golden yellow and ultra clear with a very foamy but fizzy white head. Retention is very low and the head disappears completely quite fast. No lace in sight.
S- Smell fairly reminiscent of Bud or similar American Light Lagers. Adjunct malts and light sweets. A tiny hint of fruit.
T- Lager yeast and bread mixed with light cracker malt sweets. Tiniest bit of hops and fruit in the finish.
MF- Light body with a fairly creamy feel. Small hint of bitterness.
I think they omitted much more than just the gluten here. It isn't nearly offensive but hardly brings any flavor or interest to the table.
727 characters

3.05
/5
rDev
-5.6%
look: 3 | smell: 3 | taste: 3 | feel: 2.5 | overall: 3.5
Clear yellow fizzy beer with almost no head formation.
Smells of soda cracker malt slight corn and a small amount of noble hops. Smell is light.
Starts out mildly with a little corn and soda cracker. Little bit sweet but by no means offensive. Low hop levels no real bitterness. Clean tasting this absolutely does not taste like a gluten free beer.
Mouthfeel is light and fizzy.
Overall for a beer this is average with no faults or off flavors. For a Gluten Free beer this is the best one I have ever tasted.
512 characters
3.48
/5
rDev
+7.7%
look: 3.5 | smell: 3 | taste: 3.5 | feel: 3.5 | overall: 4
Appearance: (3.5)
- Very clear and light straw colored lager. Quickly fizzing white head settled to a bubbly almost macro-lager-like brew. Subtle spots above the brew where the bubbles chose to reside. Pretty basic. Looks like another session lager.
Smell: (3.0)
- Crisp bittering hops, as well as a slight floral presence. There is a biscuit-like grain and light sweet malt aroma. The yeast plays a bready role while yet an adjunct presence seems only slightly likely. I only say that because I know this is a gluten-free beer, though I don't know if an adjunct exists.
Taste: (3.5)
- This tastes like a refreshing lager. Light grain, and light sweetness from the grain, and perhaps a corn maize affect. Light bitter pine and herbal hops, and a rather floral finish. This is solid, and yet again another lager that could steer a BMC fan away from the macro, and into the crafto. Being gluten-free is just a bonus, because you wouldn't guess it with this beer.
Mouth Feel: (3.5)
- A standard light bodied lager with a great dry finish. The use of hops create a nice dry finish to a beer that otherwise could be a little thin and syrupy. A little chewy yet, but cloying as well.
Overall: (4.0)
- I am astounded that this is gluten-free. Yet it is still a stand-out lager in the craft world. You could hand this beer to someone, and never mention the fact that it is gluten-free... and I bet they would still thoroughly enjoy it more so than any canned macro on the market. Kudos to Widmer. I hope they continue to stay on this awesome path they have paved.
1,567 characters
Omission Lager (Gluten-Free) from Widmer Brothers Brewing Company
3.23
out of
5
based on
323
ratings.