Scotch De Silly
| Brasserie de Silly S.A.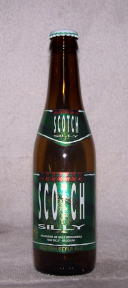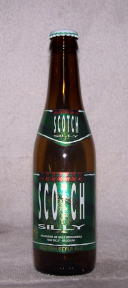 BEER INFO
Brewed by:
Brasserie de Silly S.A.
Belgium
silly-beer.com
Style:
Scotch Ale / Wee Heavy
Alcohol by volume (ABV):
8.00%
Availability:
Year-round
Notes / Commercial Description:
No notes at this time.
Added by Bierman9 on 03-31-2002
HISTOGRAM
Ratings: 439 | Reviews: 227
2.53
/5
rDev
-32%
look: 3 | smell: 2.5 | taste: 2.5 | feel: 2.5 | overall: 2.5
12 oz bottle with no "best by" date. I thought this Belgian attempt at a Scottish "wee heavy" was disappointing in that some of the distinguishing characteristics I look for in a "wee heavy" were missing; namely the warmth in the mouth due to the increased alcohol content and the thicker , heavier weight of the beer in your mouth. I also did not care for the definite sour aftertaste left by this beer. The normal malty taste was not noticed due to the sourness. Maybe a had a bad bottle.
I did not notice any hoppy taste, which would does agree with the "wee heavy" profile.
Not a bad ale, just not what I think of when I reach for a Scottish export.
658 characters
2.52
/5
rDev
-32.3%
look: 4.5 | smell: 2.5 | taste: 2.5 | feel: 2.5 | overall: 2
Pours a brownish copper with bronze highlights. Cloudy with the yeast pour. Creamy three finger head shows outstanding retention and wide sticky patterns of lace. Medicinal/fruity belgian nose with background crystal malt; fairly mild. Big crystal malt sweetness with a sugary alcohol taste upfront. Caramel and weak phenols come on just before the dry, peat smoked malt aftertaste. Very little hop bitterness or flavor here, and the yeast is not tart enough to balance the malt; it tastes sort of under-attentuated. Medium body and light-medium carbonation again allow the sweetness to become slightly cloying and the finish boarders on harsh. A most unusual wee-heavy that seems to miss the mark for it's lack of authentic scotch ale flavor.
743 characters

2.5
/5
rDev
-32.8%
look: 2.5 | smell: 2.5 | taste: 2.5 | feel: 2.5 | overall: 2.5
With a taste too alcoholic
26 characters

2.46
/5
rDev
-33.9%
look: 2 | smell: 3.5 | taste: 2 | feel: 3 | overall: 2
Pours a murky looking dark brown with a beige head which recedes quickly into a thin film. Minimal lacing left behind. Not much to look at.
Smells of sweet malts along with a hint of woodiness.
Tastes unbelievably sweet. Perhaps some chocolate and butterscotch, but that's being generous. The alcohol makes it's presence known as it warms. The sweetness just dominates everything else. A very one dimensional beer. Sweet followed by more sweet.
Mouthfeel was smooth and thick, although very flat. Felt almost dead in the mouth.
This is not a beer I'd ever care to have again. It was all I could do to finish the 12 oz bottle.
629 characters
2.33
/5
rDev
-37.4%
look: 3.5 | smell: 3 | taste: 2 | feel: 2 | overall: 2
A: redish brown haze, good head and super lacing on the glass.
S: Sweet malts smacks you upside of the head and there seems to be a little freshness in the back of the glass to revive me.
T: Caramel malts big time, unusual flavor for sure - I can't say it is enjoyable. Everytime I think there maybe some undertones to taste the sweetness smacks it down. If you like sweet this is for you. I even tried to eat and the beer just got worst. Made the plain penuts taste bad.
M: Medium. It is the sweetness on the taste that gives it a medium structure along with that UFO flavor. Nothing is really left on the palate but .... a little sweetness. Then, it's gone.
D: It's a sipper. And, I could not see drinking more than one. For me I could see not drinking it!!! I have to admit I do not like over the top sweetness in a beer. Cotton candy yes. Beer No.
I had better expectations for this beer. To bad.
908 characters

2.25
/5
rDev
-39.5%
look: 2.5 | smell: 2.5 | taste: 2 | feel: 2.5 | overall: 2.25
2.15
/5
rDev
-42.2%
look: 3.5 | smell: 3.5 | taste: 1 | feel: 3 | overall: 2
Aromas is all caramel malts. Extremely sweet with some floral and herbal hints, but this is totally over-powered by the maltiness.
The taste is not great. I almost can't finish it, because it is way too sweet. As it warms, it actually gets worse. Flavor is mostly nasty butterscotch and caramel with some brown sugar mixed in. This brew could benefit from some roasted malts or peat character and an increase in hop additions.
Mouthfeel is okay, adequate for the category, but the taste is way too sweet and I will not be drinking this again.
546 characters
2.14
/5
rDev
-42.5%
look: 2 | smell: 3 | taste: 1.5 | feel: 3 | overall: 2
Like some other reviewers, I am hoping I got a bad bottle. I have another bottle and will give it a second chance.
I am a huge fan of this style, my staples are McEwans, Skullsplitter and Traquir House. Scotch Silly does not belong in that company, nor does it belong in my fridge.
Poured out flat, no head (again, bad bottle?) Amber color but not attractive in the glass.
Smells of apples, roasted malts and hint of Belgian yeast.
Taste is where this beer falls apart for me. Too sweet. Smoky, but like a campfire after you poured water on it. Someone mentioned Canadian whisky, yes that flavor is there, but it was the cheap stuff that makes you shake your head violently after it goes down. Better in big gulps rather than sips.
Mouthfeel is ok, nothing to write home about.
Drinkability: Got through most of it. Last inch or so in the drain.
With so many good reviews for this beer, I hope that my second bottle will be better, Will revise review if needed.
985 characters
2.13
/5
rDev
-42.7%
look: 3.5 | smell: 3 | taste: 1.5 | feel: 3 | overall: 1.5
For some reason I have had people hype this beer to me, but while drinking it, I gotta admit: I don't think it is that great. Poured from a 11.2oz bottle with printing on the cap that looks like a date saying 24/01/10. I can only assume that is a "best by" date.
Poured a caramel colored brown with slight dark gold highlights. It is kind of cloudy and full of yeasty beasties. Maybe I should have left a 1/4" in the bottle, but that would be wasting alcohol. I won't fault it for the cloudy yeast.
Smell is very, VERY caramelly! Just super sweet smelling! There is some floral, herbal hints there, but is totally over-powered by the maltiness. Diacetyl is definitely starting to creep in.
Taste is not great. I almost can't finish it, it is so f---in sweet! As it warms, it actually gets worse. Flavor is mostly nasty butterscotch and caramel. I will try to review this again when i get a fresher bottle. What I want to know is, where is the peated malt flavor and aroma that is indicative of scotch ale? What about some roastiness. This just doesn't satisfy the category it is in.
Mouthfeel is very smooth with low carbonation, adequate for the category.
Drinkability: I couldn't drink this again, and I like lots of crazy stuff.
1,238 characters
2.1
/5
rDev
-43.5%
look: 4.5 | smell: 2 | taste: 1.5 | feel: 2.5 | overall: 2.5
Poured from a corked and caged 750 ml bottle at cellar temperature into a tulip glass.
A: Poured a dense dark cream head that stayed with the beer. Showed moderate to heavy lacing. Color is dark garnet, very clear, with lots of tiny bubbles.
S: Not much going on in the nose. Some malt and even honey notes, and perhaps some ripe red fruit, but all very muted.
T: Some red fruit and lots of malt sweetness predominate the flavor. There is also some earthiness that I find hard to characterize. A strong impression of honey is present too, which is interesting because I do not believe that honey is used in this beer. Alcohol is not noticeable. Ends on a strong sour note.
M: I perceive a heavy diacetyl content. Mouthfeel is buttery, and too dense.
D: Because of the out-of-balance mouthfeel, I would find it difficult to drink a lot of this.
Overall: The concept of a Belgian-brewed Scotch-style ale is very appealing. Apart from that novelty, however, this beer disappoints. It lacks most of the malt complexity that can be found in the finer examples of the style. I do not know the age of the bottle; it is possible that it is simply past its prime. In any event, I could not finish the bottle.
1,206 characters

2.07
/5
rDev
-44.4%
look: 4 | smell: 2 | taste: 2 | feel: 2.5 | overall: 1.5
A- Pours a murky reddish color with a nice off white head. Head was pretty huge and then capped off the top of the brew. Not too much lacing here.
S- A bit of caramel malts, apples and a bit of yeast. Overall, pretty tame.
T- Quite a bit of malt sweetness. An Earthy taste as well along with some medicine type taste. Not really digging this at all.
M- Medium in body and lighter in carbonation.
D- No thanks on this one. I had a hard time with this one. Wife and I couldn't finish this one of at all.
509 characters
1.84
/5
rDev
-50.5%
look: 4.5 | smell: 3 | taste: 1 | feel: 1.5 | overall: 1.5
I saw this and said hmmmm. I took a $10 gamble and lost, horribly.
Poured a deep copper with a tannish head, good carbonation. Nose is fruity, champgne like, caramel. Taste is astringent, fruit, not good at all. What about this beer represents the style? Mouthfeel is champgne like, big carbonation, fruit, a litte caramel and to much funk and tart. I had $1 worth and the other $( went down the drain with a vengeance.
419 characters
1.24
/5
rDev
-66.7%
look: 3 | smell: 1.5 | taste: 1 | feel: 1 | overall: 1
Bought this ffrom the singles beer section for $.99, now I know why it was so cheap. I'm hoping it's a bad bottle. Poured a hazy brown with a thick tan head. Smells a bit odd, old raisins. Tastes quite crappy, old rotted fruit, old raisins with a lot of sugar poured in. I'm hoping this is a bad bottle, could find no freshness date on the bottle. This is barely drinkable, debating whether I should finish it or just drainpour.
Drainpour it goes!!
452 characters
Scotch De Silly from Brasserie de Silly S.A.
Beer rating:
3.72
out of
5
with
439
ratings