Dismiss Notice
Applebocq
| Brasserie Du Bocq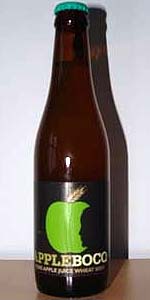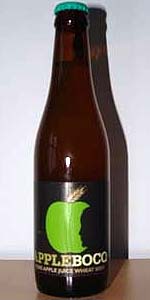 BEER INFO
Brewed by:
Brasserie Du Bocq
Belgium
bocq.be
Style:
Witbier
Alcohol by volume (ABV):
3.10%
Availability:
Year-round
Notes / Commercial Description:
No notes at this time.
Added by mdagnew on 02-26-2006
HISTOGRAM
Ratings: 15 | Reviews: 9

2.49
/5
rDev
-21.5%
look: 3.5 | smell: 2 | taste: 2 | feel: 3 | overall: 3.5
An extremely fruity fruit syrup, a touch of wheat is felt to be savored and gives the mouth a little touch milk is not unpleasant to think about milk & fruit. The course is very fruity and very sweet beer, but the body is not too syrupy. A fruity beer for less demanding throats.
279 characters

2.76
/5
rDev
-12.9%
look: 4 | smell: 3 | taste: 2.5 | feel: 3 | overall: 2.5
250ml bottle, served chilled in a Dolle witte glass
Pours with a cloudy lemony body. Thick bubbly white head with good retention, lots and lots of patchy lacing
Smell, fresh flowers and freshly grown garden herbs. A touch of clove and banana, some almonds and perfume. Slightly choking dry sweetness, zesty lemons, sherbet and purple violets
Taste, initially an odd fizzy very very sweet sherbet character, lots of added sugar flavours, some slight apple character but very slight. Slightly chalky belgian yeast on the finish along with some sticky cloying sweetness. Some sour character also
Oh no no, a pretty big miss on my part. This is like wheaty and yeasty lemonade... sickly sweet and not enough alcohol to really bring through the wit character
757 characters
2.98
/5
rDev
-6%
look: 3.5 | smell: 3 | taste: 3 | feel: 3.5 | overall: 2.5
Purchased at the Tesco supermarket. BB 16/08/08, served chilled in a goblet.
A: pours a cloudy fresh-lemonade colour, coming with a fluffy white head and noisily hissing, lively carbonation.
S: apple juice, dustiness, witbier base... The rather sweet side of apple juice abounds, almost to the point of being overwhelming. Very simplistic overall.
T: Yakult-like lactose yeasty flavour stays beneath the heavily apple-juice-infused witbier base, a tad lemony as well but tasting 95% sour-sweet concentrated apple juice. To my surprise the ending touch is pretty clean, yet at the expense of the preferable bitter edge of a good witbier.
M&D: refreshingly fizzy, light-bodied, slightly overpowered by apple juice overall. I won't buy it again, but this is by no means a bad drink.
780 characters

3.15
/5
rDev
-0.6%
look: 3 | smell: 3 | taste: 3 | feel: 3.5 | overall: 3.5
Poured from the bottle into a Leffe chalice.
a: Very milky white when pouring, settles in the glass as a turbid bronze apple juice colour. Does not really look like any sort of beer. No visible carb and no head retention, despite vigorous bubbling upon pouring.
s: faint cidery aroma, musty, perhaps a hint of wheat. Complex but perhaps too appley for a beer ie. the apple is prevalent above all else.
t: Sweet woody apple taste, leading up to a surprisingly dry finish considering the low alcohol. Although the apple tartness comes through at the end too.
m: The high point for this beer. This really impresses upon the mouth. Spritzy and light at first, then a lingering full bodied finish
d: Eminently drinkable due to the pleasant taste and low ABV. Not something I would spend money on again. This is just too much like cider for me to appreciate as a beer. The delicate wheat is somewhat overpowered.
911 characters

3.35
/5
rDev
+5.7%
look: 3 | smell: 3 | taste: 3.5 | feel: 3.5 | overall: 3.5
Drank from my Duvel tulip
A - Pours a wit like colour of cloudy straw. White head dies very quickly.
S - Plnty of apple and sweetnes
T - Sweet up front, followed by some woddy apple a lttle tart on the finish.
M - Full carbonation and low to medium body.
O - I quite enjoyed this beer, because the apple was not overpowering and nicely balanced.
350 characters
3.36
/5
rDev
+6%
look: 4.5 | smell: 3.5 | taste: 3 | feel: 3.5 | overall: 3.5
This brown 250ml bottle was 3 months out of date when reviewed.
Poured into a 'Forbidden Fruit' chalice. Cloudy and dirty lemon/grapefruit in colour with a very impressive white head, it looked great to be honest.
The aroma was obviously apples mostly, some cerels in the smell too, plus something very sweet. This isn't an apple beer that smells like a cider, far too sweet.
The sweet apple aroma carries on into the tatse, a bit too sweet for me, but I can see females and those with a sweeter tooth than me enjoying this beer.
30% Apple juice according to the label, I think it is just added to the breweries regular wheat beer.
I have certainly had worse fruit beers from Belgium and I wasn't expecting much from this. I was pleasantly suprised.
754 characters
3.73
/5
rDev
+17.7%
look: 4 | smell: 3.5 | taste: 4 | feel: 3.5 | overall: 3.5
A - Very misty with nice creamy head.
S - Apples very distinct and citrus, but not like cider.
T - Very sweet and apples dominate. Quite sharp on first taste.
M - Not too fizzy though lively enough.
D - Low acohol means could easily have quite a few of these.
Pleasant fruity drink but not on a level with kriek.
317 characters

4.2
/5
rDev
+32.5%
look: 4 | smell: 4 | taste: 4 | feel: 4 | overall: 5
Had this on tap at the Lucky Baldwins 10th Annual Belgian fest on 2/15/09.
Pours yellowish white and very hazy. Short white head that lasts a while and laces the glass well.
Aromas are: sweet, green apple, candy, yeast.
Flavors are: sweet, tart, green apple, brett, bread, and green jolly rancher.
Medium thin body, medium/high CO2. I'm almost embarassed to admit it but its really drinkable and enjoyable.
411 characters
4.24
/5
rDev
+33.8%
look: 4 | smell: 5 | taste: 4 | feel: 4 | overall: 4
330ml bottle bought from Sainsbury's...
Poured a hazy, light golden yellow / straw colour... White head poured thick and foamy and faded to nice thin layer...
Aroma - Sharp pepperiness, citrusy, strong floral notes, sugary sweetness, very light apple hints, cinnamon, basil...
Taste – Nice apple sweetness, lemony, peppery notes, light cinnamon spiciness....
Feel - Smooth and quite creamy - slight sharpness underneath. Light body. Very drinkable and refreshing...
Overall - A very good beer... well worth a try... Would be excellent on a hot summer day....
574 characters
Applebocq from Brasserie Du Bocq
Beer rating:
3.17
out of
5
with
15
ratings