St. Benôit Blonde
| Brasserie Du Bocq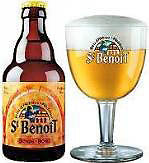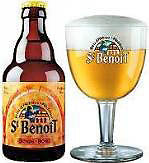 BEER INFO
Brewed by:
Brasserie Du Bocq
Belgium
bocq.be
Style:
Belgian Blonde Ale
Alcohol by volume (ABV):
6.30%
Availability:
Year-round
Notes / Commercial Description:
None provided.
Reviews: 12 | Ratings: 23

4.18
/5
rDev
+23.3%
look: 4 | smell: 3.5 | taste: 4.5 | feel: 4 | overall: 4.5
Had this beer in Pattaya recently - poured into a goblet. The beer was chilled, so I waited a while after the pour. It poured a resplendent golden with a puffy and a big head (of course I was a little aggressive with the pour, like always) - reminded me a lot like Duvel. Fine stream of bubbles rushed to add more lucidity to the already brilliant whiteness of the crown. As time elapsed, the retention amazed me, as if the head was a stiffly beaten meringue. The smell was the usual Belgian yeast and funk all over, not that it was a problem, just too predictable. Some spice and some toffee notes too made their way into the air. The taste was sweet upfront, but immediately cut down by a sharp and dry finish, leaving just a hint of sugar and spice behind. Cut out the pepperiness from Duvel - and that would be St Benoit for you. Of course, the all too predictable Belgian funk stamp was all over, but all in a good way. The carbonation was a little over the top, but it gave a good bite to the beer - what it lacked in bitterness, it made up with liveliness.
I am a little surprised by the relatively low rating this beer has got so far on BA (albeit, only with 12 reviews so far) - it fares far better than what the scores may indicate. A highly recommended Belgian beer.
1,278 characters
4.07
/5
rDev
+20.1%
look: 3.5 | smell: 4 | taste: 4 | feel: 4 | overall: 4.5
BB 06/05/09
a) Yellow gold, slight haze. Inch-thick rocky white head, nice bubbling.
s) Toasty bread crusts, waxy, pepper. Some hammy, fleshy notes. Touch of lemonade.
f) Excellent flavour.... complex malt combo with spice & phenolic elements. Caramel touch, yet not too sweet, which helps lift the other notes. Good, balanced bitterness rounds it off.
m) As already implied, reasonably dry, with explosive, mouth effervescence, slight tartness, and crisp finish.
d) One of the more sessionable Belgians I've encountered. The whole is greater than the sum of the parts.
574 characters
3.5
/5
rDev
+3.2%
look: 3.5 | smell: 3.5 | taste: 3.5 | feel: 3.5 | overall: 3.5
Nice "blonde" colour, with a decent pillowy head. Sweetsih maltyness and slight spicyness, needs a bit more guts, but besides that, i enjoyed it quite a bit, in other words, it could have been more exciting, faily solid.
220 characters
3.5
/5
rDev
+3.2%
look: 3.5 | smell: 3.5 | taste: 3.5 | feel: 3.5 | overall: 3.5
The beer pours a shimmering gold color, the head is majestic in size, spumescent in texture and the color a brilliant white, as it disintegrates, the resultant lace a fine sheet to cover the glass. Sweetly malt is what I get from the nose; fresh and clean like a spring morning after a gentle rain. Sweet start, the top slender in its feel to the palate, the carbonation on the finish is prickly in its bite, the hops delightful in their spicy presence, the aftertaste droughty and lingering, a decent beer, not great but quite drinkable nonetheless.
550 characters
3.45
/5
rDev
+1.8%
look: 3.5 | smell: 3.5 | taste: 3.5 | feel: 3 | overall: 3.5
A clear, golden beer with maximum lacing.
Smell is bready, doughy and a bit grainy with notes of spices.
Taste is sweet and malty. There is a doughy taste that is also a bit biscuity. The total absence of bitterness or hoppiness is not helping it's complexity. Mouthfeel is a bit empty. Drinkability is OK.
310 characters
3.35
/5
rDev
-1.2%
look: 3.5 | smell: 3.5 | taste: 3.5 | feel: 3 | overall: 3
Very beautiful blonde colour which has a light fruity flavor. The head could be a bit thicker though and last a bit longer. Comparing with the other Belgian beers this Beer is an average beer. Comparing with the other European beers this is a fine beer
Cheers
ipogios
273 characters

3.29
/5
rDev
-2.9%
look: 2.5 | smell: 3.5 | taste: 3.5 | feel: 3 | overall: 3
one of several beer tasted at a sampling the other day, the st benoit blond was an o.k but not drop dead stunning beer. it was a rung below their more complex and flavoursome bruin. compared to other belgian beers a bit ho hum really.
didnt really like the color too much. an almost glowing yellow hue which reminded me of radioactive material. the head had a distinct lack of presence on the pour. a real problem with a beer of this kind as it meant the aromas also did not come to the fore. there was a very strong smell of bananas and some other fruit salad like whiffs. not alot else jumped out at me, but fortunately the flavor and body carried a bit more weight. quite sweet, a little doughy yeast presence and again some quite fruity elements, particularly banana. did have some peppery hops in there to provide a nice bitterness, herbal untertones and some crackle on the way down.
on the whole the blond was a pleasant enuff brew but lacked any real character to give it something to put it in the class of some of its rivals. not a beer id be going out of my way for, but theres plenty worse out there than this.
1,130 characters
3.23
/5
rDev
-4.7%
look: 4 | smell: 3.5 | taste: 3 | feel: 3.5 | overall: 3
The colour is yellow-orange. The liquid is somewhat cloudy (the beer is bottle conditioned). The finger thick foam slowly sinks down (with a fizzing sound) to an airy white lid. No lacing. Looks like a Blonde to me.
The smell is sourish with fruity notes; apricots, tangerines, herbs, hay and some yeast.
The taste is a bit lighter than what I had expected… Notes of matured red apples, some sourness, wheat flour, bitter herbs, and some dark rum-flavour are present. The quite short aftertaste got notes of biscuits, dried apricots, some toffee and alcohol.
The carbonation is very strong with lots of small bubbles.
In many other styles, this would have been an interesting beer, but it is a Belgian Blonde and as such, it is rather uninteresitng
766 characters
3.1
/5
rDev
-8.6%
look: 3 | smell: 3 | taste: 3 | feel: 3 | overall: 3.5
BB 17-2-07. Not that stable white head and a clear golden beer making it a pilsner like presentation. Nose is clove and sweet gale like with some maltaromes in the back, overal fresh but litle pale. As is taste that is also quiet spicy, dry, some malts and moderate bitterness in the end. Giving it together with quiet high carbonisation a litle pale and watery mouthfeel. Easy drinkable but not that much to detect.
416 characters

3.03
/5
rDev
-10.6%
look: 3.5 | smell: 3 | taste: 3 | feel: 3 | overall: 3
Beer bottle (25cl.), tasted in 2000.
Appearance : Blond (pale) color, with white foamy head.
Smell : sweet and spicy aromas.
Taste and mouthfeel : mild, round in the mouth, fruity with a little bitterness is very low.
Drinkability : an average beer in the style Belgian pale ale.
281 characters
2.92
/5
rDev
-13.9%
look: 3 | smell: 3.5 | taste: 2.5 | feel: 3 | overall: 3
Chilled 33cl bottle poured into a tulip glass.
Produces a thick 2 finger head, holds moderate lace.
Color is a hazy gold
Sweetish aroma mixed with malt and baked doughy themed notes
Medium body with a reasonably hefty degree of carbonation. Taste is extremely dry with a very funky and unbalanced malt flavor. This was worsened in my opinion with a very sweet (too much sugar?) finish.
This one had most of the right visual elements so it looked the part, however, when it came down to the business end - this one failed to impress.
Not a dirty rotten broth by any means but not really in the game when you consider the other "benchmark" offerings from the Belgian Pale Ale category.
689 characters
2.06
/5
rDev
-39.2%
look: 3 | smell: 2 | taste: 2 | feel: 2 | overall: 2
Squat 33cl brown bottle, best before 29th Oct 09, drank late May 09. Poured into a Westmalle chalice, with the sediment going into a J&B Whisky glass.
Looked like a lager really, golden and with a well formed white head. It was clear because of the double pour, the sediment was murky and was a great afterdrink.
Sweet and yeasty aroma, straw, cerels and tinny, not very nice.
Metalic nasty flavour.
Another Du Bocq designer beer, this brewery could produce (and does) some good beers, but they play around and push out anything they think will sell. Hiding the breweries name on the rear label annoys me too! No wonder I end up coming home with some of their beers, they flood the market and I keep missing who the brewery is.
731 characters
St. Benôit Blonde from Brasserie Du Bocq
Beer rating:
3.39
out of
5
with
23
ratings