Dismiss Notice
Dismiss Notice
Brakspear Oxford Gold
| W.H. Brakspear & Sons plc
BA SCORE
83
good
50
Reviews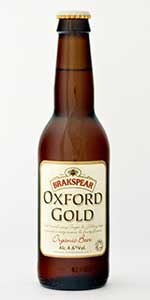 BEER INFO
Brewed by:
W.H. Brakspear & Sons plc
United Kingdom (England)
|
website
Style:
English Pale Ale
Alcohol by volume (ABV):
4.60%
Availability:
Year-round
Notes / Commercial Description:
No notes at this time.
Added by bark on 11-16-2007
Reviews: 50 | Ratings: 113
3.41
/5
rDev
-6.3%
look: 3.5 | smell: 2.5 | taste: 4 | feel: 3 | overall: 3.5
A: Dark golden, slight head. Good.
S: Honey and malt skunkiness. Not exactly brilliant.
T: Like a really good lager with strong tones of black tea and honey. I cannot say anything else than that this is simple but really works!
MF: Like any other lager. Slightly metallic. Easy to drink. Not offensive, not impressive.
O: A very reasonable "spiced up lager". Not a bad purchase.
★
382 characters
3.38
/5
rDev
-7.1%
look: 3.5 | smell: 3 | taste: 3.5 | feel: 3.5 | overall: 3.5
500ml bottle has freshness date July 2013. Fairly dark amber colour with decent white head. The nose is a combination of dired fruit, lemon and honey. Seems a tad watery to start, until the hops kick in. Then a very pleasant, slightly oily feeling lemony bitterness with an accompanying nutty (perahps hazelnut) element. The first time I consumed a bottle of this I was under the impression that I was drinking brakspear Bitter and wondered what had gone wrong, but it has definitely grown on me after a few bottles over the last couple of years.
★
546 characters
3.35
/5
rDev
-8%
look: 3 | smell: 3 | taste: 3.5 | feel: 3.5 | overall: 3.5
Weaker than the bottle version 4.6%abv., this cask version tasted at my local JDW pub during the chain's real ale festival comes at only 4%abv. Served by a non-sparkler pour into a half-pint glass.
A: translucent, dark amber with deep orangey glows, coming with a thin soapy foam on top of really quiet carbonation.
S: rather astringently citric on the aroma, with an equally considerable input of "dirty-cloth" like pale malts and sulphur, plus a tinge of nectar at the corner. Overall the yeasty intervention rings a bell of Brakspear Bitter as well.
T: so light and crisp on the foretaste, full of floral flavours and followed by a lightly stinky, sulphurous swallow of biscuity malts almost like a traditional pale ale (brewed with double-drop or union system)... an orangey-citric and even zesty taste of hops expands along with more semi-chewy bitterness at the back, leading towards a long, bitter and tangy finish where a touch of leafy-herbs (the palate is almost like that of mint-leaves?!) lingers.
M&D: light-bodied, slightly yeasty but overall quite fresh for a cask ale. Brakspear's yeastiness certainly leaves a deep imprint in the overall flavour profile, rendering a lightly dryish touch throughout the drink. Solid!
★
1,234 characters

3.33
/5
rDev
-8.5%
look: 4 | smell: 3.5 | taste: 3 | feel: 3.5 | overall: 3.5
I'm not quite sure what an English Pale Mild Ale is, but I reckon this ale is just a regular bitter. Anyways...
A 500ml bottle with a BB of Dec 2011. Label mentions that this beer is made from organic ingredients.
Poured into a tulip pint glass. A hazy golden-amber colour with low carbonation and some floating sediment. Produces a large head of creamy white foam that lasts for a few minutes before subsiding. Aroma of rich, fruity yeast underpinned by subtle caramel malt and leafy hops.
Tastes of light caramel malt with a dry, yeasty character and a mild bitter finish. Notes of yeast esters, bittering hops and faint aromatic hops with a whisper of citrus in the background. Mouthfeel is tingly and astringent, leaving the palate dry. Yeasty, faintly bitter aftertaste.
A decent ale, though not amazing. The aroma is pretty good, and the taste is well-rounded. Could imagine sinking a few on a hot day. Worth trying if you come across it.
★
948 characters
3.29
/5
rDev
-9.6%
look: 3 | smell: 4 | taste: 3 | feel: 3.5 | overall: 3
500ml bottle bought from a local Spar...
Poured a light coppery orange colour. Slightly off white head poured loose and frothy then faded to thick edging only... barely any carbonation... some light lacing...
Aroma - Lots of nice juicy and slightly spicy fruits (oranges, pears and apples), light biscuity malts - some cookie dough hints, light floral honey, faint almond nuttiness, wet hay, some light peppery / grassy hops...
Taste - Quite sweet grainy malts which are a little on the sickly side after a while, definite nutty sweetness, ripe fruits and peel (pears, apple, blood orange, light grapefruit), peppery / grassy hop bitterness, some biscuit notes...
Feel - Pretty smooth with just a little zinginess underneath... light / medium bodied... fairly quaffable although the slight sickly sweetness becomes a bit much after a while...
Overall - An average pale ale... worth a try...
★
895 characters
3.23
/5
rDev
-11.3%
look: 3.5 | smell: 3 | taste: 3 | feel: 4 | overall: 3.5
Pours a burnished gold. Finger thick white head quickly dissipates, leaving a thin film. Chunky, but slippery, lacings.
Aroma at first comes across as skunky, but I think it actually is just an odd sort of sweetness from the malt, honey probably comes closest to describing it. A little bit of an edge from the hops.
A very straightforward English Pale Ale. Everything about it is pretty subtle. The malt has a little bit of honey sweetness with a brown-sugar flavour to it as well, maybe a touch of wood. Hops leave a lasting, but understated, bitterness while failing to provide any sort of crispness in the finish.
Smooth drinking.
A sessionable organic ale.
★
666 characters
3.23
/5
rDev
-11.3%
look: 3.5 | smell: 3 | taste: 3.5 | feel: 3 | overall: 3
Amber in colour with golden highlights, arriving with a fairly lively carbonation. A thin white head forms but settles down too quickly to a thin ring with a few lacey spots clinging to the glass. The aroma is bright and citrusy and I think I can detect Goldings hops dominating the nose. There is also a maltiness underneath with a hint of caramel and honey.
The taste is slightly sweet with a nice honey character but a little watery on the flavour. There are hints of toast, floral hops, and a spicy edge to the bitterness. The swallow is citrusy and the finish clean, with biscuity malts lingering.
To be honest, despite the local connections, I have always been unable to muster much enthusiasm for Brakspear's Oxford Gold. The light body combined with the spicy edge to the flavour does not suit my taste, but I think I am unusual in this as most of fellow beer-enthusiasts here find this an easy-drinker.
Overall: Refreshing and quaffable, but lacks body and complexity of flavour.
★
991 characters

3.13
/5
rDev
-14%
look: 3.5 | smell: 3 | taste: 3 | feel: 3 | overall: 3.5
A subdued brew start to finish. Skates the edge of being interestingly hoppy, but doesn't quite get there. Well made and comfortable drinking, but not particularly memorable.
Toffee sweetness from the malt and a touch of citrus from the hops in the nose. properly balanced drinking with the hops dominating slightly, but not quite busting through to give this beer more interesting character.
Earns part of its name with a nice gold colour. Moderate short lived head and some little lace. Passable overall.
★
508 characters

2.81
/5
rDev
-22.8%
look: 4 | smell: 3 | taste: 2.5 | feel: 2.5 | overall: 3
First beer in style.
Pours a cloudy copper gold. Fluffy head has large and small bubbles. Fades to lace. Good.
Aromas of English style hops. Hint of orange rind.
Taste continues smell, being very dry and hoppy. Where is the malt, eh? Merest hint of honey. Dryness really catches up almost IPA style, but no body.
Mouthfeel is light/watery as per ABV which means the hops dominate quickly. Carbonation moderate
Overall, at start I thought 'good session beer' then it got too dry. Suspect will be a glass of water job to wash down at end. Meh.
★
546 characters
2.71
/5
rDev
-25.5%
look: 2.5 | smell: 2.75 | taste: 2.75 | feel: 2.5 | overall: 2.75
Bottle from Ramstein BritShop. Gold? In color, yes. Else wise, this beer comes off kind of weak and watery. Tastes more like a pale lager than a bitter. A little disappointing....
★
179 characters
Brakspear Oxford Gold from W.H. Brakspear & Sons plc
83
out of
100
based on
50
ratings.