Brakspear Oxford Gold
| W.H. Brakspear & Sons plc
BA SCORE
83
good
51
Reviews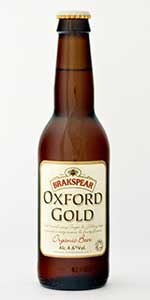 BEER INFO
Brewed by:
W.H. Brakspear & Sons plc
England
,
United Kingdom
brakspear-beers.co.uk
Style:
English Pale Ale
Alcohol by volume (ABV):
4.60%
Availability:
Year-round
Notes / Commercial Description:
No notes at this time.
Added by bark on 11-16-2007
Reviews: 51 | Ratings: 119

3.63
/5
rDev
-0.3%
look: 4 | smell: 3.5 | taste: 3.5 | feel: 3.5 | overall: 4
A nice cloudy orangey gold colour with a thin white head, nice lacing and lots of bubbles.
Lemony citrus and sweet malty aroma with some honey.
Very refreshing, nice biscuity malts, nice and sweet body that finishes slightly bitter. This would be a perfect beer on a hot summer day.
284 characters
3.58
/5
rDev
-1.6%
look: 4 | smell: 3.5 | taste: 3.5 | feel: 4 | overall: 3.5
500 mL brown bottle. Unfortunately, I didn't have a glass as I had this at an outdoor barbecue.
Even without pouring, foam was bubbling up through the neck of the bottle--white foamy bubbles. This was very nice to see considering I didn't have the added benefit of a clear glas.
Smells and tastes very bitter with a sweet aftertaste of molasses.
Mouthfeel was thick and rich with a moderate amount of carbonation.
Although this is definitely on the bitter end of the scale for my tastes, it's definitely drinkable and ranks with similar ales like St. Peter's Organic Ale and Tribute Premium Cornish Ale.
607 characters
3.42
/5
rDev
-6%
look: 2.5 | smell: 3 | taste: 3.5 | feel: 3.5 | overall: 4
This beer is much more pleasant to drink than i expected. It looks a pale copper when poured with soapy head and the smell is of grassy hops with little mallt character.
The taste is well-balanced an refreshing with grassy light hop flavours dominant.
The brew is very drinkable and i can see this being a mid-week regular
324 characters

3.65
/5
rDev
+0.3%
look: 3.5 | smell: 3.5 | taste: 3.5 | feel: 4 | overall: 4
Cloudy, deep honey colour. A little head disappears soon, leaving some lacing to the bottom.
The smell is good. I liked it better from the bottle before I poured it. A bit of citrus and... graham cracker? That could be honey coming through, too.
Taste has just a hint of peppery spice, which is nice. A bit of citrus (grapefruit / more orange). Starts tasting a bit like a Sam Adams' Summer Ale as the bottle wears on.
Carb is sharp if held in the mouth for a couple of seconds. On regular drinks, it's fine. A bit of a bitter / dry finish. Not watery.
Quite drinkable.
574 characters
4.2
/5
rDev
+15.4%
look: 4 | smell: 4 | taste: 4.5 | feel: 4 | overall: 4
This is a great beer, but then maybe it's because I poured it perfectly to my glass (YES! no enormous foam and not flat!!!)
App: it pours a bronze beauty, a bit cloudy with a pretty white (not bright white, kinda dirty white) head of about 2 fingers
Smell: Smell of honey, which is a big feature to this beer, rich smell that doesn't overpower you like you get in some heavy beers. makes you wanna take a chug
Taste: the best part. This is a sweet, honey tasting beer. the taste is rich and spreads great over the mouth. No bad aftertaste but a weak flavor that I enjoyed
Mouth: great, clear but with a little carb. Good feel, I can't quite explain
Overall: very recomended for all purposes
695 characters
3.75
/5
rDev
+3%
look: 3.5 | smell: 3.5 | taste: 3.5 | feel: 4 | overall: 4.5
This isn't the first time I'm drinking this one. I have bought it a couple of times. It's a quite inexpensive for an English ale (in Sweden), and it's organic (which makes my girlfriend happy!)
I pour the beer in the usual oversized wineglass and a pale (almost white) head forms. It dissolves after a couple of minutes into a thin ring. The liquid is golden.
It smells a little of malt. There is also a fresh smell of hops.
The taste is balanced; some malt, some hops. The immediate taste isn't very bitter, but there is some bitter notes of hopes in the aftertaste.
The beer feels nice in the mouth, and the small bubbles are just right.
It's is very gulpable beer, not very special but really nice.
706 characters

3.66
/5
rDev
+0.5%
look: 4 | smell: 3 | taste: 4 | feel: 4 | overall: 3.5
A pleasant surprise, have been passing this over in the supermarket for ages but will certainly be buying again.
Poured into a Grottenbier chalice, gave a nice head which held reasonably well, leaving some nice lacing on its way down.
Quite fragrant, but doesn't beg you to gulp it down. Lovely bitter fruitiness that hit my sweet spot this evening.
350 characters

3.86
/5
rDev
+6%
look: 4 | smell: 4.25 | taste: 3.75 | feel: 3.5 | overall: 3.75
A delicious holiday discovery. All round nice easy drinking beer now brewed at Wychwood Brewery. All Brakspear's copper tanks were moved over to the Wychwood Brewery to maintain the same process and flavour. Apparently the yeast dates back to 1776? A unique old school ale.
273 characters
3.41
/5
rDev
-6.3%
look: 3.5 | smell: 2.5 | taste: 4 | feel: 3 | overall: 3.5
A: Dark golden, slight head. Good.
S: Honey and malt skunkiness. Not exactly brilliant.
T: Like a really good lager with strong tones of black tea and honey. I cannot say anything else than that this is simple but really works!
MF: Like any other lager. Slightly metallic. Easy to drink. Not offensive, not impressive.
O: A very reasonable "spiced up lager". Not a bad purchase.
382 characters
3.67
/5
rDev
+0.8%
look: 3 | smell: 3.5 | taste: 4 | feel: 3.5 | overall: 3.5
A: A nice white head on this amber English pale ale.
S: A malty, honey and a bit alcohol.
T: Actually a nice surprise. A malty, bitter pale ale with a honey, citrus tone. A very well balanced bitter mild ale, in true British nature. A sharp end to this, for me, currently unknown beer.
A: Well worth a try.
310 characters
3.23
/5
rDev
-11.3%
look: 3.5 | smell: 3 | taste: 3.5 | feel: 3 | overall: 3
Amber in colour with golden highlights, arriving with a fairly lively carbonation. A thin white head forms but settles down too quickly to a thin ring with a few lacey spots clinging to the glass. The aroma is bright and citrusy and I think I can detect Goldings hops dominating the nose. There is also a maltiness underneath with a hint of caramel and honey.
The taste is slightly sweet with a nice honey character but a little watery on the flavour. There are hints of toast, floral hops, and a spicy edge to the bitterness. The swallow is citrusy and the finish clean, with biscuity malts lingering.
To be honest, despite the local connections, I have always been unable to muster much enthusiasm for Brakspear's Oxford Gold. The light body combined with the spicy edge to the flavour does not suit my taste, but I think I am unusual in this as most of fellow beer-enthusiasts here find this an easy-drinker.
Overall: Refreshing and quaffable, but lacks body and complexity of flavour.
991 characters
Brakspear Oxford Gold from W.H. Brakspear & Sons plc
3.64
out of
5
based on
119
ratings.