Brakspear Oxford Gold
| W.H. Brakspear & Sons plc
BA SCORE
83
good
51
Reviews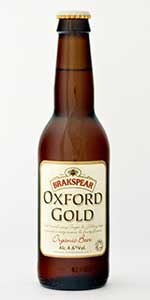 BEER INFO
Brewed by:
W.H. Brakspear & Sons plc
England
,
United Kingdom
brakspear-beers.co.uk
Style:
English Pale Ale
Alcohol by volume (ABV):
4.60%
Availability:
Year-round
Notes / Commercial Description:
No notes at this time.
Added by bark on 11-16-2007
Reviews: 51 | Ratings: 118

3.63
/5
rDev
-0.5%
look: 4 | smell: 3.5 | taste: 3.5 | feel: 3.5 | overall: 4
Pours a ruddy gold with a diminutive foamy cap. The aroma is of honey, grainy malts and lemon drops. The taste is pretty light with a soft, cookiedough maltiness and a clean, citrusy hop feel. Green melon and a bit of musty grain show in the background. The finish is lightly bitter with honey sweetness. The mouthfeel is rather full and briskly carbonated.
A decent light ale with nuance and balance. It could be more robust without entering the English bitter or pale ale realm.
481 characters
4.12
/5
rDev
+12.9%
look: 3.5 | smell: 4 | taste: 4 | feel: 3.5 | overall: 5
A - Clear light copper with a moderate head of mixed bubbles.
S - Grapefruit hop with some butteriness and some metal.
T - Solid malt with a nice citric hop. Somewhat light I suppose but works well in the balance. Mild bitterness and a toastiness and a hint of soap.
M - Light body and a bit of carbonation. Fairly dry.
D - Very drinkable and well balanced.
361 characters

3.13
/5
rDev
-14.2%
look: 3.5 | smell: 3 | taste: 3 | feel: 3 | overall: 3.5
A subdued brew start to finish. Skates the edge of being interestingly hoppy, but doesn't quite get there. Well made and comfortable drinking, but not particularly memorable.
Toffee sweetness from the malt and a touch of citrus from the hops in the nose. properly balanced drinking with the hops dominating slightly, but not quite busting through to give this beer more interesting character.
Earns part of its name with a nice gold colour. Moderate short lived head and some little lace. Passable overall.
508 characters

3.45
/5
rDev
-5.5%
look: 3 | smell: 3 | taste: 3.5 | feel: 3.5 | overall: 4
A: Golden-bronze with a white head, very little retention, no lace.
S: Butterscotch, earth, orange-zest, toffee & grain.
T: Grainy biscuits, toffee, orange zest, hints of earthy minerals & fruity esters, modest bitterness.
M: Light body has a very dry finish.
D: Approachable & sessionable, but not overly enticing. Perhaps a gateway/transitional brew.
356 characters
3.23
/5
rDev
-11.5%
look: 3.5 | smell: 3 | taste: 3 | feel: 4 | overall: 3.5
Pours a burnished gold. Finger thick white head quickly dissipates, leaving a thin film. Chunky, but slippery, lacings.
Aroma at first comes across as skunky, but I think it actually is just an odd sort of sweetness from the malt, honey probably comes closest to describing it. A little bit of an edge from the hops.
A very straightforward English Pale Ale. Everything about it is pretty subtle. The malt has a little bit of honey sweetness with a brown-sugar flavour to it as well, maybe a touch of wood. Hops leave a lasting, but understated, bitterness while failing to provide any sort of crispness in the finish.
Smooth drinking.
A sessionable organic ale.
666 characters
3.75
/5
rDev
+2.7%
look: 3.5 | smell: 3.5 | taste: 3.5 | feel: 4 | overall: 4.5
This isn't the first time I'm drinking this one. I have bought it a couple of times. It's a quite inexpensive for an English ale (in Sweden), and it's organic (which makes my girlfriend happy!)
I pour the beer in the usual oversized wineglass and a pale (almost white) head forms. It dissolves after a couple of minutes into a thin ring. The liquid is golden.
It smells a little of malt. There is also a fresh smell of hops.
The taste is balanced; some malt, some hops. The immediate taste isn't very bitter, but there is some bitter notes of hopes in the aftertaste.
The beer feels nice in the mouth, and the small bubbles are just right.
It's is very gulpable beer, not very special but really nice.
706 characters
3.35
/5
rDev
-8.2%
look: 3 | smell: 3 | taste: 3.5 | feel: 3.5 | overall: 3.5
Weaker than the bottle version 4.6%abv., this cask version tasted at my local JDW pub during the chain's real ale festival comes at only 4%abv. Served by a non-sparkler pour into a half-pint glass.
A: translucent, dark amber with deep orangey glows, coming with a thin soapy foam on top of really quiet carbonation.
S: rather astringently citric on the aroma, with an equally considerable input of "dirty-cloth" like pale malts and sulphur, plus a tinge of nectar at the corner. Overall the yeasty intervention rings a bell of Brakspear Bitter as well.
T: so light and crisp on the foretaste, full of floral flavours and followed by a lightly stinky, sulphurous swallow of biscuity malts almost like a traditional pale ale (brewed with double-drop or union system)... an orangey-citric and even zesty taste of hops expands along with more semi-chewy bitterness at the back, leading towards a long, bitter and tangy finish where a touch of leafy-herbs (the palate is almost like that of mint-leaves?!) lingers.
M&D: light-bodied, slightly yeasty but overall quite fresh for a cask ale. Brakspear's yeastiness certainly leaves a deep imprint in the overall flavour profile, rendering a lightly dryish touch throughout the drink. Solid!
1,234 characters
3.58
/5
rDev
-1.9%
look: 4 | smell: 3.5 | taste: 3.5 | feel: 3 | overall: 4
This is a beer that is proud of the fact that it is is organic! I count ten times that it mentions the fact on the label...
Appearance: Honey in color, appropriate for a beer with a bee on the label. One finger attractive white head. Not quite clear. Attractive.
Smell: Fresh, light, almost lagery aroma at first when cold. Target and Goldings hops specified by the label. Underlying honey/candy malt notes and hints of "wet towel" if that makes sense, but in a good way.
Taste: Herbal hops dominate, on top of a sweet "honey" malt backbone. Not sure whether this is better off categorized as an English Pale Mild Ale (as it is on BA) or a bitter.
Mouthfeel: Lively carbonation, medium body. Slightly more syrupy than I might prefer. Bitter, hops aftertaste.
Drinkability: Refreshing and quaffable. At 4.6% abv, sessionable.
829 characters
3.29
/5
rDev
-9.9%
look: 3 | smell: 4 | taste: 3 | feel: 3.5 | overall: 3
500ml bottle bought from a local Spar...
Poured a light coppery orange colour. Slightly off white head poured loose and frothy then faded to thick edging only... barely any carbonation... some light lacing...
Aroma - Lots of nice juicy and slightly spicy fruits (oranges, pears and apples), light biscuity malts - some cookie dough hints, light floral honey, faint almond nuttiness, wet hay, some light peppery / grassy hops...
Taste - Quite sweet grainy malts which are a little on the sickly side after a while, definite nutty sweetness, ripe fruits and peel (pears, apple, blood orange, light grapefruit), peppery / grassy hop bitterness, some biscuit notes...
Feel - Pretty smooth with just a little zinginess underneath... light / medium bodied... fairly quaffable although the slight sickly sweetness becomes a bit much after a while...
Overall - An average pale ale... worth a try...
895 characters
3.85
/5
rDev
+5.5%
look: 3.5 | smell: 3.5 | taste: 4 | feel: 4 | overall: 4
Appearance: light amber, slight haze, narrow layer of white froth that compacts to a thin cap
Aroma: fermented honey, grain, perfumey hop scent of pine and citrus
Flavor: dryish malt balance with fruity notes of lemons, heather flowers, and blossom honey; finishes dry with a lingering mild bitterness
Mouthfeel: medium body, pert carbonation, crisp texture
Other comments: This is probably one of the better beers from Brakspear and definitely a good organic beer.
469 characters
4.3
/5
rDev
+17.8%
look: 4 | smell: 4 | taste: 4.5 | feel: 4 | overall: 4.5
Not really an English Pale Mild Ale, but since the Bros doesn't think the style "English Blond/Golden Ale" exist, this is as close as I get.
The colour is gold; the liquid clear. The finger thick head sinks down to a compact white lid, leaving some fine lacing.
The smell is sweet with notes of honey, flowery hops (according to the label, Target and Golding hops are used), some mild bitter notes as well as a hint of yeast.
The taste is sweet and a bit hoppy, but not very bitter. Flowery notes of honey and clotted cream, some apricots and bananas. The aftertaste gives a delicate bitterness as well as a touch of white bread and mint.
The liquid is very smooth and a little thick. The carbonation is fresh yet mild, giving room for the subtle flavours.
A good example of this rather new style.
820 characters
Brakspear Oxford Gold from W.H. Brakspear & Sons plc
3.65
out of
5
based on
118
ratings.