Vintage Henley
| W.H. Brakspear & Sons plc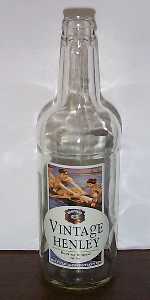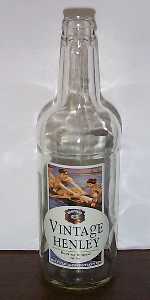 BEER INFO
Brewed by:
W.H. Brakspear & Sons plc
England
,
United Kingdom
brakspear-beers.co.uk
Style:
English Pale Ale
Alcohol by volume (ABV):
5.50%
Availability:
Year-round
Notes / Commercial Description:
No notes at this time.
Added by BeerAdvocate on 07-07-2002
This beer is retired; no longer brewed.
Ratings: 7 | Reviews: 7
4.17
/5
rDev
+8%
look: 3.5 | smell: 4 | taste: 4 | feel: 5 | overall: 4.5
500 ml clear glass bottle with a best before date on the neck of the bottle. I'd assume the "Vintage" part of the name is just part of the name and should not insinuate that one should age this beer.
Appearance: Hazed brassy amber is more from suspend yeast than anything else, grand bubbly lace and retention.
Smell: Big grassy lemony and herbal hop with a sweet malty aroma holding some buttery diacetyl and earthy yeast. Very aromatic.
Taste & Mouthfeel: Insane smoothness rolls of the tongue like a million dollar beer if I ever saw one. So damn creamy laying there in its medium body. Strong armed malt character with a coating of buttery diacetyl, almost cake like. Mellow yet still expressive fruitiness draws the same time as the lemony hop bitterness. A side of yeast and toasted grain in the end with some residual sweetness.
Notes: I'd gladly drop $4 a bottle again for this one, as real as real ale can get in my book. I'd love to try this on cask but I am satisfied if I can only get it in the bottle.
1,057 characters
More User Reviews:

4.38
/5
rDev
+13.5%
look: 5 | smell: 4.5 | taste: 4.5 | feel: 4 | overall: 4
Bottle conditioned
Just brought this up from the cellar. A sweet cut-hay scent bursts out as the bottle opens. A fluffy white head piles up over clear, tawny gold. It dies down reluctantly, and a bit of foam lingers all the way to the bottom.
My, but this is honest to gosh bitter--there's lots of brisk piney bitterness up front here, and a lively, sparkling mouthfeel.
Nutty malt with a light caramel coating. Juicy fruity finish, like a sweet apple.
460 characters
3.66
/5
rDev
-5.2%
look: 4.5 | smell: 3.5 | taste: 3.5 | feel: 4.5 | overall: 3.5
500mL. clear bottle. Bottle conditioned. Deep amber color sticky head with dense lace. Grape-like fruitiness and toasty malt aroma. The malt, fruitiness and Fuggles hops are blended to perfection. Mouthfeel is full with prickly carbonation. But why oh why are these guys or any other brewers for that matter using clear bottles??? An otherwise fine beer is marred by skunk! This could have been an exceptional beer. I would love to have this cask conditioned. At 5.5% abv. and considering the flavor profile of this brew, it seems more to me like an ESB.
554 characters
3.95
/5
rDev
+2.3%
look: 4 | smell: 4 | taste: 4 | feel: 3.5 | overall: 4
This beer poured a medium amber color and formed a nice off white head that stayed and left some nice lace. A bit of carbonation that may account for this. A definate aroma of hops and some malt. The flavor was of malt, some hops, and caramel. For this style of bitter, I found the aroma to be they typical British style I have had over there. The flavor, while good, struck me as a touch sweet for this style. But, overall, not a bad beer.
446 characters
4.43
/5
rDev
+14.8%
look: 4.5 | smell: 4 | taste: 4.5 | feel: 4 | overall: 5
I just tried this for the first time last night. I was very impressed with the condition - no gushing even tho I poured aggresivly to help it de-gas. Typical hard water astringency and fuggle aroma. The intense hoppy / nutty flavor and solid malt presence was a surprise, I expected a more subtle beer as so many British Ales are. There was no yeast in my glass untill I poured the last 25% into my half empty glass. Chilling helps lock the yeast down and you can decant slowly and let it come up to temp in the glass w/ out the unsightly (but healthfull!) yeast floaters. Great 1 hop (Fuggle) taste and lingering bitterness. At 5.5% , this is a perfect example (IMHO) of a British Special or Extra Special Bitter. Perfectly balanced, medium bodied Real Ale.
763 characters

4.05
/5
rDev
+4.9%
look: 4 | smell: 4 | taste: 4 | feel: 4.5 | overall: 4
16.9 oz thin-necked dark brown bottle with gold foil and has a classy blue, red, and gold label.
Color is a deep amber/copper somewhat pale with some floaties from yeast. Head is tannish and foamy about a finger high. Smell is a nice clean, crispy floral hop with some nut-like notes and sweetness. Taste is more of the same, malt is sweetly bitter, nutty and mildly dry and the hops and yeast lend a spicy, almost zesty crispness thats very crisp and bright but not to overwhelming, but could be toned down. The feel is a nice rounded medium body with a good crisp, clean bitter sweet smoothness that flows right into the drying qualities of nuts and hops. Its a very nice balanced bittering brew thats actually pretty easy to handle for something from the UK.
763 characters
2.38
/5
rDev
-38.3%
look: 3 | smell: 2.5 | taste: 2.5 | feel: 2 | overall: 2
Copper-amber colour, clear and limpid. Average head, with an average persistence. Smell from sour, hot caramel, sweet, but not exagerated, toasted and nutty. The taste is very sweet, well hopped, with a persistent aftertaste bitter but not "elegant". This beer is not ... maybe the bottle was too old. Not impressed.
316 characters
Vintage Henley from W.H. Brakspear & Sons plc
Beer rating:
0
out of
100
with
7
ratings