Christmas Eve
| George Bateman & Son / Batemans Brewery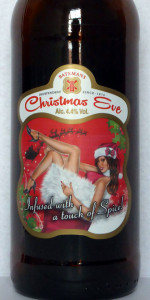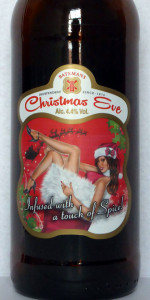 BEER INFO
Brewed by:
George Bateman & Son / Batemans Brewery
England
,
United Kingdom
bateman.co.uk
Style:
Winter Warmer
Alcohol by volume (ABV):
4.40%
Availability:
Winter
Notes / Commercial Description:
No notes at this time.
Added by vinicole on 11-29-2013
HISTOGRAM
Ratings: 5 | Reviews: 5
3.25
/5
rDev
+15.2%
look: 3.25 | smell: 3.25 | taste: 3.25 | feel: 3.25 | overall: 3.25
500ml Bottle, poured into a UK pint sleeve at a mates house on 7th Dec 13.
Poured the colour of Cola with a beige topping.
Strange aroma and taste: a third Cola, a third Dandelion and Burdock, a third spiced Beer. Came across as a semi-flat Cola with issues. I quite liked it though, even if it was a little different and weird in texture, taste and smell.
I think I've covered the beer with just those few words: try it if you can and see if you agree.
456 characters

2.81
/5
rDev
-0.4%
look: 3.25 | smell: 2.75 | taste: 2.75 | feel: 3 | overall: 2.75
A 500ml bottle with a BB of Jan 2015. Acquired recently from a supermarket; just in time for Xmas. Described on the label as a spiced Christmas ale with hints of cinnamon and fruitcake. Saucy artwork.
Poured into a straight pint glass. A dark ruby-red colour with low carbonation. Forms a decent head of beige foam that lasts for a moment or two before reducing to a patchy surface film. A strange fruity aroma with hints of dry cinnamon, wood, overripe banana, faint bubblegum, a twinge of caramel malt and stewed leaves. Simultaneously harsh and watery - not very nice.
Tastes of dry spice and faint malt, with a harsh finish. Notes of woody cinnamon, spice, weak caramel, faint dried fruit, subtle yeast esters and stewed leaves. Slightly sweet, with a restrained yet acrid bitterness upon swallowing. Mouthfeel is smooth, dry and lightly tingly, with mild carbonation and a thin, watery body. Rather astringent, followed by an aftertaste of harsh spice, odd fruitiness and faint malt.
Yuck - not particularly palatable. This simply isn't balanced; the lacklustre malt doesn't stand up to the spice and the result is an affront to the senses. Looks a bit dull, while the aroma and flavour are a weird blend of harsh spice, fruitiness and watery malt. The body doesn't impress. A poor effort even by Batemans' standards - save your money and pass it over.
1,360 characters
2.3
/5
rDev
-18.4%
look: 2.5 | smell: 2.5 | taste: 2.5 | feel: 1.5 | overall: 2
500ml bottle from Morrisons (£1):
Caramel brown with a tiny, soapy lacing that only half covers the surface in lieu of a head. Fairly flat and disappointing looking.
Spicy & lively too with a very winter like smell that features a lot of cinnamon, a nutty aroma and various other spices. I could also detect some darker fruits, a lot of sugar and some malts too.
Sweet & earthy with a lot of sugar, a nutty taste and plenty of the spice carrying through from the nose as well with the cinnamon, some nutmeg and darker fruits in there as well. To be honest it's not a great tasting beer and it comes across as a little sickening.
Medium to soft carbonation, incredibly sweet and sadly a little sickening too with a rough, unbalanced mouthfeel that is a struggle to finish drinking.
A terrible beer from Batemans, by far the worst of the four beers I've had from the brewery to date and the worst I've had in some time as well. This one was too sweet and sickening in areas with a very unbalanced collection of flavours.
1,023 characters
2.91
/5
rDev
+3.2%
look: 3.75 | smell: 2.75 | taste: 2.75 | feel: 3.25 | overall: 3
Nice label.
Auburn. Pours rather flat with virtually no head.
Strange aroma. Definitely spice but mixed with boiled Christmas sprouts! Not very nice.
Odd flavour. Can't quite pick it out. Spice again. The label says cinnamon and fruit cake - it's somewhere in amongst other stuff.
Chewy. Some sweetness. Very little bitter.
Not for me and I hope not for you.
363 characters
2.84
/5
rDev
+0.7%
look: 2.75 | smell: 3 | taste: 2.75 | feel: 3 | overall: 2.75
Chestnut coloured beer with very little head. The nose is sweet dried fruit, fairly nutty, with a hint of cinnamon. There's a hint of fake sweetener about it though. It tastes perfumed and slightly earthy with hints of chocolate and cinnamon, and perhaps liquorice, overall like a cola with much of the sugar taken out. It really needs some bolder hops: definitely not my thing. Will let the wife drink the whole of the other bottle....
436 characters
Christmas Eve from George Bateman & Son / Batemans Brewery
Beer rating:
2.82
out of
5
with
5
ratings