Highland Imperial Black Mocha Stout
| Highland Brewing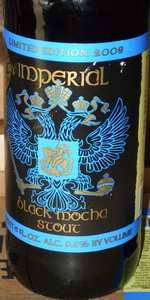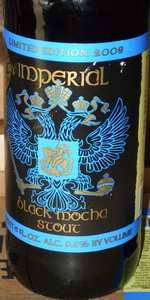 BEER INFO
Brewed by:
Highland Brewing
North Carolina
,
United States
highlandbrewing.com
Style:
American Double / Imperial Stout
Alcohol by volume (ABV):
9.50%
Availability:
Rotating
Notes / Commercial Description:
No notes at this time.
Added by mikesgroove on 09-21-2008
This beer is retired; no longer brewed.
HISTOGRAM
Ratings: 136 | Reviews: 111

4
/5
rDev
-1%
look: 4.5 | smell: 4.5 | taste: 4 | feel: 3.5 | overall: 3.5
22 oz. bomber into a Moab Brewery pint glass.
Pours thick and dark, as if the bottle had unintentionally been filled with tar. The head builds to an attractive quarter inch of finely sorted, dark custard brown bubbles; recedes to a wisp and inwardly sloping ring of foam. The aroma reminds me of chocolate chip cookie dough ice cream, with its subtle notes of brown sugar, chocolate, espresso, and earthy, floral hops.
The first sip coats the tongue with heavy, saucy dark chocolate notes that lend themselves to spunky, earthen hops and an acrid, vinous, port-like chocolate and dark fruit finish. The heaviness is a bit trying, as is the alcohol, and both wear on the palate more than I'd like. The body is uber-thick and syrupy, with almost no carbonation of which to speak. I have to admit that I was a bit disappointed with this beer. Although it was complex, aromatic, and a beaut in the glass, Highland's Imperial Black Mocha Stout needs a bit of age to mellow out some of the hotter, rougher edges.
1,009 characters
4.37
/5
rDev
+8.2%
look: 4 | smell: 4.5 | taste: 4.5 | feel: 4.5 | overall: 4
Pours a thick opaque black with a thin tan head that diminishes to a thin layer and leaves spotty lacing. Aroma is a nice roasty blend of espresso and crisp cocoa. The taste is a great roasted mocha flavor that is quite rich and flavorful. The beer is medium bodied and very smooth with some noticeable alcohol lingering in the finish. This beer is very good in its own way, but is not that much different from other Imperial Stouts that are more readily available.
465 characters
4.52
/5
rDev
+11.9%
look: 4 | smell: 4.5 | taste: 4.5 | feel: 5 | overall: 4.5
Whoever put the label on this bottle didn't do a very good job and got it all wrinkled. That sort of detracts, but I won't deduct for it.
Pours a thick black with a chocolate-colored head that leaves some lacing.
Smells deliciously of roasted malts, and dark chocolate.
Dark chocolate and coffee are forward in the taste. Lots of roasted malt blends things together well. A touch of alcoholic warmth in there, alcohol is remarkably well hidden though.
Mouthfeel is great on this, super smooth, glides around the mouth.
This is the real deal. It was a bit pricey, but very worth it. Nice to see a big stout with balance and drinkability.
641 characters

4.6
/5
rDev
+13.9%
look: 4.5 | smell: 4.5 | taste: 4.5 | feel: 4.5 | overall: 5
Huge thanks to mikesgroove for tossing in this beer, I've enjoyed Highland beers before but this is so far their top beer in my book so far.
Pours a dark dark brown almost black color with no light being able to penetrate, good sized tan head, fades fast at first and slows down a bit near the end, leaves a bit of sticky lacing.
Smell is roasted chocolate with lots of dark fruit notes, slight coffee aroma but not as strong as I would have thought.
Taste has prickly carbonation at first and then mellows out to a nice smooth texture, alcohol is well hidden, mmmm chocolaty goodness with lots of dark fruit complexity.
This is certainly a treat and wouldn't mind seeing how this one ages.
694 characters
4.5
/5
rDev
+11.4%
look: 4.5 | smell: 4.5 | taste: 4.5 | feel: 4.5 | overall: 4.5
Cellar-cool 22-ounce bomber bottle poured into my Highland etched-logo shaker pint glass yields an opaque ebony body with a tint of impossibly-dark garnet at the edges. A huge grainy-bubbled cap of mottled dark-ecru and khaki foam rests atop the drink, going nowhere fast, leaving lacing in big abstract Rorschach blots on the glass as the pillowy head reluctantly settles into a respectably-thick sheet.
The smell is chocolatey and sweetly malty with a big whiff of winey black French Roast and a note of espresso, leaving the impression of a succulent mocha cappuccino aroma pervading the drink. A note of harsh, unadulterated black coffee pops out from time to time, with tons of dark bakers' chocolate close on its heels. The folks at Highland state on the label that neither coffee nor chocolate were used in the recipe, making what I'm smelling pretty damned remarkable.
If I thought the smell was a mocha fake-out, the flavor is a double mocha fake-out! Chocolatey black coffee with rich, black malty syrup rolls across the palate. Bakers' chocolate and twangy French roast rule. The drink finishes dry and dusty with a note of dark caramels rolled in cocoa powder working to fight off a combination of earthy hop and burnt-malt bitterness.
Silky smooth with excellent alcohol suppression and on the full side of medium-bodied with fine carbonation, Highland's Imperial Black Mocha Stout is an extremely drinkable beer, and the finest offering to date that I've enjoyed from this excellent brewer. Quaffable at 9.5% abv. Ridiculous!
1,543 characters
4.4
/5
rDev
+8.9%
look: 4 | smell: 4 | taste: 4.5 | feel: 5 | overall: 4.5
Got this from a friend.
Pours completely and utterly black with a two-finger tan head that dissipates slowly into a patchy layer on top and a thick ring around the glass. Lacing is pretty sticky.
Smells good. A huge chocolate aroma with a somewhat bready malt backbone.
Tastes great. Lots of chocolate malt up front that's backed up by a subtle roasted malt flavor. There's also a bitter coffee flavor that grows more robust as the beer warms. Bitter ending that stays with me throughout. There's no hint of the alcohol save for the warming sensation.
Mouthfeel is phenomenal. It's absurdly thick with carbonation that fights through the viscous beer. It's creamy and goes down oh-so smoothly.
Drinkability is great. I could not get enough of this and could very easily drink another bomber.
Overall this is a great beer. It's very, very smooth and the flavors all meld together flawlessly. Definitely pick this one up if you have the chance.
948 characters
3.97
/5
rDev
-1.7%
look: 3.5 | smell: 4 | taste: 4 | feel: 4 | overall: 4
A: It pours a dark brown color with a light brown head.
S: There is a sweet chocolate aroma. Also a little bit of roast in the nose.
T: In the beginning there is a fairly neutral flavor, but then it evolves during the mid-palate into something that has smoke, choclate and a light roasted coffee flavor.
MF: Medium body and medium-high carbonation.
D: Overall, it was a very drinkable beer. The flavors worked well together and loved how the flavor changed so much while in your mouth.
485 characters
4.12
/5
rDev
+2%
look: 4 | smell: 4.5 | taste: 4 | feel: 4 | overall: 4
Black with ruby highlights. Pours with a generous amount of light tan head that drops a bit but remains as a lacing atop the beer.
Aroma is of rich chocolate, coffee, and a hint of... don't shoot me... A1 sauce. I swear.
Flavor has the same thing... a hint of metallic, a bit of the steak sauce, and tons of chocolate, coffee, and dark roasted grain.
Mouthfeel is velvety, but the finish is acrid, sharp, bitter grain and coffee that lends an especially dry character.
Quite a good beer, but once again, the flavor is so balanced towards the acrid grain in the finish that it doesn't lend itself to being drunk very frequently... I had a few ounces and it was enough.
668 characters
4.33
/5
rDev
+7.2%
look: 4.5 | smell: 4 | taste: 4.5 | feel: 5 | overall: 4
22oz. bomber into shaker pint glass on 9/23/08. Again, thanks to Deuane for sharing this one!
A - Deep black body with two fingers of frothy burnt mocha-colored head that left swatches of lace around the glass.
S - Roasted malts with chocolate and coffee notes first greet the senses, followed by a waft of alcohol and some earthy, leafy hops. Some mild notes of tobacco, leather and jerky also emerge as the liquid warmed up.
T - Chocolate and coffee up the wazoo with plenty of roasted malt goodness. Bittersweet finish with hints of leather and earth, with the coffee character becoming more prevalent the deeper I dig into this sucker.
M - Slick and warm on the palate with an oily texture and chewy mouthfeel. This stuff glides down the throat with ease. Finish is moderately bitter.
D - This brew is exceptionally smooth and creamy, making it extremely easy to drink. Imperial... really?! The alcohol is barely noticeable. This was a pleasure to consume! I'm glad I have a bottle of this in the cellar.
1,016 characters

4.88
/5
rDev
+20.8%
look: 5 | smell: 4.5 | taste: 5 | feel: 5 | overall: 5
Had this at the Brewgrass release -- first beer I went for!
It's amazing stuff.
Appearance: Black, black, with a creamy-colored head. Inviting, in the way that a 7:00am java is inviting.
Aroma: Mocha, malt, hops. Something near the end...I can't quite put my finger on it....I want to say almost "fishy," except it's pleasant rather than gross...
Taste: Chocolate! Nice roasted malts and smooth hops finish it off.
Palate: Smooth, the definition of smooth. How is this 9.5% ABV???
Overall: Absolutely amazing. Why is this not brewed year-round and always on offer?
565 characters
4.5
/5
rDev
+11.4%
look: 4.5 | smell: 4.5 | taste: 4.5 | feel: 4.5 | overall: 4.5
Had the chance to try this one straight from the tap today at Brewgrass. Cannot wait to get some bottles tomorrow at a the release. Served moderatly chilled in a couple taster glassed. This one was consumed on 09/20/2008.
The pour was very nice, deep and dark, black as night with a rich tan colored head on the top of it. Some very nice retention here that thoroughly coated the entire inside of the glass with a sticky layer of lace.
The aroma was deep, lots of roasted malts and cocoa. Some light hints of alcohol mixed in throughout and a slight touch of molasses as well. The flavor was just very well done here. Almost all hints of alcohol are well hidden and delicatly subsided. Intresting mix of smoked and roasted malt flavors at first, when it warms it takes on a much more sweet profile with oodles of chocolate and sweet coffee coming though now. Rich, creamy full bodied feel was making this a very nice sipper, but again, very well hidden alcohol only served to keep it very easy,
Overall I thought this one was very solid. Nothing that was terribly overdone here at all, in fact it was just the opposite. Very nicely balanced and a very good big stout.
1,170 characters
Highland Imperial Black Mocha Stout from Highland Brewing
Beer rating:
4.04
out of
5
with
136
ratings