Dismiss Notice
Great Gatsby Abbey
| Highland Brewing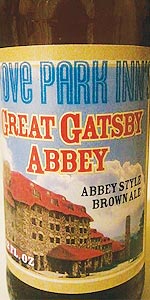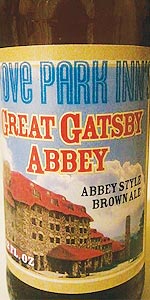 BEER INFO
Brewed by:
Highland Brewing
North Carolina
,
United States
highlandbrewing.com
Style:
Dubbel
Alcohol by volume (ABV):
not listed
Availability:
Limited (brewed once)
Notes / Commercial Description:
No notes at this time.
Added by atsprings on 08-04-2010
This beer is retired; no longer brewed.
HISTOGRAM
Ratings: 10 | Reviews: 5
Reviews by swh1972:

More User Reviews:

2.36
/5
rDev
-6.7%
look: 3.5 | smell: 2.5 | taste: 2 | feel: 2.5 | overall: 2.5
This "abbey style" ale is an insult to abbey beers and not worthy of the otherwise reliable Highland brewery. The brew is drinkable, and sort of hits the target suggested on the label: "a subtle version of a traditional abbey brown ale". At least it is subtle (i.e., underflavored) and brown (if veering into amber), and the nose has faint hints of banana, dark fruits and clove. Undermining the hints of an abbey dubbel is a finish that has more than a hint of overcooked green vegetables. The feel is too thin and watery.
O: Skip this an pick another Highland beer ... any other Highland beer.
596 characters

3.08
/5
rDev
+21.7%
look: 3.5 | smell: 3 | taste: 3 | feel: 3.5 | overall: 3
amber color with a light hint of caramel around the edges, big head comes up and over the top and settles down gently into a firm and long lasting pillow with loads of side glass lacing. Aroma is nice, much sweeter then I was expecting. Lots of caramel and malts right up front here, light hint of an herbal note boucning around as well, but not terribly strong. Warming brings out a yeast note that is quite intresting and adds a light fruit touch to it, but very sweet still. Flavor again is very intresting and not what I was expecting. Rich notes of caramel and almost candied like sugar abound here. Light touches of hops play on the tongue now as well, very intresting.
675 characters


1.61
/5
rDev
-36.4%
look: 2.5 | smell: 1.5 | taste: 1.5 | feel: 2 | overall: 1.5
Poured into a snifter on 10/13/10
9/9/10 etched on the bottle
With apologies to Seth & Nick
Rusty brown color with watered-down crimson highlights. At least it isn't murky. Just over one finger of foam that quickly dropped to a large patch of loose bubbles & a little bit of lace.
Thin, dark fruit notes (especially plum) that smell past prime. Musty yeast undertones. Has a candy-like aroma without suggesting sweetness. Reminds me of cotton candy & bubblegum. Every now & then I get a whiff of something rotten.
This tastes bad; really bad. Watered down cola, herbal notes a la tea leaves, thin plum & fruit ethers, bubblegum, bland yeast & an nearly astringent finish add up to one dismal tasting beer. I get the impression they brewed this after 2am.
Waxy & kind of thin, the feel is weird. Carbonation is low which does nothing to mask the flavors. Finishes dry having an almost granular feel. The flavors linger far too long.
I'm a staunch Highland supporter (theirs were the beers that got me into craft) but I cannot get down with this one.
1,055 characters

1.23
/5
rDev
-51.4%
look: 2 | smell: 1.5 | taste: 1 | feel: 1.5 | overall: 1
12 oz shared by schwaeh, thanks Steve... I guess.
Live review.
A: Pours a rusty red color, small tan head, some light lacing. Brown Ale? Not even close.
S: Bubblegum/banana/clove estery "Belgian" yeast. Not much past it. Oh God help me...
T: Even worse than the aroma. The terrible aroma plays into the flavor, fake Belgian yeast, slight smokiness, what comes through past that crap is overly sweet. Bad.
M: Thin, light, and just no.
O: Sometime I question humanity and mankind. This beer has me wondering how it got out of the brewery. Terrible beyond terrible. Avoid as if the bottles contained bubonic plague.
618 characters
1.55
/5
rDev
-38.7%
look: 2.5 | smell: 2.5 | taste: 1 | feel: 2 | overall: 1
Guess where I got this one. Yep, Ryan.
A- Clear ruby red. A very short lived head. No lace. I think this isn't dark enough for the style.
S- I'm not getting much smell at all. Just some light, ambiguous fruits.
T- Woah, this is BAD. Very, very weak on anything that resembles flavor at all. Odd hairspray flavors of astringent fruits and alcohol. Its mostly water though.
M- carbonated water.
Bleck! Amazingly bad. I'd never guess the style.
451 characters
Great Gatsby Abbey from Highland Brewing
Beer rating:
2.53
out of
5
with
10
ratings