Highland Little Hump Spring Ale
| Highland Brewing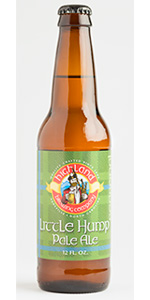 BEER INFO
Brewed by:
Highland Brewing
North Carolina
,
United States
highlandbrewing.com
Style:
American Pale Ale (APA)
Alcohol by volume (ABV):
4.50%
Availability:
Spring
Notes / Commercial Description:
This American Pale Ale is meticulously handcrafted for full floral hop aroma and flavor. Brewed with grains from America's heartland - Simcoe for bittering, Amarillo and Cascade (both dry hopped) for aromatics - this beer finishes crisp and clean. Have a few and your freshly mowed lawn will still have arrow-straight lines.
32 IBU
Added by thagr81us on 02-11-2011
Reviews: 82 | Ratings: 272

4.42
/5
rDev
+16%
look: 4 | smell: 4.5 | taste: 4.5 | feel: 4 | overall: 4.5
Always up to try brand new stuff from Highland, especially something that has "Hump" in the title. Just because. Pours a bright golden color with perfect clarity and a creamy, wet head.
The nose is so sweet and full of grapefruit citrus that it seems surreal.
The taste reveals that some of that sweet grapefruit has wondertwinned into hop bitterness but for plenty of the rest, the song remains the same. The hops take over early but the airy sweet candy comes back in the finish. There is a ton of flavor here. Even among APAs this is unique and very cool for what I figured was a one shot seasonal. I would love to try this one on tap after a day of hiking in the mountains.
680 characters
4.41
/5
rDev
+15.7%
look: 3 | smell: 4.5 | taste: 4.5 | feel: 4.5 | overall: 4.5
Not sure of the abv, but labeling claims this beer to be sessionable. Saw one online reference that states this to be 4.5% but couldn't find anything official on the Highland site.
Very clear light gold pour with 1-finger near white head. Not much retention nor lace. Probably what they were shooting for, but it's just an average looking glass of beer.
Nose is very nice. Very fruity, with lots of grapefruit and tropical citrus.
Hits fruity with tons of grapefruit for the style. If this really is a 4.5% beer, they packed in a ton of flavor. Some malt backbone 2/3 through the sip with a light bready feel. This is a really nice glass of beer and a welcome craft addition, going up against the stronger abv's I've been enjoying lately.
I'll definitely get this one again.
779 characters
4.19
/5
rDev
+10%
look: 3.5 | smell: 4.5 | taste: 4.5 | feel: 3 | overall: 4
Gold in color that's as clear as mountain spring water. Large soft white head quickly recedes to a tight lace on top of the glass. Looks just a touch watery. Smells like grapefruit with sugar sprinkled on top. Mmmmm!! This beer packs a lot of flavor for such a soft subtle beer. Lot's of tropical fruit flavors. Mango, Pineapple, Tangerine, Grapefruit. But where is that sugary sweetness coming from? Very flavorful yet in a suductive subtle way. Mouthfeel is very light which may help explain the softness of the beer. I could put a few of these away. When I saw the bottle I thought, "It seems like Highlands would do something a lot "cooler" for thier spring seasonal." After drinking this beer I feel this is the perfect way to welcome spring...with another tasty APA from the Tarheel state.
795 characters
4.6
/5
rDev
+20.7%
look: 4.5 | smell: 4.5 | taste: 4.5 | feel: 4.5 | overall: 5
This beer seems like it must be insanely fresh, judging by the vibrance of the quality.
A - The brew pours an ultra-translucent copper-gold and is capped with a prodigous volume of white froth.
S - The nose is like candied apricot, with splashes of tangerine, pineapple and mango thrown in for tropical fruits' sake. Very similar to Sculpin. As the glass empties, some vaguely grassy notes emerge.
T - The flavor is much more subdued than the tropical throwdown that is the nose, but it is still exceedingly pleasant. The pale base contributes mild grain flavors, there is a refreshing mineral water element, and mostly there is an understated yet dominant hop bouquet. The hop contribution is again in the tropical range, centered around pineapple and mango but also inclusive of tangerine, white grapefruit pith, limon, and peach-apricot. The finish is bitter-dry and extra-long. This is great stuff, nearly granted the highest score for taste and smell.
M - This beer is well-done from the bottom to the top. The feel is bright enough to illuminate the hop to a showcase level without requiring a tongue-bruising IBU to get there.
D - One of the most surprising finds in a while. Really really good stuff.
1,213 characters

3.97
/5
rDev
+4.2%
look: 3.5 | smell: 4 | taste: 4 | feel: 4 | overall: 4
A: Poured from a bottle to a pint glass. Had a golden yellow color and a completely clear consistency. There was a small amount of fairly long-lasting, foamy head. OK lacing.
S: A very sweet, almost sugary smell, that had notes of hops, malt, and grain.
T: Tasted of mild hops, a definitive maltiness and and a grassy/grainy quality. There was also a little bit of citrus mixed in there for good measure. A pretty tasty beer.
M: A good amount of carbonation with a slick finish. Light-bodied.
D: A generally well made, drinkable beer.
538 characters

3.52
/5
rDev
-7.6%
look: 3 | smell: 3.5 | taste: 3.5 | feel: 3 | overall: 4
12oz bottled Jan 26, 2011.
Pours clear gold with a small white head, leaves moderate lacing and holds a light cap.
Aroma is citrus, grassy and floral hops, noble hop almost skunky character as well as grains, bread. Moderate to good strength.
Flavor is lemon citrus and grassy hops, grainy malt, mild sweetness but finishes dry with lingering bitterness.
Mouthfeel is light, medium to high carbonation.
Despite technically being an APA, the appearance, aroma, flavor profile, etc all make this feel like a hopped-up Pilsener, Still, a good refreshing beer for the upcoming warmer weather.
597 characters

3.83
/5
rDev
+0.5%
look: 4 | smell: 3.5 | taste: 4 | feel: 3.5 | overall: 4
looks like I'm the first review -
pours a light straw color with a 1/2 finger head - smells a little like funky meadow air - taste is a little sweet with a grassy bite and an earthy backbone, a little funky - good carbonation - goes down easy - a welcome taste of spring in february.
284 characters
Highland Little Hump Spring Ale from Highland Brewing
3.81
out of
5
based on
272
ratings.