Quinn's Bar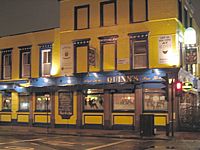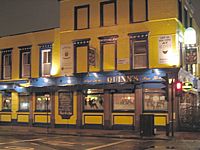 Bar, Beer-to-go
65 Kentish Town Road
London
,
England
, NW1 8NY
United Kingdom
+44 (0)20 7267 8240 |
map
Notes: Opening Hours: 11:00-23:30 Mon-Thurs; 11:00-24:00 Fri-Sat; 12:00-22:30 Sun
Rail: Camden Road (0.2 miles)
Tube: Camden Town (0.2 miles) - Northern (Zone 2)
Reviews by thepeter:
thepeter from England
3.3
/5
rDev
-14.1%
vibe: 3 | quality: 3.5 | service: 3 | selection: 3.5
I think this place has gone way down hill over the last few years. I had heard decent things about Quinns and although it was not a bad pub to go to, it was just above the average boozer for me. Good amount to German beers all in Bottles behind the bar. This was probably Quinns best atribute as I enjoy German beers and they had some Rauch Bier in bottles as well. Service was a mixed bag, one younger guy was cool but the older guy was a bit surly. Selection was good but on my first visit they lost the key to the Belgian beer fridge, this was pretty piss poor and on my second visit the selection of Belgians was not as varied. THe British beer was average Fullers/Green King Etc. Nothing to be excited for. Did not try the food.
If you are in Camden and want to make the effort, it is a 10 min walk from the station and the bright Yellow and Purple can't be missed.
Feb 24, 2011
More User Reviews:
Antilochus from Canada (ON)
3.23
/5
rDev
-15.9%
vibe: 3.5 | quality: 3.5 | service: 2.5 | selection: 3.5
Went after work on Wednesday July 29, 2008 at about 7pm.
Took a while for the bartender to notice me - he was standing outside talking to some customers. After a while I realized there were actually 3 people tending bar but all of them were off talking to customers! Service in general was a bit slow, and I felt ignored, especially after the bartender heard my accent and thought I was American (I'm Canadian).
Selection of standard InBev kegs, a few casks from big UK brewers (Greene King etc.). Big Belgian bottle selection advertised, sorted by general style (Lambic, Blonde, Red, Dark). German selection of bottles too but I didn't take a very close look - next time perhaps. All Belgian bottles are £3.30 - great value for London. However only a handful of the advertised list was in the fridge. I first ordered a Tripel Karmeliet, and the bartender poured a bit in and let me finish it off. Unfortunately it was served in a Lipton Iced Tea tulip... oh well. Second beer was a Bernardus Abt 12 which was also served in a Lipton Iced Tea tulip...
Kitschy decor, not to mention blinding yellow paint on the exterior. I was the only one drinking a bottled Belgian in the whole place, which I found odd. Therefore it wasn't the most beer-friendly environment but it was pretty quiet. Music was smooth jazz, lots of standards.
Certainly this is one of the cheapest places to drink great Belgian beer in the Big Smoke, and if I see their selection improves I'll definitely rate them up. It's worth the trip out to Camden Town.
Jul 30, 2008
jasonm from Pennsylvania
3.86
/5
rDev
+0.5%
vibe: 4 | quality: 4 | service: 3 | selection: 4.5
Stopped in during a recent trip to London. As others have mentioned, the bright yellow paint with blue trim is easy to spot.
Inside, the atmosphere is interesting. A mishmash of pub and Americana, with Grandmaster Flash(!) playing.
What makes Quinn's a destination is it's excellent selection of German and Belgian beers. Take a gander at the list written on yellow poster board above the bar, with beers divided by country and sub-divided by style.
I didn't eat, but the menu selection was a step above your standard pub fare, including prime rib and duck available.
Prices were pretty reasonable for London, with most of the Belgians going for £3.00 - £3.50.
Oct 23, 2007
Stephen63 from Scotland
3.94
/5
rDev
+2.6%
vibe: 3.5 | quality: 4 | service: 3.5 | selection: 4.5
Visited this at the end of a working day's flying visit to London as the beer selection seemed to good to miss. Arrived at ~5.00 on a Wednesday afternoon so, as expected, the place was pretty quiet. As I only had an hour I treid to quickly scann the handwritten beer list over the bar, these guys like lambics! Around 50 beers in total on the list.
Slightly disappointed, as they had no Westvleteren however I settled on an Achel which was quickly fetched from the fridge located at the end of the bar on the customer side. The fridge itself was locked but you could go and "window shop", the beers appeared to be in the order they appeared on the list. Really quite an impressive list for a London bar.
Lambics are a bit of an acquired taste but I decided to try a Boon Oude Kriek Mariage Parfait. After initial impression of disgust this stuff really grows on you!
Overall well worth a visit if you are in the vicinity. Service was friendly enough and my only negative point was that the fridge temperature was a bit on the cold side.
Handy for the Northern Line on the underground so I was able to connect easily at Brent Cross for my bus to Luton airport. Will definitely be back!
Feb 06, 2007
TheLongBeachBum from California
4.08
/5
rDev
+6.3%
vibe: 3.5 | quality: 4 | service: 4 | selection: 4.5
The glowing dusk helped to take the sting off the hot air as a light breeze cooled us on our way to the legendary Quinn's. A 5 min. amble from Camden Town Tube station and soon RichLightWeight & I were safely outside what can only be described as a very "hard to miss" exterior. Seems like the price of tins of yellow paint at the closing down sale of the local hardware store was far too tempting an offer to miss.
Situated on the corner of Kentish Town Road & Hawley Road, the corner part of Quinn's has 3 storeys, whilst the longer leg of the building has only 2 storeys. It could well be that this was more than one building once upon a time. The whole exterior is painted in a bright canary yellow, with the highlights, such as windows, painted in a contrasting (?) dark blue. You *really* CANNOT miss Quinn's! The paint job ensures that the exterior lights up naturally on a night, but the off illuminated Guinness & Leffe signs also help to direct the thirsty imbiber, especially if you are color-blind.
Interior has a lot of standard fittings & decoration, simple beer stools, tables & chairs, reproduction fittings & paintings, as well as "pubby" bric-a-brac, in short, nothing outstanding & it all looks recent. The bar sits off to your right hand side as you enter & runs down the back wall along with the flags of nations, not sure if this was just for the World Cup or a permanent fixture. Aside from the flags, the atmosphere is like that of hundreds of other local London Pubs.
Beer selection, on the surface looks a little jaded. A brace of Handpumps pairs serve up to 4 Real Ales. I don't even recall what these were, I do remember that at least two were Greene King IPA & Abbot Ale with the third being a Fullers brew, possibly London Pride. But to come here for the Cask beer, whilst admirable, would be to completely miss the whole point of a visit to Quinn's. The gem here is the bottled beer selection, an incredible portfolio of German & Belgian beers that takes some beating, it is probably just shy of 100 bottles but I am sure it will top that at times.
Four large sheets of yellow flipchart paper are stuck high behind the bar, rather unceremoniously and it all looks a bit tacky but hey when you read what is written on these sheets you can forgive that.
The first two sheets listed 33 German Beers - all numbered and broken down by style, very neat and helpful that; 2 Smoked, 9 Weiss, 1 Dark Weiss, 19 Blonde (Hells, Pilsner, Kolsch), 1 Dark Lager and 1 erm…Alkoholfrei. All German beers were £3.30 Similar story for the next two sheets which listed 55 Belgian Beers, these included what I can honestly say was a very impressive and almost full range of Trappistes, Strong & Dark Pale Ales and lambics amongst others – they were traditional lambics to boot I may add. As a fan of the Oude Gueuze it was heartwarming to see a stunning range of Cantillon, Oud Beersel, Boon, Girardin and Drie Fonteinen. All Belgians were £3.20 except for the handful of larger bottles and some specially priced ones, but the prices on these were exceptionally reasonable nonetheless.
So I opted for a Westvleteren 12 to start with. HOLY CRAP!!! £3.20 for a bottle of Westvleteren 12, served in a Pub! Beat That!!! You could come here and actually have a session on Westvleteren 12 without mortgaging your house. But the value spreads across the board, so play your cards right and if you know your beers, the ones like the 8% Aventinus are real bargains. I don't know how they can do this to be honest but I am not complaining.
To finish with RichLightWeight and I each had a bottle of 375ml corked and caged Drie Fonteinen Oude Geuze Vintage 2002, a new one on me and a damn fine brew I must say. Where the hell else could you get a 4 year old aged traditional Oude Geuze for these prices? I bought a bottle to take out, which was also very cool. One word of warning though, you can buy all the bottles to take out if you ask nicely – *except* for the Westvleteren that you must drink on premises!!
Service was excellent, but you should order your bottled beer by the number on the list rather than its name, it just seems quicker than way and they can locate it in the coolers behind the bar much faster too.
I get the impression that Quinn's does not want to be a "Beer Bar", rather a Pub that sells a great range of excellent bottled beers. Moreover, it feels like it wishes to avoid all that is associated with the pretentious beer drinker about stocking such an awesome range of bottled beers, so it plays it all low key, witness the hand written beer menu stuck up behind the bar with sticky tape!! But this is the fascinating aspect of this bar and its charm. It really is all about the beer here!
Quinn's does not take itself too seriously, neither should you, but the beer range is well worthy of a serious dedicated special trip out here, and you most certainly will not burn a hole in your wallet when you do.
Make the journey here, it is worth it.
Last Visit: Saturday 24th June, 2006.
Jul 06, 2006
wl0307 from England
4.08
/5
rDev
+6.3%
vibe: 3.5 | quality: 4 | service: 4 | selection: 4.5
Thanks to RichLightWeight's kind recommendation, I've finally come to the best pub in the Camden Town area. It's an Irish pub alright, run by presumably the Quinn's family whose origin is Ireland. But the two mid-age barmen, looking like brothers and as joyful as the Irish, spoke in a non-Irish accent which even a foreigner like me could tell. One of them is hilarious and non-stoppingly swearing, about beers, sports, and other private matter while on the phone, but provided me with very good service in the most "straight-forwardly friendly" manner I've ever come across in the Greater London.
"Unforgettable" colour at the exterior (yellow and dark blue) and quite interesting (albeit a bit ersatz) decor, with a classic espresso machine displayed behind the long bar, paintings and old photos arranged randomly on the walls, lots of old jugs and kitchen-wares hanging high and above on the walls, fake engraved+coloured glasses here and there, Christmas tree string-bulbs hanging around the fire-place, pillars painted as if made of marbles... o.k. you get the idea.
As to real ales, the 4 handpumps on the bar serve only Greene King IPA and Abbot Ale. But the strong point about this place, as stressed by the previous reviewers, is on its well-selected foreign beers~~ With about 32 German bottled beers (with pretty good representation of weizen) and around 40 Belgian+Dutch+French beers dispersed in several fridges, you could take as long as you like glancing at the fridges and the black boards before deciding what to have (this time) for your relaxing session. As far as I could see, most punters indulged themselves in a bottle of something from the Continent which are not easy to find in most London pubs, and many took away bottles for home consumption as well. I had a bottle of 3 Fonteinen Oud Geuze (2002 bottled) and a bottle of (unexpectedly boring) French whisky-malt beer, but both were kept at very good temp. The jolly barman certainly did his homework, although he did make a minor "mistake" by rinsing my glass before offering to pour the Geuze for me, which I politely declined.
All in all, this is a good quality and lively pub at the fringe of an equally vibrant and colourful area in North London. It's worth paying a visit if you're in London, and do combine it with market shopping in the Camden Town preferably on a hot summer afternoon. You'll enjoy yourself big time.
Mar 19, 2006
GreenWBush from Oregon
4.39
/5
rDev
+14.3%
vibe: 4.5 | quality: 5 | service: 3.5 | selection: 4.5
Quinn's is quite the pub in semi-central London: on most weekends, it is open until a shocking 2 am! It is nestled in the heart of Camden Town, a shocking mix of culture, class, and culture. You'll probably love it.
Quinn's doesn't have the traditional pub interior: while it is decorated with polished oak and wall-carpet, it has a garishly blue and yellow interior. You'll find the generic selection of Carling, Stella, Kronenberg, and Guinness.
Fortunately, you'll also find a couple of real ales on tap. While I was there, the selection was London Pride. Quinn's also had the largest selection of Belgian beers I had seen anywhere in the country. I had my first experience with Orval here. All drinks and beers are served at a reasonable cost.
Americans - mind your P's and Q's. I made the mistake of taking a picture and was nearly ushered out. Quinn doesn't like pictures taken inside of his establishment.
Make the train ride for Camden Town, and stay for Quinn's and its amazing selection of Belgian beers.
Jan 21, 2004
Quinn's Bar in London, GB2, United Kingdom
Place rating:
3.84
out of
5
with
7
ratings