Three Flowers
| Marin Brewing Company
BA SCORE
84
good
14
Reviews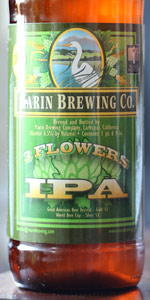 BEER INFO
Brewed by:
Marin Brewing Company
California
,
United States
marinbrewing.com
Style:
Rye Beer
Alcohol by volume (ABV):
6.50%
Availability:
Rotating
Notes / Commercial Description:
No notes at this time.
Added by Beerandraiderfan on 08-08-2011
Reviews: 14 | Ratings: 83
3.97
/5
rDev
+7.6%
look: 3.5 | smell: 4 | taste: 4 | feel: 4 | overall: 4
On tap for the 4th Anniversary event at Blue Palms Brewhouse in Los Angeles, CA.
Pours a clear orange with a foamy bone colored head that settles to an oily film on top of the beer. Small streaks of lace form around the glass on the drink down. Smell is of citrus fruit, citrus zest, malt, and alcohol. Taste is much the same with a mild amount of hop bitterness on the palate with each sip. This beer has a good level of carbonation with a crisp mouthfeel. Overall, this is a good beer with some nice aromas and flavors that make it tasty and easy to drink.
★
560 characters

3.17
/5
rDev
-14.1%
look: 3 | smell: 3.5 | taste: 3 | feel: 3.5 | overall: 3
Watery taste with big hop bitterness. Very light bodied. Seems more bitter at first couple of sips, but it's not bad with bread, cheese, and pickles. Very flowery, honey-scented nose like a fruit orchard in bloom. Abundance of the grapefruit peel takes it over the bitterness edge. Sharp taste with a verty low malt profile. Good for a big stein if you're after the resins. Must be the lightest-weight IPA I've ever tasted, closer to the Utah draft beers which are 4.0%.
Pleasant carbonation for a cask version. At The Linkery in San Diego.
★
541 characters
3.24
/5
rDev
-12.2%
look: 4.5 | smell: 3 | taste: 3 | feel: 3.5 | overall: 3.5
On cask at Beachwood I,
A: Pours a lightly hazy yellow with a medium to full white head, good lace.
S: Lemon zest, grass, some flowery hops.
T: Again has a lot of lemon flavour, citrus for sure, but not wowing me at all.
M: Medium-bodied, soft carbonation, solid feel, works well with food.
O: Not a terrible IPA, but nothing to get excited about. This is adequate CA IPA.
★
377 characters
3.98
/5
rDev
+7.9%
look: 4.25 | smell: 3.75 | taste: 4 | feel: 4.25 | overall: 4
bomber into a tulip. thanks to bignuke61 for this extra!
Pours a light golden color with a nice head and good lacing. Mild hops on the aroma though honestly not much of a smell on this one. The taste is very smooth and clean. hop profile up front and on the finish you get a lot of rye. didnt know this was a rye beer from the label. Pleasantly surprised. Very drinkable and tasty. Mild body with mild carbonation.
overall a very easy drinking rye ipa. Recommended.
★
467 characters

2.63
/5
rDev
-28.7%
look: 2.75 | smell: 2.75 | taste: 2.5 | feel: 2.5 | overall: 2.75
Yellow beer lacking in the clarity department, I guess this is a rye beer, so maybe that contributed to the appearance in its lackluster look. Aroma didn't pop on the hops or rye, but it was floral. Maybe they dropped all of one citra hop cone, but I didn't pick anything like that up here.
Taste was nothing like the label. Lacked hops. Lacked citra. Lacked rye. Can't figure out what they were going for here, tasted nothing like it was advertised as.
★
460 characters
2.55
/5
rDev
-30.9%
look: 2.5 | smell: 2.5 | taste: 2.5 | feel: 2 | overall: 3
Came out extremely yellow and hazy, didn't have the hop aroma you'd look for in an ipa, definitely delivered on the 'flowers' though. Floral, but not floral from whole leaf hops, floral, from well, probably flowers. Allegedly dry hopped with citra and cascade, I just didn't pull that out of the nose in any sense. Cascade, maybe, nothing from the citra.
Upon immediate tasting, I thought, uh, did they pour me a saison? It was light, somewhat refreshing, floral, mild, barely hoppy not at all bitter. . . how did this get to be claimed to be 80 ibu?
It was certainly innovative, unique, but it really didn't seem like it belonged at an ipa festival, really, seemed more like it belonged at a saison festival just as much, yes, it was missing some obvious things you'd want in a saison, but I mean, it owed more to a saison than an ipa.
★
842 characters

4.32
/5
rDev
+17.1%
look: 4 | smell: 4.5 | taste: 4.5 | feel: 4 | overall: 4
A - Served a hazy golden-yellow color with a thin finger of frothy white head atop. The head fades down at a normal pace leaving behind some good lace.
S - Aroma is a mix of sweet caramel malts with some spicy rye, and some earthy and citrus hops.
T - Starts off with some sweet caramel malt with some light spice from the rye and some citrus hop. Through the middle, some more piney hops come through with more bitterness. The finish is mix of rye with some citrus hops and light bitterness.
M - Medium-plus bodied with moderate carbonation. Feels smooth with a nice spicy and dry finish.
D - Very drinkable. Really nice rye addition to the IPA base. Really nice balance of malt, grain, and hops.
★
701 characters

3.97
/5
rDev
+7.6%
look: 3.5 | smell: 4 | taste: 4 | feel: 4 | overall: 4
This beer won silver at 2011 GABF, apparently. Enjoyed in a wine glass at Boulders.
Cloudy apricot with a thin, light gray head that becomes a wispy ring within seconds.
Honey and alcohol, light toasted biscuits and white crackers in the nose. Very floral. Roses, grass, lilac. Bright and fragrant, like perfume.
Light grass in the flavor, with increased caramel and honey, burnt sugar. Sticky alcohol, but smooth blend. Rose petals, orange blossom.
Medium body, mild yet prickly carb. Spritzy finish.
Perhaps not GABF medal material, but very tasty. With each sip I got more of the flowers and the sweetness, and it continued to grow on me.
★
648 characters
3.5
/5
rDev
-5.1%
look: 3.5 | smell: 3.5 | taste: 3.5 | feel: 3.5 | overall: 3.5
Pours a slightly hazy golden color with a tight, white head that leaves little bits of lacing.
Smells of some light rye notes and a floral hops.
Tastes of some spicy rye, floral hops, and a touch of malt sweetness. Malts lead off with some spicy rye and a bit toasted bread. This gives way to some floral and citrus hops with a bit of pine as well. Moderate bitterness leads to some caramel sweetness. Finishes fairly clean.
Mouthfeel is medium with a crisp amount of carbonation.
Overall, this is a solid floral IPA, but the addition of rye doesn't do it for me.
★
567 characters

3.62
/5
rDev
-1.9%
look: 3.75 | smell: 3.5 | taste: 3.5 | feel: 4 | overall: 3.75
Had on-tap at the Magnolia Brewpub in SF. Poured into a 20oz nonic pint glass.
Pours a rather pale amber color with golden tones around the glass. About a half finger of frothy head coats the top of the glass, and if they were intent on ripping people off here (they're not, thankfully), I'd imagine a lesser pour in the same glass would produce a huge head of sorts. Definitely looks resinous and well presented. Looks like every IPA made on the West Coast ever, but mister, it's still a good looking one.
Smells of huge soapy citrus notes at first, as well as some slight cracked barley aromas melded with spiciness no doubt from the rye. Ever since Hopocalypse, I've been enjoying the light infusion of rye in IPAs. Regardless, I wouldn't consider this to be a rye beer by any means, but rather just an IPA with rye malts added. Floral as hell, with light notes of honey and caramel - combined with the peppery sensation, it's really flavorful. Could be a little less soapy, but overall it's nice.
The flavor is equally soapy as well - at least at first - but rather than retain vibrant notes of dishwasher liquid, it eventually turns into more of the spicy floral notes as before, gingerly coated with light grapefruit and lemon and lime peel. Really not offensive by any means, but definitely not very juicy or creamy. Astringent as hell, almost... Took a bit to finish this with the dried hoppy flavor and rye at the back. However, the low alcohol and balanced flavors never made this a complete chore, and indeed, it got much better as it warmed up and more of the malty flavors opened up in a bready, thickened manner.
A very decent IPA - the rye malts are subtle enough to provide extra spice to the zest. While it could be less soapy, the floral notes are pretty good, and malt profile holds the fort well. Maybe a little TOO dry, but there's nothing I can do about that given the concept. Worth a try for sure - much better than anything bottled I've ever sampled from Marin Brewing Co.
★
2,001 characters
4.09
/5
rDev
+10.8%
look: 3.75 | smell: 4 | taste: 4.25 | feel: 4 | overall: 4
Just realized that I've never reviewed or ticked this one.
Had from a bottle a handful of times and seemed middle of the road.
Just enjoyed it on tap from the Marin BC taproom and was so much better than bottle.
Poured a nice golden color with a thumb of creamy head.
Nose was a nice crisp hop pop. One that I wasn't expecting based on my bottle experiences.
Flavor is a lot like the nose and I very much enjoyed every sip.
Overall a very nice, very close to me (less than 2 miles) IPA. I'll revisit this one for sure.
★
518 characters

3.32
/5
rDev
-10%
look: 3.5 | smell: 3.25 | taste: 3.25 | feel: 3.75 | overall: 3.25
Bottle share at Proof, I think Masterson brought this one in. Pours a pale yellow with almost no head, collar, or lacing. Aroma is very muted malt and some piney hops. Taste is light malt sweetness with the bitter piney hops up front. Light body and good carbonation though.
★
274 characters
4.85
/5
rDev
+31.4%
look: 4.5 | smell: 4.5 | taste: 5 | feel: 5 | overall: 5
Easily became a favorite of mine after just one lazy afternoon at the brewery. A golden translucent pour supports a nearly eggshell white head of a finger. Smell is of light hops and what I would assume to be rye. Taste is fugging magnificent with bitter and floral hops balanced by the pale rye malting, this is fantastic. Definitively west coast with what I would consider a slightly hop forward beer, the rye is unique enough to make this beer stand apart from other west coast IPAs. That being said, the hop blast and coating of the mouth with a lingering hop bitterness makes it easy to put this beer toe to toe with any of the common favorites of the w/c style: stone IPA, even blind pig :0
Overall, I bought a whole case need I say more???
★
746 characters

3.66
/5
rDev
-0.8%
look: 3.75 | smell: 3.25 | taste: 4 | feel: 3.5 | overall: 3.5
Bottled: Unknown- Could not find on the bottle
Drinking: 12/30/13 @ 6:00 PM
Setting: Living room couch, watching Ole Miss & Georgia Tech in the Music City Bowl. 6:00 left and Ole Miss up 23-17.
A: Pours a cloudy and hazy straw color, almost grassy. Hints of dandelion and amber. 2 fingers of nice creamy white head dissipates to about 1 finger and hangs around. Carbonation bubbles seem minimal rising through the haze. Head stays at a 1/4 inch cap the entire time with nice lacing on my tulip glass.
S: Toasted rye seeds. Maybe a little caraway as well? Smells a bit of citrus, but not picking up too much. Mainly the rye and caraway. Smell is a bit faint. Hints of baking seeded breads.
T: A whole lot of rye from the start. Matches the smell right from the beginning. Again, some toasted nuts/seeds with a backbone of grapefruit. This is certainly rye forward though, with the grapefruit there for the balance. There's a hint of pepper there at the end.
MF: On the thinner side. The mouthfeel on this one doesn't hang around like a normal west coast IPA. Usually its sticky and resiny on the tongue and lips. I'm not getting to much with this. Finishes dry. Carbonation seems on the lower side. Not much pop when it hits your tongue.
O: This is a nice change from the what you'd normally expect from a west coast IPA (even though it's a rye beer). It's not super hop forward and is enjoyable because of that. This is an easy drinker at 6.5% and the alcohol is hidden very well. It's something I'd drink a bunch of in the spring and summer. I'd definitely drink this beer again, but wouldn't consider it a must-have.
★
1,624 characters
Three Flowers from Marin Brewing Company
3.69
out of
5
based on
83
ratings.