Bière Du Démon
| Les Brasseurs de Gayant
BA SCORE
61
poor
36
Reviews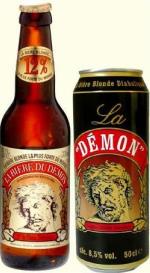 BEER INFO
Brewed by:
Les Brasseurs de Gayant
France
brasseurs-gayant.com
Style:
Euro Strong Lager
Alcohol by volume (ABV):
11.50%
Availability:
Year-round
Notes / Commercial Description:
No notes at this time.
Added by brewdlyhooked13 on 01-11-2002
Reviews: 36 | Ratings: 84
2.7
/5
rDev
+21.1%
look: 3.5 | smell: 3.5 | taste: 2.5 | feel: 3.5 | overall: 1.5
Vintage 1997? Best before of 30.03.98
Pours pale, hazy gold with a white head of various sized bubbles.
The head never accounts to much, even with an aggresive pour, but lacework is decent afterwards.
Mostly erratic dots and a few strings of foam endure throughout the glass.
Aromatics are mostly higher alcohols, with a mild nail polish essence and other cleaning solutions.
A very light malt wink lies underneath the brutal, boozy nose, and finishes with a hint of honey.
The mouthfeel is pretty light for the size of the beer, and a bit sticky. Nothing really else is apparent besides the heat that bares down.
The pallet is mildly sweet and almost burning. Pretty straightforward and alcoholic. No spice, yeastiness or hops. Rather one dimensional.
The cleaning solution character comes through as promised, but seems more industrial strength now. Goodie goodie.
A very light malt note along with some residuals is all that can be decerned through the lingering heat of the fusels.
The solvent-like character seemed to build on the pallet, which eventually kept me from finishing the glass.
I was hoping that 10 years would have helped this beer improve somehow, and it is more offensive than I remember.
Maybe another 10?
1,242 characters
1.58
/5
rDev
-29.1%
look: 2.5 | smell: 2 | taste: 1.5 | feel: 1.5 | overall: 1
330ml bottle
Pours with a pale gold colour, thin slightly off white head with pretty poor retention, thick cloying body sticks to the side of the glass, some lacing
Smell, massive whiff of strong booze, some malt liquor aroma in the background, hops are no where to be smelt :(
Taste, overpowering sweetness, ridiculous alcohol, boozy mouthfeel, burning alcohol, some thick sticky malt in there too.
Sh*t basically, a malt liquor gone too far, tastes like someone brewed a standard lager recipe then added 6kilos of spray malt just to up the alcohol content.... stay far away from this one
602 characters

2.5
/5
rDev
+12.1%
look: 2.5 | smell: 2.5 | taste: 2.5 | feel: 2.5 | overall: 2.5
A neat looking label. Hesitant because of previous things I'd heard about this one, but gave it a fair, objective shot - and was, pleasantly not poisoned. While far from anything of quality, it managed to keep itself well beyond the realm of under-the-sink cleaning products. Alcohol, at an alarming 12%, stayed surprisingly hidden, or at least nondestructive to the beer. It's real shortcoming would fall in a simple lack of taste and aroma. An acceptable draft at the style, but lacking in the finer touches. Flavour offers little interest or complexity, equally can be said for the aroma. Both, present, but void. It managed to produce some head over the clouded (unhealthy looking) yellow appearance. In the end, I can say with some truth that I didn't mind this one; well, in all honesty I've had worse anyhow...
817 characters
1.03
/5
rDev
-53.8%
look: 1.5 | smell: 1 | taste: 1 | feel: 1 | overall: 1
Thin, white, bubbly garbage. "The most alcoholic pale beer in the world" is also one of the crappiest. I'm glad I bought this one in France at a Super U for a buck. If I had dumped any serious change on it in the states I would have been pissed. You know…I thought it was weird when I got in line and the homeless man in front of me was buying the same beer. That really should have tipped me off to something.
Appearance: Alcohol
Smell: Alcohol
Taste: Alcohol
MF: Alcohol
Drinkability: If you're a hobo…5. If you're a BA…1.
538 characters
1.53
/5
rDev
-31.4%
look: 2 | smell: 1.5 | taste: 1.5 | feel: 1.5 | overall: 1.5
I came across this at a food stand here in Milan. Whew...here goes. This French "beer of the demon" could probably collect dust on the shelves in hell, and for good reason. It's that bad.
The beer itself is a deep golden brown color with low carbonation, and a poorly retained head of off white. The smell is of corn syrup and grain alcohol. The taste is of a very thick malt base, without nuance or flavor. Tastes like an overblown bock with some raw vodka or some other distilled spirit added. Mouthfeel is sometimes cloying, and thoroughly dissatisfying. Drinkability? I don't know. For being a get drunk beer (this is obviously it's only purpose as the taste will attest) you'd think they'd put it in a can. The little 8 ounce bottle should not fool you into thinking that you've bought something decent. Really, quite bad.
830 characters
1.06
/5
rDev
-52.5%
look: 2 | smell: 1 | taste: 1 | feel: 1 | overall: 1
OK, here's my story. I was in Florence, Italy, last spring, without a clue on how to find any decent Italian beer, and I ran across this in a convenience store. I didn't have my reading glasses, and the label looked interesting. When I got back to the hotel, I finally was able to read 12% ABV, and I knew I was in trouble with this one. 8 months later, I fianlly get the nerve to try it. I should have left it in the hotel room. This is only 8+ ounces, and it's about 6 ounces too many. It looked like a slightly dark version of BMC, had little or no aroma, but it's all about the flavor. The vodka/rocket fuel flavor that burned my mouth on the way down. My (non-beer drinking) friend took a sip after I warned her, and it's a good thing she's still my friend. I think this is the worst beer I've ever had, because it isn't beer (no matter how they made it). The only reason I see for this beer is as a quick way to get drunk. No thank you.
942 characters

1.23
/5
rDev
-44.8%
look: 2 | smell: 1.5 | taste: 1 | feel: 1.5 | overall: 1
Oh my, I remember that beer from many many years ago. The color wasnt very distinct at all. But, I do remember how it felt! It was an attrocious experience, I took that beer one evening before going out. Poored it, smelled very alcoholic. Tasted mettalic, strong, so strong it had no taste, and it was at the good temperature. It was like having a beer /strong alcohol shooter at once. There many beer with 12% that are sweet, but this one wasnt, it gave me stomachaches for the rest of the day!
495 characters

1.81
/5
rDev
-18.8%
look: 3 | smell: 2 | taste: 2 | feel: 1.5 | overall: 1
Pours a clear gold brew.
Smell is sweet newspaper. Not Good!
Taste is malt + Vodka. No real beer taste here at all.
Mouthfeel is Oakland malt Liquor.
A truly horrid brew! Don't buy!
OK have to ad some words to make this review. THIS IS AWFUL! DANGER WILL ROBINSON!
279 characters
1.43
/5
rDev
-35.9%
look: 2.5 | smell: 2 | taste: 1 | feel: 1 | overall: 1.5
Golden yellowish color with a white head that does not last and all traces of lace vanish. The smell is all alcohol and the taste is the same. With a strong beer I like a small amount of alcohol in the flavor and nose but this is overpowering with no other real characteristics. The French gave this kind of a thick feel in the mouth with a bit of a burn on the throat. I paid 5€ for three 8oz bottles, definitely not worth it when I can buy Tennents Strong Lager for half of that if the mood for a quick buzz arises. I will probably never buy this beer again. Not Impressed!
587 characters
1.3
/5
rDev
-41.7%
look: 2 | smell: 2 | taste: 1 | feel: 1 | overall: 1
This is the worst beer I've had in years. All Alcohol (12%) and no taste of any kind, but alcohol. I'd be crazy to put this product on the market if I were the Brewer!
167 characters

3.5
/5
rDev
+57%
look: 4 | smell: 4 | taste: 3.5 | feel: 3 | overall: 3
This beer is the same name as a one brewed in France, however this bottle has Brasserie Boxer Lausanne, Suisse printed on it. Anyway strong alcohol taste, brewer claims it to be the strongest blonde in the world. Good carbonation, strong malty after taste. Bought in Rome, Italy.
282 characters
Bière Du Démon from Les Brasseurs de Gayant
2.23
out of
5
based on
84
ratings.