Irish Pub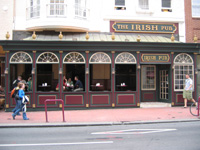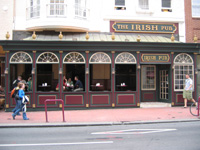 Bar, Eatery
2007 Walnut St
Philadelphia
,
Pennsylvania
, 19103
United States
(215) 568-5603 |
map
irishpubphilly.com
Notes:
Reviews by JohneHoodlum:
More User Reviews:
InspectorBob from New Jersey
3.68
/5
rDev
+34.3%
vibe: 4 | quality: 3.5 | service: 3.75 | selection: 3.75 | food: 3.5
Mar 25, 2015

corby112 from Pennsylvania
1.26
/5
rDev
-54%
vibe: 2 | quality: 1 | service: 1.5 | selection: 1
I'm not really sure why this is on BA because it's one of the worst places to enjoy beer in the city. The crowd is full of complete douches and their plastic girlfriends. The worst kind of people frequent this establishment. In addition to the horrible people, it is overly crowded and uncomfortable with a terrible selection. No craft to speak of. Just adjunct and light lagers. A horrible experience to say the least. Not a beer destination at all. There are so many great beer bars in the area so I can't comprehend even thinking about stepping through the door. Avoid this place at all costs!
Nov 01, 2011
sbw138 from Pennsylvania
2.73
/5
rDev
-0.4%
vibe: 3 | quality: 2.5 | service: 3.5 | selection: 2 | food: 3
This is what I would consider a typical, poor attempt at creating an Irish Pub. I live close to the Wash West location, and have stopped by a few times. They don't have much of a beer selection, your standard macro brewers coors, miller, bud. I don't think they even had Guinness, what's up with that? They usually do have one decent microbrew, or local beer on tap, or in bottle, but nothing that special.
Service is fine, not good or bad, they bring your food and drink, they get the job done. The food is very average. The only positive is that it is slightly cheaper than some of the better places in the area.
The place fills up with a pretty annoying crowd at night, typically a place to avoid.
Jan 12, 2010

jwhancher from Pennsylvania
2.03
/5
rDev
-25.9%
vibe: 2 | quality: 1 | service: 4.5 | selection: 1 | food: 1.5
I'll keep this short: I used to work here so I know what goes on "behind-the-scenes". Truth be told...the owner only cares about his 20th Street location and leaves the 11th Street locale as the whipping boy. Food is subpar & the beer selection is abominable. The only thing that really draws people here is some of the locals and the cheap, cheap center city Philly prices. As a bartender, we used to fight on a constant basis with management to get good microbrews on tap besides the BMC selection. At one point, there were 5 or 6 BMC lite beers on tap - a complete embarrassment.
If I were you and visiting Philly, I would ask around for some of the better themed "irish" bars in town. Put it this way, the Irish Pub is still in a long standing feud with Guinness and refuses to put any Guinness products on tap. Do you believe that? Well, think of what it was like when I worked there: on a daily basis I heard the reoccurring question...."you're an irish pub that doesn't sell Guinness/Harp/Bass"??? Try dealing with that on a daily basis.
Aug 07, 2009
number1bum from Pennsylvania
3.6
/5
rDev
+31.4%
vibe: 4 | quality: 3.5 | service: 4 | selection: 3 | food: 4
I went in here on a Sunday evening thinking I had found Moriarty's Pub...I was lured in by the sign out front advertising $3 pints of Smooth Hoperator. $3 pints of Smooth Hoperator?!? That must be it, I thought!
Ok, so first things first...they had $3 pints of Smooth Hoperator so how bad can the place be? Not that shabby, I'd say. The other taps I saw consisted of BMC stuff plus Victory Stout, Hoegaarden, Sam Adams and SA seasonal, and I'm not sure what else. Not wonderful, but not terrible either (don't forget: $3 pints of Smooth Hoperator). Looked like about 12 taps total (including the BMC shit).
It was also half price appetizers when I came, so I had some onion rings and chicken wings which were both quite good. My total bill with one pint of Smooth Hoperator (what else?) was only $9.50. Can't beat that.
Only on leaving did I discover that Moriarty's Pub was across the street. But I was full and happy when I left, so I didn't care much. I would probably come back here if I walked by and saw another nice tap selection at a great price. Not a huge selection...but not too bad a place, either.
Apr 07, 2008
paddyos from Pennsylvania
3.23
/5
rDev
+17.9%
vibe: 3 | quality: 3 | service: 3.5 | selection: 3 | food: 4
Blah...first word that comes to mind when I think of this place. Take the name for instance... Pretty big place, probably 30 seats around the center square bar. Restaurant style seating in a back room and a second bar down in the basement. 4 or 5 tables in front by the windows, which is a good place to people watch when the windows are open and the weather is nice.
Taps are typical...nothing special besides a rotating tap of Yards and sometimes some Sly Fox.
Typical pub food. Above average .25 wings on football Sundays. And the meatloaf sandwich is also pretty good. Avoid the fish and chips. If you are out in the area and looking for an Irish Pub go next door to The Bards and you'll be much happier.
Nov 15, 2006
WilliamPhilaPa from Pennsylvania
3.15
/5
rDev
+15%
vibe: 4 | quality: 3.5 | service: 3 | selection: 2.5
The Irish Pub...what a generic name. Sits exactly to the right of the Bards another Irish themed bar. When walking in you'll notice nice rich dark wood everywhere, moldings, carvings and very roomy square-ish bar area.
They have around 15 or so taps... On taps they carry a decent variety Stoudts, Guinness, Harp, Boddingtons, Yuengling, Molsen, Fosters, the usual Bud, Coors, Miller and a few others. There is nothing that really stands out but enough to keep you satisfied...sometimes you can't always get what you want, but sometimes you find you get what you need. Usually a younger crowd at night. So, the decision is...either the Irish Pub or the The Bards? Honestly, although they are both different in their own right, they are equal in my opinion....both worthy of a stop in for a pint.
Feb 09, 2004
Irish Pub in Philadelphia, PA
Place rating:
2.74
out of
5
with
9
ratings