Stiegl Radler (Grapefruit)
| Stieglbrauerei zu Salzburg GmbH
BA SCORE
84
good
129
Reviews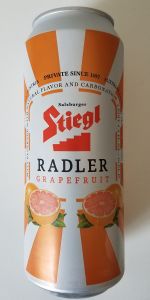 BEER INFO
Brewed by:
Stieglbrauerei zu Salzburg GmbH
Austria
stiegl.co.at
Style:
Fruit / Vegetable Beer
Alcohol by volume (ABV):
2.50%
Availability:
Year-round
Notes / Commercial Description:
No notes at this time.
Added by biboergosum on 04-12-2011
Reviews: 129 | Ratings: 891

3.55
/5
rDev
-5.1%
look: 3.5 | smell: 3.5 | taste: 3.5 | feel: 4 | overall: 3.5
33oml bottle poured into pint glass 8/7/11
A slightly hazy pale yellow with shitloads of massive bubbles quickly floating up to a noisy fizzy two finger fast falling head leaves no lace
S I pick up on lemon soda more then anything, some grapefruit but it's like a hard candy, smells pretty sweet
T a little orange crush to go on top of what I smell, more of a pop then a beer but I didn't mind it
M tangy and very well carbonated, very light and rather refreshing
O one for the old lady for sure, went down pretty quick and they can't hurt you at 2.5% it's something you could drink in the sun without getting hammered
Much better then I expected but still not something I can see myself drinking a whole lot of this summer, something refreshing and easy to drink but I'd need quite a few to even catch a buzz
★
819 characters

3.78
/5
rDev
+1.1%
look: 4 | smell: 3.5 | taste: 4 | feel: 4 | overall: 3.5
On-tap at Town Crier Pub / Halfway Beer House, in Toronto.
Served in what appears to be a Stiegl-branded test tube or beaker, this Radler does indeed look like some kind of science experiment on lease from the lab. Its head is bubbly and fizzing and its cloudy, lemon-juice body couldn't be made any paler even with all the skin-bleaching creams in India. It is quite an odd, unique looking concoction!
The aroma is remarkably like that of a white wine spritzer; it is pleasant although far more aesthetic than elegant. It boasts candid citrus and faint herbals, with a heavy residual sugary dryness. Beer is hardly detectable but is, I suspect, what's responsible for cutting out the acidity that would otherwise be sensed where grapefruit juice has been added.
The beer tastes as straightforward as it sounds: grapefruit, soda, herbs, sugar, Stiegl lager. I initially thought I was tasting lemon - the specific flavour of citrus isn't as perceptible as the general sourness and acidity. It also tastes a lot like soda water, however, clean, wholesome, bready malts secure the satisfaction of drinking a beer (not a soda or fruit cooler).
The beer's light acidity is balanced by a rich and bready continental maltiness and its light sourness is balanced by a liberal amount of sugar. But it's not something a child would like, there's too much beer flavour for that. It is light, however, and at only two and half percent alcohol, I had no reservations about ordering a second glass, err test tube.
Stiegl Radler was a tremendously refreshing, enjoyable patio drink the hot afternoon in June I skipped work to have it. And water is wet. Shocking, right? In all honesty though, I can't understand why more bars don't offer them. They're hugely agreeable and yet calling them a fruit beer is almost out of context: this one was every bit as gratifying as a 'real' lager.
★
1,878 characters
3.47
/5
rDev
-7.2%
look: 3.5 | smell: 4 | taste: 3.5 | feel: 3 | overall: 3
Lovely palate cleanser. Real grapefruit flavour, on tap and served in a skinny glass. Carbonation right there. Reminded me of orangina, graperuit edition - yes there was such a thing. Grapefruit aroma. Some lace and head. Significant aspartame in this "soft drink" cuts calories cut also taste. Little in way of a beer, BTW.
★
324 characters
3.5
/5
rDev
-6.4%
look: 3.5 | smell: 3.5 | taste: 3.5 | feel: 3.5 | overall: 3.5
12oz glass at the Sugar Bowl, an interesting find on-tap. A blend of the Goldbrau lager, and grapefruit soda, served in an elegant tapering sail-like Stiegl glass.
This beer appears a pale cloudy whitish-yellow colour, with one thin finger of wispy, broadly bubbly off-white head, which evaporates rather quickly, leaving but a few specks of random soap spot 'lace' around the narrow glass in the process.
It smells strongly, and simply, of tart grapefruit pith, and sweet pale malt. The taste starts off still fairly sweet, the pale grain jumping out ahead, before being overtaken by the sugary, pink grapefruit cocktail-like fruitiness. I also seem to get a bit of menthol warming, sans any alcohol quotient.
The carbonation is moderately, and temporarily fizzy, which aids in the fruit juice perception, as does the light, soda-like body. It finishes smooth and somewhat crisp, the tart fruitiness gamely lingering.
A rather refreshing beer mix, the tart and sweet generally well balanced. The waitress proclaimed up front that it tastes like Orangina - I have to agree, but with the caveat of a citrus shift from orange to grapefruit. I can well see why this would be popular in a sweltering, humid summer climate - here, though, hard to say - time will tell.
★
1,268 characters
Stiegl Radler (Grapefruit) from Stieglbrauerei zu Salzburg GmbH
3.74
out of
5
based on
891
ratings.