Balcony (at the Trocadero), The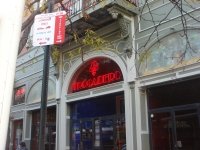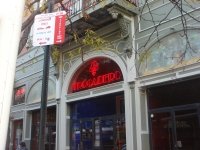 PLACE INFO
Type:
Bar
1003 Arch Street
Philadelphia
,
Pennsylvania
, 19107
United States
(215) 922-6888 |
map
thetroc.com
Notes:
No notes at this time.
Added by NeroFiddled
PLACE STATS
Reviews:

11

Ratings:

pDev:

20.77%
HISTOGRAM
Ratings: 12 | Reviews: 11
Reviews by TheDeuce:
2.13
/5
rDev
-18.1%
vibe: 3 | quality: 2 | service: 2 | selection: 2
Here for the Sparta concert yesterday, I'm not at all sure why this place is even in the Beerfly, it's not so much a bar as a corner bar in a room set up to serve 21+ guests with beer and liquor, you order your drink, pay outrageous prices for it as usual in concerts and go watch the show. Beer selection is Coors Light, Yuengling, Sierra Navada, Guinness, and Pabst. I supose it is kind of cool that they have Sierra Nevada, but it's not enough to warrant this being put in Beerfly, allow me to be the first to say take it out.
529 characters
More User Reviews:
3.29
/5
rDev
+26.5%
vibe: 3.5 | quality: 3.5 | service: 3.25 | selection: 3
I have not been to the Trocadero for many years but decided to tak my brother in law to see Skinny Puppy and Frontline Assembly and stopped in the balcony bar for a draft. I only had one since I enjoyed a Dalessandro's cheesesteak on the way, but the Great Lakes Dortmunder was fresh and served at the appropriate temperature. The bar itself is just a standard place to stand -only a few chairs were all occupied. They have a few options like Yards Brawler,ESA and Sly Fox Phoenix Pale were also featured. I don't really think I would spend much time here but it is nice to be able to have a craft draft before during or after the show.
637 characters
2.36
/5
rDev
-9.2%
vibe: 2.5 | quality: 2.5 | service: 2.5 | selection: 2
It's hardly what I'd consider a "beer bar"...it is more a bar that serves expensive beer that you are forced to pay for if you want to drink at a show. Still, they do go through the effort of having some decent beer on tap...generally Yards. In reality, if I am going to pay $5+ for a drink, I'll go with a cheap mixed drink that will really go the extra mile in drunkenness during a show. Can't really complain though...at least there is somewhat of an option at a relatively decent price (compared to the Wells Fargo Center or other concert venues in the area) during Troc shows. Atmosphere is obviously less than ideal...but it's the Troc, so...yeah. I'd recommend drinking at a quality establishment before a show and then getting one or two drinks here to carry you through. Not the worst, but hardly the best.
815 characters
2.99
/5
rDev
+15%
vibe: 4 | quality: 3 | service: 3 | selection: 2.5
Ok, so it's not the best bar in the world. Or in the city. Or in the neighborhood. But whatever. As long as I've been a concertgoer, I've been going to shows at the Troc, and I love the balcony bar. It's a good place to settle down after moshing, have a drink or two, then go out and mosh some more. Or if you're really underground (not literally of course), you'll see a rad show on the balcony stage (yes, they do have shows up there on that tiny thing). Grungy atmosphere, generally with tons of people hounding the bar, but it's all part of the experience. And if you look in the peep-hole at the urinals, you'll get a flashback of the Troc's roots as a burlesque house. Beer selection is markedly limited, but other than the expected macros, you'll still see a Yards or a Troegs or something similar on tap. Prices are a little over, especially when you look down and solemnly realize you're drinking Troegs out of a plastic cup. Love the Troc. Hope it sticks around for a while more, even though rumor has it that they're bankrupt.
1,037 characters
2.56
/5
rDev
-1.5%
vibe: 3 | quality: 2.5 | service: 3 | selection: 2
Twilight Singers US tour 2011 brings me to Philly and the Troc.
Atmosphere: Good place to see a show; bad place for a beer. Two levels with a bar on each.
Quality: A rock club, what'd you think? Don't sit down, don't walk barefoot, don't use the toilets. The balcony could be the worst place to see a concert - all chairs, so everyone is sitting.
Service: At least one bartender working each bar - dispensing with plastic cups. Two lines were meant to differentiate between those of and not of age. By the time the concert started, that seemed to be a failed idea.
Selection: Mediocre. Plenty of the big brewers and nothing fancy.
Food: N/A
645 characters

2.19
/5
rDev
-15.8%
vibe: 3.5 | quality: 2 | service: 2 | selection: 2
I've been here a bunch of times since the early '90 for many, many shows and don't really understand why it would be considered a craft beer destination. It's a small room with a tiny stage and room for about 100 people. On the left there's a long bar that serves mostly cheap domestics and a few local beers. The service is standard for a concert venue. They serve popcorn which s cool but I otherwise haven't had any food there. Not really anything special but seeing shows upstairs can be cool.
497 characters
1.84
/5
rDev
-29.2%
vibe: 4 | quality: 2 | service: 1.5 | selection: 1
Overpriced, weak selection, and awful service-- the only reason I rated the atmosphere as high as I did is because this is a music venue and I have only been here to see good shows by good bands. This is not a "bar" any more than the "bar" at an Applebees or TGIFridays is a bar. It's a counter in a club where they sell alcoholic beverages-- nothing more.
C'mon folks, you know the rule: don't drink at the club. They already got your money with the steep ticket price, you don't need to overpay for a bland drink in a plastic cup.
534 characters

2.42
/5
rDev
-6.9%
vibe: 4.5 | quality: 1.5 | service: 3.5 | selection: 1.5
This is a wonderful little music venue and they often have Karaoke gong shows or other cool little events when there isn't a band playing, but I don't know why this "bar" is on Beerfly. They don't serve anything particularly drinkable other than SNPA or Lager (Yuengling). It gets hot and crowded up here for all-ages shows when the old heads swarm the upstairs to beers and to get away from the children down below.
The Troc is great place to have fun and see a show, which is it's only saving grace. The beer is overpriced, the selection underwhelming, and everything is served in little 12 oz plastic cups.
610 characters

2.09
/5
rDev
-19.6%
vibe: 4 | quality: 1.5 | service: 3 | selection: 1
This is a music venue, plain and simple. I'm not sure if the beer selection was good in past years, but nowadays they have Sierra Nevada and a bunch of macro crap. And the prices are the same annoyingly $4 to $4.50 range which annoys me, but that's life. The fact that they have Sierra Nevada is sadly almost good enough for me to be happy drinking beer during a show there, only because the larger venues in Philly hardly offer anything decent. And $4.50 is actually cheaper than other places, once again a very annoying fact. Anyways, there's no need to even think about good beer when you're at the Troc. It's for great concerts only, with a few Sierra Nevadas to go along with it.
684 characters
3.19
/5
rDev
+22.7%
vibe: 3 | quality: 4 | service: 3.5 | selection: 2
The Balcony is basically what the second floor of the Trocadero is called. For those who don't know, the Troc is a small (legendary) music venue with a serious list of great acts, so any bar area would be secondary to who's on stage. I've seen many a show here and remember a pretty good selection on tap, but I can tell you as of 4-24-04, the selection consists of macros (foreign and domestic) and Sierra Nevada. Yeah the blackboard says Yards ESA, but don't believe it, they don't have it. No bottles anymore either. Something to do with insurance I guess.
Guinness, Harp, Bass, Sierra: $4.50. The other crap is $4.
Come for the great music and don't expect anything else.
678 characters
3.68
/5
rDev
+41.5%
vibe: 2.5 | quality: 4 | service: 4 | selection: 3.5
Update: Beer selection has dwindled greatly since the early days. It's OK, but times have changed and they haven't kept up.
I've been in and out of the Balcony at the Troc (and the bar on the first floor) during shows, but I've rarely spent a whole lot of time there. The last time I did, I ended up going home with a fat and ugly girl from Fishtown with a hairlip! Aaaaye-ayye-ayye! The beer selection is surprisingly good, however, and includes a good selection of local beers (as well as the better known national micros) on tap. Yards ESA for me, please! Bottles round things out with more regional (Yuengling) and national offerings. They have Movie Monday's which can be a nice hang, but unless the film's a good one it's usually fairly empty. So, in essence it's just a bar that's available to you when you go to see a band at one of the bigger venues, but only the Electric Factory can match it for beer selection. TLA wake up! Get some good brews!
960 characters
Balcony (at the Trocadero), The in Philadelphia, PA
Place rating:
2.6
out of
5
with
12
ratings