McKenzie Brewing Company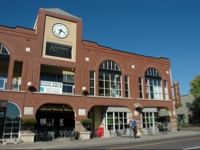 PLACE INFO
Type:
Brewery, Bar, Eatery
199 East 5th Ave.
Eugene
,
Oregon
, 97440
United States
(541) 686-2739 |
map
mckenziebrewing.com
Notes:
Formerly Steelhead Brewing Co.
Added by BeerAdvocate
Reviews: 9 | Ratings: 14
Reviews by kdoc8:
4
/5
rDev
+4.4%
vibe: 4 | quality: 4 | service: 4 | selection: 4 | food: 4
I went here in March 07. It's located in the trendy shopping/walking area of Eugene. The place was absolutely packed at dinnertime on a weeknight - not a seat in the place. It was crowded and loud, but the service was still good and efficient. They have a pretty extensive menu - better than average brew pub fare, I'd say. They had 3 award winning beers on their menu and over 10 beers on tap. The place has 5 big TV screens for watching sports and seating is either in comfy armchairs at tables or actual tables. They also have some outdoor seating for warmer weather and could easily expand. They have a large banner over the bar celebrating their 16 years of brewing and 24 medals won in that time, which is pretty impressive for a small brewing company. Sadly, they have no bottled beers for taking home or trading, but you can get schooners (22 oz) or growlers for short term beer enjoyment. Hopefully they'll start bottling soon for retail.
★
947 characters
More User Reviews:
3.4
/5
rDev
-11.2%
vibe: 4 | quality: 3.5 | service: 3.5 | selection: 3 | food: 3.25
4.43
/5
rDev
+15.7%
vibe: 4.5 | quality: 4.5 | service: 4.5 | selection: 4 | food: 5

3.9
/5
rDev
+1.8%
vibe: 4 | quality: 3.75 | service: 4 | selection: 4 | food: 3.75
3.3
/5
rDev
-13.8%
vibe: 3.25 | quality: 3.5 | service: 3.5 | selection: 3 | food: 3
3.58
/5
rDev
-6.5%
vibe: 3 | quality: 3.5 | service: 3.5 | selection: 4
Thought we would give this one a try while we were in town, luckily they had parking in the back unlike most downtown venues.
Look inside is very upscale, felt like being in a high end cigar bar in 1800's england. Overly want to be look of sophistication and old times mixed into one. Its beer people, dont make it out to be a wine bar.
Despite that, service was pretty good, beer was good, and the menu looked as if it actually had some very enticing items in it. Would maybe give another try at one of the different locations they have through the west.
★
558 characters
4
/5
rDev
+4.4%
vibe: 4 | quality: 4 | service: 4 | selection: 4
Had occasion to visit this brewpub the other day; first time in a long time.
Located in the downtown area, very close by to Bier Stein and High Street Brewpub. So it's very easy to include this brewpub in a downtown crawl (you could easily walk it in nice weather).
The brewpub is located kitty corner to the 5th St. Mall, and is a nice place to relax with a snack and a beer after an afternoon of shopping. The brewpub has something of a TGIF feel to it, with high ceilings, plenty of TV's, and wood all around. They keep it a bit dark inside, which adds to the relaxing vibe IMO. The brewpub typically has around 10 or so beers on tap, with one or two on cask. They were out of my favorite, the hopasauraus rex DIPA, but I was more then content with the excellent Bombay Bomber IPA. Service was fairly prompt and the waiter pleasant enough, and it was nice to hang out here after an afternoon of wine tasting.
First visited this brewpub in the early 1990's; it's nice to see it's still going strong after all that time. Didn't try the food on this occasion, but in the past it's been solid pub grub with a few interesting specials. While not mind blowing, this is still a very good pub with reliably good beer. Recommended.
★
1,229 characters
4.13
/5
rDev
+7.8%
vibe: 4 | quality: 4 | service: 4.5 | selection: 4 | food: 4
Quite a treat!
Downtown walking neighborhood of Eugene, but there's lots of parking nearby and across the street at a public lot.
We sat outside under their large patio overhang area, and were delighted to let our dog come join us.
Atmosphere is big and open, modern feel but older architecture/building.
Overall pleased with the service. We were there to eat at like 2 in the afternoon, so it was pretty empty and our waitress was attentive. I went with a sampler, really a good selection of beers. Some standard bar/pub food, and then a couple interesting items. We split a BLT, which was on their house bread with some kinda pesto sauce and pasta salad. Delicious.
So far, this is my favorite Eugene brewpub.
★
719 characters
3.9
/5
rDev
+1.8%
vibe: 3.5 | quality: 4 | service: 4 | selection: 4 | food: 3.5
Steelhead was one of the first brewpubs in Eugene, that I can recall. It has remained very similar, both to the atmosphere and to their quest for fresh beer. They are well know in town here for having good quality beers (especially Bombay Bomer IPA) and consistant menu items.
Steelhead is a step up from typical bar fare, offering not only good pizzas and burgers, but a large number of salads, pastas and diner entres as well. I have grown especially fond of their fish tacos and ceasar salads. They also have a large outdoor seating area, both covered and open air, that is a great downtown people watching spot.
As far as their beers go, they've been fortunate to have good brewers working for them for some time now, that have established a name for themselves at Steelhead. Most notabally would be Jaime, who recently left to open Ninkasi brewing in Eugene. They have a good collection of year-round and rotating seasonal taps to scratch most any beer itch you might have. Steelhead is a standard to messure most other local brewpubs by.
★
1,050 characters
4
/5
rDev
+4.4%
vibe: 4 | quality: 4 | service: 4 | selection: 4 | food: 4
I was in Eugene for work and stopped by here twice for dinner & beers.
The Steel Head is a nice, airy & smoke free brewpub. There is a long bar with seating for about 30. In addition, there are various seating areas, including an outside area, an area with comfy furniture. I liked the tall bar tables; these are great for small groups.
You get a clear view of the tanks from the glass wall behind the bar. Note the English style phone booth. I don't think there is a phone in it, but I saw a few people use it as a quiet refuge when making cell phone calls. The bathrooms are clean and roomy.
There seems to be plenty of street parking and there is a city lot across the street. This seems to be a pretty happening area. They had a nice crowd on both Wednesday and Thursday evening. The crowd was a mix of students, locals (look like a bunch of faculty & ex student types), families with kids and business people.
The service was fast, friendly and seemed to know beer. Always ready for a refill but not hovering.
The food was fresh and tasty. I had some very good grilled fish tacos & a decent pizza.
The beers were all good and the Harvest Ale seasonal was very good. It seems they offer about 6 regular taps and 2 or 3 rotators.
I can easily recommend this place.
★
1,295 characters

3.6
/5
rDev
-6%
vibe: 3.5 | quality: 3 | service: 4 | selection: 4 | food: 3.5
Stopped in to Steelhead on a surprisingly busy Sunday afternoon just in time to grab some hotel lobby style chairs in the middle of the dining area. The room is a fairly nice recreation of a dark english pub in the modern romanticized way. Many of the decorations may have been look-alike that came from a catalog that specializes in this type of decor. Though the large bar, nice taps and brewery all looked quite nice, I was quite put off by the abundance of TVs all seeming to catch the after-game of several sporting-type events.
The service was great and everyone had a uniform of sorts, which is probably a first among pubs I've been in. Despite the full crowd, we were well attended.
The selection of beer was pretty good. There were half a dozen standards and 4 or 5 seasonals at the time, including one cask offering. The cask beer was served nice and luke-warm and was quite good. My wife's beer wasn't as great though and we're still arguing over what the off flavor was.
The meals were fine though we were definitely there for a lunch experience. My meal was great, though my wife's wasn't as interesting. It seems this place probably gets a significant draw.
All in all, its a pretty nice place and if I were in Eugene with neophyte relatives this is probably where I would take them.
★
1,309 characters
4.03
/5
rDev
+5.2%
vibe: 4 | quality: 4 | service: 4.5 | selection: 4 | food: 3
Steelhead Brewery and Restaurant is a small chain with one location in Oregon and four others in California. They serve bistro food, wine and spirits, and six regular beers with as many as four or five rotational offerings.
In Eugene, Steelhead is located on 5th Ave. near the public market and the railroad tracks. Six outdoor tables are the preferred seats during summer weather allowing for fresh air and a good watch of the comings and goings of one of Oregon's most charismatic cities. Everyone rides bicycles here, which is good. But they are remarkably indifferent to wearing bicycle helmets, which is not good. The second dining room at Steelhead has an oversized glass garage door that opens to create more outdoor seating. From here you can watch the freight trains roll through the night and the cops cruise downtown incessantly. When the glass doors open, everyone sits facing the street as though it were a theater and the streets of Eugene a stage.
Steelhead's brewery sits enclosed behind glass windows behind the bar. It is notable for being especially confining and almost high tech – lots of lights and pushbuttons. The bar itself is classically wooden and dark while the dining area is tastefully ornamented with ancient golf clubs, plush highback seats, and a functional red London phone booth. Though the menu has plenty to offer, my meal was uninspiring.
Two kinds of root beer are offered on tap and beer to go can be had in quarts, half-gallon growlers, and one-gallon boxes. Steelhead boasts the usual litany of beer awards and several of their beers are quite good, notably the Bombay Bomber IPA and Raging Rhino Red. They take some common liberties with style definitions though. Their pale ale is actually an IPA and their blonde is cream ale. (Or is their cream ale a blonde?)
★
1,820 characters
3.4
/5
rDev
-11.2%
vibe: 3.5 | quality: 3.5 | service: 4 | selection: 3 | food: 2.5
This brewery/brewpub is situated in a nice spot near Eugene's 5th Street Market. There's a big free parking lot across the street which is also convenient.
The atmosphere is cozy. Inside is all dark wood and great light from the many tall windows. There is outdoor seating along the sidewalk on two sides of the building and in a "garage bay" with a large fire-station-style garage door. On our visit, we sat at a table in this patio section. Stainless steel tables and classy wall-hangings of old beer-posters. However, the chairs were a bit uncomfortable.
They had 10 - 12 of their beers on tap, including a rotating cask offering. It was a stout on cask when I was there. They also have a full liquor bar and a wine selection to appease those in your party that don't like beer (weirdos!). I tried the cask stout which I think must have been an imperial milk stout or something close to it (I'd rate it a 3.0) and the Hairy Weazel Hefeweizen which was a bit Cascadey in the flavor and nose (a 3.5).
Since we arrived an hour before dinner service, we ordered from the lunch menu. Food sampled: a plate of fries (good... like McDonald's fries), "12-pack of wings" (skimpy and messy, but tasty), Fish tacos (a bit dry), barbecue pulled-pork sandwich (somewhat wimpy), and smoked-salmon fettuccini alredo (thick and heavy on the salmon). All in all, the food was satisfactory, though a bit half-assed.
One quirky aspect was that there is a chalkboard and chalk in the men's room. An interesting way to pre-empt vandalism in the bathroom stalls! Someone had written a quite conservative Republican comment on it which I countered with a Liberal reply. I just couldn't allow something like that to go unchallenged.
The brewery is worth a visit if you're in town, but I wouldn't make it my sole reason for coming to Eugene. The beers I tried were on a bit pedestrian, but I'm sure there are some real gems to be had. After all, doesn't every brewery do at least one style really well?
★
1,998 characters
McKenzie Brewing Company in Eugene, OR
3.64
out of
5
based on
106
ratings.