Black Cat Lager
| Paddock Wood Brewing Co.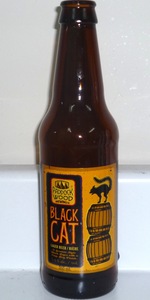 BEER INFO
Brewed by:
Paddock Wood Brewing Co.
Saskatchewan
,
Canada
paddockwood.com
Style:
Schwarzbier
Alcohol by volume (ABV):
6.10%
Availability:
Year-round
Notes / Commercial Description:
No notes at this time.
Added by Todd on 03-01-2005
Reviews: 32 | Ratings: 48
4.13
/5
rDev
+7.8%
look: 4 | smell: 3.5 | taste: 4 | feel: 4.5 | overall: 5
This bottle comes from Shadman (thanks Mark!). I've been holding on to this for a suitable occasion, and because of the wonderful picture of the scary black cat on the front, I decided Halloween fit the bill.
Pours a very dark brown, bordering on black, although there are also some red highlights when held up against the light. A small tan head leaves a few patches of lace on the glass. Light coffee aroma, along with some chocolate. Although this makes very little sense, I would say it smelled smooth. The taste is a satisfying mix of breadiness and roasted malts, with good hints of coffee, smoke and caramel, before leading through to a modest leafy bitterness. Medium body, and medium to low carb, with a nice smoothness on the palate.
Overall, I think this is one of the better schwarbiers I've had, and it certainly holds its only against Kostritzer, which is the most readily available rendition in Ontario. I'd definitely recommend this to all lovers of the style!
978 characters

4.17
/5
rDev
+8.9%
look: 3.5 | smell: 4 | taste: 4.5 | feel: 4 | overall: 4
Bottle acquired at the MLCC. Poured into a Duvel tulip at ~4C.
Pours deep rich brown to black with a nice tan head that leaves too little lacing. Nice nose with a spicy molasses feel. Bdy continues with a bit of molasses, but also notes of light liquorice and hint of cocoa powder come across. Hardly any roasted grain flavour for the colour. Coats the mouth nicely with appropriate carbonation and a clean finish. Much nicer than I was expecting. Worth having again.
468 characters
4.3
/5
rDev
+12.3%
look: 4 | smell: 4 | taste: 4.5 | feel: 4 | overall: 4.5
Dark cola brown with decent clarity, tan creamy head and superb lacing.
Clean and nutty scent, pistachios? Faintly roasted with a light, leafy hop edge and some chocolate. Slightly floral...
Nice blend of juicy, green hops and roasted maltiness. Refreshing and very easy to drink session beer. Bittersweet baking cocoa...creamy with lively carbonation and light, crisp body. Very tasty with a nice European lager character and leafy hops...like a warm summer night.
Very affordable Saskatchewan brew...and so tasty. Will come back to this one a lot as I went through the six pack pretty fast.
595 characters
4.32
/5
rDev
+12.8%
look: 3.5 | smell: 4 | taste: 4.5 | feel: 4.5 | overall: 4.5
This is a very nice schwarzbier, glad i picked some up my last trip west. Looks decent, almost a one finger pale tan coloured head formed on the pour then dissipated to leave a thin collar. Deep brown body with chestnut highlights, and mild level of finely bubbling carbonation. No lacings.
Clean malt aroma, hint of stewed veggies, and dark chocolate and espresso. A mild Noble hop herbalness also present. Smell is pretty inviting!
But now to the tasting, and this is where this beer truly shines. Clean malty flavour upfront gives way to the roasted malts with a nice, clean dark chocolate flavour that lingers into the finish and beyond. A mild touch of stewed veggies appear just before the hops appear with a mild bitterness and herbal character. Then the roasted malts and hops linger long into the finish.
Almost medium bodied, somewhat mildly carbonated, dry, slightly creamy and very smooth lager with just the slightest hint of astringency.
This is an excellent lager, and is quite drinkable and sessionable. A great brew for introducing newbies to dark ales and lagers, and this is a must try for fans of schwarzbiers. The guys at Paddock Wood know how to brew their dark ales and lager. I easily prefer this offering to the more renowned Kostritzer and Black Barvarian, and will gladly get and drink more my next trip west.
1,340 characters

4.33
/5
rDev
+13.1%
look: 4.5 | smell: 4 | taste: 4.5 | feel: 4 | overall: 4.5
Bottle 12 oz
The pour: Puts a deep dark brown lager in the glass with a pleasing 2 finger rocky cap which lasts and laces well.
The Nose: detects bready malts and a distinct "burnt toast char" also a coffee-like roast tone with some woody notes.
The delivery: Big chewy malts laced with roast coffee warmth and some sharp spicy Saaz hopping. Mid palate we get a nice mix of dark toasted rye bread, some bitter-chocolate tastes, creamy mouth feel, weedy hop tastes... then the clean finish which tends to dry out slowly and linger, light hop bitterness with a complementary but subtle roastiness in the background. Some light residual sweetness in the after taste.
The Verdict: A first class Canadian Schwarzbier which I much prefer to the Kostritzer from Thuringa.. ..This Paddock Wood brew is true to west Thuringia style..certainly a dryer cousin of a Munich dunkel.
Black Cat was very fresh and flavourful compared to the commercial imported German blackbeers available. The 5.4%ABV makes it a soothing and satisfying beer as well as a natural to pair up with Pumpernickel, german mustard, cold cuts and munster cheese...wonderful stuff to wash a big sandwich down with ...wish I lived in Calgary I'd have a fridge full of this stuff!
1,253 characters

4.33
/5
rDev
+13.1%
look: 4.5 | smell: 4 | taste: 4.5 | feel: 4 | overall: 4.5
A - crystal clear, not quite black, shows brown at bottom of glass and red flashes when held to a light. Small but tight tan head holds up for awhile, eventually dropping to a thin cap. Excellent lacing.
S - smooth coffee and chocolate, with an underlying sweetness
T - Magnificent mocha cream, some noble hop flavour kicks in, then some sweet malt. Aftertaste is roasted coffee.
M - Crisp and dry finish (wow, I didn't even read the label before typing this, but it says "crisp dry finish"). Overall body is light and refreshing, but not thin, it's enough to carry the excellent flavour.
D - moderate alcohol beer with tons of interesting flavours always do the trick for me!
If you'll see my review below, I must have had a bad bottle, because this is the Black Cat I originally remember enjoying. Splendid!
824 characters

4.38
/5
rDev
+14.4%
look: 4.5 | smell: 4 | taste: 4.5 | feel: 4.5 | overall: 4.5
On tap at St Augustines in Vancouver
A: 1/4" tan head over Cola colored liquid.
S: Smoke and clean yeast.
T: Smoke, toasted malt, pine, grass and clean yeast.
M: medium viscosity and a medium level of fine carbonation.
O: Tasty, dry and complex this beer almost makes session territory
290 characters
Black Cat Lager from Paddock Wood Brewing Co.
3.83
out of
5
based on
48
ratings.