Bramling Cross
| Paddock Wood Brewing Co.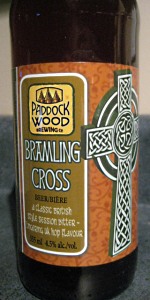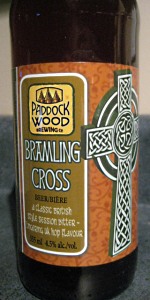 BEER INFO
Brewed by:
Paddock Wood Brewing Co.
Saskatchewan
,
Canada
paddockwood.com
Style:
English Bitter
Alcohol by volume (ABV):
4.50%
Availability:
Summer
Notes / Commercial Description:
Bramling is a British style ordinary bitter with 4.5% ABV. It features a nice malt base of Maris Otter with layers of Bramling Cross hops. This UK hop has prairie roots as it is the result of the male hop Kent Goldings being crossed with a wild Manitoba female. Currently only sold in the brewery. Coming to Alberta soon.
Added by markaberrant on 05-31-2007
HISTOGRAM
Ratings: 13 | Reviews: 12
Reviews by IllNate:
3.26
/5
rDev
-13.1%
look: 4 | smell: 3 | taste: 3 | feel: 4 | overall: 3.5
A - Clear amber orange. A bit of white head. Good looking beer.
S - Definate off aroma here. Past that it's got a caramel and malty aroma.
T - Here too, something not quite right. Caramel malt and general biscuit and bready malty component.
M - Smooth. Probably the high point. Carbonation is about right for the style.
D - Session beer. S&T hold it back.
Not sure if I got a bad batch or what. The rest of the lineup is quite good, and people seemed to enjoy it in 2007.
477 characters
More User Reviews:
3.59
/5
rDev
-4.3%
look: 3 | smell: 4 | taste: 3.5 | feel: 3.5 | overall: 3.5
This beer pours a slightly hazy golden brown colour, with one finger of fast-disappearing sudsy pale beige head, which leaves a few specks of lace here and there. It smells of mild fruity, biscuity caramel malt, and a soft sweet floral essence. The taste is more biscuity, somewhat bready malt, some floral fruitiness, and leafy, ashy, musty hops. The carbonation is very low, the body smooth and clean. It finishes off-dry, the fruity malt well balanced by the lingering noble hops.
A session beer to be sure, but a little on the sweet side. The 'bitter' of the style name is too reserved. I'm not asking for IPA-level bittering, but just enough to dry my palate a bit more, to induce me into choosing to have another.
720 characters
3.58
/5
rDev
-4.5%
look: 4 | smell: 3.5 | taste: 3.5 | feel: 4 | overall: 3.5
Pours a peachy colour, with unfiltered look, minimal head. Not a commonly made style this ide of the bond. Tangy bitterness, apricot and peach flavours. Decent flavour for a lower abv.
Bramling Cross hops.Bottle at Zyn in Calgary under the previous name.
254 characters
3.05
/5
rDev
-18.7%
look: 3.5 | smell: 3.5 | taste: 3 | feel: 2 | overall: 3
From notes...
A - Murky cedar brown, short head dissipated quickly to a thin covering
S - Leafy and peppery, hints of butter caramel and fruit
T - Some caramel malt with some leafiness, but geneally subdued
M - Nearly flat, somewhat bready but not much going on
O - Almost always very impressed with this brewers offerings, but this is mediocre
348 characters
3.95
/5
rDev
+5.3%
look: 4 | smell: 4 | taste: 4 | feel: 3.5 | overall: 4
This was sold in Alberta with London Porter as part of Paddock Wood's "Black and White" mix pack — a sort of home Black-and-Tan kit — but I enjoyed it all on its own.
It poured into my glass a light coppery colour with a creamy one-finger head. An inviting aroma of caramel and biscuity malt, earthy hops and nice fuity esters like green apple.
The flavour was more generally fruity to start, but the requisite bitterness came in at the end and it finished dry. The carbonation was a touch high, but that's a small quibble against what is otherwise an easy-drinking delight for summer. I only wish it was easier to find in Alberta.
639 characters
3.82
/5
rDev
+1.9%
look: 3.5 | smell: 4 | taste: 4 | feel: 3.5 | overall: 3.5
Nearly clear deep orange colour with a finger of ivory head. The head fades to a cap in about a minute.
Smells of citrus and toffee, with just a touch of pilsner-like grain. Quite an impression of orange in the fruity aroma, brings to mind marmalade.
Taste is more on the hoppy side, but has a balance to it. Somewhat fruity malt provides a base for a relatively crisp and bitter hop finish with some grapefruit to it.
Light bodied, but the carbonation is a touch on the high side. Easy drinking, as one would expect with a 4.5% beer marketed as a summer ale. Another quality beer from Paddock Wood.
608 characters
3.85
/5
rDev
+2.7%
look: 4 | smell: 4 | taste: 4 | feel: 3.5 | overall: 3.5
Bottle courtesy of CBA: Poured an hazy amber color ale with a nice big foamy head with some good retention and some lacing. Aroma of biscuit malt with some dry hops. Taste was also dominated by some biscuit malt note with some nice English dry hops at the end. Body was above average with some nice carbonation. Very well done overall and something that I wouldn't mind having as a regular session beer.
404 characters

3.03
/5
rDev
-19.2%
look: 3.5 | smell: 3 | taste: 3 | feel: 3 | overall: 3
The other half of Paddock Wood's Black and White sixer mix.
Pours out a hazed amber, nice colouration. Not much head and no retention to speak of.
Dandelions up front on the nose, herbal hops, with a faint sweet malt hiding in the background.
What a rope-a-dope the flavour pulls in relation to the aroma. So much more hiding in there than is hinted at. Serious old leathery malt rises up from the depths, struggling for domination with spicy, astringent hops, both lingering on in the finish and into the aftertaste. A pretty decent balance of malt and hop all things considered.
Mouthfeel is fairly average, thin in places, but not watery.
Of the pair that came together I'd say I'm more fond of the porter, but this bitter still uniquely holds in own. Not what I'm really looking for in a bitter personally, although it would have been interesting to blend the two into a black and tan to explore the results. Hopefully Paddock Wood will realease this sixer mixer once again.
984 characters
3.98
/5
rDev
+6.1%
look: 4.5 | smell: 4 | taste: 4 | feel: 3.5 | overall: 4
Bottle from the brewery. Pours a lovely dark caramel, robust orange color. Couple fingers of head, light patches of lacing.
Nose has a robust toffee and toast nose. Light lemon and grass. Lovely fruity quality in the flavor from the yeast, light but there, toast and caramel, light earthy metallic quality, a touch of 'roast'. Lovely hopping in the finish, bitter without being demanding for a bitter, bolder than typical,easy to Pick out the dry hopping. Typical Brit hopping but with a faint splash of lemon and pine, wonder kid there's something else thrown in there. Pretty damn drinkable, perhaps the body tails off a bit in the finish, perhaps a little high on the carb but for the ABV it's hard to complain. Really a fantastically drinkable bitter, Would gladly drink again.
782 characters
3.28
/5
rDev
-12.5%
look: 4 | smell: 3.5 | taste: 3 | feel: 4 | overall: 3
A - Pours a hazy copper colour with an orange hue, two fingers of head with solid retention and some sporadic lacing.
S - Definitely unique, a musty caramel and toffee with earthy bitter hops. Slightly metallic.
T - Again, rather unique... I was expecting something more like an ESB, but find this one boasting more of a caramel and butterscotch flavour, the hops are less prominent and a little weak.
M - Medium bodied ale that goes down smooth and finishes with a touch of dryness.
O - Overall, a bit of a disappointment. Wasn't a big fan of the flavours as they came across chalky, musty and metallic. Certainly not one of their best offerings and I'm glad I only bought the one bottle.
693 characters

4.02
/5
rDev
+7.2%
look: 3.5 | smell: 4 | taste: 4 | feel: 4.5 | overall: 4
pint at Craft Beer Market July 25 2011
A clear copper leaning towards bronze with just a few bubbles feeding a thin film that`s all the pour left room for
S some purple candy with some herbal hops and tea bag
T biscuit and toffee mingle very well, no purple candy but a metallic flavor with a little citrus, pretty solid bitter
M much more bubbles then you could see in the glass and its got a bitter bite that I expect and love, not turning my mouth inside out but leaving me sucking on my tongue
O I think they put together a pretty good bitter and if I could buy this in bottles here in Alberta I would
I`m surprised this on`s not getting more love from BA`s because I thought it was pretty good
707 characters

4.3
/5
rDev
+14.7%
look: 4 | smell: 4 | taste: 4.5 | feel: 4 | overall: 4.5
A - Crystal clear, nice looking orange colour. A bit of soap bubbles, that's about it for head, but appropriate for style.
S - Pleasant english hops, floral with a touch of citrus. Just a bit of sweet malt.
T - It's a back and forth between hops and malt. Not a lot of sweetness, but instead it has a nice dry biscuit component. Hop taste is very fresh. Magnificent bitter finish.
M - Feels good, low carbonation. Finish is nice and dry.
D - They call it their summer session beer, and they ain't joking. I could easily put down a 6-pack of this and hardly notice.
The Paddock Wood website has always claimed that Steve brews one heck of a bitter. Well, here is the proof!
687 characters
Bramling Cross from Paddock Wood Brewing Co.
Beer rating:
3.75
out of
5
with
13
ratings