Winter Ale (2010- )
| Paddock Wood Brewing Co.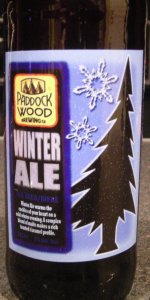 BEER INFO
Brewed by:
Paddock Wood Brewing Co.
Saskatchewan
,
Canada
paddockwood.com
Style:
Dubbel
Alcohol by volume (ABV):
8.00%
Availability:
Winter
Notes / Commercial Description:
Belgian Dubbel as of 2010 (previously it was a Strong Ale with Belgian influences)
Description: Malty palate with spicy notes and a sweet finish
Tech Stuff: 8.0% ABV, 72 OG, 26 IBU, 10 SRM
Grist: Pale Malt, Dark Candy, CaraRed, CaraAmber, Wheat Malt
Hops: Marynka, Hallertau, UK Golding
Added by Sammy on 05-08-2011
Reviews: 5 | Ratings: 16
3.58
/5
rDev
-7.3%
look: 4 | smell: 3.5 | taste: 3.5 | feel: 4 | overall: 3.5
Bold sweet dubbel. Unfiltered, dark brown.Some fudge. Yeasty and sweetness,dark fruit, rich as it is and likely will get better in a few years.Not very complex but worth having.Malty aroma. A sipper, i got through it, others may not. Thanks Presario.
250 characters
4.12
/5
rDev
+6.7%
look: 4 | smell: 4.5 | taste: 4 | feel: 4 | overall: 4
355ml bottle. Paddock Wood's Belgian-style winter ale persists into a third year, apparently, with much more appreciable availability in Alberta than in the (few) years past.
This beer pours a clear, medium red-brick amber hue, with one finger of thinly foamy, runny beige head, which leaves a low island headland profile of lace around the glass as it hastily recedes.
It smells of sweet, bready ginger snaps, as if they've just come from the oven, and are piping cold - brown sugar-saturated, ginger, cloves, and cinnamon-enhanced all - with a mild drying leafiness trying in vain to overcome the inevitable here. The taste is more sweet 'n bready caramel malt, sugary cloves, all-spice, cinnamon, and star anise, some additional brown sugar, and faintly bitter earthy, weedy hops.
The carbonation is mildly frothy, and generally supportive, the body a sturdy medium-full weight, and smooth, but with a wee alcoholic prick, which is verily tamped down therein. It finishes still rather sweet, the combined efforts of the cookie-like malt and spice hard to shake, though a hollow yeast and earthy hoppiness does give it ol' ill-fated college try.
A decent, enjoyable rendering of a style by a Canadian Prairie micro-brewer, of a style and interpretation usually best left to the experts in that particular country, whose name in Galactic-speak, is one of the crudest vulgarities known to man (and otherwise). Having no shame myself, I say, Belgium!
1,453 characters

4.06
/5
rDev
+5.2%
look: 3.5 | smell: 4.25 | taste: 4 | feel: 3.75 | overall: 4.25
355ml bottle poured into tulip 9/12/13
A clear dark maroon liquid that light enough to see plenty of bubbles, two fingers of tan foam falls rather quickly leaving just a couple random patches of lace
S lots of spice, faint bruised banana, some plum and raisin, a little coco, brewers candy, brown sugar, dark bread, just a hint of booze and licorice, plenty going on here
T some cola and more spice I can't place, some herbal, earthy hops, lots of dark bread, a little nutty toffee, not quite everything the nose had going on but solid nonetheless
M not as heavy as I would've guessed but the bubbles fluff it up, just a little heat with a spicy, yeasty finish
O I could've gone higher on the nose or taste so slightly inflated here, solid brew that's easy to drink for 8%, could use a little age I'm guessing but its drinking well today
tastes like a dubbel with a little winter spice, I'm a little surprised I've never picked this up before, for some reason I never look twice at Paddock Wood on the shelf but perhaps I should as they rarely disappoint
1,064 characters
4.08
/5
rDev
+5.7%
look: 4 | smell: 3.5 | taste: 4.5 | feel: 4 | overall: 4
2011 edition of Paddock Wood's Winter Ale.
Appearance - Dark copper brown in colour that pours with a thin white head. Slightly foggy.
Smell - Cloves, black pepper, and a candied sugar smell.
Taste - The cloves from aroma are present in the taste as well as the hint of the black pepper. The candied sugar flavour is a pleasant surprise. Slight bitterness at the end but does not take away from the drinkability.
Mouthfeel - Medium bodied with good carbonation and tingly bubbles.
Overall - A good representation of a winter ale from Paddock Wood. I don't have any previous batches to compare with (the one I'm sampling is the 2011). The ingredients balance well and it's nice to have a winter ale with a different spice palate (not as much cinnamon and nutmeg).
767 characters
3.81
/5
rDev
-1.3%
look: 3.75 | smell: 4 | taste: 3.75 | feel: 3.75 | overall: 3.75
The winter ale offering from my favorite prairie micro-brewery is a Belgian dubbel and it was nice to see this show up in Calgary liquor stores in time for Christmas. A darkish brick-red brew with almost maroon highlights, little in the way of a head on this but who cares really. Smells of rich malt complexity, molasses, burnt candi sugar, bakery shop spices, and hints of dried dark fruit. Taste is malty, earthy, and moderately spicy, with the latter notes recalling caraway and hence rye bread, anise seed, and amped-down sweet cloves. Tastes like a chocolate bock with some Belgian yeast and dark fruit character. There's another interesting undercurrent as well, a fruity almost sulfurous ghost that recalls coconut flakes. Fairly dry finish includes a nutty bitterness and some hay-like cured grass hops. Although the expected spicy character is present, the malts are more assertive, at least to my palate. Not brewed in Belgium and tastes accordingly but still has its own unique charms. I think I will age the remaining two bottles for a while.
1,055 characters
Winter Ale (2010- ) from Paddock Wood Brewing Co.
3.86
out of
5
based on
16
ratings.