1000 Monkeys Imperial Stout

Paddock Wood Brewing Co.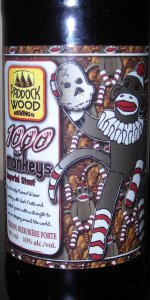 Write a Review
Beer Geek Stats:
| Print Shelf Talker
Style:

ABV:

10%

Score:

Avg:

4.05

| pDev:

7.16%

Reviews:

13

Ratings:

From:

Avail:

Rotating/Seasonal

Wants

Gots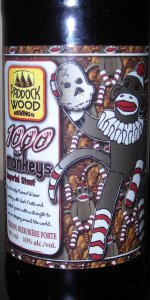 Notes:

mtomlins from Canada (ON)
3.99
/5
rDev
-1.5%
look: 3.75 | smell: 4 | taste: 4 | feel: 4 | overall: 4
Pours a deep black with 1-2 fingers of dark tan head, falling quickly and leaving minimal lacing. The nose is a big malt bomb, dark roasted malt, cocoa and whispers of coffee. The taste is very similar with more residual malt sweetness; lots of dark fruit, dark chocolate, cocoa nibs. The body is nice and thick with medium low carbonation leaving it a bit heavy. Overall, this is a solid RIS.
Aug 13, 2014
Rutager from Canada (BC)
4.05
/5
rDev 0%
look: 3.75 | smell: 3.75 | taste: 4.25 | feel: 4.25 | overall: 4
Big thank you to wordemupg for this one!
Appearance. Pours thick and black with a thin brown head that fades pretty quickly.
Smell. Cocoa powder and dark fruits, dark roasted malts, and a bit of espresso.
Taste. Dark fruits and cocoa powder again, more coffee than the smell and lots of those very well roasted dark malts.
Mouthfeel. Pretty full body, low+ carbonation.
Overall. Great stuff. An easy drinking RIS (is that an oxymoron?). Easy for the style anyways.
Sep 05, 2013

wordemupg from Canada (AB)
4.01
/5
rDev
-1%
look: 3.5 | smell: 4.25 | taste: 4 | feel: 3.75 | overall: 4
355ml bottle poured into tulip 12/3/13
A black right out of the bottle with a thin cola edge, two fingers of mocha head falls rather fast and leaves no lace, perhaps a dirty glass?
S dark roast is strong, char and coffee with a little licorice, still some hops hiding in there too, some booze, more char and some bakers chocolate
T hops are hidden in the mouth, even more charred wood, slightly nutty, some earthy notes, a little dried dark fruits, pretty solid but I liked the nose just a little better
M it's rather thick and silky but it could use just a few more bubbles, not much for heat and lots of char on the finish
O pretty solid RIS from the Parries, if you like a very dark roast odds are good your going to enjoy this one
I'd drink this again for sure, reasonably priced in the 6 pack and pretty mellow for a fresh RIS, grab one if you see it
Mar 13, 2013
Phyl21ca from Canada (QC)
3.71
/5
rDev
-8.4%
look: 4.5 | smell: 3.5 | taste: 3.75 | feel: 3.5 | overall: 3.75
Bottle: Poured a pitch-black color stout with dark brown foamy head with good retention and some lacing. Aroma of roasted malt with light lactose notes and some dark dried fruits notes. Taste is also dominated by roasted malt with medium bitterness level and some light lactose with some underwhelming dark fruits notes (dried raisins) which are a bit too dominant. Body is full with nice creamy texture and good carbonation and no apparent alcohol. Not bad but I prefer my IS with more black chocolate notes then dried raisins notes.
Jan 18, 2013

BigBry from Canada (AB)
4.03
/5
rDev
-0.5%
look: 4.5 | smell: 4 | taste: 4 | feel: 4 | overall: 4
From notes: On-tap at Beer Revolution, Calgary.
This beer arrived looking solid black, topped with an inch of beige head. Foam shrinks quickly, but leaves a good looking ring of lace.
It smells of sweet, roasted malts. Slightl alcohol heat warms the nose. Chocolate, vanilla, licorice all coming through.
Burnt caramel, dark fruits, more licorice and vanilla, coffee notes, cocoa and chocolate. All the flavors that any RIS should have. Just enough earthy hops to keep the sweetness in check.
The body is medium pushing to full, slightly slick and oily, but still smooth.
A very easy to drink beer, no one element is over done or over powering.
One of my favorite styles, and now this is one of my favorite examples.
Now...must find the Barrel Aged and Cherry versions
Nov 12, 2012
joemcgrath27 from Canada (AB)
4.47
/5
rDev
+10.4%
look: 4 | smell: 4.5 | taste: 4.5 | feel: 4.5 | overall: 4.5
From notes
A - Jet black thumb of creamy mocha head retained a solid cover with loads of lacing
S - Dark fruits, roasty and chocolate aromas dominate, milky sweet
T - Strong roasty and smoky maltiness, dark fruit syrup, cocoa, sweet finish
M - Chewy, slightly chalky and dry, not even a touch of alcohol heat
O - This is a huge beer that drinks like an light brew, full flavour with sweetness to balance the big maltiness, I hope this becomes a regular seasonal
Aug 24, 2012

IronDjinn from Canada (AB)
4.48
/5
rDev
+10.6%
look: 5 | smell: 4.5 | taste: 4.5 | feel: 4 | overall: 4.5
From a 355 ml brown bottle, came as a 6 pack. Pours out an oily opaque pitch black hue, with a tall tight creamy tan head that retains to a thick cap.
Soft roasted malt on the nose, sweet chocolate and molasses, dried figs, vanilla, and cafe au lait.
Roasted malt and dark coffee up front in the flavour, followed by plums, cherries, black currants and brandied raisins in the middle, sweet cocoa after that. The finish contains more strong coffee aligned with some herbal and citrus hops, which both linger long into the aftertaste.
Medium-full mouthfeel, slick, almost oily texture, with low carbonation.
Excellent RIS from Paddock Wood here, I gobbled up the other 5 from this 6 pack long ago, and have finally made the effort to review the sole survivor. If you can still get your hands on some of this then do so, this is one of the best stouts made in Canada.
Jun 12, 2012
andrenaline from Canada (ON)
4
/5
rDev
-1.2%
look: 4 | smell: 4 | taste: 4 | feel: 4 | overall: 4
Cheers to jomcgrath27 for this gem in the latest trade, looking forward to it!
A - pours pitch black, two fingers of dark mocha head with solid retention and sporadic lacing.
S - Light cocoa and coffee, bready caramel, pumpernickel rye and a hint of brandy.
T - Toasted bread, coffee undertones, dark cocoa, molasses, hints of black licorice. ABV is incredibly well hidden offering up only a touch of heat, nice cocoa notes linger on the finish.
M - Medium, smooth, touch of abv heat and finishes wet.
O - A tasty imperial stout and well worth seeking out if you're a fan of the style. Packs a punch, yet pulls it off discretely.
Apr 14, 2012

peensteen from Canada (ON)
4
/5
rDev
-1.2%
look: 4 | smell: 4 | taste: 4 | feel: 4 | overall: 4
Bottle shared by Sprague11
Pretty much jet black, just less than a finger of tan head, light lacing left behind as well. Smell is initially loaded with coffee and is present throughout, upon further detection dark chocolate and roasted and lightly charred malt with some alcohol as well. Taste is of roasted malts, coffee and bittersweet chocolate, some bitterness come through midway and lasts to the finish, lightly sweet with a coffee and roasted malt aftertaste. Light carbonation, medium body, good overall feel. Pretty solid and worth revisiting though it does lack a bit of depth and complexity that may make me reach for something else instead.
Apr 06, 2012
Sammy from Canada (ON)
3.65
/5
rDev
-9.9%
look: 4 | smell: 4 | taste: 3.5 | feel: 3.5 | overall: 3.5
A story in coffee: A coffee body, coffee head, coffee smell, coffee taste. Chocolate and dark fruit a small minority.Drying finish. Not my favourite crafting of the style, but good for what it was.thanks for sharing a small and fresh bottle Johnsense.
Mar 16, 2012
biboergosum from Canada (AB)
4.03
/5
rDev
-0.5%
look: 4.5 | smell: 4 | taste: 4 | feel: 4 | overall: 4
On-tap at Wunderbar.
This beer appears a solid motor oil black, with a very slight amber basal edge, and one finger of fine, creamy beige head, which leaves a solid mountain vista of painted lace around the glass as it hastily recedes.
It smells of sweet, sugary, boozy caramel, liquorice, besotted oak, mostly vanilla and astringent wood fiber, some roasted chocolate, and earthy, leafy hops. The taste is big milk chocolate, bready caramel, dirty anise, a bit of zippy black fruit, mild espresso, vanilla alcohol, and an edgy woodiness.
The bubbles are very soft and cuddly, the body a slick, somewhat syrupy medium weight, and decidedly smooth. It finishes still quite sweet, with boozy cocoa and soft wood (heh) the order of the day.
A rather disturbingly easy to down RIS, the wood nor the ABV overpowering the nice choco-liqourice main stage. Grab one if you can - I think this is the only draft venue in the province for this enjoyably hefty imbibement.
Feb 21, 2012
leaddog from Canada (AB)
4.33
/5
rDev
+6.9%
look: 4.5 | smell: 4 | taste: 4.5 | feel: 4 | overall: 4.5
Appearance - Dark cola black that pours with a finger width of creamy mocha head.
Smell - Dark chocolate, dark fruits (e.g. cherries, plums), light roasted coffee.
Taste - Dark chocolate flavour is predominant, adding a nice sweetness to it. Roasted coffee bean and bittersweet chocolate leaves a pleasant lingering bitter aftertaste. Very faint hint of cherry, especially when first sipping.
Mouthfeel - Medium bodied with light carbonation.
Overall - Very enjoyable imperial stout by Paddock Wood. Nice combination of dark chocolate and dark fruits, as well as the roasted coffee flavours. Very well balanced. Well worth a try.
Jan 30, 2012
ritzkiss from Canada (ON)
3.53
/5
rDev
-12.8%
look: 4 | smell: 3.5 | taste: 3.5 | feel: 3.5 | overall: 3.5
12oz bottle from the brewery store, grabbed a couple of the new offering brewed for Shakespeare on the Saskatchewan festival - A nod to the infinite monkey theorem. An imperial stout for a summer festival?!
Pours a black brew with cola edges in the light, a finger of mocha head which dissipates to a collar.
Loads of roast hit the nose on first sniff, followed by more nuances: dark fruits, coffee, caramel, alcohol.
Roast dominates the flavor as well, along with complimentary raisin, plum -quite fruity, especially as it warms - molasses, brown sugar, vanilla, cinnamon crunch. Dry finish, a hint of solventy alcohol in the finish which is a little distracting. Slightly thinnish body. Reminds a little of a Baltic porter actually, especially Paddock Wood's which is a roastier version.
Something just doesn't seem to come together on this one for me. The solvent character mixes with the fruitiness but it clashes with the roast, looking for something smoother while maintaining the boldness. I must add that as it warms it seems to integrate more, though it's perhaps a little sweet.
Jun 18, 2011
1000 Monkeys Imperial Stout from Paddock Wood Brewing Co.
Beer rating:
90
out of
100
with
31
ratings