Barrel Full Of Monkeys - Cherry
| Paddock Wood Brewing Co.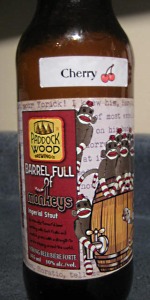 BEER INFO
Brewed by:
Paddock Wood Brewing Co.
Saskatchewan
,
Canada
paddockwood.com
Style:
Russian Imperial Stout
Alcohol by volume (ABV):
10.00%
Availability:
Rotating
Notes / Commercial Description:
No notes at this time.
Added by biboergosum on 07-26-2012
Reviews: 8 | Ratings: 20

3.29
/5
rDev
-17.1%
look: 4.5 | smell: 3 | taste: 3.5 | feel: 3 | overall: 3
From a 355 ml brown bottle. Pours out a dense opaque pitch back hue, with a short tight mocha head that retains as a thin cap.
Aroma of dark dried fruits, some woody rum and raisin character that tends to dominate, along with some faint dark chocolate.
Prominent flavour is wood and whiskey at this point, somewhat sharp and acidic in fact, some dark grains and chocolate linger in the background and rise up in the finish, with intermittent spikes of sour cherry surfacing throughout. Most enjoyable on the aftertaste already.
Medium-bodied mouthfeel, while there is practically zero carbonation the weight tends to come from the grains, a bit watery but certainly not thin.
Perhaps I didn't get around to sampling this in its optimal window, I really enjoyed the original RIS and the subsequent barrel-aged version, however taken at face value this version doesn't seem better at all from the original with the additions to the final product.
949 characters
3.75
/5
rDev
-5.5%
Bottle: Poured a pitch-black color ale with a medium size dark brown foamy head with good retention and some lacing. Aroma of roasted malt with some black chocolates notes with a hint of cherry also noticeable is enticing. Taste is dominated by rich black chocolate notes with some dry roasted malt notes with very subtle notes of cherry. Body is pretty full with good carbonation and no apparent alcohol. Well brewed but doesn't taste as close as cherry blossom as I would have expected.
491 characters
4.05
/5
rDev
+2%
look: 4 | smell: 4 | taste: 4 | feel: 4.5 | overall: 4
Thanks to dresden for this bottle. Drank the day after the regular version for comparison. Poured in to tulip glass.
A - Poured black with a red glow visible during the pour. Half a finger of medium brown head formed and reduced to a thin layer.
S - Tart cherry aroma up front that gives way to roast, bitter chocolate and sweet molasses notes. The tart and sweet are in a good balance.
T - Tart cherry flavour up front. Roast and semi-sweet chocolate enter mid palate. The tartness returns in the finish with a touch of sweet molasses. After a few sips the tartness becomes less dominant and more integrated with the base beer flavours.
M - Medium body; creamy. Light carbonation.
O - This was excellent but I prefer the regular version. The intense licorice and espresso notes that were in the regular version were masked by the cherry.
848 characters
4.05
/5
rDev
+2%
look: 3.5 | smell: 3.5 | taste: 4.5 | feel: 4 | overall: 4
Appearance- Pours a dark brown/black with a 1/4 finger width of mocha head.
Smell- red wine, roasted notes (malts) and dark chocolate, bourbon.
Taste- The tart cherries are the star of the show followed by the bourbon and the roasted malts. Nice woody taste near the end.
Mouthfeel- Medium bodied with light carbonation. Slick feel to the body. Finishes dry.
Overall- Surprising combination of flavours in the monkey series by Paddock Wood. The tart cherries act as a missing link in the previous installment, providing uniqueness to the palate. Overall, an interesting twist on an RIS.
590 characters
4.07
/5
rDev
+2.5%
look: 3.5 | smell: 4 | taste: 4 | feel: 4 | overall: 4.5
355ml bottle, fast on the heels of the 'regular' barrel-aged version. The label depicts the same familiar funky monkey a la barrique, but now with a perfunctory 'Cherry' sticker plastered due north.
This beer pours a solid black, no light, no way, with one finger of foamy chocolate milk head, which leaves a few reaching arcs of lace around the glass as it quickly abates.
It smells of cherry liqueur, an edgy oak woodiness, roasted chocolate malt, a mild oily nuttiness, and some soft, rather overwhelmed leafy hoppiness. The taste is dry roasted chocolate malt, a tart cherry pit acidity, subdued vanilla and caramel notes, both from the malt and from the barrel, a further mildly strident woodiness, soft office coffee undertones, and meek leafy and weedy hops. 10 whole points of alcohol, once again, get lost in the mire.
The carbonation is average, spread about in just the right way for such an affair, the body a glistening, newborn medium weight, and in tough for any smoothness accolades, as the tart fruit and underlying metallic booze do take their toll. It finishes pretty dry, quite beyond expectations, as the almost sour cherry fruitiness actually overcomes the heretofore pungent multi-toned caramel and vanilla headiness.
Wow, I've rarely seen a beer change so much with a singular additional ingredient introduced - the cherry (whatever its origin) does a doozy on an otherwise solid and already complete beer - the sourness really mediates the big barrel and hefty RIS incumbents, producing something along the lines of the offspring of an RIS and a kriek lambic. Interesting, and pretty drinkable, to be sure.
1,635 characters

4.16
/5
rDev
+4.8%
look: 4 | smell: 4.25 | taste: 4.25 | feel: 4 | overall: 4
355ml bottle poured into tulip a few weeks back, cheers Kmat10 for cracking one of my wants
A very dark liquid with a cola edge, a thin film leaves some polka dot lace and that's not bad for a small pour
S cherry cola, bourbon and fudge, a little smoke and chocolate
T more of the same really, faintly reminds me of cherry cough syrup but tastes better then that sounds
M almost full, enough bubbles to give it some life and the booze is well hidden
O lots of cherry shinning through the dark malt, this one comes together quite well, I wish I had more of it
I'd like to sit down with a whole bottle and give this one some attention, for now I'm just glad I got to try it
681 characters

4.17
/5
rDev
+5%
look: 3.75 | smell: 4.25 | taste: 4.25 | feel: 3.75 | overall: 4.25
355 mL bottle sent to me by a generous CANBIF trader - thanks Farees, for including this 'want' in that mind-blowing shipment. Coded 4121096121818, if that means anything. Served slightly chilled.
Pours an opaque blackish-brown cola colour, producing about one finger of dense, creamy, tan-coloured head. It wilts within the next two minutes, leaving behind a decent-sized collar of froth and scattered swaths of lacing. Rich malts on the nose, with a major focus on dark fruit flavours - I'm getting cherry, red wine and prune, with additional suggestions of chocolate, oak, roasted barley, bourbon, molasses and anise.
Yummy stuff. More molasses and cherry, integrating beautifully with hints of raisin, prune and dark chocolate. Slight hint of sour cherry pits mid-sip; bourbon, oak, and a touch of vanilla also seem to be coming through - is the "barrel" mentioned in the moniker of the bourbon variety, perhaps? I'm not sure - this beer is not even listed on the Paddock Wood website anymore - but I'd have to guess that it's BBA. Hints of coffee grounds, earth, anise spice and light bourbon booziness at the finish. Warming aftertaste, as the rich malt and dark fruit flavours fade from the palate slowly after each gulp. The carbonation is quite low, but for a bottle that (I am assuming) is at least 2+ years old, it's still managed to conserve a slight bite. Medium-bodied - the relative thinness doesn't quite suit this one, but the smooth texture still makes it enjoyable to sip.
Final Grade: 4.17, an excellent A-. Cherry Barrel Full of Monkeys isn't the first Paddock Wood Brewing Co. product that I've had the chance to try, but it's absolutely my favourite so far. This imperial stout has aged very gracefully - I am not necessarily a huge fan of cherry beers, but the combination of bold fruity-sweet and subtle tart flavours perfectly complements the base (bourbon?) stout. Had this right after a can of Wellington's IRS - a long-time staple in this province - and it compared pretty favourably. Thanks again, Farees!
2,038 characters

4.23
/5
rDev
+6.5%
look: 4.5 | smell: 4 | taste: 4.5 | feel: 4 | overall: 4
11.5oz bottle into a tulip.
A - Pours black with a sticky mocha head. I swear there's a tinge of redness in the head here, but maybe I'm just crazy. The head recedes to a thin ring, and leaves a plethora of sticky chunks of lace all over the glass. My only gripe here is, I wish they had done a different label for the cherry variety, rather than just a sticker.
S - I was wondering just how prominent the cherries would really be in this brew before I opened it, and if they would really show through. Now I know, and boy do they ever. A ton of tart cherries on the nose, giving the aroma a rather vinous quality. The oaky/bourbon like character I recall form the original BFoM is definitely masked under a great deal of cherries. There's subtle touches of roast, with dark chocolate and coffee making a slight appearance, but this brew is clearly all about the cherry. I also get a touch of something catty in here, which is throwing me off.
T - Wow, the cherry onslaught continues in the profile. While it isn't quite as dominant as was in the nose, the profile changes a ton compared to regular BFoM. The traditional qualities of an RIS are a little more prominent here, with roasted malt, coffee, and oak all coming through, but the whole profile is permeated with an intense cherry flavor that has me thinking back to Cantillon Kriek.
M - Doesn't seem as thick and viscous as regular BFoM, and the carbonation is almost non existent. While I say this isn't quite as thick as the original, this is still one beefy ass stout.
D - I gotta agree with biboergosum here, this almost drinks like some sort of RIS/kriek lovechild, and in the end it's pretty damn tasty. I'm interested to see if there are more BFoM offerings coming from Paddock Wood, as this was surprisingly good.
1,784 characters
Barrel Full Of Monkeys - Cherry from Paddock Wood Brewing Co.
3.97
out of
5
based on
20
ratings.