White Cap Lager
| East African Breweries Ltd (Kenya Breweries)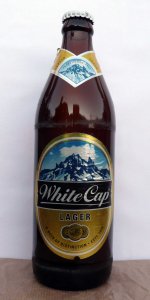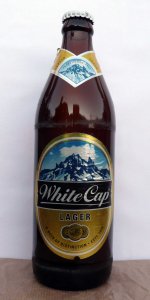 BEER INFO
Brewed by:
East African Breweries Ltd (Kenya Breweries)
Kenya
eabl.com
Style:
Euro Pale Lager
Alcohol by volume (ABV):
4.20%
Availability:
Year-round
Notes / Commercial Description:
No notes at this time.
Added by BlackHaddock on 09-03-2007
HISTOGRAM
Ratings: 13 | Reviews: 7
Reviews by betterbitter:
More User Reviews:
3.51
/5
rDev
+22.3%
look: 3.5 | smell: 3 | taste: 3.75 | feel: 3.75 | overall: 3.5
just been to Kenya and this was the best thing they had, but it is not that common as Tusker is the more well known beer. In most places White cap is the same price as Tusker but i have found that it is not as fizzy so stands as a more refreshing beer
251 characters

2.13
/5
rDev
-25.8%
look: 2 | smell: 1.5 | taste: 2.5 | feel: 2.5 | overall: 2
A 500ml bottle with a BB of Jan 2012. Acquired while on a trip to Kenya a few months ago. The label features an image of a snowy mountain peak, but doesn't specify which one. Brewed with barley, corn and sugar. Is the bottle cap white? You bet.
Poured into a tulip pint glass. A clear straw colour with low carbonation and faint visible sediment. Forms a very thin head of white foam that disappears almost immediately. An unpleasant aroma of harsh overcooked veg, corn, DMS, and a hint of stewed leaves. A note of sulphur or burnt matches in the background. Gross.
Tastes of ultra light malt with a faint bitter finish. Slightly sweet, with notes of corn, stewed veg/leaves, DMS and a whisper of hop bitterness. Mouthfeel is watery and somewhat flat, though tingly. Mildly astringent. Aftertaste of DMS and a faint harsh flavour.
Not good at all. Lots of nasty flavours/aromas, not nice. Stewed veg, DMS, a harsh finish....need I say more? Would need to be ice cold to be even vaguely drinkable. Avoid unless desperate.
1,023 characters
1.56
/5
rDev
-45.6%
look: 2.5 | smell: 1.5 | taste: 1.5 | feel: 1.5 | overall: 1.5
Bottle: Poured a bright golden color lager with a small bubbly head with low retention. Aroma consists of sweet adjunct notes are dominant. Taste is also dominated by some sweet adjunct notes with very little else in terms of characteristics. Body is thin with medium carbonation. This is very bland with too much adjunct coming through.
337 characters
3.03
/5
rDev
+5.6%
look: 3.5 | smell: 3 | taste: 3 | feel: 3 | overall: 3
Another beer I brought back from my Kenyan adventure in August 2007.
This brown, half litre bottle has a golden label with a picture of a white capped mountain, most likely Mount Kenya, but I am no expert on mountain spotting.
Brewed 20 June 2007, must be drank before 20 Dec 2007, it was drunk on 03 Sept 2007.
I poured the beer into my one remaining Corsendonk tulip glass, leaving a third of the beer to replenish the glass later.
The body of the beer is a very pale, yellow straw colour, clear and clean looking. A white cap of foam sat on top, the head soon left to be replaced by a thin covering of wispy, twirly small bubbles.
As with almost every lager beer I try, the aroma escapes me, so this one gets my normal 3.0 for smell. There was a very small hint of yeast, but not enough to get excited about.
This could have been any of the sweeter lagers you have tried anywhere in the world. Nothing wrong with it, but nothing stood out either, just a bog standard Euro style lager.
No real body or flavours to give it a hefty mouthfeel, a bit water maybe, but it wasn't weak, nor did it have that tinny taste some lagers leave in the mouth.
All in all, not a bad drink. I didn't get to try one while out in Kenya, I just got it at a supermarket, so I could review it on my return to the UK.
1,304 characters

2.49
/5
rDev
-13.2%
look: 2.75 | smell: 2.5 | taste: 2.5 | feel: 2.25 | overall: 2.5

2.74
/5
rDev
-4.5%
look: 3 | smell: 2.75 | taste: 2.75 | feel: 2.5 | overall: 2.75
3.5
/5
rDev
+22%
look: 3.25 | smell: 3.25 | taste: 3.5 | feel: 3.75 | overall: 3.75
This is Kenya's most dependable beer which pleads gleeful ignorance to its region terrior (Tusker, being the beautiful, near enigmatic soil-sifter).
It's unfussy as the setting requires, refreshing, and leaves room for third helpings of bar stool kuchambar. A crate of lukewarm White Caps makes the brownouts memorable and almost worth it.
341 characters
3.83
/5
rDev
+33.4%
look: 1.5 | smell: 1.5 | taste: 4.75 | feel: 4.75 | overall: 5

2.5
/5
rDev
-12.9%
look: 2.5 | smell: 2.5 | taste: 2.5 | feel: 2.5 | overall: 2.5

3.03
/5
rDev
+5.6%
look: 3.5 | smell: 3 | taste: 3 | feel: 3 | overall: 3
My hat is off to AndoBrew, who brought this back from his recent trip to Africa, the Dark Continent.
Appearance: Pours a clear, golden body with a very appropriate white cap head.
Smell: A highly bizarre aroma which combines two scents: flowers and Campbell's Chicken Noodle soup. If ever you have a sick friend but find you're out of both flowers and soup, then a bottle of White Cap should do in a pinch.
Taste: Scant malt presence with only a very mild sweetness. Light floral hops. Watered-down chicken broth on the finish.
Mouthfeel: Light-bodied. Moderate carbonation.
Drinkability: An okay, but odd pale lager!
622 characters
3.6
/5
rDev
+25.4%
look: 3 | smell: 3 | taste: 4 | feel: 3 | overall: 4
Okay, so.. they really sold me with their tag line:
"A beer of distinction"
Let's see how it turned out....
Appearance>Amber in color. Not terribly vivacious. Head dissipates slowly. Ever so slight lacing.
Smell> Sweet, a little more sugary than I prefer.
Taste> Start carries the sweetness of the nose, growing into a full body, with a smooth finish. Slight alcohol heat. Overall this is a nice lager and a good alternative to Tusker.
Mouf> Decent
Drinkability> Nice.
489 characters
White Cap Lager from East African Breweries Ltd (Kenya Breweries)
Beer rating:
2.87
out of
5
with
13
ratings