Val-Dieu Blond
| Brasserie de l'Abbaye du Val-Dieu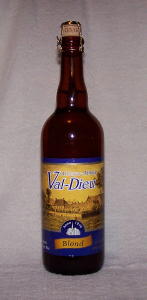 BEER INFO
Brewed by:
Brasserie de l'Abbaye du Val-Dieu
Belgium
val-dieu.com
Style:
Belgian Pale Ale
Alcohol by volume (ABV):
6.00%
Availability:
Year-round
Notes / Commercial Description:
No notes at this time.
Added by Bierman9 on 03-04-2002
Reviews: 113 | Ratings: 194
3.63
/5
rDev
-6.2%
look: 3.5 | smell: 3 | taste: 4 | feel: 3 | overall: 4
The body is hazy pale yellow with a smallish foamy head that leaves good lace. The aroma is fairly mildly wheat malt with some horse blanket yeast aroma. Taste is rather uncomplicated fruity esters (banana, apple, and apricot mostly) with a lemony tartness and a spicy aftertaste. Feels weak and mild which is probably true to the style. A nice summertime pleasure when you don't want something too challenging.
★
412 characters

3.83
/5
rDev
-1%
look: 4 | smell: 3.5 | taste: 4 | feel: 3.5 | overall: 4
bottle overflowed when i popped the cap. served at cellar temperature into a chimay chalice. poured cloudy gold with a thick, pillowy white head which disapated quickly leaving fine lacing. citrusy, earthy and slightly floral in aroma. mouthfeel is light and a little tart. citrus and pepper dominate the taste with a dry fruity finish. i'd drink it again, but wouldn't go out of my way.
★
387 characters
4.2
/5
rDev
+8.5%
look: 4 | smell: 4 | taste: 4.5 | feel: 4 | overall: 4
If you like Duvel, La Fin Du Monde, or Delerium, but don't want the high ABV, here's the beer to try. It has that same fruity, clean taste, with only a 6% ABV. Pours almost identical to Delerium Tremens. Foamy head, light golden color. Very smooth and refreshing. Nothing negative to say, other than the almost $7 for a 750. A little pricey for sure, but a real nice blonde.
★
374 characters
3.92
/5
rDev
+1.3%
look: 3.5 | smell: 4 | taste: 4 | feel: 3.5 | overall: 4
Poured a clear, light gold and created a fluffy white head that looked like a chef's hat hovering over the glass. Aroma was tart and citrusy.
Taste was light citrus with wheat and alcohol. Carbonation seemed a bit aggressive and left me with a bit of an etched feel to the mouth. A really refreshing beer though and one Belgian beer I could handle on summer days.
★
364 characters

4.13
/5
rDev
+6.7%
look: 4.5 | smell: 4 | taste: 4 | feel: 4 | overall: 4.5
Pours a thin hazy yellow, with a brilliant whit head. Banana lemon yeasty aroma, yum. A wonderfully fluffy hearty head with beautiful tracery all the way down. A lightly sweet, dry, tart hop flavor up front, Belgian yeast is mild & well stated. Taste turns delicately sour but stays well balanced throughout. A very good beer all around
ave
★
343 characters

4
/5
rDev
+3.4%
look: 4 | smell: 4 | taste: 4 | feel: 4 | overall: 4
Poured a hazy golden color with a thin white head. The aroma boasted floral, citrus, and yeast components. The mouthfeel was crisp, as the citrus flavors married well with the sweetness of the malt. The yeast was pronounced and some honey flavor crept in during the swallow. Very mellow aftertaste with some hint of bitterness. This medium bodied beer is very drinkable and refreshing.
★
385 characters

3.88
/5
rDev
+0.3%
look: 4 | smell: 3.5 | taste: 4 | feel: 4 | overall: 4
Pours with a two-fingered white head that fades slowly and leaves some lace. A cloudy light golden color. Nose is on the malty side, I didn't notice any sour or metallic aroma as others have found. Starts malty, finishes nice and crisp. Good carbonation. Nice Belgian pale much better than an American pale.
★
307 characters
4
/5
rDev
+3.4%
look: 4 | smell: 4 | taste: 4 | feel: 4 | overall: 4
75cl corked bottle showing 05/05 on the cork. Clear golden ale with snow white colored head. Head is very creamy and looking like a tripel. Some alcohol in the aroma as well as berries and spices. Mouthfeel is clean and crisp and almost has a dry lagery type of feeling. This is actually a very nice Belgian Pale. Dry, fruity and easy to drink.
★
344 characters

3.31
/5
rDev
-14.5%
look: 2 | smell: 3.5 | taste: 3.5 | feel: 2.5 | overall: 3.5
Dayton, OH AleFest:This beer formed a small sized white head with fine-small sized bubbles.The body was cloudy with lively carbonation observed.The hue of this beer was straw yellow and its nose was that of clove, spices and fruits.The flavor was bitter from start to finish and it had a lingering effect.This beer had a smooth mouthfeel and it was light in body.There was a fair amount of lacing on the sides of my glass.
★
422 characters
3.88
/5
rDev
+0.3%
look: 4 | smell: 3.5 | taste: 4 | feel: 4 | overall: 4
Pours a cloudy straw color with a thick, shaving cream-like head. Furiously carbonated. Tiny bubbles keep the head at about one fat finger. Clingy lace. Floral/citrus hop aroma, grassy smell. Farily dry taste, citrus with just a hint of spiceness, very, very faint. A very mild beer, refreshing. Creamy and slightly overcarbonated. If it wasn't for the cost, this could make for a pretty good session beer.
★
406 characters
2.6
/5
rDev
-32.8%
look: 2 | smell: 2 | taste: 3 | feel: 3 | overall: 2.5
Smeels more like a "Blanche" than a Pale Ale. Coriander and fruity spices are the first things I detect just by smeeling it. Faithful to it's Belgian look, this brew has the bottle fermentation appearence to it, you can see and almost feel it's roundness. Now the taste...heavy! You can actually feel it go down which you find more in a Trippel or a Malt beer than a Pale Ale(!?!)
Slite change of pace when your halfway done. This brew turns out to have a more "domestic" brew caracteristics to it. An appreciative bitterness when you take a sip but it doesn't stay as much as you'd like. Although this beer is fairly well balanced there is still something missing...IMO.
★
679 characters

4.33
/5
rDev
+11.9%
look: 4.5 | smell: 4 | taste: 4.5 | feel: 4 | overall: 4.5
Formidably thick, mountainous, ivory - white head tops a slightly hazy golden hued effervescent brew. Belgian lace is left. Tart, unripe fruit is perceived in aroma at first, but sweet honey & cider quickly round it out. The overall flavor profile is of mellow residual sweetness due to the low hop bitterness, but lemony esters & mild clove add complexity. Moderately bodied w/ sufficient residual dextrins to lend a full mouthfeel. Finishes w/ quickly fading sweet residual sugar and tart ester combination. Val - Dieu Blond exhibits excellent drinkability & overall smoothness. There should be more Belgian "session" beers like this one.
★
647 characters
4.3
/5
rDev
+11.1%
look: 4 | smell: 4 | taste: 4.5 | feel: 4 | overall: 4.5
Presentation: Short stubby 11.2 brown bottle with no freshness date.
Appearance: Nearly clear with a bright pale golden colour, yeast was still a bit unsettled in the bottle and did make it way into the glass but not to the point of making the beer cloudy. Cake like head floats on top and sticks all over.
Smell: Light peppery herbal aroma with malt sweetness in the back, suggestions of ripe tangerine juice and juicy fruit bubble gum in the nose also.
Taste: Multi texture mouth feel, creamy and viscous carbonation with a medium body. Spicy up front with the crispness of the carbonation, yeast and hops meld together to bring for an other complexity to the spicy character. Fruitiness flows through with hints of apple peel and unripe plantains. Fresh sweet grain in the palate, graininess seems to be everlasting and wades far into the finish. Mildly estery with a light warming alcohol.
Notes: Tight and complex with a delicate side and some snappy spiciness from the hops and yeast byproducts also. A Belgian Blonde I'd go back to again and again.
★
1,073 characters
Val-Dieu Blond from Brasserie de l'Abbaye du Val-Dieu
3.87
out of
5
based on
194
ratings.