Bryggeriet Apollo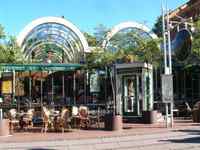 Recent ratings and reviews.
Ratings by JanM:

Reviewed by JanM from Sweden
2.53
/5
rDev
-11.5%
vibe: 2.5 | quality: 3 | service: 2.5 | selection: 2
Apollo is attched to a real boring chain restaurant called "A Hereford Beefstouw". It's situated next to the main entance of Copenhagens Tivoli. This is one of the few prerserved 19th century style amusement parks in Europe. Apollo's hardware was bought from East Germany when the wall collapsed in 1989. If it wasn't for the often rather interesting "Beer of the Month" you could easily give this place a miss. Most of the people who venture inside are foriegn tourists. When I visited the beer of the month was "Malurt" (wormwood). Thought provoking, isn't it? As it turned out it was more or less the same stuff as the pilsner they always serve, but with Malurt added. It smells and looks like the pilsner. The first taste is of sugar with the Malurt emerging as an aftertaste. But with the second sip the Malurt becomes more pronounced.
Aug 27, 2005
More User Ratings:

Reviewed by ndolover from Minnesota
2.48
/5
rDev
-13.3%
vibe: 3.5 | quality: 2 | service: 2 | selection: 2.5 | food: 4
This brewpub is located near Tivoli and is in the more touristy area. I stumbled upon this place and decided to give it a try.

Overall, it is very clean and comfortable and caters to tourist. However, the waitress that I had pegged me as a tousist and treated me as such. She took care of the locals first and I was left waiting to order, to get another beer, and to get the bill.

The food was very good, but nothing to write home about.

The IPA I had was vegetal, which struck me as odd. I was going to get another beer, as they had a "sushi" beer of the month. However, the service was poor and I had waited too long and decided to move on.

Overall, I would not reccomend this place to a BA. However, if you are in the area and hungry I would not insist upon another place. If you are looking for good beer...I would move on.
Mar 15, 2010
Reviewed by drpimento from Wisconsin
2.79
/5
rDev
-2.4%
vibe: 3.5 | quality: 3 | service: 3 | selection: 2
Went there twice. Service was ok, nothing special. Servers have to deal with a lot of frustrating tourists ( I sat next to some and they were trying). Went there twice. Service was ok, nothing special. Sat inside once, no bar, nice large, untreated blonde wood table. The other time it was very hot inside, so sat outside. Busy. Lots of tourists from everywhere. Had the Tasmanian Devil Dandelion beer ( very herbal and overdone) and the Pilsner ( very malty and not much like a pils.) They have an imperial stout, but didn't try it. Location is very close to Tivoli and train station.
Jun 25, 2009
Reviewed by BlackHaddock from England
3.63
/5
rDev
+26.9%
vibe: 4 | quality: 4 | service: 4 | selection: 2.5 | food: 4
My wife and thought this place lovely. It is very modern and caters for the tourist trade and well-to-do locals. Well lite, bright and very aware of its location.

As you enter there are two tables to stand and just drink at (on the right) or a host of tables around a huge hole that has stairs leading down to more tables and the toilets. The brewing equipment is also within the aforementioned hole.

The place was heaving when we arrived, we were shown to a table right next to the brewing kit, and looked after very well by two young ladies who spoke perfect English (as did every Dane we met).

There were three draught beers available, a Pilsner, a Black Smoked Porter and a Haslenut beer. The Pilsner was fine, the Smoked porter was also good, the Haslenut beer was fantastic.

Our food was also top notch, my Spare Ribs were cooked to perfection and well presented. My wifes Chicken Breasts and Jacket Spud equally good.

This was our first Danish bar/pub on our Copenhagen European Beer Fest weekend. I didn't have a better beer all weekend than the Haslenut one!
Sep 24, 2008
Reviewed by foamyhead from Denmark
2.2
/5
rDev
-23.1%
vibe: 2.5 | quality: 3 | service: 1.5 | selection: 1.5 | food: 3
Not too many years ago, this place was one of the very few places in Copenhagen if you wanted any other beer that a plain Tuborg or Carlsberg. The beer of Apollo was, and is, organic and neither pasteurized nor filtered, which means that you get a lot more taste than in a standard industrial pilsner. Nevertheless, some time has passed, and Denmark has undergone a true revolution on the field of beer. New breweries have popped up faster than anyone could count them. And endless numbers of beer styles, brewed by Danish breweries were suddenly available. Apollo does not reflect this revolution. Still today, they sell only two types of beer; a pilsner, and the beer of the month, which much too often tastes like a variation of the pilsner. Usually the same kind of hops are used, and the beers have the same kind of sweet malty taste. The concept of this place clearly is to earn some money, and they do, judging from the almost always full tables. The food and beer is rather pricey, and to catch the attention of a waiter is a sport you've got to love... For the best experience, try the homemade beer schnapps aged in small oak barrels, distilled at 'Bryggeriet Herning' - a sister brewery of Apollo.
Feb 21, 2007
Bryggeriet Apollo in København, Denmark
Brewery rating:
3
out of
5
with
6
ratings