Star Lager
| Nigerian Breweries, Ltd.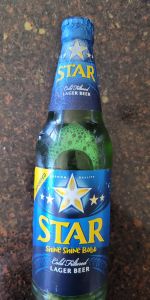 BEER INFO
Brewed by:
Nigerian Breweries, Ltd.
Nigeria
nbplc.com
Style:
American Adjunct Lager
Alcohol by volume (ABV):
5.30%
Availability:
Year-round
Notes / Commercial Description:
No notes at this time.
Added by brewdlyhooked13 on 12-19-2003
Ratings: 11 | Reviews: 8

2.6
/5
rDev
-4.1%
look: 3.5 | smell: 2.75 | taste: 2.25 | feel: 3.25 | overall: 2.5
A 600ml green glass bottle with a BB of Nov 2017. ABV is stated as 5.1%. Purchased recently from Home Bargains. The label claims that this lager is subjected to 250 quality checks - if true then this might be the best beer in the world! Ingredients include sorghum and sucrose.
A: Poured into a pint mug. A rich amber colour with good carbonation and some floating sediment. Forms a large head of creamy white foam that lasts for a minute or two before reducing to a patchy surface layer.
S: Aroma of light, grainy malt with hints of husks, mild stewed leaves, subtle DMS, faint harsh cardboard and a twinge of solvent in the background. Not brilliant.
T: Tastes of light malt with notes of husky grain, stewed leaves, wet cardboard, overdone veg, faint green apples and a whisper of solvent. Dry, with a mild bitterness upon swallowing. Not particularly nice.
M: Mouthfeel is smooth, tingly and dry, with prickly carbonation and decent body for the style. Perhaps a tad watery. Aftertaste of bitter stewed leaves, husky grain, overdone veg and corn.
O: A decidedly poor lager - too flawed. Looks alright, however the aroma and flavour are bland and tinged with unpleasant off-notes. Body is OK. Probably fermented too warm and/or not matured for long enough, though perhaps the ingredients also play a part. At any rate, one to avoid unless you're dying of thirst.
1,370 characters
2.75
/5
rDev
+1.5%
look: 2.75 | smell: 2.75 | taste: 2.75 | feel: 2.75 | overall: 2.75
My second Nigerian beer after trying Gulder earlier on today.
This one looks similar, thick foamy head which is nicely retained and coats the glass.
Has a light malt flavour with mild bitterness and a touch of sweetness in the finish.
These Nigerian beers seem to be distinctly average. This one is better than Gulder in my opinion.
335 characters
2.12
/5
rDev
-21.8%
look: 2.25 | smell: 2 | taste: 2.25 | feel: 2 | overall: 2
600ml bottle from Home Bargains, Glasgow (£1.49):
This one was a very basic tasting beer that had a little skunk running through it but for the most part was quite a light beer with a combination of lager malts & corn making up most of the taste along with some vegetable adjuncts. It was lightly carbonated which was disappointing & it wasn't as refreshing or crisp as a result & as such I doubt it will be one I have again unless I find myself in Nigeria at some point.
472 characters

2.5
/5
rDev
-7.7%
look: 2.5 | smell: 2.5 | taste: 2.5 | feel: 2.5 | overall: 2.5
3
/5
rDev
+10.7%
look: 3 | smell: 3 | taste: 3 | feel: 3 | overall: 3

3.5
/5
rDev
+29.2%
look: 4 | smell: 4 | taste: 3.5 | feel: 3 | overall: 3
though regarded to as the Best Nigerian Beer. i don't find it cool enough. i think it's somehow watery. i can drink 4-5 bottles without getting tipsy. while i drink upto 3 canned Heineken and get drunk.
though it is a respected and favourite beer among the indigenes and frequent visitors to Nigeria.
well....average
318 characters
3.3
/5
rDev
+21.8%
look: 3 | smell: 3 | taste: 3.5 | feel: 3 | overall: 3.5
Nigeria's best beer yet, it passed a long way and changed a lot. now it has this malty light sweet taste very refreshing and it is sure to order in case you want to try a local Nigerian beer.
1940s to 1950s - STAR was introduced into the Nigerian market.
It became the first indigenously brewed beer in a market that was dominated exclusively by imported brands.
364 characters
2.42
/5
rDev
-10.7%
look: 2 | smell: 2.5 | taste: 2.5 | feel: 2 | overall: 2.5
had this in a Nigerian Restaurant in London accompaying Nigerian food, which in itself is somewhat of an experience ('pepper soup' which stands to it's name, goat stomach, sheep knuckles and other stuff which I dared not to ask what it was ...) ... to be honest, the lager was the one only familiar taste I could cling to ... in itself this brew is quite malty and not too mellow ... rough like a real African brew ....
419 characters

2.53
/5
rDev
-6.6%
look: 3 | smell: 2.5 | taste: 2.5 | feel: 2.5 | overall: 2.5
Light yellow colour, with a small, sudsy head. Amazingly, this leaves alot of lace on the glass. At the finish, the whole inside was covered with necklaces of foam. The smell is very weak. A bit grassy, dry and semisweet smell. Tastes plain. Light sweetness, almost cracker like, with a dry, bittering finish. Thin, watery mouthfeel. Drinkable, like most standard macro's are drinkable. Enjoyable, but dull. Definitely wouldn't turn one down, or buy if the price is right.
472 characters
3.35
/5
rDev
+23.6%
look: 3 | smell: 3 | taste: 3.5 | feel: 3.5 | overall: 3.5
A pale urine colour, slightly grassy aroma, with a smooth slightly clinging medium malt body and a softly dry bitter finish. Green bottle with a simple blue label. There is a white star on the label stating premium quality. All Nigerian beers, by law, have to contain sorghum, which should mark this out as different to the normal global lager, but it's a quite normal brew.
374 characters
Star Lager from Nigerian Breweries, Ltd.
2.71
out of
5
based on
11
ratings.