Gulder Lager (Nigeria)
| Nigerian Breweries, Ltd.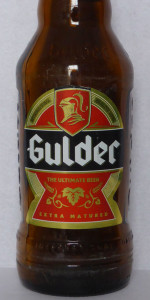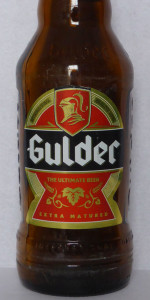 BEER INFO
Brewed by:
Nigerian Breweries, Ltd.
Nigeria
nbplc.com
Style:
American Adjunct Lager
Alcohol by volume (ABV):
5.20%
Availability:
Year-round
Notes / Commercial Description:
No notes at this time.
Added by flyingpig on 04-24-2013
HISTOGRAM
Ratings: 14 | Reviews: 8
Reviews by flyingpig:
2.52
/5
rDev
-7.7%
look: 2.75 | smell: 2.5 | taste: 2.5 | feel: 2.5 | overall: 2.5
Apparently different from the Ghanaian version of this beer due to the use of sorghum in this, the Nigerian version due to government grants for using it in place of malts. This is the reason for the new listing.
Bottle: 600ml (£2.29 from Costcutter, Lambeth, London):
Clear golden with a few bubbles rising to the surface and a very thin, bubbly white lacing for a head.
Lager malts & a touch of sweetness along with some corn, bread and a lot of adjuncts filling in the rest. There are a few faint, grassy hops and a touch of skunk as well.
Lager malts and corn with some faint hops and a slight touch of citrus. There is a bland taste overall and a slightly skunky finish.
Light, smooth with a slight citrus tang and strong carbonation. The beer is a little thin but not totally watered down.
Poor pale lager with a rather bland and uninspiring taste without coming across as bad or offensive. Not a bad taste just an incredibly bland one that is reminiscent of drinking flavoured water.
1,009 characters
More User Reviews:

2.51
/5
rDev
-8.1%
look: 3.5 | smell: 2.5 | taste: 2.25 | feel: 3 | overall: 2.5
A 600ml bottle with a BB of Aug 2017. Purchased recently from Home Bargains. An export lager; the label describes it as 'the Ultimate Beer'. We shall see.....
A: Poured into a tulip pint glass. A bright golden colour with good carbonation and fine floating sediment of some sort. Forms a large head of creamy, brilliant-white foam that lasts for a few minutes before subsiding to a patchy surface layer. Slight lacing.
S: Aroma of husky stewed grain with hints of overdone veg, mild cabbage, faint malt, subtle earthiness and a twinge of cardboard. Naff.
T: Tastes of stewed grain with notes of husks, harsh cooked leaves, overdone veggies, a hint of corn, subtle yeast and wet cardboard. A subdued, mildly acrid bitterness upon swallowing. Not good.
M: Mouthfeel is smooth, tingly and dry, with lively carbonation and a relatively insubstantial body. Aftertaste of harsh stewed leaves, bitterness and grain husks.
O: Pretty poor. It looks alright, which is about the only thing going for it. Aroma and flavour are an unpleasant mix of stewed grain, leaves and overdone vegetables, along with an acrid bitterness. Typical body for a macro lager. No redeeming qualities - I'm not sure I'd want to drink this even in a hot climate. Certainly not the ultimate beer. Give it a miss.
1,283 characters

2.76
/5
rDev
+1.1%
look: 3.25 | smell: 2.75 | taste: 2.75 | feel: 2.5 | overall: 2.75
2.9
/5
rDev
+6.2%
look: 3.5 | smell: 3.5 | taste: 2.25 | feel: 3.5 | overall: 3
Bottle. Golden peach in colour. Wispy head. Effervescent.
Sweet. Light malt and citrus aroma. Some grain.
Stewed hops and malt. A hint of lemon. Quite bitter. Damp wallpaper (or what I would assume it would taste like).
Light to moderate feel. Quite sparkling. Probably welcome in the Nigerian climate.
302 characters
2.5
/5
rDev
-8.4%
look: 2.5 | smell: 2.5 | taste: 2.5 | feel: 2.5 | overall: 2.5
Pours a nice golden colour with thick foam head which is retained for a considerable amount of time.
High level of carbonation.
Quite watery, not a whole lot of flavour, very bland. Will certainly quench your thirst on a hot day in Nigeria.
Average.
252 characters

2.62
/5
rDev
-4%
look: 3.75 | smell: 2.25 | taste: 2.5 | feel: 3 | overall: 2.75
Bottled in the strangely sized 560ml offering
Visually a beautiful beer with ever so slightly hazy golden body with huge sticking white head
Lemon barley aroma
Malty flavoured lager
181 characters
2.18
/5
rDev
-20.1%
look: 2.5 | smell: 2.5 | taste: 2 | feel: 1.75 | overall: 2.25
Pours a clear golden color which is topped with an average white foamy head. There is a gentle hoppy aroma. The taste is bitter and slightly acid with a hoppy aftertaste. It is drinkable, although there is this unpleasant metallic feel in the end, making it not so good really. Too bad.
286 characters
2.37
/5
rDev
-13.2%
look: 2 | smell: 2.5 | taste: 2.5 | feel: 2 | overall: 2.25
3.25
/5
rDev
+19%
look: 3.5 | smell: 3.5 | taste: 3 | feel: 3.5 | overall: 3.25
Enjoyed from a bottle at a Ghanaian restaurant in Washington, DC. I'm not sure if the style is appropriate to judge by, given the West African origin; in keeping with local tastes, this is more malt-forward, dark and sweet than most AALs. I did not get much in the way of the vegetal or bitter notes from other reviews--no obvious defects other than what I could attribute to an unknown age, just not particularly appealing.
424 characters


2.87
/5
rDev
+5.1%
look: 3 | smell: 2.75 | taste: 2.75 | feel: 3.25 | overall: 3
Pours just like any other similar export lager, but maybe a touch more viscous. Otherwise it's unremarkably yellow with a small white head. Not much more to say. It smells sweet, like honey, sweetcorn, and rum. That rum note is particularly disconcerting. It has a kind of bad pineapple juice-based cocktail vibe. Drinks a bit like malt liquor, sickly in flavor but thin in body and aroma. Mainly it tastes of very sweet malts and white rum, but at least there is some crisp, lemony hop action and spritzy carbonation in the finish to clean it up. Not good and not something I'd want to drink every night, but it could be a winner in a hot, dusty climate with powerful food. Possible pairings: fried chicken, curried lamb or goat, Bombay mix, chips, and hot dogs.
763 characters

2.5
/5
rDev
-8.4%
look: 2.5 | smell: 2.5 | taste: 2.5 | feel: 2.5 | overall: 2.5
Gulder Lager (Nigeria) from Nigerian Breweries, Ltd.
Beer rating:
2.73
out of
5
with
14
ratings