India Pale Ale
| Brewerkz - Riverside Point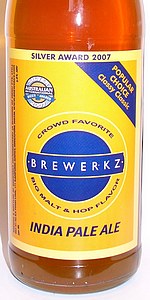 BEER INFO
Brewed by:
Brewerkz - Riverside Point
Singapore
brewerkz.com
Style:
English India Pale Ale (IPA)
Alcohol by volume (ABV):
6.00%
Availability:
Year-round
Notes / Commercial Description:
One of our top selling beers. It is made with Pilgrim and Fuggle or Golding hops. This light amber colored beer style was first created for export during British colonial rule. It had to be brewed strong with lots of hops so that it didn't spoil during the 3 month journey from England to India. It's called pale because it was the lightest colored ale at the time.
Added by Wintermute on 12-14-2004
Reviews: 6 | Ratings: 18

3.71
/5
rDev
+3.3%
look: 2.5 | smell: 4 | taste: 4 | feel: 3 | overall: 3.5
640ml bottle, thanks to Georgie for bringing this back from Riverside Point. Into a Delirium tulip.
Bit of a gusher, pouring a murky golden Brown. Large bubbles sit on top, off-white in colour and way too much foam.
Nice smell of orange, marmalade and a bit of sweet malt and spice. A good mix and attracts you to it.
Taste is based around the orange you smell. Gets a touch sweet, but has a good malt base to it and a little spice on the back end that benefits it a lot.
Suffers a bit from the overcarbonation. Otherwise there is plenty of body and consistent bitterness that works well to cancel out some of the sweetness.
Solid English IPA. Nice to drink, would be great on tap with the carbonation controlled. Plenty of hops and built on a good foundation. Worth grabbing if in Singapore.
★
799 characters
3.38
/5
rDev
-5.8%
look: 3.5 | smell: 3 | taste: 3.5 | feel: 3.5 | overall: 3.5
From bottle, the beer pours a slightly hazy golden, orange color. The foam is rich and persistant.
Smell of noble and spicy hops, nicely assisted by a robust malty base. The malt has honey, straw and fruity notes of peach.
The taste bitter with strong European hops present. The bitterness is a clean hop, with some fruity and mineralic, earthy hops for aroma. The malt is a little less pronounced given the smell, but has a light dextrinous and fairly general maltiness. The beer is balanced between the malts and bitterness. For an English IPA this is a nice example of the style.
★
585 characters
3.57
/5
rDev
-0.6%
look: 3 | smell: 3.5 | taste: 3.5 | feel: 3.5 | overall: 4
640 ML poured into a tulip
Thanks to my GF/Partner for bringing this back from Singapore
Not so retired Tick!!
A-- Poured a dirty, hazy, orange brown color. half a finger of bright white head. Quickly fades away to film. Decent head retention and good spotty, soapy lacing with this.
S-- Pretty simple. Carmel, orange, and lemon. malt backbone gets much sweeter as it warms up. Quite fresh orange smell to this.
T-- Once again Carmel, orange and lemon. Though this is more pungent orange to me. Thought fuggles and Simcone as hops. Taste getting sweeter and bread like as it warms up.
M-- Clean and dry orange and grapefruit finish. Medium body and lower medium carbonation. Very dirty and grity at times. Gets sweeter in the mouth and also get some coffee and lemon acidity with this in the mid of the mouth. Works in some way.
O-- As another reviewer said, it reminds me of a hoppier version of Coopers Sparkling. Just more bitterness and very earthy. Quite enjoyable I think. More of a sipping IPA really and could have several of these. Is it brilliant? No but considering the climate where it is made this will work quite well.
★
1,141 characters
3.65
/5
rDev
+1.7%
look: 4 | smell: 4 | taste: 3.5 | feel: 3.5 | overall: 3.5
The IPA is also one of Brewerkz award winning beers; it poured out with a brownish
color with little head and smells of coffee/caramellized hops when I took my first
sip I felt that the IPA exuded a full-bodied, strong and pleasant ale taste which
is also full of hop character. It is then accompanied by a strong lingering ale
after taste which kind of reminded me a little about Cooper's Sparklng Ale. Also
in the after taste package was the coffee/caramel taste and significant bitterness.
The coffee taste was pleasant on its own but somehow it does not seem to blend
immaculately with the typical ale taste that the IPA has; initially I found the
combination a little wierd. The bitterness is alright but at times it seems to
become a little over-pronounced. On the whole, quite a unique beer and definitely
worth a go.
★
839 characters
3.85
/5
rDev
+7.2%
look: 3.5 | smell: 3.5 | taste: 4 | feel: 4 | overall: 4
Nice golden body. A slight bit of chill haze, but with the trademark Brewerkz thin head. They should really work on a more attractive head for their draught beers. Smell has a pretty, citrusy hop scent and a nice sweet malt balance. Fuggles, if I had to guess in the bittering hops, but I can't tell what's used for aroma. Taste has a nice back-of-the-mouth bitterness combined with some Englishy roasty thick malts. Pretty good. This helps the mouthfeel feel a little creamier, and encourages you to have another sip.
★
518 characters
3.87
/5
rDev
+7.8%
look: 3 | smell: 3.5 | taste: 4 | feel: 3.5 | overall: 4.5
330 ml brown bottle, non-twist.
Served in a chilled glass.
White, slightly tinted towards beige head made of large bubbles. Surprisingly good head retention for the size of the bubbles. Moderate lace on the glass. The colour of the beer in the glass is golden. Slightly cloudy. I think that the the appearance and head may have been adversely affected by how it was served, ice cold and in a chilled glass.
Good British hop aroma, slightly malty sweet smelling also.
Nice body and mouthfeel. Clean tasting. Malty sweet and moderate bitterness. Quite well balanced. It also has a clean finish, leaving only a slight pleasant bitterness in the aftertaste.
A good light english style IPA. Very drinkable.
Not as powerful a beer as would be expected in cooler climates, but we're in Singapore. I probably should have let it warm up to bring out some other flavours and smells, but SE Asia is so lacking in decent ales I just couldn't wait.
★
943 characters
India Pale Ale from Brewerkz - Riverside Point
3.59
out of
5
based on
18
ratings.