X IPA
| Brewerkz - Riverside Point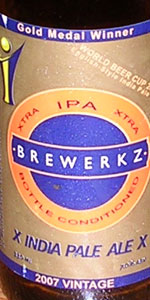 BEER INFO
Brewed by:
Brewerkz - Riverside Point
Singapore
brewerkz.com
Style:
American Double / Imperial IPA
Alcohol by volume (ABV):
7.00%
Availability:
Rotating
Notes / Commercial Description:
This bigger, brawnier version of our IPA has more malt, hops and alcohol and can't be disqualified from being recognized as one of the world's great beers.
Added by hefevice on 04-11-2005
Reviews: 7 | Ratings: 15
3.68
/5
rDev
+1.4%
look: 4 | smell: 3.5 | taste: 3.5 | feel: 4 | overall: 4
This beer pours a lightly cloudy golden color, with a thick, fluffy slightly orange tinted head. The head fades slowly, leaving a good lace.
This beer has a nice grassy hop aroma. It is very subtle. Definately not as hoppy as I expected. It was slighty more malty than expected also.
This beer tasted much like the aroma. Grassy hops, with some sweet malt. It tastes a lot less hoppy that I expected.
This beer goes down smooth, leaving a grassy aftertaste. It was carbonated well.
I think this beer would make a decent session beer. I would probably drink it again given the chance.
588 characters
3.83
/5
rDev
+5.5%
look: 4 | smell: 3.5 | taste: 4 | feel: 3.5 | overall: 4
Thanks to my GF for bringing this back from Singapore.
Bomber into a tulip
A-- Moderate pour resulted in a huge, three finger head. OOPS. Eggshell white color head. Lumpy looking head that receded to a thick layer of film. Good staying power to head and very nice retention. Quite thick. Color wise it is a dark, hazy orange amber color. Active carbonation in the bottle as foam kept oozing out of the bottle.
S-- Lemon grass, lemon peel, orange, toffee, and a faint hint of grapefruit.
T-- Bright, crisp lemon citrus. Some pungent toffee covered orange and finishes with a grapefruit kick. Lots of lemon though.
M-- Highly creamy, heavy feel and medium carbonation. Clean, crisp and dry lemon finish. Quite earthy feel, just slightly gritty.
O-- Not a DIPA at all. More a bigger English IPA. Enough hops to keep this interesting and a big malt body. More of a sipper due to the weight of the beer but a solid experience.
930 characters

1.99
/5
rDev
-45.2%
look: 3.5 | smell: 2 | taste: 1.5 | feel: 3 | overall: 2
375ml tulip glass, SGD$4.49 at the brewpub.
Appearance: Pours a deep hazy copper with noticeable carbonation. Moderate white to tan head, dissipates fairly quickly, leaves significant lacing.
Aroma: Perfume and sweetness, almost candy/cloying.
Taste: An amazing disappointment. Overly malty, and WAY underhopped for the style. (And this isn't just for the style it's classified as in BA, an American DIPA: this is underhopped for a standard English bitter.) Perfume is the main taste: think of the beautiful perfume of Dogfish Head 90 Minute (which I love) but then without any of the hop kick 90 Minute gives. A moderate but still sickly sweet fruitiness, like overripe stonefruit. Blech. Sour. Thin. This beer borders on bad.
With all due respect to the (so far) only other reviewer of this beer, it's almost like we had two totally different beers: this is profoundly lacking in the hops department. I hope he tries many of the excellent (and real) DIPAs out there before deciding what he thinks of the style.
And for that matter, Brewerkz' menu claiming this beer to be "hugely hoppy" is just silly. Their basic IPA is far hoppier, and far better than this stinker.
I only send beers back when there is something truly wrong (i.e., soured, skunked, etc.) with them, but this challenged that. I mean, this is genuinely crappy beer. I was far happier with my next beer, which was a Guinness Extra Stout in a can from the 7/11.
1,452 characters
3.75
/5
rDev
+3.3%
look: 4 | smell: 4 | taste: 4 | feel: 3.5 | overall: 3
XIPA is the Brewerkz beer that won a Gold Medal during the World Beer Cup 2004 in the
English style India Pale Ale category. After popping the crown cap I took a whiff at
the opening and a fine fruity aroma hits me. After some running of my brain motors I
would say this fruity aroma is analagous to a scented sweet guava. When I tasted it,
the fruitiness was there but not as pronounced as I would have expected and I am sure
the coffee tasting hops that's in Brewerkz's IPA can also be detected. I also realized
that as you continue drinking, the fruitiness taste drops and the coffee like taste
becomes more explicit making it feel like a stronger version of the IPA. As advertised,
the XIPA is a clear champion in terms of hop and malt character with an IBU (Bitterness
Measurement) of 45%! (I think I read this from the Brewerkz website) Most beers should
fall between 20% - 30+%, I believe and I have to admit that the after taste of the XIPA
was a little too bitter; especially if while savouring the aromatic after taste you
start moving your tongue around your mouth. If it had a bitterness level like the IPA,
it probably deserves a rating of 8 but this is really subjective. Highly reccomended
for IPA/Double IPA drinkers but if you hardly drink beers and are new to IPA style brews,
I suggest you try Brewerkz's IPA first.
1,351 characters
4.56
/5
rDev
+25.6%
look: 5 | smell: 4 | taste: 4.5 | feel: 5 | overall: 5
I am a fan of all beers and beer types. Also I am a global traveler. working and living in over 40 countries in my 25year career.
I state this as a point of measure. As I my call a beer exceptional based upon it's availability in the regiion verse it's comparison of a similar beer standard.
I travel to Singapore 4-5 x year. With similar frequency I travel to other SE Asia destinations, as well as China, Japan and Europe.
Brewerkz is the Best Brew Pub in Asia that I have been to. Not that I have been to them all, but everyone in Singapore, Malaysia, Thailand that has ever taken the time to advertise and get listed.
The Xtra IPA is a Hoppy beer, it is a decent IPA, it may not be as hoppy or strong as many Double or Imperial IPAs as we have in California (where I live in Nor CAL) but it is well made, and bitter enough to quench a serios HOP Head like myself!
I consider Russian River IPA and Blind Pig good examples of California IPAs. with Pliny and Mongo (Port) god examples of double or imperial IPAs.
This beer is NOT quite them. But it is close and that when your thirsty for the Hoppy beverage in the heat and humidity of Singapore...this beer works. it works with Gas, it is Awesome.
sorry to hop head puritans that travel here and there. If your in Singapore and thirst for a real hoppy California inspired IPA...Brewwerkz Xtra IPA is a place to start. The brewerkz IPA is worth mentioning as a less aggressive beer. I Like it as well. But aggressive nd Singapore don't fit in the same sentence.
1,519 characters
3.34
/5
rDev
-8%
look: 4.5 | smell: 3 | taste: 3.5 | feel: 3.5 | overall: 3
Bottle conditioned 2004 vintage at the Brewerkz in Singapore. Looked sensational, poured clear deep amber (sans dregs) with a big white dense rocky head that lasted very well and laced like buggery. Aroma is full throttle flowery hops. Taste - Holy shit Batman! Hops, hops and more hops. Millisecond of malt, followed by flowery hops, followed by a big bang of bitterness just as you are about ready to swallow. What is really clever about this one is that you do not notice the reasonably high alcohol at all (completely killed by the hops). Another one for the hop-heads. I'm sure I will begin to appreciate this style if I keep trying.
638 characters
4.33
/5
rDev
+19.3%
look: 4.5 | smell: 4 | taste: 4.5 | feel: 4 | overall: 4.5
On tap at Brewerkz served in a Tulip glass in Clarke Quay, Singapore. Happy hour was 6.99S
A - Pours a wonderful hazy copper rust color, nice caucasian head that will hang out all day with great lacing. Not much carbonation visible.
S - Really floral with fruity undertones, kind of an odd smell for an IPA, but it still smelled good.
T - Flavor galore with lots of malts... did they even give me an IPA? Finishes nice and hoppy though, there's the hops folks, give em' time.
M - Really smooth with the perfect amount of carbonation, nice bite
D - Overall a really good beer, not great, but really good. The sum of all its parts.
636 characters
X IPA from Brewerkz - Riverside Point
3.63
out of
5
based on
15
ratings.