Golden Tusk
| Pink Elephant Brewery, The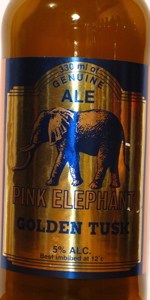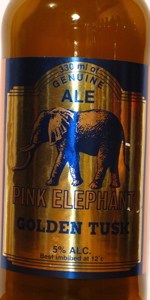 BEER INFO
Brewed by:
Pink Elephant Brewery, The
New Zealand (Aotearoa)
pinkelephant.co.nz
Style:
English Extra Special / Strong Bitter (ESB)
Alcohol by volume (ABV):
7.10%
Availability:
Year-round
Notes / Commercial Description:
No notes at this time.
Added by jahsausage on 05-20-2004
HISTOGRAM
Ratings: 12 | Reviews: 12
Reviews by TubaManJack:
1.91
/5
rDev
-43.2%
look: 2 | smell: 1 | taste: 2 | feel: 2.5 | overall: 2.5
330ml bottle into a mug. The label reads 7% ABV. NO dating on this or any other bottles, but there wasn't any dust and the label looks fresh so fingers crosses.
Appearance- An orange amber body with limited head that quickly recedes. The apparent carbonation is limited. There is no lacing, a little yeast/particulates. NO DATE
Smell- A bitterness and sourness emerge every time. Not only from this bottle but the others as well. It consistently smells like stale hops and some blue cheese coming out on one bottle. There is a lot of caramel sweetness around.
Taste- A sweet, slightly buttery brew that has a hefty caramel malt bit and a bitterness that's akin to stale breakfast cereal on one.
Mouthfeel - Booze and hot, yes at 7% I find it hard to believe. The brew is also thick as stew.
Drinkability- See above one of the worst even after trying 4 different bottles on other people's dime.
Steer Clear... You have been warned
935 characters
More User Reviews:
4.15
/5
rDev
+23.5%
look: 4 | smell: 4 | taste: 4.5 | feel: 3.5 | overall: 4
Most interesting. A creaminess that kept up through the finish. Very good and a citrus hoppiness unique to me. Some mettalic with a little bitterness, more fruitiness, all-in-all a palate cleaner and refreshing.Thanks DouglasD for bringing back from Kiwi land.
260 characters

3.58
/5
rDev
+6.5%
look: 3.5 | smell: 3 | taste: 4 | feel: 3.5 | overall: 3.5
The beer itself is a copper colour, with a small but resilent head and very small amounts of carbonation present. The taste is a pleasant contrast of sweetness and bitterness with an excellent balance of flavouring and bittering hops. Probably the best New Zealand made bitter i've had so far.
293 characters
3.43
/5
rDev
+2.1%
look: 4 | smell: 3.5 | taste: 3 | feel: 4.5 | overall: 3.5
Same as AZDA below, mine bottle had a different label and was 7.1%.
Pours hazy amber with a thick persistent head.
Nose shows golden syrup and molasses, more like an old ale (similar to Fullers 1845, actually) than an ESB. Very rich, with practically no hops.
Same story with the flavours, loads of brown sugar before loads of booze and a sharp bitterness kick in.
Very creamy carbonation and body.
398 characters
3.38
/5
rDev
+0.6%
look: 3.5 | smell: 3 | taste: 3.5 | feel: 3.5 | overall: 3.5
330 ML poured into a tulip
Note: the ABV on this is 7.1% and very different packaging from the picture.
A-- Poured a hazy brownish copper color. Very little of a head, a sort of dirty white color. Eventually became a film. With swirling could bring back a decent head.
S-- Carmel, malt and hops. Pretty decently balanced between the three. Got a touch of pine and citrus. Carmel seemed the most dominant smell. No real alcohol nose to this.
T-- Hops were the first thing I got, followed by carmel. Thought the hops were pretty aggressive and kind of ate up the carmel and the malt.
M-- Creamy moderate carbonation ( really liked this part of the beer). Persistent hop feel to this. Got a grapefruit taste in the finish and became a much more aggressive as it warmed. Hop feel stayed for a good amount of time after finishing a sip. Pretty decent warming feel from the alcohol.
D-- One is enough. Good beer and hearty in a lot of ways. Good to warm up with on a cold, rainy day. Nice aggressive hop feel to this. Needs a bit more malt and a better smell as it was pretty soft in the smell. I like it but I think it needs a little more of a malt balance to this. Will try again but need to do so in winter. Would be interested to see if they could make an IPA
1,264 characters

2.76
/5
rDev
-17.9%
look: 4 | smell: 3 | taste: 2.5 | feel: 2 | overall: 3
Pours a burnt orange colour, quite clear but with slight haze. Head is off-white/beige, thin but retaining well and leaves a gorgeous sheet of clingy beige lace around the glass. Steady bead. Has all the right elements, nothing to a wow extent but all in order, sir.
Nose is rather pungent, and malty. A lot of syrupy malt with a boozey phenol underlying, almost a bourbon smell. Hint of toffee and a fair sourness, slight charcoal hint to it, some underripe berries, pine resin and a corporeal, savoury smell like sweat. Interesting, but not sure I like it. It smells a bit slapdash to be honest, not sure what it's trying to do.
Taste is a bit odd as well. Starts quite malty and definitely a good dose of molasses-style malt towards the mid, then kind of trails off, leaving an undercooked dough kind of character mixed with a resiny sour hoppiness, and a distinct medicinal character like crushed up aspirin on the back. Hint of seaweed to it as well. Mostly has a weakly sour aspect, but otherwise seems like an attempt at a malt bomb. I don't think either way it's very successful. Falls short and tastes a bit dour as a result.
Quite fizzy, a little bit of body but you can sense the odd lack of malt on the feel as well. Not great.
Not off-putting as a beer, just fails to be particularly pleasant or interesting. Have definitely had worse, and better.
1,364 characters
3.82
/5
rDev
+13.7%
look: 3.5 | smell: 4 | taste: 4 | feel: 3.5 | overall: 3.5
Pours a dirty brown-amber colour, with a filmy head of white foam. Some sticky lacing around the edges, but not a huge amount. Looks reasonable.
Nose is rather sweet, streaked with a resinous dosage of English hop notes. A little butterscotch coming through, and some pine or menthol fragrance. There's something oddly American about it as well, but I can't quite put my finger on what it is - I believe it may be the level of malt sweetness, often present to fill out the body of a strong IPA. Pretty good overall.
Taste is odd. Starts sparkling with carbonation pressing through a rather malty thick body. Then comes a welling of straight English hop bitterness that doesn't ever really clean up the malt notes. Finishes with a slight butterscotch coating of the mouth, before a direct menthol vector resonates at the very end. It all feels slightly anarchic, but there's enough tying it to the style to make me think it's rather good.
It feels a bit thick and heavy. It also appears they may have changed the recipe lately, as my bottle marks it as 7.1% ABV. Drinkability is down as a result, but it's not a bad brew. Plenty to interest the tastebuds at least.
1,166 characters
3.55
/5
rDev
+5.7%
look: 3.5 | smell: 3.5 | taste: 4 | feel: 3 | overall: 3
The beer i have actually has a different label and differnt looking bottle and it says the ABV is 7.1% but im pretty sure we are talking about the same beer maybe this is just a revamp of it,this beer pours a vibrant orange copper colour with average carbonation that doesnt leave much of a head,this beer has nice sweet toffee,malty alcohol aromas almost like butterscotch,it has an average mouthfeel that tastes quite malty and finishes quite bitter but pleasant enough to drink and the alcohol is well hidden,dont think i could drink this all night but one or two definately.
578 characters
3.83
/5
rDev
+14%
look: 4 | smell: 3.5 | taste: 4 | feel: 3.5 | overall: 4
I gotta start this one off by encouraging anyone reading this to head over to the brewery's website at www.pinkelephant.co.nz and point your face at a nostalgic-feeling, late 90's web page design.
But graphic design isn't something that should be taken into consideration when reviewing a beer, is it? So let's get into the nifty gritty.
A: Solid burnt orange color right out of the bottle. The bead is just what I imagine an ESB to have, but the creamy cloudiness of the ale hides it a little bit. In a certain light, it could be mistaken for an unfiltered hefe.
You'll have to pour harder than usual to produce a proper head, but when it finally shows up, it flashes a beautiful light beige coat that lingers in the form of a gorgeous lace.
S: Smells like English hops. Lots of English hops. Where is the malt? This smells like hops.
It's a good smell, though. Little hot on the back end, too.
T: Nailed it. The malt has finally arrived to the show, despite the fact that they're the opening act for the alcohol burn and the bitterness of the hops. Each of these three acts, however, are equally balanced. For me, balance is certainly the defining factor in determining quality, and Golden Tusk is exceptionally balanced. Not being blown away, but very satisfied.
M: Good, but kinda empty feeling. Like jam scraped over too much toast. Just thin. Also alcohol.
O: Well done! Normally, when I get hold of these lesser known kiwi brews, I feel compelled to pin a golden, star-shaped "You Tried" sticker on them. Not this one.
EDIT: It has come to my attention that the bottle I have is well past its 'best before' date. Luckily, it's been in a cooler the whole time. I suggest letting this one age a little considering the higher ABV. At the time of the post, the info on this beer is wrong. My bottle is 7.1%alc/vol.
1,828 characters
2.82
/5
rDev
-16.1%
look: 3 | smell: 3.5 | taste: 2.5 | feel: 3 | overall: 2.5
A - Hazy orange/copper colour with a couple of centimetres of white head that falls away fairly quickly.
S - Diacetyl very predominate, some sweet toffee and vauge floral hints.
T - Butterscotch bomb. I know an ESB can have a bit of diacetyl but this is way too full on. Some fruity and floral notes.
M - Oily mouthfeel with a fairly low carbonation. A bit of bitterness. Leaves a sweet butterscotch/toffee taste lingering.
D - It's not horrid but certainly not something I'll be buying again anytime soon.
506 characters
3.58
/5
rDev
+6.5%
look: 4 | smell: 3.5 | taste: 3.5 | feel: 4 | overall: 3.5
A: Light amber/copper thats mostly clear. Big airy white head with good retention. Well carbonated but nothing crazy.
S: Citrus, black cherry, caramel, grassy hops.
T: Very brief fruitiness at first but quickly accompanied by dry malt middle and a grassy hop finish that doesn't overstay its welcome.
M: Medium bodied and slighlty creamy.
D: Another nice beer from Pink Elephant. Up there with Bookbinder as one of the better bitters from NZ.
446 characters
3.49
/5
rDev
+3.9%
look: 3 | smell: 4 | taste: 3.5 | feel: 3.5 | overall: 3
Medium-low hop aroma with some spicy notes. Lots of malt with moderately-low caramel. Spicy alcohol. Not bad.
Slightly hazy, copper colour with a foamy head. Good retention. It looks okay but better clarity would be an improvement.
Quite sweet with some spiciness and plenty of alcohol. This seems quite Belgian except for the yeast character. Mild fruit esters. Its okay but lacks finesse.
The mouthfeel is surprisingly thin for the alcohol content with moderate carbonation. Plenty of alcoholic warming too.
It's tasty and goes down okay but the alcohol is really quite present decreasing the drinkabillity.
613 characters
Golden Tusk from Pink Elephant Brewery, The
Beer rating:
3.36
out of
5
with
12
ratings