The Flying Saucer Draught Emporium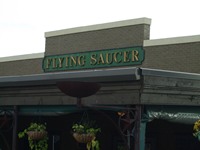 PLACE INFO
Type:
Bar, Eatery
931 Senate St
Columbia
,
South Carolina
, 29201-3153
United States
(803) 933-9712 |
map
beerknurd.com
Notes:
No notes at this time.
Added by GCBrewingCo
Reviews: 33 | Ratings: 48
3.9
/5
rDev
-0.5%
vibe: 4 | quality: 4.5 | service: 2.5 | selection: 4.5 | food: 4
I visited the Saucer on a Wed afternoon around 530 or so. It wasnt very busy when I got there but patrons soon flooded. It still wasnt overly busy. The only thing dissappointing about this place was the service. I was promptly greeted when I walked in and asked for a moment to paruse the draft and bottle offerings. Mistake! After what seemed like 10 minutes, the bartender served me a Rogue Choc Stout. No head was formed due to a poor pour (I watched intently). The menu said $4.75 (Im not sure if it was for a pint or 23 oz glass but I was served in a pint) but he charged me $5. The guy next to me got a 23 oz. [It was Highland Oatmeal Porter] beer for $3.75, which was the menu price (again, not sure if that is for pint or 23 oz.). So a little confusion on price and serving size.
I was empty about 3 minutes before being approached again. If you want a refill of water, you must ask. They will just look at your glass half full of ice and wonder what was supposed to be in there but not refill it.
I had the pretzels with cheese and spicy mustard and they were really good. Fairly priced too.
Everyone was nice and the waitresses wore naughtly school girl outfits. Yummmmy! I love a naughty catholic girl. Definitely recommended for the beer and pretzels, but service needs to step up a bit.
They also have a Flying Saucer club wherein one pays $14 dollars for a shirt and membership and then attempts to drink all 200 beers, or atleast 200 beers I guess. They would then be rewarded with a party in his or her honor and a plaque on the wall. Lets see, 10 beers a day, 20 days...
1,600 characters

4.35
/5
rDev
+11%
vibe: 4.5 | quality: 4.5 | service: 4.5 | selection: 4.5 | food: 3
On tap:
76 beers, 3 ciders, 1 root-beer
Bottled:
120 beers, 4 ciders, 4 non-alcholic brews.
I've been living in Columbia for at fifteen years now and am well pleased with the introduction of a Flying Saucer to Columbia.
The variety of options is quite good, with many unexpected brews available on-tap. This allows a nice "what shall I try today?" experience.
With an outside, under-cover seating area, the spring/fall/winter drinking experiences tend to add a more friendly "communal" environment. However "summers in South Carolina" pretty much leave this area a sauna.
With a 23oz glass option for any beer during the "happy hour" time period, the value of drinking a beer you enjoy is almost doubled. However, if you are in a "searching" mode, you may be "stuck" with more than you want, of something you don't like.
I have "mixed feelings" regarding the food, and I find that the only weekness of this Flying Saucer. While the "beer food" is very good, the sandwiches are a bit of a disappointment. On two occasions I tried their sandwiches (the "pastrami reuben-esque" the first time and the "Turkey Meltdown" the second) and were not overly impressed. The "beer food" selections are very good, and compliment the variety of brews present. Specifically the Chips and Queso goes well with the brown ales available (there's even a bowl of salsa that comes with it) and also the "Big Soft Pretzels" add a more "Germanic" feel to outdoor dining.
I must comment on the waitresses, and digress to a purely "male-perspective" for the moment. The added value of a girl wearing a short plaid skirt and a rather "form-fitting" top emblazoned with "beer-goddess" serving you adds a bit more "spice" to a drinking establishment.
Kudos.
1,759 characters
4.28
/5
rDev
+9.2%
vibe: 4.5 | quality: 4.5 | service: 4 | selection: 4.5 | food: 3.5
The Flying Saucer in Columbia is a very nice place. It has a large covered patio as you enter and the exterior is pretty easy to spot due to the flaming gas torches. It is about 1/2 a block off Gervais street.
The interior is cavernous in size. The tables are large and the ceilings are very high. Even though the table next door was smoking, the smell did not permeate my clothes.
The service was pretty good, could have been slightly better, but nothing to complain about. The selection was huge for Columbia, SC. Lots of great choices, all within their legal limit.
Beers were served for the price on the menu in 23 ounce glasses for some reason. You would think that would be a plus, but only being able to drink two beers before you have to call it a night and head out was a little dissapointing. Much better IMO are the standard 16 ounce pints you find elsewhere.
The food was very good, but the size of the portion was very small for the amount paid.
The Flying Saucer gets high marks all around. I'll definitely stop back in when in Columbia.
1,067 characters
The Flying Saucer Draught Emporium in Columbia, SC
3.92
out of
5
based on
48
ratings.