Rembrandt's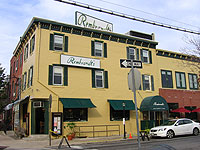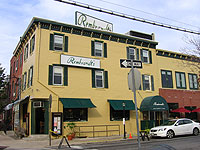 PLACE INFO
Type:
Bar, Eatery
23rd & Aspen St.
Philadelphia
,
Pennsylvania
, 19130
United States
(215) 763-2228 |
map
rembrandts.com
Notes:
No notes at this time.
Added by NeroFiddled
Ratings: 10 | Reviews: 7
Reviews by rfgetz:

3.93
/5
rDev
+1.8%
vibe: 4 | quality: 4 | service: 3.5 | selection: 4 | food: 4.5
A fairly large restaurant which features 2 bar seating areas, a larger dining room and some private event space. Decor is understated - mostly cheap and faded Rembrandt works and portratis against the yellowy white wall with some dark wood accents. Food is the main attraction here - some of the best American cuisine in the area - whith a superstar of a burger. Service is slightly above average - sometimes aloof, sometimes inattentive but generaly friendly.
Been here many times but hesitant to review on this site because the beer menu was always just average. Strides have been made over the last few years and recent limiteds have pushed this into a beer destination as well as a food option. There are about a dozen taps with your mix of local craft, import and macro with 2-3 more significant craft offerings. They also run the occasional beer themed event.
Maybe not quite there as a craft beer destination, but when pairing beer with great food, I would put this on the short list of places in the downtown area.
*** 4/22/13 Update - this place is quickly becoming a solid bar in addition to a solid restaurant. Beer menu always has some solid local and American craft choices including some limiteds and seasonals not easily available elsewhere in the neighborhood. Increasing selection rating accordingly.
1,320 characters
More User Reviews:

3.9
/5
rDev
+1%
vibe: 4.5 | quality: 4 | service: 4 | selection: 3 | food: 5
I absolutely love Rembrandt's! It's got a fantastic lay out with plenty bar seating and a number of well placed TVs. They have a solid line up of beers on tap, as well as a number of bottled(and canned) offerings. It can get pretty packed during Happy Hour, but the service has always been great.
The beer is good, but the food is what keeps me coming back to Rembrandt's. They have a pretty extensive menu that has never let me down. They also offer some great Happy Hour deals on a number of their apps. Most recently I had a few tri-tip tacos and a mini slider. Both were amazing and unbelievably cheap. Sunday brunch is also highly recommended.
649 characters
4.05
/5
rDev
+4.9%
vibe: 4.5 | quality: 4 | service: 4 | selection: 4 | food: 4
This place recently changed hands and both the beer and food menus have been upgraded. On a recent visit I found Sly Fox pub ale, Jefferson Tavern Ale, 21st amendment Monk's Blood, Port Wipeout IPA, Franzikaner (sp?), among others. The beer list, at least on this visit, rivals that at the famed brigids. The Paesano burger (with gorgonzola, bacon, and balsamic) is on a tasty brioche roll. While the fries were somewhat substandard, our party was happy with the pizza, burger, and chicken salad sandwich.
505 characters

3.73
/5
rDev
-3.4%
vibe: 4.5 | quality: 4 | service: 3.5 | selection: 3 | food: 4.5
Nice restaurant in the Fairmount section of the city with two separate bar areas. The main dining room is very elegant with Rembrandt prints and very high ceilings. They also have a little jazz duo that performs quietly during Sunday brunch. The bar areas are a little more lively with flat screen televisions and louder music being played. This place is pretty popular so it can become a bit overcrowded at times, especially when eastern State Penitentiary is having their haunted house during the fall months.
The food here is excellent. The have the best French onion soup I've ever had. They have two menus one for the bar and one for the dining room but you can order from either at any time. They have everything from burgers, sandwiches and the standard pub food but also have artisan pizzas, including one called Malfatto which is a sloppy pizza served with a knife and fork. This is one of the best pizzas I've ever had and I order it 90% of the time I come here. Also, the finer dining entrees are all outstanding.
The service is spotty at times in the dining room but pretty good everywhere else. The bartenders and servers are friendly and knowledgeable and usually pretty attentive.
They have a mediocre selection of craft beer that has greatly approved in recent months. They usually have a few craft beers on tap including mostly locals. Recently, however, they started expanding to breweries like Great Lakes, Ithaca and others. The bottle list is small and average with a few Belgian offerings but has also improved lately.
Overall, a very nice place to have a meal and decent beer. Recommended but mostly for dining.
1,639 characters

3.88
/5
rDev
+0.5%
vibe: 4 | quality: 4 | service: 4 | selection: 3.5 | food: 4
This place grew on me gradually. The food is good but a little one-off. The steak sandwich, for example, is creamy and laden with unexpected hot peppers. It's good, to be sure, but not what you'd expect. The best bet is the Pizza menu. Everything, particularly the rotating list of specials, is excellent. The beer selection is a bit on the conventional side, but it's not bad. Now that smoking is banned, the bar is a good choice (Used to be impossible to breathe in there. Even hard-core smokers found the atmosphere noxious). It's fun to sit in the bar, either the older front bar or the more modern back bar (which used to be the non-smoking section) share a pizza and have a couple of pints of decent beer. The service is funky, friendly and unpretentious.
761 characters

3.35
/5
rDev
-13.2%
vibe: 4.5 | quality: 3.5 | service: 3 | selection: 3
Accidentally finding Rembrandt's whilst seeking Bridgid's was a little unexpected surprise. Corner located, the exterior is a giant old farmhouse like historical whitewashed building with the neon green sign visable from Fairmount Ave next to London Bar & Grill. Entering you find the restaurant to the right and the bar (wee-hoo!) to the left. The bar actually is continued into the next room with the extended fancy dining area. This joint must have originally been a bar a long time ago with the authentic brass foot bar atop a tiled gutter basin at the base of the colonial styled wooden narrow serving bar.
Single tap selection relatively limited consisting of Guinness, Bass, Hoegaarden, Sammy A. Spring White, Boddingtons, Yuengling Lah-Gaire, Rolling Rock, and Stella Ar-Barf.
Bottles were a notch above crap: Kers (a.k.a. Coors,) a non-alcoholic Haake Beck (which came with a complimentary vascectomy) local Vic'ry Prima Pils, Flying Fish ESB, Woodchuck, Duvel, Yards G.W. Porter, Chimay Red little guy and some crud. The guy next to me ordered a Hoegaarden and got the lemon without asking.
My brew du jour was the Yards G.W. Porter bottle into a (you guessed it) wine glass.
Back of the bar has the antique triptych mirror with peeling layered patches. This place says Philadelphia Olde with the "E." Mostly a mixed drink joint that has a propensity towards wine. Behind the bar, two cahlkboards designate which wines are the daily $6- $8 specials. Grub at the bar looked good. I'll say that much. This passed the "Could you take your Mom here" test with flying colors...except my Mom likes way better beer. The bathrooms were he/she rooms and they were spankin' clean!!! Felt like cracking a Sunday Inquirer and launching a missle.
My waitress served my beer like it was sewage dumped into the Schyukill River in a brown bottle. She didn't even know what I wanted after I asked for a Yards bottle. I had to point her eyes sjyward to the bottles up above the back bar. I got an opened bottle and a stubby 9 oz port wine glass.
Last call: A wine/restaurant with a quaint olde historical bite. Pop in for a brew and hit Bridgid's around the corner or stay for wine and serious fancy slop chow.
2,223 characters
4
/5
rDev
+3.6%
vibe: 4 | quality: 4 | service: 4 | selection: 4 | food: 4
Rembrandt's is a small restaurant/bar in Philadelphia's Fairmount section across the street from the historic Eastern Penitentiary and just a few blocks from the Philadelphia Museum of Art. It's a small, comfortable place and it definitely has its regulars! Walk in and sit at the bar during happy hour and you'll get looks. You'll be welcomed - they're a friendly, family-like bunch - but the question will be in the air... "Who's that?". The American-regional menu is fairly well-varied with pastas, seafoods, sandwiches (on the bar menu) and interesting but not ecclectic entrees (tuna steak, lamb shank, seafood linguini). And the food is very good! And, it's reasonably priced: soups ($5), salads($5-9), appetizers ($8-9), sandwiches ($6-9), entrees ($15-22). Similar to many of the area restaurants, there's an emphasis on wine (with a very good selection); but they don't forget about the beer. Draft selections are limited as they just don't have the room to add any more taps, but you can always find a good English ale and they regularly run McSorley's Ale and Guinness. Bottles offer a better selection with a few Belgians and a nod to local breweries. There's a huge parking lot right across the street, so parking's not normally a hassle. And they offer sidewalk seating in the summer (although it looks out on the parking lot - a trade off), Brunch on Sunday's, Quizzo on Tuesday's, and live jazz on Thursday nights.
1,430 characters
Rembrandt's in Philadelphia, PA
Place rating:
80%
out of
100
with
10
ratings