Barking Dog Alehouse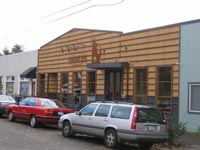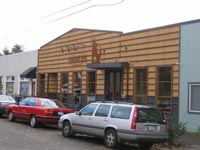 PLACE INFO
Type:
Bar, Eatery
705 NW 70th St
Seattle
,
Washington
, 98117
United States
(206) 782-2974 |
map
thebarkingdogalehouse.com
Notes:
No notes at this time.
Added by Cornelia
PLACE STATS
Reviews:

10

Ratings:

pDev:

7.78%
HISTOGRAM
View: Place Reviews
Ratings: 13 | Reviews: 10
Reviews by benito:
3.6
/5
rDev
-15.1%
vibe: 3 | quality: 4 | service: 3 | selection: 4
A few friends of mine and I had a couple of drinks at Barking Dog last week. We were in on a Sunday night so they were short on a few of the draughts and bottles that we had been hoping to try (Rodenbach, Dick's Grand Cru), but Barking Dog offers a heady-enough beer selection that we were all happy in the end. All told, they probably had fifteen to twenty beers on tap, mostly a mix of Northwest and Belgians, with a few outsiders (Unibroue, DFH, Stone) sprinkled into the mix.
Since I live in the Colorado, there are a lot of alehouses that I want to see in Seattle. Nonetheless, Barking Dog made a good first impression, and I'd be happy to make a return visit.
My only gripe with this place is the pricing. Perhaps my time in a small mountain town has warped my view of what acceptable beer prices are, but compared to a more famous beer bar (say Falling Rock in Denver), Barking Dog is routinely charging $2 to $2.50 more for the same beers. Again, this may mostly be my small-town-thrift writing, but this is not a trend that I (or my wallet) hope to see continue in higher-end beer bars.
That though is an entirely different discussion...perhaps one to be had over a pint at Barking Dog.
1,204 characters
More User Reviews:
4.2
/5
rDev
-0.9%
vibe: 4.5 | quality: 4.5 | service: 4 | selection: 4 | food: 4


4.28
/5
rDev
+0.9%
vibe: 4 | quality: 4.5 | service: 4 | selection: 4.5 | food: 4
I stopped in at the Barking Dog today for a late lunch and a couple of beers. I'd been there before years ago, and remember it being a quality place.
The atmosphere is quite nice, with a good neigborhood beer-bar type feel. It's very clean in its styling but not sterile or cold or anything. Service was pretty good, but there were only about half a dozen other customers in there at the time I was.
Selection and quality are very nice. I counted about 20 taps, focusing mainly on micros from the West coast and Pacific Northwest, though there were a couple Belgians on tap as well. Their bottle selection runs to 30+ varieties, with a major emphasis on Belgian styles (Trappist, farmhouse, sours). I was incredibly impressed; plus, many of the bottles didn't cost that much more than you might pay in a bottle shop.
On the topic of price, it should be noted that their pints are 20 oz Imperial pints in big, heavy glasses. While the place isn't dirt-cheap or anything, here's definite value for your money here.
The food was quite good. I had fish & chips with waffle fries and they did it all up right. I will definitely be revisiting the Barking Dog the next time I'm in the area.
1,188 characters
4
/5
rDev
-5.7%
vibe: 4 | quality: 4 | service: 4 | selection: 4
A: Nice cozy place, pretty spacious inside, more so than i thought from the outside. Decent sized bar, cool people, very relaxed
Q: Good, the beer slection was good but nothing out of the ordinary, rare or big. C'mon guys! My Big E Lager was very good
S: My server was hot and nice, on the job
S: The selection was NW centric, the Big E ales is one that I found hard to find anywhere else and it was welcomed. Everybody has Ninkasi, Elysian these days. Gimme somthing local!
F: Did not try any but the guys next to me at the bar ordered massive nachos, looked very good
573 characters

4
/5
rDev
-5.7%
vibe: 4 | quality: 4 | service: 4 | selection: 4
A true neighborhood pub. The Barking Dog is located in a mostly residential area and has a real local feel. It's got a pretty simple but comfortable atmosphere with a no frills decor. There's a small bar and quite a few tables.
They offer about 16 on tap with most local beers including Mac & Jack's African Amber, Maritime Pale Ale, Boundary Bay Porter and Elliot Bay IPA (which I chose and enjoyed quite a bit). The regular price was $4.75 for a 20oz glass but we were there for happy hour and it was only $3 or so. They also offered other American beers (such as Arrogant Bastard) and some Europeans (Guinness and Fuller's ESB) on tap. And they had a few Belgians and some BMC in the bottle as well.
The Barking Dog isn't a must but it is a very nice pub if you find yourself in the area.
793 characters
5
/5
rDev
+17.9%
vibe: 5 | quality: 5 | service: 5 | selection: 5 | food: 5
So, I found this place on beer advocate and just let me say I am very glad I found it.I opened up the beer menu,and right away found a IPA by stone that was great!!! My girlfriend is more of a cider drinker and even had a nice selection for her.
The food was really good too I had the halibet and chips.My sister had the French dip,my girlfriend had the crabcake whitch was excellent.
The owner Steve was very helpful too...
Told us other places to go on our trip,we will
Defently make it back here again.
Beer & Cheers....
530 characters
4.18
/5
rDev
-1.4%
vibe: 4.5 | quality: 4 | service: 4 | selection: 4.5 | food: 4
Well, after breaking up with my gf and helping her move to Ballard we decided to go here for dinner after finding it under "American" cuisine in my GPS. It was her treat. (yeah don't ask, we have an unusual relationship). Anyway, this is a very unassuming little place that's tucked away in a residential area of Ballard. You wouldn't expect there to be a bar here, much less one with a pretty good ambiance and a big flat screen over the bar playing Family Guy. The place had a casual feel like a small cottage in the woods turned into a bar. There were 2-4 person tables and even a large 6+ round table in the middle for bigger parties. We took a nice 2 person table near the window that overlooked the sidewalk. Everything was wood and didn't look too fancy or shiny, which lent well to the overall "bar" feel. The lighting was also nicely done to give a more quaint, cozy pub feel. I felt very comfortable here.
They had 12+ draft beers (mostly NW micros) about 3-4 "specialty" taps that were St Bernardus Abt 12, St Bernardus Tripel and Nostradamus. There also had about 20-30 various other Belgian bottles. My pseudo (ex) gf had a Caracole Saxo (bottle). I had a Black Butte Porter from the draft list.
Food was pretty good. I had the Alehouse Burger. It came with cheese, bacon and all that good stuff standard. I got it medium rare and it was pretty damn good. Nice sweet and tangy bbq sauce on it as well. She had the fish and chips. Both came with waffle fries! That was a nice touch...for some reason fried potatoes just taste better in waffle form. We also had a side of Chili (wasn't spicy enough) and house salad.
The place wasn't packed, and it took awhile for our beers to arrive, but the waitress was nice and I was in a good mood so I didn't complain.
All in all this was a great find, and something you wouldn't just accidentally stumble upon. You either have to know you're going there, or find it on a GPS. There's no driving past this place on your way to something else. Great atmosphere, cozy and I think they even had free Wifi.
2,059 characters

4.13
/5
rDev
-2.6%
vibe: 4 | quality: 4 | service: 4 | selection: 4.5 | food: 4
I have visited the Barking Dog Alehouse many times over the past few years - but the frequency of my visits have decreased since they removed their beer engine (why?!).
Last night I stopped by for dinner and a pint. Still no cask, but their beer selection is still noteworthy with 15 craft beers and 4 Belgians available on tap. I had the Reefnetter from Boundary Bay, and the Woody's Organic IPA. But what keeps me coming back is the halibut sandwich. The bread is different than it once was (more of a hoagie roll now), but it's still a great dinner.
The Dog is a nice place for dinner and a pint. Now, if only they would put the beer engine back on the bar...
664 characters
4
/5
rDev
-5.7%
vibe: 4 | quality: 4 | service: 4 | selection: 4 | food: 4
Spent the better part of an evening here, and enjoyed every minute of it. I was by myself, so I landed at the bar (probably contributed to the prompt service), but it wasn't long until a few other folks at the bar introduced themselves, and we spent the rest of the evening chatting. On to the review. I sampled maybe a quarter of their beers on tap (15-20), and these included Walking Man, Deschutes, Barons, and Hales. All were very fresh and enjoyable. Food was quite good as well, I had the stuffed mushrooms and the fish and chips. Price was a little high, but not too bad. The atmosphere was very family friendly, and I would come back here in a heartbeat, for the beer and/or for the food.
696 characters
4.53
/5
rDev
+6.8%
vibe: 4.5 | quality: 5 | service: 4 | selection: 4.5 | food: 4.5
Barking Dog is in the middle of a residential neighborhood without many other businesses around. Great selection, always rotating taps. Taps are heavy on the Northwest Micros but often many that aren't the same, available in every Alehouse in town, selections. Usually a couple-three Belgians or some other interesting strong ale too. (First place off the East Coast I've seen Alagash 4 on tap.) Nice selection of bottles too.
The food is really good, brewpub type, but of better than average quality. Big portions for a normal amount of money. Good snacks and great sandwiches.
Bartenders/servers I've encountered (I live about 13 blocks away) are pretty knowledgeable about beer basics and the details of the local micro selections.
As an added bonus, free wi-fi.
776 characters
4.47
/5
rDev
+5.4%
vibe: 4 | quality: 5 | service: 4 | selection: 4.5 | food: 4.5
Atmosphere – This is a cozy little pub in the Ballard area of town with plenty of street parking. Inside the place is well organized. You pass through the table seating to get to the wonderful bar, which really is a pretty sight. The walls are adorned with beer pictures and the interior fixtures are all hand made from a guy that lives across the street.
Quality – This is where the bar shines. As I said earlier, the fixtures in the pub are all hand made. The ceiling is that new "industrial" motiff. Everything is new and in great condition.
The bar is a thing of beauty. It's not overly big, but it's made out of fine wood and had a gleaming finish. It looks like they just built it. The fine tab handles are spread out around the bar and there's a huge collection of liquor in the background.
Service – I've only been here once. The service was good although I was there at an off-hour. The waitress didn't know squat about beer but that's to be expected. The bartender wasn't even on yet.
Selection – They have 21 taps going on any given night and a fairly extensive selection of bottled beers. Some of the tap highlights were dry-hopped Immortal IPA, N'ice Chouffee, a Unibroue of some kind, Old Rasputin, and a few other gems.
Food – I had a burger and fries and it was well above average. The meat was charbroiled to high heaven. The fries were those "waffle-style" kind and nicely seasoned.
1,432 characters
Barking Dog Alehouse in Seattle, WA
Place rating:
4.24
out of
5
with
13
ratings