Tooheys Extra Dry
| Tooheys Brewing
BA SCORE
64
poor
30
Reviews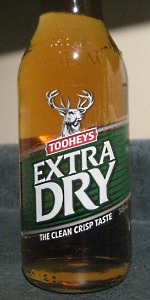 BEER INFO
Brewed by:
Tooheys Brewing
Australia
tooheys.com.au
Style:
American Adjunct Lager
Alcohol by volume (ABV):
5.00%
Availability:
Year-round
Notes / Commercial Description:
No notes at this time.
Added by brewdlyhooked13 on 05-08-2002
Reviews: 30 | Ratings: 75
1.71
/5
rDev
-27.8%
look: 3 | smell: 2 | taste: 1.5 | feel: 1.5 | overall: 1.5
When I came to write a review I read Kulrak of Townsville and he had already written what I was going to say.
It is a nice golden colour ,but what colour should an extra dry be ?
Label 3/10
It is bland but in offensive and has thirst qhenching qualities only
261 characters

2.76
/5
rDev
+16.5%
look: 3 | smell: 2 | taste: 2.5 | feel: 3 | overall: 4
Nothing impressive about it, but it's easy to drink. It's good for a hot day because you can slam them down. Pours a light caramel colour. Tight head that faded away but left some lace. Not much in the way of smell or flavour in it at all, but no smell or flavour is better than bad smell or flavour.
300 characters

1.55
/5
rDev
-34.6%
look: 2 | smell: 2 | taste: 1 | feel: 2.5 | overall: 1.5
Bought a 6 of this, comes in clear bottles with a green label, 5% listed as the import abv. Inspiring little nuggets of advice to be found under the caps such as:
-"Get a hot band to play at your favorite bar"
-"Go diving with sharks on the barrier reef"
-"Grab your boardies and your mates and go on a surfing safari"
And then the enigmatic "$25,000 in a day - How good is that!"
Charming. So I would take it that the ad campaigns for this in Australia would pander to the mindless troglodyte masses, akin to the Bud and Molsen commercials here in N. America.
Still, this stuff isn't quite as bad as I thought it would be. Pours out a clear light gold, a decent amount of head on it for a lager of questionable origins and unknown adjuncts. There's a light sweet bready malt to it before it gets overwhelmed by a flat blandness that tries its damndest to mask out the cooked veggie aroma of cheap ingredients. The flavour is quite dry, grains up front, and what I would assume resembles some sort of bitter herbally hops on the finish. After a while the aftertaste becomes oppressive and rank, like day-old boiled cabbage. Okay, I take it back, this stuff is as bad as I thought it would be. The mouthfeel is smooth enough for a lager that is intended to be chugged back. And chugged back ice cold from the bottle I would assume. The enigmatic $25,000 in a day becomes more clear when I read the back of the label through the bottle advertising Toohey's Big Day Out contest. Yeah, you're definitely going to need incentive like that to get people to buy this sort of stuff on a regular basis. If you see this stuff on the shelves as an import, pass it by. As for the Aussies, they already know how bad this stuff is.
1,726 characters

1
/5
rDev
-57.8%
look: 1 | smell: 1 | taste: 1 | feel: 1 | overall: 1
why would you want to make a beer like tooheys new even dryer? thats essentially what this is.
CUB and tooheys beers have a dryness that to me is the equivalent of having shattered glass in there, and this is like someone smashed a whole window in it. so incredibly cloying and raspy in its mouthfeel, its like the bitterness is trying to scrape the already unaccpetable flavor from the lining of your throat. what annoys me too is t hey make it like this is a step up in quality. what a joke!
the ad here for this beer has a guys tongue leaving his mouth and going walkabout looking for a bottle of this. all i can say is if i woke to find my tongue could get its own beer, and it had brought me a tooheys dry, id be seriously thinking about gagging myself, introducing it to a razor blade or telling it.to piss off till it brought me a decent brew. unforgettable in its mediocrity.
889 characters
3.63
/5
rDev
+53.2%
look: 4 | smell: 3.5 | taste: 3.5 | feel: 3.5 | overall: 4
Dry (of course) slightly nutty, other than that rather plain, that said, it's a very drinkable beer, it won the best dry lager section at the world beer cup in 98, so it can't be that bad.
good session beer.
208 characters
Tooheys Extra Dry from Tooheys Brewing
2.37
out of
5
based on
75
ratings.