Edelweiss Weissbier Snowfresh
| Hofbräu Kaltenhausen (Brau Union)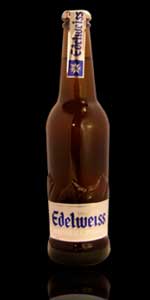 BEER INFO
Brewed by:
Hofbräu Kaltenhausen (Brau Union)
Austria
kaltenhausen.at
Style:
Herbed / Spiced Beer
Alcohol by volume (ABV):
5.00%
Availability:
Year-round
Notes / Commercial Description:
No notes at this time.
Added by Derek on 06-23-2008
Reviews: 59 | Ratings: 91
3.67
/5
rDev
-4.9%
look: 3 | smell: 3.5 | taste: 4 | feel: 3.5 | overall: 3.5
This beer far exceeded my expectations- I love it when that happens!
It is a nice enough looking beer in the glass; thin head, yellow beer.
The smell starts to alert you. There's definitely a pine/ resin scent, and that's a good thing.
The taste is enhanced by the lively carbonation/ mouthfeel. I thought I detected spices, like cloves, in it. Quite sweet and a sweet finish.
Very refreshing, easy drinking.
Das ist Gud!
422 characters

4.22
/5
rDev
+9.3%
look: 4 | smell: 4.5 | taste: 4 | feel: 4 | overall: 4.5
Appearance is dark yellow and cloudy, fluffy head. Smell is sweat with a sharp aroma of banana's and herbs.
Taste is sweet, herbal and grassy. Hint of fruit. Thick body with decent carbonation. Aftertaste is light, dry and a bit spicy. An interesting refreshing combination.
Overall, a very drinkable Weizen beer. Maybe not so good to drink frequently, but definitely good on occasions.
388 characters

3.61
/5
rDev
-6.5%
look: 4.5 | smell: 3.5 | taste: 3.5 | feel: 4 | overall: 3.5
A - hazy orange-tinted straw colour, big fluffy white head, leaves a thick coating of lace
S - fresh banana and clove, well balanced, hint of some piney herbs in the background
T - pine character is more obvious in the flavour, but not overdone. Lacking in tartness, but still refreshing.
M - lively and light, airy, but mouthfilling, soft.
D - unique twist on the classic bavarian hefe, definitely drinkable and refreshing
I was pretty leery of another juniper beer based on my last experience(http://beeradvocate.com/beer/profile/826/31137/?ba=markaberrant), but I don't mind this one bit. The juniper character is in balance, you know it is there, but it does not overpower. The underlying hefe recipe is also pretty tasty, I hope to track down their Hefetrub in the future. Recommended.
795 characters

3.2
/5
rDev
-17.1%
look: 3.5 | smell: 3.5 | taste: 3 | feel: 3.5 | overall: 3
Will second the awesome bottle reference. Light amber in color, hazy, but not as 'thick' looking as other hefe's I've sampled. Big head that receded quite quickly. The classic banana/clove aroma is present along a spiciness that I can't pin down and will assume are the Alpine Herbs. Banana like malt up front for taste, followed by a pepper like spiciness. Alpine herbs( I assume) follow. Very Sen-Sen like which unfortunantly I didn't. Seemed a bit lighter in body compared to some Hefe's and as a fan I'll probably try another, but it doesn't score among my favorites.
571 characters
4.02
/5
rDev
+4.1%
look: 3.5 | smell: 4 | taste: 4 | feel: 4.5 | overall: 4
33cl bottle poured into a weiss glass. Comes in an ultra-cool bottle.
Pours a cloudy yellowish-white with a 2 inch head that recedes slowly and leaves some wet lacing. Very mild carbonation. Aroma is pungent and spicy with the typical weiss banana bread/pear combo, but the spiciness is amped up with a lot of clove coming through and some pepper and coriander. A bit of citrus peel as well. The spiciness is leaning a little into Belgian territory at times, but that's enjoyable.
Taste is extremely herbal with the banana and clove taking second fiddle to a flowery and perfumey flavour. If anybody remembers Sen-Sen breath fresheners, that's what I believe the "alpine herbs" remind me of. Sweet and bready, and even a little peppery. Freshly mown grassy green flavour in the finish. Very mellow and flavourful at the same time, unique. Body is near perfect, slides down easily but there's enough body that it never seems watery. Carbonation is medium and the mouthfeel is quite wet. This is a damn tasty beer, I'm quite surprised. Nice summer refresher.
1,062 characters

3.6
/5
rDev
-6.7%
look: 3.5 | smell: 3.5 | taste: 3.5 | feel: 3.5 | overall: 4
Big head , cloudy hefe looking body though on the lighter side. What makes this a little different than your average hefe is the herbal flavour that appears on the finish. I like this addition as it adds rather than detracts from the cloves and banana taste. Like the regular Edelweiss Hefe it is on the lighter side taste side. All in all a pretty decent beer with a nice flavour twist
386 characters
3.12
/5
rDev
-19.2%
look: 5 | smell: 3 | taste: 3 | feel: 3 | overall: 3
Bottle courtesy of Piscator34: Poured an hazy yellow/white color weizen with a huge pure white foamy head with great retention and great lacing. Aroma of banana ester if dominating with some subtle sourness. Taste is also dominated by banana ester as well as lots of wheat and finished with some subtle sourness which is too bad because everything was perfect and pointing to a magnificent weizen. It is too bad that the style doesn't travel well because I am sure that this stuff is great when fresh. The spices aspect of it is interesting but that weizen part of this really dominate.
587 characters
3.8
/5
rDev
-1.6%
look: 4 | smell: 4 | taste: 4 | feel: 4 | overall: 3
This beer poured into my weizen glass with a pillowy, two-finger head above a cloudy, dark gold body. The "alpine herbs" added to this beer gave it more of a witbier smell to me: Clove, coriander and more zesty orange peel than the traditional banana aroma of a hefeweizen.
The taste started with sweet bubblegum before the spicy coriander and herbs kicked in and provided a tingling finish. The carbonation was lively, but felt tight and didn't detract from a smooth body. Very refreshing and enjoyable, but a little medicinal to have too many in a row.
557 characters
3.7
/5
rDev
-4.1%
look: 3.5 | smell: 3.5 | taste: 4 | feel: 3.5 | overall: 3.5
Hazy yellow orange with a thin white head. Head falls to a thin cap fairly quickly.
Smell is mostly clove, with a sweet banana base. A little bit of lemon zest. Not bad.
Tip of the tongue is treated to a very sweet banana flavour. The follow up is peppery clove and a what seems like coriander or cardamon. A citrus zest is mixed in throughout.
A decent amount of body for a hefe weizen, and the carbonation is lively but not overdone. This one is a nice summertime quaffer. I'm not sure what "Alpine Herbs" are supposed to taste like, but this presents itself as a fresh flavoured wheat beer.
602 characters
Edelweiss Weissbier Snowfresh from Hofbräu Kaltenhausen (Brau Union)
3.86
out of
5
based on
91
ratings.