Bitter End Brewery and Bistro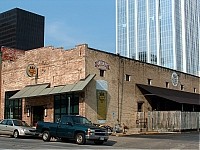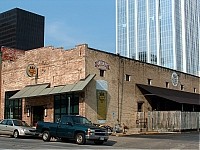 PLACE INFO
Type:
Brewery, Eatery
311 Colorado St.
Austin
,
Texas
, 78701
United States
(512) 478-BEER
// CLOSED //
Notes:
No notes at this time.
Added by BeerAdvocate
HISTOGRAM
Ratings: 10 | Reviews: 10
Reviews by dauss:
3.93
/5
rDev
+1%
vibe: 4 | quality: 4 | service: 3.5 | selection: 4 | food: 4.5
One of the classier places in Austin. There's a patio outside and another more intimate backroom. The bar is long and elegant with spacious seating inside. The bartender was very nice but provided fair service. It wasn't even busy, and the bartender was just busy chatting with other customers.
Their beers were good except for the IPA, which was harsh and very astringent. They were nothing spectactular though. They had about 8 beers on tap, and I tried most of them.
The food was nice. Even the burger was fancier. I ordered the regular cheeseburger with basil aioli and bleu cheese. The plate came with house chips and a small salad of micro greens and frise. Definitely not your standard bar fair.
this beer is moderately priced, but the food is pricy. I would definitely come back for their beers, food, but not their prices.
841 characters
More User Reviews:

3.86
/5
rDev
-0.8%
vibe: 4 | quality: 4 | service: 4 | selection: 3.5
A nice small brewpub in downtown Austin. This place had a nice atmosphere, dimly lit, with the brewing equipment visible from the bar. A nice long bar and plenty of open seating with high ceilings. The quality of my one beer was good (Pale Ale) and the service was quick and nice. Selection was limited to about 4 or 5 house draughts. not the best, not the worst. Not too cheap either. Worth a quick pop in though, if in Austin. Certainly not the best brewery/brewpub in the area, but close to the action of 6th street, and close to the awesome Austin ginger man as well...
573 characters
4.47
/5
rDev
+14.9%
vibe: 4 | quality: 5 | service: 4.5 | selection: 4 | food: 4.5
Atmosphere - This was my second visit to the Bitter End. They have a long wooden bar and a separate seating area on the main floor, and a smoker's bar downstairs. It is kind of dark inside, and some of the walls are exposed brick. They have a full bar as well as nine or so of their own beers on tap.
Quality - We tested a flight of seven beers, and they were all fresh and tasty. The food was excellent.
Service - Too often I go into a brewpub or beer bar and the wait staff is sort of clueless. Our man behind the bar had a pretty good grasp of all the beers they were serving and actually seemed to enjoy what he was doing.
Selection - Nine hand crafted beers is a decent selection. Only seven of the beers are shown on the upstairs menu. Their old ale and barleywine are on tap downstairs. Be sure to ask for these latter beers, and they will glady be brought up to you.
Food - The venison sausage pizza is excellent. They have an upscale menu which has some selections that are a bit pricey. Nevertheless, everyone should be able to find something that they like. I would go here even if they did not have beer.
Comments - You must go to this place. Parking can sometimes be a challenge, but it is located in a cool area of Austin. My only gripe is that we did not know about the old ale and barleywine. Put 'em on the upstairs menu already!
1,361 characters
4.08
/5
rDev
+4.9%
vibe: 4 | quality: 4 | service: 4.5 | selection: 4 | food: 3.5
I really enjoyed my trip to The Bitter End and would recommend checking it out while in Austin. This brewpub is divided in half with one side being the restaurant and casual bar and the other side being more of a hip, hang-out kind of bar. We stayed at the casual bar and enjoyed very good beer and excellent service. The night we went there were 8 beers on tap ranging from light wheat to dark porter. I tried 4 of their beers and enjoyed them all. We didn't try any food, but the food we saw others eating looked pretty good. Pizza seemed to be a popular choice. Also, the night we went beer was $2 a pint, which sits very well with me.
638 characters

3.18
/5
rDev
-18.3%
vibe: 4 | quality: 2.5 | service: 3.5 | selection: 3 | food: 4
Just back from a date night with my wife, we dinned at the Bitter End.
Atmosphere: The converted warehouse others have commented on. The place was well kept and rather inviting. Quarters are a bit cozy/tight, but not a big deal.
Quality: The beers just didn't blow my socks off. I tried the sampler, and while I am not able to review each beer in full: The porter was a bit too heavy on the chocolate malt, the Hefe was a bit bland, the Steam was ok, the Lager was pretty good (wife drank it), the wheat was watery, and the EPA (Environmental Pale Ale; made with rain water) was the pick of the litter, really pretty good. Overall all score of all beers averaged would be about a 3.2
Service: Wait staff knew the beers and a bit about them and took pretty good care of us.
Selection: Six beers on tap with enough variety to satisfy most.
Food: Was actually better than the beer. We went for lower priced items ($9 pizza for me) which were pretty good. Wife enjoyed her veggie sandwich.
Bottom line: An enjoyable evening, but there are better beer spots in Austin. If you are going to eat downtown, it's worth the visit. If you are going to drink downtown, hit the Gingerman just down the street.
1,215 characters
3.75
/5
rDev
-3.6%
vibe: 3.5 | quality: 4.5 | service: 3 | selection: 4 | food: 3
Recognized now as the oldest brewpub in Texas, The Bitter End is one of the Warehouse District's anchors. It has a reputation not only for producing good beers but also for experimentation, often brewing once-only batches or beers only for special events. Style guidelines are also stretched a bit, like their recent Noble Weiss.
It's not a big place, trendy and modern, and I wasn't all that impressed with the nouveaux cuisine. The beers, however, are world-class. They brought seven beers to the recent brewers' festival ranging from a pils to a quadruple which (in my humble opinion) was the best of the event. Pity, because it's likely to be never brewed again.
They have somewhere between 6-8 rotating offerings and state law prevents them from bottling. Adjoining the restaurant is the B-Side Tap Room and Lounge, their equally trendy after-hours club that serves their brews. Winners of numerous beer awards and only two blocks from the Ginger Man, this is a must visit on a trip through Austin.
1,009 characters
3.3
/5
rDev
-15.2%
vibe: 3.5 | quality: 3.5 | service: 3 | selection: 3 | food: 4
This is a good place that you can take a date and have pretty good food and decent beer. They do not tout a large selection of draft beers, but they are enough to suffice for the evening with your date. The quality of the beers are less than spectacular as the Pale Ale tastes like you are chewing on a cascade hop pellet. The "1000 Devils" was a belgian-style/barley-wine style mix. I somehow think this was an attempt to cover up a mistake with either/or both of the two said styles. I'm not sure why else you would mix the two as a titled drink. Back to the food. It is a bit pricey if you stray from the burgers, but again that is okay when you are with a date. This was an okay place. Cheers!
697 characters
3.45
/5
rDev
-11.3%
vibe: 4 | quality: 3 | service: 4 | selection: 3 | food: 4
Made it to the Bitter End on a recent trip to Austin, much to my own delight. Located a few blocks southwest of 6th street, it's very centrally located. Done in a nouveau warehouse style with lots of old brick and wood, the initial impression is favorable. The menu is slightly-up-scale American, with steaks, pasta, pizzas some seafood and gourmet-ish sandwiches as well. The food was quite good (Bitter End employs both an actual chef and a sous chef) and both my wife and I enjoyed our dinners. I thought the beer was solid, but not great. Bitter End has several standard offerings, their Prescott's Wee Heavy being a former GABF award winner. In my opinion, this was the best beer of the lot, if slightly syrupy. They also had a Pale Ale, (which to my taste was too harshly Cascade-y) an American wheat and several one-off Belgian style beers. Like I said, none were bad, with the possible exception of the Pale Ale, but none were great. I'd have all of them again, though.
The staff was friendly and knowledgeable. The clientele was mostly a young-ish crowd (mid-20's to mid-40's) and more were drinking mixed drinks and wine than beer. Prices for entrees ranged from about $8 to about $20, with pizzas and sandwiches on the lower side and steaks and some seafood dishes closer to $20. Good food, average beer...
1,320 characters
4.53
/5
rDev
+16.5%
vibe: 4.5 | quality: 5 | service: 4.5 | selection: 4 | food: 4.5
This is one of my favorite places in Austin. The beer is always fresh and they make some interesting brews. They are getting ready... or already have launched a Belgian White using spice bags that Pierre Celis left them when those rat bastards at Miller closed down the Celis brewery. Last time I was there I had another version of their belgian white and it was really terrific; crisp, clean, sweet and spicey. My buddy had a stout and said it was quite lovely (he's a Scot and very picky about his stouts).
Eating at the bar can be affordable and quite tastey. But, this place is in the trendy warehouse district and the dinner menu can be pretty high-dollar. Don't get me wrong, the food is outstanding, but it's way more than pub grub. I had a terrific seared tuna steak there about a year ago and they recently got a strong review by the Austin American-Statesman's restaurant reviewer. The mussels seem to be very popular at the bar. The service is what you would expect at a higher-end restaurant and the atmosphere. It can get a little loud and the crowd is pretty yuppified but the furnishings and decor will tell you this is a nice place.
1,161 characters
4.39
/5
rDev
+12.9%
vibe: 4.5 | quality: 5 | service: 4.5 | selection: 3.5
Well I made it back to the Bitter End for a more in-depth look at the establishment and the beers they brew. These were all exceptional in taste and quality There is the Bitter End Bitter which was very bitter and refreshing, a Lager that was slightly darker and more flavorful than I expected, a Pale Ale that was great as always, a Bock selection that was also very suprising, a Stout that was quite strong but by the time I tried this I had had several glasses and was no longer qualified to offer a quality opinion, a special brew that contained bananas and was very good, and the best Barley Wine I have ever tasted (it is very high in alcohol so be careful). Previously the "Bitter End Bitter" was my favorite but I have tried all of thier fare now and suprisingly find that I like the Bock best with the Banana Brew next. The informative beer tender behind the bar also informed us that they had just laid down a Lambic that would not be ready until next year. At only $2 a pint this place is hard to beat. After we learned that our two pints cost us $4 total for awesome beer, we predicted correctly that we would have a hard time leaving the Bitter End for our original destination where beer was going to be $4.50 and up a glass (though the selection is better, actually awesome -- see my review on the Gingerman, Austin TX). The Bitter End also serves what is reported to be great food but we didn't have time for anything besides beer, maybe next time, but I doubt it.
1,486 characters
Bitter End Brewery and Bistro in Austin, TX
Brewery rating:
0
out of
5
with
0
ratings