Shadows Brewing Company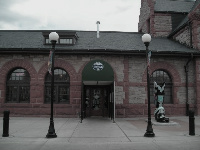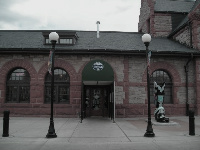 PLACE INFO
Type:
Brewery, Bar, Eatery
115 W 15th St
Ste 1
Cheyenne
,
Wyoming
, 82001-4564
United States
(307) 634-7625
// CLOSED //
Notes:
No notes at this time.
Added by NeroFiddled
HISTOGRAM
Ratings: 14 | Reviews: 13
Reviews by gixxerman:
3.93
/5
rDev
+35.5%
vibe: 4.5 | quality: 4 | service: 4 | selection: 3.5 | food: 4
I was looking to find a spot to watch the MNF games and catch a few good beers and this place fit the bill. This is a great place to watch the game, there are TVs everywhere behind the bar and even some off to the sides.
The bar was packed, so I took a table behind it, I was eating anyway, and this was a better option. Ok, no IPAs on tap, but they had 'Hoptober' on tap.
A few of those and a buffalo burger with waffle fries and I was feeling much better, despite the overabundance of NE Pats fans (aka bandwagoneers) watching the game.
I tried the house ESB, it was so-so and I was out the door. They do brew here now, I guess they had quit for awhile, but they are back in full swing.
Best option in Cheyenne for beer and sports, and the food is good as well.
769 characters
More User Reviews:

1.88
/5
rDev
-35.2%
vibe: 2.5 | quality: 1.5 | service: 2 | selection: 1.5 | food: 3
Went here to celebrate my wife's graduation. We had reserved 50 seats in advance for the event. When everyone showed up, they gave us one waitress who was nice, but seemed to have no idea what was about to happen. We needed at least 2-3. As it was, it took about 35 minutes to get menus, and another 15 minutes to place our orders. Then it took an hour and a half to get our food. Drink selection was deplorable. When we asked about beers, she apologized right off the bat and said they didn't have much of anything. No Pale Ales whatsoever! They did have their own oatmeal stout on tap, so we ordered that.
I could have lived with the long wait times for ordering and food delivery. I'm pretty patient as far as that goes. But the oatmeal stout tasted terrible. Watery and bitter. Terrible mouthfeel. Utter disappointment which capped off the frustrations of everything else.
Ugh.
897 characters

1.99
/5
rDev
-31.4%
vibe: 2 | quality: 1 | service: 2.5 | selection: 2.25 | food: 3
Barnone one of the worst brewpubs I've ever stepped into. Floors were dirty and the tiles were chipped down to the bone, there was only one server on duty (she was nice though) and the beers... oh, the humanity. I probably would have preferred to drink from the puddles in the bathroom (okay, maybe not). The beer was very watery. It was like drinking water with beer flavoured Mio squirted into it, but only a little squirt. I was sorely disappointed with my experience here in the summer, but maybe it has gotten better. It's unfortunate, because the place has such potential being in an historic old (massive) train station. But their beers totally missed the train.
669 characters

2.49
/5
rDev
-14.1%
vibe: 2.75 | quality: 3 | service: 2.25 | selection: 2 | food: 2.5
Visited on the 15/09/2013 on holiday from the UK. Located in the old Union Station of The Union Pacific RR. Noisy for a Sunday Night only about 10 people in the bar. When asked what beer was on tap was offered a Bud Bud lite Millers etc asked about their own brews was told only 3 on tap the Big D's pale was the best of the bunch followed by the Big boy amber and Crow Creek Ale. Only the Big D's pale was reasonable the rest were below average Food was OK. Not the best brew pub we have visited
496 characters

2.8
/5
rDev
-3.4%
vibe: 3 | quality: 2.25 | service: 3 | selection: 3 | food: 3.25
My wife and I stopped here on a vacation trip and this was the only brewery (there are two in town) with a food offering. The place is located in a portion of what looks like an old train station (impressive), but once inside the pub the luster of that setting seemed to be lost because of the glass-partitioned area for the brewing equipment being in the middle of things. (It looks like they have a patio area when the weather is conducive to sitting outside.)
We ordered a sampler tray so that we could try all of their beers, and they had 5 beers available. None of them were very good (mostly weak offerings), and our server even warned us that the stout was a 'sour' beer. I think the beer was possibly over-hopped which created a tartness, but one has to think that they don't train the servers very well, or no one knows what they are doing when it comes to the beer at this place. They did have a couple offerings from other well-known breweries, so that helps provide an alternative.
The food offerings were typical pub fare, and were okay.
If we return to this area again we probably will not come here again (at least not for the beer).
1,152 characters

3.25
/5
rDev
+12.1%
vibe: 3 | quality: 3 | service: 4 | selection: 3 | food: 3
The building is interesting. An old train depot or something, lots of character on the interior. But it has a layer of cheap nonsense over much of it. The place is loud with a peculiar mix of children, drunks, and awful top 40 radio. The food price/quality ratio was a bummer, but not unexpected given the place's seeming lack of competition. 11 bucks for chicken strips and sweet potato fries both of which seemed quite cooked-from-frozen. I would probably have preferred hunger if given the opportunity again.
Beer selection was okay but the in-house stuff was a bit flat; even he bartenders recommended against it. Not a bad spot, but the town should have a better option. As others have said, it's a sports bar with a decent selection.
(I'm visiting for work, if you're wondering what brought me here.)
810 characters

2.78
/5
rDev
-4.1%
vibe: 2.5 | quality: 2.5 | service: 3 | selection: 3
Located in the downtown area in an old brick building, Shadows seems to be a beacon of beer in this town.
Upon entering, it is more of a sports bar then a beer place. The bar is seperate and full of TV's. I did not eat the food, but it looked expensive for a sportsbar.
They had a good selection, considering the town. However, I don't think any BA would be overly impressed. The brewery selection was small as the brewery is small. The beers were good and well executed.
If you find yourself in this area, I don't think there is a better place to go. However, I don't think anyone will be overly impressed.
611 characters
2.42
/5
rDev
-16.6%
vibe: 3 | quality: 1.5 | service: 3 | selection: 2.5 | food: 3
Hit this place a few days ago.
This has more of a sports bar environment. Not bad, but not very beer-centric
The quality of the TWO house beers on tap, was sad. They (amber & brown) tasted like slightly infected/watered-down malt-extract products. The Odell beers I drank there were fine, the Nitro Cutthroat was tasty & smooth
The only thing saving selection was a few good Odell selections. Two house beers? You must be joking.
The food was alright, typical sports bar grub
The food was very expensive, $9 for a hamburger really? Beers averaged $4.50 a pint
I was hoping for better. I guess if you care about beer there you head to Ft. Collins. Didn't seem like there were many viable options in town...
713 characters
2.65
/5
rDev
-8.6%
vibe: 2 | quality: 2 | service: 4 | selection: 3 | food: 1
I had the Oktoberfest and their seasonal stout. The Oktoberfest was not true to style (too hoppy) but it was still tasty nevertheless. The stout was good. However, the food was horrible. They mixed up the order from pork chops to pulled pork. The pulled pork was overcooked, dried, and tasteless. The sirloinn steak was tough and tasteless as well. The fries were also overcooked. They offered free dessert for mixing up the entree order. My wife has a sweet tooth but she did not finish the dessert ( which is rare for her). Will not be going back to this place again.
569 characters

3.83
/5
rDev
+32.1%
vibe: 4 | quality: 4 | service: 4.5 | selection: 3 | food: 3.5
I stopped by with the wife on our way to Yellowstone. I looked various restaurants in the city and this was the only place that looked like a BA type of place.
It's located in a historic rail station that's been restored and turned into a brewpub. There is a lot of original woodwork and a good portion of the floor tile is original. As you walk in you notice the main beer production equipment crammed into a room just inside the entrance. There are decorative windows throughout the inside that have witty and insightful sayings about brewing.
The beer menu listed only four brews available out of a possible eight or so. I ordered a sampler. The ESB wasn't to my liking, the pale and IPA were alright, the brown was the best of the bunch and I went with that one.
The menu was mostly burgers and pizza with a few pasta and seafood entrees. Buffalo was on the menu but not currently available. If you get a burger, they have waffle AND sweet-potato fries for sides.
The bar had the house beers on tap along with a few macros and some regional ones also. There are several big-screens showing sports that the locals were enthralled with.
Overall, this was a fun place to visit while touring the West. If I had more time I would have visited the New Belgium brewery over the border. Oh, if you like trains the brewpub right next to the U.P. rail-line.
1,356 characters
2.73
/5
rDev
-5.9%
vibe: 4 | quality: 3 | service: 2 | selection: 2.5 | food: 3
Nice historical building w intimate areas for a quiet retreat. well designed brewpub near the clock tower. limited number of house beers but has odells on tap. brewery has six taps but are limited by the brewers schedule. brew area lacks real organization which may have an impact on the brewing process. the three beers on tap were not impressive. the original bitter was good but the seasonal lacked any real character. the food was basic pub fare. the burgers were very good. prices are reasonable and serving portions were adequate. not a bad place to visit but needs to improve beer quality and volume.
607 characters
3.56
/5
rDev
+22.8%
vibe: 4 | quality: 3.5 | service: 3.5 | selection: 3.5
Visited on 4/26/09 on our short little road trip to Cheyenne, place is also referred to as Shadows brewpub, in the state capital, walked out of the bathroom and the historic depot and then was all of sudden inside the restaurant, cool inside with a view of the big locomotive and the rest of the downtown city, they had five or six of their beers and you could even take a growler home if you liked, they had a couple different bitters, hefeweizen, krystalweiss, and another, brewing tanks are right in the middle of the place in an enclosed glass area, place was very clean and filled with people, probably one of the better options in the area, people working were nice but they were a bit understaffed, watched part of the NFL Draft here and was then on our way to find out there is not much to do in this town on a Sunday because everything else was pretty much closed
872 characters
3.35
/5
rDev
+15.5%
vibe: 4 | quality: 3 | service: 3.5 | selection: 3.5 | food: 3
I hit this brew pub while on business in Cheyenne - there did not seem to be much to choose from but this place appeared very nice. It's located in an old, railroad depot that's been nicely restored. It's an unusually large and ornate depot - Cheyenne must have been important to the railroad at one time.
The brewing kettles are the first thing you see as you walk in and there is a nice selection of beer styles and seasonals available. I had a couple of pale ales and one "ob ale". I never figured out what "ob" meant but it was apparently their hoppiest brew.
The pale ale was unremarkable and fairy mild, without much hop charactor. It had the best head retention and lacing I've even seen. The "ob" was better - there was a very citrisy charactor to the ale that was much like an IPA.
I had chicken alferdo - perhaps not the wisest choice. The food was average, voluminous, and inexpensive.
The atmosphere was small college. There were folks of all ages but most appeared to be rather young, male and boisterous - it was very loud with multiple large screen TV's, loud tunes, and everyone screeming to be heard over the din. They were having a trivia contest that many seemed to find stimulating.
As with most brew pubs I'ver tried the beer and food seemed only aveage - but I would like to try it again and see if I would have better luck. Makes me appreciate more what I had at the Free State Brewery when I lived near Lawrence, Kansas - now there's a brew pub.
1,477 characters
Shadows Brewing Company in Cheyenne, WY
Brewery rating:
3.64
out of
5
with
0
ratings