Genna's Lounge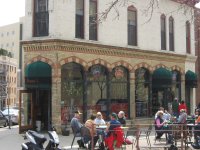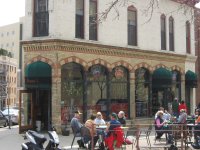 Bar
105 W Main St
Madison
,
Wisconsin
, 53703-3207
United States
(608) 255-4770 |
map
gennaslounge.com
Notes:
Reviews by aschbren:
aschbren from Wisconsin
4.35
/5
rDev
+13.6%
vibe: 3.5 | quality: 4 | service: 4.5 | selection: 5
If you live in Madison, you've probably walked past Genna's and thought it was little more than a cocktail bar filled with the countless suits who work at the Capitol. You know what I mean. And yes, I'm told that they're known for making some fine cocktails but I went in undercover and wanted to see how they were doing with beer. After all, they do advertise for the Tyrenna Brewery (Milwaukee, WI) right in their window.
The building itself is situated on a triangular corner, thus resulting in an unusual right-triangle layout inside. You enter along one of the corners and face the bar. In front of you are a small number of clean tables surrounded by comfortable bar chairs. To your left is a selection of cheeses, crackers, and other food items. I didn't try any of it. The walls are adorned with classic Guiness posters, lending an Irish pub like theme to the place. But it wasn't as convincing as, say, Brocach. This is not the kind of bar you want to stroll into wearing bar clothes. Everyone there was attired at the business casual level. I found it lacking Dotty Dumpling's Dowry's gemütlichkeit, Brocach's craic, and the soigné of Barriques Wine Cave. But what it lacked in warmth, it more than made up for in class.
Behind the bar there are 12 quality beers on tap and over sixty bottles from which to choose. As I looked at the selection of beers on the wall, I was stunned by the bold variety. They had Chimay Rouge, Delerium Tremens, Anchor Porter, Sierra Nevada APA and stout, among other world-class beers. The beer with the last class there was PBR. If I had to criticize the variety at all, it's that they went for a "world's best" approach rather than drawing from the fine selection of local brews. They had Spotted Cow and Wisconsin Amber on the wall, but where was the Lake Louie Scotch Ale? Or the Central Waters Lac du Bay IPA? Or Lakefront Eastside Dark? Although I don't agree with the global focus, I respect Genna's for being bold enough to serve Chimay in 750 mL bottles. To my knowledge, there is no other bar in Madison with the variety that I found at Genna's.
The bar tender knew a bit about beer, which was a gentle surprise. Although Madison is a beer savvy city, a startling number are hooked on disappointing macros. The bar tender seemed to have a good familiarity with the world of beer. When I ordered a Anchor Porter, they were out. So he suggested a Sierra Nevada Stout instead, which he said is much like a porter. I was impressed by this suggestion because I agree that Sierra Nevada's Stout is sufficiently light that I could easily mistake it for a porter.
I drank two beers there. Young's Oatmeal Stout and Anchor Steam. I believe they cost $4 and $3 respectively, which are very reasonable prices in my opinion. When the bar tender placed the bottle and glass on the counter, I was disappointed by three things. First, the stout was served ice cold. The temperature at which stouts ought to be served is often said to be 65° F. Second, the glass was unusual to say the least. A pint glass would have kept with the Irish-themed decor and have highlighted some of the qualities of the beer. Instead it was the dreaded American tumbler glass. Third, I was carded. Now, as you can tell from my profile, I'm still only 24. And I understand that bars suffer serious consequences when they serve people who aren't of age. But I feel that carding is somewhat declassé and it shows a lack of respect for the guest.
The Oatmeal Stout was almost certainly skunked, which is an unfortunate consequence of the fact that it's sold in clear glass bottles. I still have no idea why brewers sometimes insist on non-opaque bottles. In my mind, it shows a lack of respect for their product. Still, the rich oatmeal flavors danced on my tongue followed by waves of roasted malt flavor. A wonderful beer. The bar can't be blamed for the bad bottle. One problem that haunts beer bars is that they have sacrifice freshness in obtaining diversity. From what I've heard, Genna's has a good reputation for serving fresh brews.
In the summer, Genna's has a balcony where you can sit and have a beautiful view of the Capitol. The mere thought of a beautiful summer evening with a pint of Hefeweizen sounded so appealing that I knew that I'd be back.
Mar 13, 2006
More User Reviews:
BarrelAgedG from California
3.98
/5
rDev
+3.9%
vibe: 4.5 | quality: 3.75 | service: 4.25 | selection: 3.75
Jun 18, 2015

Rilesmiles from Wisconsin
4.31
/5
rDev
+12.5%
vibe: 4.75 | quality: 4.25 | service: 4.25 | selection: 4.25
May 10, 2015

djhowell from Wisconsin
3.59
/5
rDev
-6.3%
vibe: 4.25 | quality: 3.5 | service: 3.5 | selection: 3.5
Apr 30, 2015

redleg411 from Wisconsin
3.57
/5
rDev
-6.8%
vibe: 3.5 | quality: 3.5 | service: 3.5 | selection: 3.75
Feb 06, 2015

emerge077 from Illinois
3.99
/5
rDev
+4.2%
vibe: 5 | quality: 4 | service: 3.5 | selection: 4
Ah, Genna's... a Madison classic.
This wedge-shaped space is well worn with a worldly vibe. High ceilings, robust hanging plants lining the windows, hanging stained glass lamps casting a soft light onto the tables below. Couches are arranged in the center, and bar seating for over a dozen along the back wall. There's also an upstairs lounge that's only open in the evening. The bar: it had a worn copper bar top, with equally worn wooden rail along the edge. Globe lanterns hung by chains above the bar, casting a bit more dim light on the space. Iggy Pop on the stereo. Eclectic decor all around, in the window we sat by, there was a circular glass mosaic, an ancient canister of "soda-acid" from the "Fyr-Fyter Co." based in Toldedo, OH, a framed photo of Lawrence Welk's headstone, plus assorted hanging lights and beads. In the corner under the stairs sat a footed china cabinet with display shelves of glassware and oddities.
At the bar there was a crowd of regulars holding court, as well as several couples, and groups occupying the couches. A pretty mixed group of middle-aged regulars, hipsters, and average joes on a Saturday afternoon. The two bartenders were alright, not the quickest with service, but they seemed pretty busy, even running trash out the door and across the street (no alley behind the building).
Tap selection was good, but nothing too wild. Oberon, Ale Asylum, a couple New Glarus. They did have Ballistic IPA in bottles, so I went with that, and my friend went with Capital Maibock on tap. Bottle selection was about half craft, half macros (imports included). It's worth a stop here for a beer or cocktail before or after lunch/dinner on the square, especially for the quirky, laid-back atmosphere.
May 02, 2011
AmberMan22 from Minnesota
3.65
/5
rDev
-4.7%
vibe: 4.5 | quality: 4 | service: 2 | selection: 4.5
Atmosphere at this place was really nice. We went at night, and it was almost like a coffee shop feel. not too crowded, really nice, serene lighting, cool layout.
Service was unimpressive. We practically had to drag someone over to serve us both at our table and at the bar. The bartender didn't know a terrible lot about the massive selection of beer, and didn't contribute anything to the experience at all.
Selection as I said, is quite large. a huge chalkboard with all of their beers (maybe 4' x 12' tall) is listed next to the bar. Prices aren't up there, so I was fishing around for a reasonable deal, and I just ended up getting something cheap after several attempts with no luck.
That goes to say, that the prices are a bit steep. I can't remember what I tried ordering (I think a tripel) and it was $9 for a pint. Cmon. Every import was over $6, and even lousy macros were pretty expensive.
So, a tucked-away place with nice atmosphere and high prices...probably why only the TAs go there.
Apr 14, 2010
wardough from Wisconsin
2.71
/5
rDev
-29.2%
vibe: 4 | quality: 3 | service: 1 | selection: 3.5
Go if you've already hit all of the other hot spots.
The atmosphere is hands down the best, especially if you are outside. If the weather is beautiful, sit outside and stare at the capitol...or do some people watching.
The quality and the selection of the beers served there is on par with all of the bars here in Madison. Tonight, there was New Glarus Spotted Cow, Stella, Capital Octoberfest, Capital Amber, Hopalicious, Bell's 2 Hearted.
The service is absolutely horrid. Characterized on multiple occasions by rude servers. If you want to get treated like crap, definitely try this place out!
It's decent to try in the summer or on a fall night, but not not one of the top spots that you need to check out in Madison.
Sep 27, 2008
DaPeculierDane from Wisconsin
3.86
/5
rDev
+0.8%
vibe: 4 | quality: 4 | service: 3.5 | selection: 4
Genna's used to have the almost best bar staff in town but lately they've been letting it slide. I'm guessing this is because it's owner must be spending more of her time on her new endevor, The Slipper Club.
Still, it's not a bad little place to go. Lots of Democrat capital staffers can be found there during the happy hours, which include good specials on tap beers.
Gennas has a very large selection bottled beers and some decent ones on tap but I still think of this place as a cocktail bar.
The atmosphere is decent and their patio rocks during the sumer months but get there early because Genna's fills up fast, gets hot, and if you don't have a table it's like standing in a busy hallway.
Nov 04, 2005
slander from New York
3.94
/5
rDev
+2.9%
vibe: 3.5 | quality: 4 | service: 4 | selection: 4
A long day of travel and brewery and bar and beer store and brewpubs brings us to a near close back at the hotel in Madison, but first, a quick stop in at the corner bar. Now, many of your corner bars aren't actually located on corners. Genna's is a brick building on the corner of an intersection that comes in at (like) a 30 degree angle, so not only is it on a corner, it's on a oddly shaped point...
...which would explain why the establishment itself is strangely triangular.
Genna's is a small room with a 10 seat bar along one wall. 6 tables, mostly along the far wall and a pair of raised bar tables along the arched windows looking out over a little area at the curb holding a handful of bar tables there, and towards the capital building beyond that. It's a themed irish pub with Guinness prints and the like, strung Xmas lights, a TV in the corner, plants, and drop spot lighting. There's also an upstairs lounge with another bar.
8 taps. 1/2 of 'em micros, some regional (New Glarus Spotted Cow, Capital Maibock, Bells Oberon, Redhook Blonde) and Guinness, Harp, Smithwicks, and Newcastle. And roughly 50 bottles. A handful of decent Belgians (Delirium Tremons and Nocturnum, Corsendonk, Chimay), and the rest are macros, maltos, NA's, and micros (some good regionals, Sierra Nevada and Anchor).
Hey, it's a corner bar with a few good taps and some better bottles. Craig told (Evil) Davo that we couldn't leave until he finished his Capital Maibock so Davo chugged it. Lucky for him the 309 posse wasn't there, as they surely would've flagged his ass.
May 15, 2005
SCW from New York
4.13
/5
rDev
+7.8%
vibe: 5 | quality: 4 | service: 4 | selection: 4
My favorite place in Madison in winter. The Greeks knew the importance of proper lighting, and so do the folks at Genna's. The lighting in this bar is so perfect it makes ugly people look beautiful. Combine that with beer and a lot of phone numbers are exchanged.
Beer selection? Pretty good for Madison standards. A decent draft selection, and there are two different stations. There is a bar downstairs and one upstairs. The upstairs is where all of the ambience is. There are bay windows in the corner that overlook the state Capitol. It's awesome on a snowy winter night.
You can get Chimay, Corsendon, Delirium Tremens, and some other Belgians in bottles. Also, look for local microbrews on tap, such as the Great Dane, Capital, and Lake Louie. If you're upstairs, ask for Kurt. He'll take care of you.
Nov 16, 2004
Skidz from Wisconsin
3.94
/5
rDev
+2.9%
vibe: 3.5 | quality: 4 | service: 3.5 | selection: 4.5
Genna's seems to be more of a cocktail lounge from the outside, though they advertise Tyranena from the window, seemed like an invitation.
Inside, it's a small, two story corner bar, with bars on both levels. Most patrons seem to bee younger buisnessmen/women and older college students. I went on a Friday night, and it was a bit crowded with very little in terms of seating. Just a few tables, chairs and couches. All the usual cliche bar paraphanalia (old guinness posters, mirrors, etc.).
Heading for the bar, I wanted to find something tasty and/or possibly interesting. Was I surprised. On the wall behind the bar they have a large collection of beer bottles, which caught my attention. Aventius, Chimay, and Middle Ages Druid Fluid stuck out from the crowd. New Glarus and Tyranena Bitter Woman displayed proudly. I wasn't sure if these bottles were just for display, so I asked what bottles were available for purchase. "All of them." Cha-ching. Druid Fluid is promplty ordered, as it seems to be a special offering here at Genna's. No distributor that I know of carries it around here. Damn tasty too I might add.
Crowded on the weekends, but pretty calm during the week. Staff knows what they're doing, but I had to ask for a glass with my bottle. Not a big deal, you know the drill. Didn't want to spend the $15 for a bottle of Chimay (750) to see if they had Chimay glasses too, maybe that will be saved for a later review.
Quite a little gem IMO. Probably the best bottled beer selection I've seen in Madison. Worth a shot if you're seeking something a little different.
Oct 23, 2004
Genna's Lounge in Madison, WI
Place rating:
3.83
out of
5
with
13
ratings