Weary Traveler Freehouse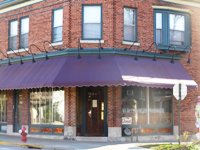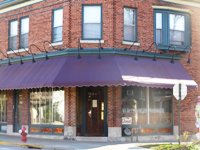 Bar, Eatery
1201 Williamson St
Madison
,
Wisconsin
, 53703-4852
United States
(608) 442-6207 |
map
wearytravelerfreehouse.com
Notes: Hours of Operation:
Monday:
Food Service: 4:00pm - 1:00am
Bar: 4:00pm - close
Tuesday - Sunday:
Food Service: 11:30am - 1:00am
Bar: 11:30am - close

4.26
/5
rDev
+1.4%
vibe: 4.75 | quality: 4.25 | service: 4.25 | selection: 4 | food: 4.5
Awesome vibe, decor, lighting. Eclectic, not quite chaotic decorations. Food was great. Beer selection left a little to be desired, but I was fine with Two Hearted on tap.
171 characters

4.13
/5
rDev
-1.7%
vibe: 5 | quality: 5 | service: 3 | selection: 3.5 | food: 5
The Weary Traveler is one of Madison's top 5 local restaurants in terms of food quality. The Bad Breath burger is revelatory (who would have thought that cream cheese on a hamburger could work so well!) and their West Of The Andes sandwich is truly scrumptious. If you are into "local finds" when you visit places, The Weary Traveler is a top notch choice for food.
The beer menu, on the other hand, is nothing great. They have two or three very good beers on the list (Two Hearted, Warped Speed, and a Crooked Tree brand IPA whose name eludes me at the moment), but the beer selections are too Wisconsin-focused. Wisconsin beer, for those who are not aware, tends to be the weakest in the midwest (well, second weakest, since Iowa is a part of the midwest). Outside of Central Waters, I cannot say I like a single brewery as a whole, though various breweries do have a good beer or two (e.g., the Satisfaction Jackson).
So if you're content with a Two Hearted or Warped Speed with your meal and you're looking for beer, then by all means you must spend the night at the Weary Traveler. However, if you want good beer and good food, then I suggest changing your bar scenery after your meal.
1,193 characters

4.25
/5
rDev
+1.2%
vibe: 5 | quality: 4.5 | service: 4.5 | selection: 3.5 | food: 4
Post-Great Taste 2010.
We were looking for a comfortable spot to wind down after the fest, and the Weary fit like a glove. We went through the side entrance (for hippies?), and sat in the smaller side room. The old wood inside "smelled a like Belgian cafe" according to Luda. It was definitely worn in and cozy here. Old wood floors and walls, mismatched chairs and tables, with eclectic art on the walls. In the corners of the room were old dial telephone lamps, which reminded me of Twin Peaks. The bar seated about 12, and extended into both rooms of the place. In the corner was a stack of games, and a set of giant chess pieces. Sure enough, in the corner was a worn away chess board painted on the floor. The crowd tended to be young and hip, not rowdy. Seemed to be several bigger groups, which fit nicely into the circular corner booths.
Our server was always around, and was knowledgeable about the beer and menu. We split a pitcher of Lake Louie Tommys Porter for $14. Selection focused on the local (2-3 LL taps), with a few bottled German/Belgian imports to round things out. On tap: Great Dane German Pils, LL Premium, Tommys, and Warped Speed, Capital Fest, Oberon, 2 Hearted, and Guinness. Bottles: Hopalicious, Czechvar, Fransizkaner, Sofie, LL Cream ale & IPA, Leffe, 2x NG, Pearl St. DTB, Point, and a handful of others.
The WI "meat & cheese" charcuterie plate was huge with a generous assortment: smoked turkey, capicola, mortadella with walnuts, cheddar, swiss, pepper jack, and a mountain of seasoned bagel chips. Reuben here was of good quality.
Overall the eclectic and cozy vibe here was very relaxing, and the food was good. Some nice local beer was the icing on the cake. Stop here on the way over to Malt House, or any number of nearby beer spots. It was fun to explore Madison a little bit more, we found the Weary Traveller to be a hidden gem.
1,880 characters

3.93
/5
rDev
-6.4%
vibe: 4.5 | quality: 4 | service: 4 | selection: 3.5
Gotta be honest, the first time I walked by here a few years ago it seemed a little too hippyish from the outside for my taste. I love this part of town, but don't really consider myself part of the demographic. My loss. After 3 years in Madison and some friends saying it was well worth it, I finally dropped in. Nice comfortable feel. We stopped by here after the Fete de Marquette in July and it was pretty full, but we had a table in about two minutes. I had a Two-Hearted. The selection was not overly extensive, but it was adequate. The waitress was polite and fast, and kept my wife's water glass full even though I only had one drink, which we appreciated. We played a game of Scrabble--one of probably a dozen games they have there for your enjoyment. Prices were fine. Worth going a little out of your way for. I've never eaten here but I hear from reliable sources that they make great grub.
902 characters
4.58
/5
rDev
+9%
vibe: 5 | quality: 5 | service: 4 | selection: 4.5 | food: 4.5
I came here the other night with my buddy. We were somewhat tipsy after going to The Decemberists show at Overture. Which was AWESOME, btw. Anyway, I have been here many times over the years, and it's one of those places that just seems to get better and better.
Hipster atmosphere, which I usually don't dig. But I'm never annoyed here. Low lighting, board games galore, interesting things on the wall, awesome ceiling. Hell, even the mens room is cozy and interesting.
Service is also pretty great. Very nice staff, and I never get the feeling they're just "acting" nice. They seem like they like their jobs, and it shows. They do get busy, and sometimes it seems like they don't make it around much, but it's understandable once you get your food. Just order a pitcher instead of a pint, and you wont want for beer. They'll also bring you a carafe of water, which is nice for them and you.
Every time I've been here, I've order the bad breath burger. It's amazing, and I vote it best burger in Madison. But after the concert the other night, I thought I would try something else. I've been on a reuben kick, and I asked the waitress if I should go with the burger, or the reuben. A kid about 12 years old was walking by and overheard me, he stopped, put his hand on my shoulder and said "get the reuben bro" I laughed (I was tipsy after all) said thanks man, and ordered it. AMAZING. Thanks to that kid for speaking up.
I love this place. It's a great local bar, and a great many steps up from typical bar food. It's fantastic, and you should go.
1,555 characters
4.5
/5
rDev
+7.1%
vibe: 5 | quality: 5 | service: 4 | selection: 4 | food: 5
What a great place. While the beer selection isn't the largest in town, it still is a good representation of local micros. The night I was there Lake Louie, The Great Dane and Capital were all represented on tap. I had heard the food was good. That is an understatement. Bob's Bad Breath Burger is one of the best burgers I have had in ages. The energy of the place on a Thursday night after 10 pm was extremely high and made for an enjoyable late night dinner. I was also impressed that the kitchen keeps late hours, until 1AM per the sign.
541 characters
4.15
/5
rDev
-1.2%
vibe: 5 | quality: 4 | service: 4.5 | selection: 3.5 | food: 4.5
i dont really think of the weary traveller as a beer bar. there are tons of reasons to come here (low-key stress-free lunch during the week, high energy at night, the reuben, the vibe, etc)
that said, there is always something to drink on tap - usually 1-2 bells, 2-3 lake louie, capital seasonals and mainstays, great dane basics, a new glarus or 2, etc
the atmosphere is wonderful and follows the hipster south america/european vibes of magnus and natt spill. board games are plentiful including a chess board on the floor. the colors are dark and the artwork on the walls is fascinating, namely the family picture of 6 men resembling that one built to spill album cover (with more people). its a hipster joint, and amen for that
service ranges from amazing to low. there is one bartender that truly sucks in my opinion and the rest (mostly the females) are fantastic. at lunch, the service has always been spot on. the owners own magnus and natt spill as well and take notice to regular customers (which i am, at all 3 of these places)
the food menu is limited but absolutely top notch. people go ape shit over the big breath burger but its not really my thing. the reuben is phenomenal, so is the west of the andes. when its cold, you can beat the vegan chili or hungarian goulash. every once in a while, the special will knock you off your feet as well. absolutely one of my top 3 regular spots for a weekday lunch (as i work downtown).
prices are on par with the norm
1,479 characters
3.88
/5
rDev
-7.6%
vibe: 4 | quality: 4 | service: 4 | selection: 3.5 | food: 4
I've heard that this place has gone through some changes in the past few years, and that it's not as good as it once was. I've only been here once, so any "woulda-coulda-shoulda-maybe-might-have-been" is beyond my abilities.
It's a pretty laid-back place on Willy Street in the Marquette neighborhood, which is a pretty neat area with a lot to offer. The Weary is a Free House, so you can technically go there and not order anything, if that's your bag. But you'll probably want something. The Walleye sandwich was great, and I'm a sucker for roasted potatoes. So as a lunch, that was terrific. That I got to try the pretty solid Lake Louie farmhouse ale on top of it was pretty cool.
Not a giant beer selection, but what's there on tap is local and/or craft; not a Bud Light in sight: a few Lake Louie, some Capital Amber, Spotted Cow, a Bell's Oberon and a few other things I didn't catch, one from Great Lakes. Admittedly, mostly quaffable session ales that go well with food, but you won't find a gajillion Double Imperial anythings here. Simple, easy to drink craft beer for a night out with friends. Wood paneling on the interior, and very low-volume music. Wood chairs, muted lighting, cozy tables, and clean bathrooms. Menu had more than a few things to be explored (goulash, giant salads, Bob's Bad Breath Burger, etc). Not your typical pub, but a great dinner or late-night stop.
1,397 characters
3.88
/5
rDev
-7.6%
vibe: 4 | quality: 4 | service: 3.5 | selection: 4 | food: 4
This place has the feel of a neighborhood bar/restaurant with a great eclectic mix of things hanging on the wall including hand written poems and large maps glued on as wallpaper. The bar is in the back with another dining room behind a wall that runs perpendicular to the bar.
They had a good beer selection with locals and some interesting imports. They have a good number on tap which is nice and a good number of different styles. The Lake Louie farmhouse ale when great with my West of the Andes sandwich which was also very tasty.
There menu is not large but the vegetarians and carnivores all had good choices. Some of the plates come with sides and some don't so make sure to ask if you are really hungry. The walleye sandwich is huge and comes with potatoes and the roasted veggie salad has a whole garden on there. I think our waiterss went on break after she gave us our food because we sat about 15 minutes with empty beer glasses before we could flag her down.
This is a fun place to hang out and great to take friends without feeling pretentious.
1,071 characters
4.03
/5
rDev
-4%
vibe: 4.5 | quality: 4 | service: 4.5 | selection: 3 | food: 5
Fantastik place.
Atmosphere: Kitschy art covers the walls. Live music can be found most nights of the week. If its not, they play good vinyl. A large cupboard, which contains dozens of board games, lines one wall. The place is split into two sides. One is better lit and more apt for dining or games while the other is kept dark and intimate for conversation. The place looks good, sort of antiquey. Great tin ceiling, nice wood furniture, leather benches, etc…
Selection: Tap usually consists of 2 Danes, 1 or 2 Capitals, 2 Bells, 2 LAKE LOUIE!!! Bottles are mostly the standard macro imports but there are a few choice selections to be found. One that sticks out in my memory is Fuller's IPA, they also currently have two Lake Louies in the bottle. What a deal. 4 different LAKE LOUIES available at one bar. I only know of one other bar where you can find that.
Staff: Great mixed staff. As I understand it, the owners use this place as a bit of a training ground for some of their higher end establishments like Magnus so there is some rotation of relatively professional wait staff. Still, the Weary has a large number of people who have been there forever and know their trade well. I eat or drink at the Weary almost weekly and have only had one or two bad service experiences in the last three years. Generally very friendly service from an interesting and eclectic staff.
Food: Hands down, The Weary serves up the best late night food in Madison. This place became a regular destination for me back when I waited tables and wouldn't get off shift until after midnight.
I recommend the West of the Andes Sandwich. I'm giving the Weary a 5 for food solely because this sandwich is so good. Get it with the tenderloin. It comes smothered in chipotle mayo, fresh and flavorful pico, avocado and a side of mixed greens and rockets in a South American citrus vinaigrette. This is a great dish any time of day but the fact that the Weary serves it up late make this place all the more desirable.
Other highlights on the menu include the goulash, Thai soup, carne asada, and Bob's bad breath burger. Also be sure to check out the nightly specials. These are usually near gourmet quality for a less than gourmet price.
Edit (11-13-06): Must lower selection from 4 to 3 and quality from 4.5 to 4. The Weary is still a great place for Lake Louie and grub but the selection of great brews has otherwise vanished.
2,437 characters
4
/5
rDev
-4.8%
vibe: 4 | quality: 4 | service: 4 | selection: 4 | food: 4
This is a "good" bar (hence the 4.0). It won't blow you away, but it can easily be an old stand-by.
It's kind of a neighborhood bar. Right off willy st., you'll see everyone from undergrads to grad students to folks in the neighborhood to old hippies.
The bar is nicely lit, and on the weekends they have live music. And, of course, I should comment on the beer: it is pretty standard, but they always manage to have a nice selection of local microbrews on tap.
They'll always have Lake Louie on tap, and also look for Capital Brewing Co, the Great Dane, and New Glarus. Sometimes you might even see the Angelic Brewing Co.'s beers on tap.
The food is good too, and they cater to vegetarians pretty well. Worth a visit.
733 characters
Weary Traveler Freehouse in Madison, WI
Place rating:
4.2
out of
5
with
22
ratings