Silver Key Light
| Compañía Cervecera de Puerto Rico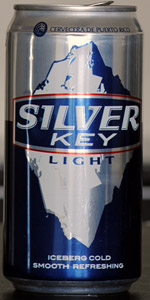 BEER INFO
Brewed by:
Compañía Cervecera de Puerto Rico
Puerto Rico
Style:
Light Lager
Alcohol by volume (ABV):
4.45%
Availability:
Year-round
Notes / Commercial Description:
No notes at this time.
Added by MeMyselfNAles7 on 10-11-2010
Ratings: 9 | Reviews: 5
2.84
/5
rDev
+28.5%
look: 3 | smell: 2.75 | taste: 2.75 | feel: 3.5 | overall: 2.75
Another offering from the main brewery on the island. This is their cheapest option, the going rate for a frosty ten ounce can is a mere 84 cents! Sweet! Too bad the beer inside isn't any better, a ligh bodied and refreshing bre, but it tastes adjuncty and chea to me, although it's jovial carbonation and price point are both fantastic features. They are smart to put it in the smaller can too, as it is pretty gross when it warms up even a little, but it's great when it's near frozen, bpcuts greasy fried food and spice, and is better than its price would generally indicate. Something a thirsty dude could drink 30 of in this format without thinking twice. No real significant off flavors beyond a little metal and rubber and corn sugar. Both Medalla and Magna are much preferable, but this has a time and a place too. Like when you roll up to a locals only beach and don't want to look any more like an out of tower than you already are. Dig into a cooler full of these and enjoy the island. Puerto Rico rules!
1,016 characters
2.25
/5
rDev
+1.8%
look: 2.25 | smell: 2.25 | taste: 2.25 | feel: 2.25 | overall: 2.25


1.55
/5
rDev
-29.9%
look: 1.5 | smell: 1.5 | taste: 1.5 | feel: 2 | overall: 1.5
Bought a can from a gas station in Ponce. Looks like a Coors Light rip-off. Poured into hotel glass.
Very light pale yellow color. Slim ring of white head.
Nose is adjunct lager - tiny stale hops, metal, maybe rice or corn?
Taste is like the smell. Mildly offensive macro lager.
One and done. Well, 1/2 and done.
315 characters

1.23
/5
rDev
-44.3%
look: 1.5 | smell: 1 | taste: 1 | feel: 2 | overall: 1.5
Poured this into a clear plastic cup. Clear and light golden with no head, lots of bubbles.
It smelled metallic.
It tasted cold because the can had been in a fridge. Oh, that their was the most slightest taste of sweetness.
Light body, moderate carbonation, a sticky texture.
This makes most light beers taste AMAZING.
323 characters

2.47
/5
rDev
+11.8%
look: 2 | smell: 2.5 | taste: 2.5 | feel: 2.5 | overall: 2.5
Can poured into a tulip
A: Pours a straw, transparent yellow with very large bubbles and an interim fizzy head.
S: Smell is just a touch bitter, a little metallic, maybe even sweet like honey, but it's short lived.
T/M: A little more honey sweetness is mixed in with some fizzy carbonation up front and it's pretty watery afterwards, like seltzer or tonic water.
This is pretty similar to another "silver" brand I know of.
TheBeerAlmanac.com
457 characters

2.58
/5
rDev
+16.7%
look: 3 | smell: 2.5 | taste: 2.5 | feel: 3 | overall: 2.5
This is the Medalla light answer for coors light. Not a medalla fan but this one actually tasted better. And I say tasted, because the firts batches where fairly good and it didnt taste like medalla at all. Now it taste like watered down medalla.
Pours a pale golden brew with a little white crown. Pale malts and barley on the nose, pretty much the same on the palate. Thin body, refreshing with a so/so drinkability. A touch or two of bitterness in the aftertaste.
471 characters
Silver Key Light from Compañía Cervecera de Puerto Rico
2.21
out of
5
based on
9
ratings.