Magna Special Craft
| Compañía Cervecera de Puerto Rico
BA SCORE
72
okay
11
Reviews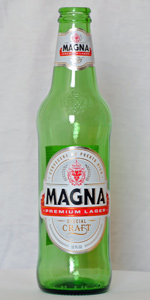 BEER INFO
Brewed by:
Compañía Cervecera de Puerto Rico
Puerto Rico
Style:
American Adjunct Lager
Alcohol by volume (ABV):
5.10%
Availability:
Year-round
Notes / Commercial Description:
No notes at this time.
Added by chrisrhoppe on 09-18-2011
Reviews: 11 | Ratings: 53
2.1
/5
rDev
-19.5%
look: 2 | smell: 2 | taste: 2 | feel: 3 | overall: 2
Half finger head with poor retention on a Straw yellow body. No lacing. Bitter aroma with corn and pale malts. Flavor is a little musty and tart with light malts. Moderate to high carbonation and heavier side of light body. Overall refreshing but very plain.
258 characters
2.98
/5
rDev
+14.2%
look: 3.5 | smell: 3 | taste: 3 | feel: 3 | overall: 2.75
Not sure I like this any better than the Medalla that they do. Meant to be s bigger fuller bodied premium type, I think it shows its flaws a little more, tinny on th grain and a but sweet, less refreshing for sure, but hearty in a at a craft drinker needs sometimes, so I liked it in the beachy context. A little more color to it, deeper than hello, with a good inch of thick white foam with impressive lacing. Lager yeast all over the place, some extracty residual sugar, and amicably no hope to speak of. It likes fried food, chips, things like that, but doesn't handle delicate foods or spicy ones as good as some of its peers. Cheep buckets are the way to go when you visit Puerto Rico. Much to be desired, but its ranks and slop is almost preferable sndendetsing at times next to something predictable and overly refined like a Heineken or a Stella. Nothing stoping the ambitious consumer from having 15 of them either, so let it rip and forget about the fridge full of heady IPA you have waiting for you back on the mainland. It's not going anywhere...
1,058 characters
2.9
/5
rDev
+11.1%
look: 3 | smell: 3 | taste: 3 | feel: 3 | overall: 2.5
(Served in an American pint glass)
A- This beer has a crystal clear deep yellow body with a thin snow white film that fades to a ring and a gentle carbonation of big bubbles.
S- The clean aroma has only a dry grain hint when it is very warm.
T- The clean soft corn note has a hint of sweetness in the finish.
M- The light mouthfeel has a crisp fizz and no alcohol heat.
O- This beer is the big brother to Medalla and it shows with the faintest of sweetness and almost a hint of grain in the nose. This beer is light and empty, but there are no off flavors either.
571 characters

3.14
/5
rDev
+20.3%
look: 4 | smell: 2.5 | taste: 3.5 | feel: 3 | overall: 3
Poured into a pint glass. Clear, golden color with a finger of head. It looks nice.
It smells like corn, rice and crayolas. Weird.
A nice sharp bitterness at first, mellows out to a sweeter finish. Simple but fairly good.
Crisp and clean texture, moderate carbonation.
A descent adjunct lager.
299 characters

2
/5
rDev
-23.4%
Created to compete with the likes of Heinekin, et al, this one certainly hit the mark. Problem is that Heinekin is terrible. I'd much rather go with Medalla Lights or some Presidente from the next island over, if I'm looking to pair with some empanadillas or just hanging on the beaches.
289 characters

1.74
/5
rDev
-33.3%
look: 2.5 | smell: 1 | taste: 2 | feel: 2.5 | overall: 1.5
12 oz bottle. Pours pale straw with white head. Aroma is of fruit soda. Body is light and crisp. Taste is of light hops and sweet malt. Not offensive.
155 characters
2.9
/5
rDev
+11.1%
look: 2.75 | smell: 2.75 | taste: 3 | feel: 2.75 | overall: 3
Magna Special Craft Premium Lager
12 oz green bottle
Best Before: 12SEP15 12 37
Served hotel room style in a baby glass and in the bottle
I'm in Puerto Rico and already enjoyed several Medalla Lights and decided to buy a single of Magna at a nearby convenience store.
Pours a straw yellow with a ton of small carbonation bubbles that race to the top. Whiffs of light skunk and grains.
Flavors of cereal, toasted grains and a touch of light cream. Decent hop snap on the finish. This beer is very reminiscent of an import beer like Heineken or Beck's. Easy to drink in the warm weather, but nothing great here in terms of flavor. Go into it with low expectations and realize this is a thirst quencher in the caribbean.
720 characters

2.71
/5
rDev
+3.8%
look: 3 | smell: 2.5 | taste: 2.75 | feel: 2.75 | overall: 2.75
Previous review hit the nail on the head(no pun intended)
This was made to directly compete with Stella Artois, Peroni, & Heineken. All 3 have a very strong presence in Puerto Rico, but carry a pretty high price tag. I didn't spent too much time looking at prices, but a quick look says its about 50% cheaper at local bars and liquor stores because its a local brew. It was about $3 at local bars and $8/6pk at liquor stores.
Its not my style, that's for sure. If you're into the above mentioned 3 Imports, give this a try as a cheaper alternative. That's about as much credit as I can give it.
595 characters
1.42
/5
rDev
-45.6%
look: 1 | smell: 1.5 | taste: 1.5 | feel: 1 | overall: 1.5
Pours with pathetic fizzy head that dissipates within 30 seconds, absolutely no lacing. The beer is light golden straw colored and has only the occasional bubble or two creeping like a deflated balloon to the stale flaccid top
The smell is of hay, straw a faint touch of malt with an even fainter wiff of earthy musky hops. Smells not much unlike an old molding book.
The taste is not much unlike the smell, straw and musky sour hops. The mouth feel is completely off balance, starts sweet and malty then just ends up sticky and chewy in the back of my tongue, the only way this beer invites you back for another sip with to wash the shit of your tongue, I think I'll stick to water though.
Not a big surprise here, for bias sake I tried this next to a Santo Viejo and a Prima Pils and the difference punches you in the face. Anyone who was ever enjoyed or brewed a craft beer should take offense to this shameless take on a "premium" beer. It's time to fight back, the word craft or artisanal needs to stay with real brewers, not allowed to be used by heartless robotic corporate breweries.
1,109 characters
3.5
/5
rDev
+34.1%
This was actually pretty good. Before my wife and I checked into the hotel we went to a supermarket and picked up some snacks and drinks. I was set on buying their other local beer and just making due with that. But when i saw this and the word craft next to it, I was sold. A Puerto Rican craft beer. I was not disappointed it's got the body of a well done lager the taste of one to. Thicker mouth feel when compared to the other beers of PR. I really liked it.
462 characters
2.46
/5
rDev
-5.7%
look: 3 | smell: 2 | taste: 2.5 | feel: 2 | overall: 3
There's not much to be said about this beer. It is designed to compete with Peroni, Stella and Heineken in the premium beer category. It's not designed to compete with craft beers. The name can and is misleading to people who know nothing about craft beers but think they do. Some will surely feel that they are drinking a true craft beer because the name says so. But to be honest it's an ok beer. It's certainly better than other premiums. I had to choose between Magna and Heineken, I'd choose Magna or water.
It had a surprisingly long lasting head, though it still dissipated quickly. The color was bright golden and it had very little carbonation. It had some hint of hops in its aroma, a bit spicy, but really very little. The taste was malty sweet, like "export" soda crackers but sweeter. The aftertaste wasn't really there.
834 characters
Magna Special Craft from Compañía Cervecera de Puerto Rico
2.61
out of
5
based on
53
ratings.