Strong Ale
| Theresianer HTS 1892 Spa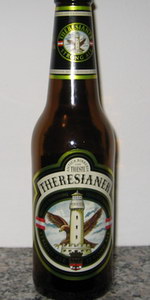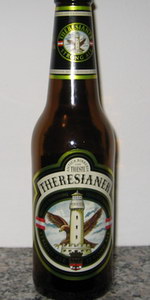 BEER INFO
Brewed by:
Theresianer HTS 1892 Spa
Italy
theresianer.it
Style:
English Strong Ale
Alcohol by volume (ABV):
8.50%
Availability:
Year-round
Notes / Commercial Description:
No notes at this time.
Added by Suds on 08-22-2007
HISTOGRAM
Ratings: 13 | Reviews: 7
None found.
More User Reviews:
3.57
/5
rDev
-5.3%
look: 3.5 | smell: 4 | taste: 3 | feel: 4 | overall: 4
Pours copper with a large fading head.
Nose shows lots of caramel, melanoidings, caramelised banana, treacle and hazelnuts.
Very sweet-tasting, lots more of those rich malty characters. Unfortunately there's a cardboard note and the alcohol has a bit too much kick.
Thick syrupy body works well with the rich flavours.
Smells lovely but doesn't quite follow through.
366 characters

3.7
/5
rDev
-1.9%
look: 3.5 | smell: 3.5 | taste: 4 | feel: 3.5 | overall: 3.5
This bottle labeled "Double Malt Ale", but obviously the same beer. Poured into a Gulden Draak tulip glass. Pours a clear coppery orange. One finger fine white head that dissipates rather quickly, leaving a ring and slight lacing. Aroma of dark and caramel malt, molasses. Taste is light sweet malt with hints of dark dried and light fruit. Light to medium bodied. Low key flavor, but very pleasant and well integrated. With a bit more intensity in the flavor, this would be quite nice. Pleasant to drink, but not exceptional.
526 characters
3.83
/5
rDev
+1.6%
look: 4 | smell: 3.5 | taste: 4 | feel: 4 | overall: 3.75
3.85
/5
rDev
+2.1%
look: 3.5 | smell: 3.5 | taste: 4 | feel: 4 | overall: 4
Appereance is dark brown with orange tones, head small and disappears quite fast
I was expecting rather strong smell of alcohol, but there is almost none of it - the smell is weak and malty. Quite a lots of carbonation for this type of ale, but I also would not call it too excessive.
Almost no hint of alcohol also when tasted, feels smooth and reminds of nuts, hints of raisins and apricot, some traces of hops. Pleasant, but not too long lasting aftertaste
I would definitely drink it again! One of the finest Italian beers I have tried.
543 characters

3.43
/5
rDev
-9%
look: 3.5 | smell: 3 | taste: 3.5 | feel: 4 | overall: 3.5
Light, almond-honey in color, the beer has a nice little white head. The aroma is a touch of ale-like fruit qualities and a little roasty malt smell. It smells sweet, with a modest herbal hop aroma. The taste is malty and very sweet. Too sweet, in fact, with just a little bitterness. Typical European strong beer with loads of sweetness and little balance. The mouthfeel is firm and a bit creamy...good. Alcohol is pretty well hidden throughout, except for a creeping warmth. This is a reasonably drinkable and approachable strong beer.
537 characters

3.73
/5
rDev
-1.1%
look: 4.25 | smell: 3.75 | taste: 3.75 | feel: 3.75 | overall: 3.5
3.78
/5
rDev
+0.3%
look: 4 | smell: 3.5 | taste: 4 | feel: 4 | overall: 3.5
It pours a very reddish brown with a good head that lingers throughout. I smell apricot and a stingy maltiness from the alcohol, but there's none of that overbearing alcohol smell and flavor common for the style. I'm actually impressed that a beer this strong tastes like a beer with no overbearing alcohol notes, although it is reminiscent of a cider or even a barleywine - it's slightly fruity and mostly malty with a light hoppiness following behind. It leaves a slightly bitter taste on the pallete. It's an above average brew - one of the best available in southern France and Switzerland.
594 characters
3.95
/5
rDev
+4.8%
look: 3.25 | smell: 3.25 | taste: 4.25 | feel: 4.25 | overall: 4.25
3.53
/5
rDev
-6.4%
look: 4 | smell: 3.5 | taste: 3.5 | feel: 3.5 | overall: 3.5
on the brewer's website this brew is described as top fermented which I am hard to be convinced of .... it smells and tastes like an ale (at least comparable) but the tiny bubbles would definitely suggest a (premium) lager ... nevertheless this is an above average brew, from a country, rather known for good wine ... quite malty with a hoppy aftertaste ... worth a try ...
373 characters

3.9
/5
rDev
+3.4%
look: 4 | smell: 4 | taste: 4 | feel: 4 | overall: 3.5
330ml bottle served in a Duvel tulip glass.
A: Pours a dark but clear dark amber color forming a medium to small, creamy and thin bubbled beige head. Low retention with a very thin layer that remains forever on the top forming spotty, lingering and molasses lacings in the glass
S: Sweet and booze. Strong notes of toffee, caramel malts and dark fruits. Strong bubblegum sensation in the nose. Some notes of candy sugar, nuts and brown bread too
T: Follows the nose: Sweet and fruity upfront. Strong notes of toffee, caramel malts, roasted malts, dark fruits, dry fruits (raisins and plums), brown sugar, nuts and sweet bread. Some notes of bubblegum and alcohol in the taste too. Warming
M: Heavy and molasses body. Medium to low carbonation. Sweet, malty and fruity aftertaste
O: Good drinkability. Well done Italian beer
828 characters

3.71
/5
rDev
-1.6%
look: 4 | smell: 3.5 | taste: 3.75 | feel: 3.75 | overall: 3.75
Strong Ale from Theresianer HTS 1892 Spa
Beer rating:
3.77
out of
5
with
13
ratings