BevMax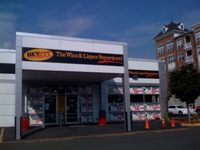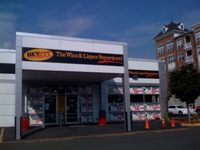 Store
835 E Main St
Stamford
,
Connecticut
, 06902-3916
United States
(203) 357-9161 |
map
bevmax.com
Notes:
Reviews: 11 | Ratings: 17

3.99
/5
rDev
+8.7%
vibe: 3 | quality: 3.5 | service: 5 | selection: 4
Not in the best location but doesn't really matter
Service great, willing to sell cases + assist in any way possible.. lots of employees around.
Selection has quite a bit on the shelves and decent (Fresh Gandhi).. looked like a large selection of wine/spirits too
Reasonable prices that seem broadly inline with other stores
325 characters

3.26
/5
rDev
-11.2%
vibe: 2.5 | quality: 4 | service: 2.25 | selection: 3.75
This was suprisingly better than I thought it would be. Found some stuff I hadnt been able to find in other spots. Prett good selection, and good quality. Service at the counter was pretty slow and not the best atmosphere. Kind of a "dirty" crown hanging around.
262 characters
4.22
/5
rDev
+15%
vibe: 4.5 | quality: 4.5 | service: 4 | selection: 4
Located right on Main Street, it's easy to get to and has a nice big parking lot. The staff was pretty knowledgeable and were able to answer any questions I had. They were also helpful and polite. The store is extremely clean and very large. Though it is not devoted to beer, it has a really good selection. The beer is towards the back, but there is a lot of it. I was surprised at how large it was, and I found some pretty cool stuff I had never seen anywhere else (Innis and Gunn Winter Ale among other things). They had mostly craft beer which was nice and it made for a tough choice. Their selection was full of beers from around the world and their quality and prices were actually very good and competitive. It was one of the cheaper places I've seen for craft beer. I think it was a good value if you're in the Stamford area looking for a good beer store.
863 characters
3.48
/5
rDev
-5.2%
vibe: 3.5 | quality: 3 | service: 3.5 | selection: 4
pretty big store and clean. at least the first half of the store is wine. 1 big wall and aisle side is beer back towards the coolers. decent size selection, although i'm not qualified to speak much on that without knowing the distribution out here. i expected to be able to find more local craft selections than i did, so that was a bit disappointing. my biggest complaint is the lack of craft selections in the smallish cooler area. mostly just enough room for bmc in the coolers. didn't ask for any help as regards to service. prices seemed reasonable.
554 characters
3.25
/5
rDev
-11.4%
Big discount warehouse. All the beer is housed in the back of the store. Seems to me that their wine selection is far greater than beer. I will come back to buy for the wine discounts and maybe for the beer.
Good selection. A selection of American micros (allagash, ommegang, rogue...etc) Mostly stuff that isnt too hard to find. A nice collection of NY beers (brooklyn, lake placid) Good belgian collection too, along with some other imports. Not incredibly impressed, but good.
Prices were very fair. It is, afterall, a discount warehouse. A little steep on the imports and west coast stuff, but reasonable.
Service was terrible. Every person I spoke to in the store did not have a good grasp on the English language and therefore, I cannot comment on their knowledge of their beer stock. If you speak Spanish, this place is perfect. They also gave me trouble on my ID because I live in NY, out of state, which is pretty ridiculous in the age of ID scanners and the like.
I'll be back but only if I am in the area. DeCeccios is closer to home and FAR better.
1,068 characters

4
/5
rDev
+9%
I have seen better prices here than most places closer to where I live. It is a discount shop after all, not a mom and pop.
Great variety available in wine, beer, and liquor. The widest that I have seen in a little while around here.
If you find the right person to ask about beer, you will actually find they are pretty knowledgeable, but I am sure it depends on the day and time that you are there. I shopped there maybe 6 times and have been asked twice if I had any questions.
I had probably stared at the shelves for about an hour total in those first 5 visits so I was there plenty long enough to be asked if I had any questions. First time I spoke to a man who spoke more spanish than English and he wasnt sure what I was asking. Second time someone approached me , he seemed to know what I was looking for and made some suggestions.
846 characters
3.85
/5
rDev
+4.9%
A weekend visit to CT from PA exposed me to this shop. Pretty decent selection of 'interesting' beers available by the single, by the sixer, by the case (something I am unfamiliar with coming from PA). Some of the harder to find, good quality imported brands, some of the smaller US micros, several fall seasonals & some things I didn't ever see before too -- all arranged in a reasonable way along the back wall. Location has sufficient parking for heavy business, but a difficult driveway to enter. Store layout is pretty clean with aisles that are wide enough for easy shopping. Wine and liquor selection, equally solid. Staff, well, not as efficient as perhaps they could have been but then I'm used to a different scene (and I can hardly judge the "pre-hurricane buying panic" in CT based on "home football friday" in State College standards) & not enough registers for busy times I don't think. I did not see any staffers really "helping" people, just "stocking" so I didn't have the chance for spot-checking their beer knowledge. Seemed pleasant enough to me. If I drift back to the area, I'd check it out again.
1,119 characters

4
/5
rDev
+9%
Store moved a 1/4 mile south on the same road ( route 1) in the last year. This location is in Stamford, but they have another location on route 1 in Norwalk to the north.
Difficult to turn into driveway from other side of street, but once you make it and park, it is worth it.
Kind of like a supermarket full of beer, wine and liquors. A fairly good selction of macros, micros, imports, etc. New England micros and some smaller european beers are my favorite here.
And they are all at lower prices than most places. Bev Max is a solid bet.
543 characters

3.4
/5
rDev
-7.4%
Look for the "Bev Max" signs, this is a medium sized store, like many places in Conn. this store has a ton of wine and booze and the beer is "in the back" Large metal shelving units house cases of macros almost up to the ceiling. A unit and a 1/2 store the BA type beers. You will not find anything too exciting here, just the run of the mill micros and some higher quality macros. "highlights" of Brooklyn, DFH, Allagash. Sams Imperial stout bomber was my one purchase. ($5.99) Limited Belgians.
496 characters
3.2
/5
rDev
-12.8%
A huge store (hence the name "Warehouse") but mostly filled with wine and spirits. Beer takes up a largish section in the far back. Not a great selection but better than the other stores in the Stamford area. A fair quantity of micros including Brooklyn, Otter Creek, Long Trail, Abita, Cisco, Magic Hat, Allagash, one or two Ipswich, some Rogue like Dead Guy and maybe one other. They carry most of the usual suspects but you won't find anything rare and almost nothing that doesn't come in 12oz six packs. Imports are pretty good, with a mixture of German (Schneider, Erdinger, others), Belgian (Affligem, Corsendonk, others), English (Samuel Smith, Old Speckled Hen, others), but again nothing uncommon. I once saw a bottle of some Abbey Belgian, I can't remember which one, priced at, like, a buck and change. Either it was on sale or it was mismarked. By the time I was done browsing the rest of the section and circled around to pick up a bottle or two, some greedy bastard had just thrown every last bottle into his cart and was on his way up to the register. I hope they had gone bad -- no, not really. Anyway, selection is good but limited, tons of macros and dull imports, lots of wines and liquors if you want to multitask your booze shopping. Service is ok, probably awesome if you speak Spanish. Again nothing to get excited about, but if you live close by, you'll probably do some of your buying here.
1,415 characters
3.55
/5
rDev
-3.3%
As it is wth all shopping in this area, you need to go to a few different places to get all you need. I like this place for Dopplebock(Ayinger, Paulaner), Belgian Abbey (Chimay Blue) Belgian style - Allagash Dubbel & Tripel reserves, Ommegang, Unibroue Maudite, Fin Du Monde. Plenty of Brooklyn Year rounds, not big on seasonals but able to score Black Chocolate Stout that just came in. Not a big micro variety but top offerings from Sierra Nevada, Long Trail, Anderson Valley IPA. Prices are good and inventory is fresh. Unfortunately, if you have questions, noone can answer for you, but at this point I usually stick with BA Top 50 and am fine here.
653 characters
BevMax in Stamford, CT
Place rating:
3.67
out of
5
with
17
ratings