Yellow Kite
| Bristol Brewing Company
BA SCORE
77
okay
14
Reviews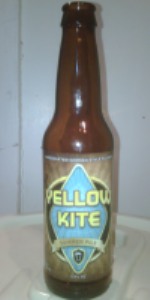 BEER INFO
Brewed by:
Bristol Brewing Company
Colorado
,
United States
bristolbrewing.com
Style:
German Pilsener
Alcohol by volume (ABV):
not listed
Availability:
Summer
Notes / Commercial Description:
No notes at this time.
Added by emmasdad on 07-12-2010
Reviews: 14 | Ratings: 42
3.7
/5
rDev
+19%
look: 3.75 | smell: 3.75 | taste: 3.5 | feel: 4.25 | overall: 3.75
A - Clear bright gold, slightly hazy, poured into a flared pilsner glass with a Bristol Brewing logo. A finger's
worth of capped white foam diminishing a little, leaving ribbons and streaks of fine lacing.
S - Slightly lemon scented. Faint background sweetness of oranges. Definitely not
skunky.
T - Much better than lasts year's version from 2014. Lemon grass bitterness followed by a slight malt
sweetness makes for a well-balanced pilsner taste.
M - Light to medium body, more towards medium. Moderate carbonation. Somewhat dry, but goes down
really smooth.
O - As stated, better than last year's for sure. Much more balanced and quite satisfying. A really solid 2015
pilsner brewed locally in Colorado.
750 characters

2.13
/5
rDev
-31.5%
look: 2.5 | smell: 2 | taste: 2 | feel: 2 | overall: 2.5
12 fl oz brown glass bottle with standard pressure cap served into a conical Guinness pint glass in me gaff in low altitude Los Angeles, California. Reviewed live. Expectations are below average given the brewery. Bottle the fourth week of April.
Served straight from the refrigerator. Side-poured with standard vigor as no carbonation issues are anticipated.
A: Pours a 1.5 finger head of beige colour, okay cream, okay thickness, and average retention. Colour is a predictable clear translucent yellow. No yeast particles are visible. No bubble show.
Sm: Creamed barley, straw, and clean malts. Not appealing. An average strength aroma.
T: Straw, clean barley, and water - with some indistinct clean malts thrown in for good measure. A vague urine hint. Horribly simple. Quite boring and bland. A failure within the style. No yeast or alcohol come through. Somewhat stale.
Mf: Too smooth, too wet (watery), and too thin. Adequately carbonated. Weirdly faux-coarse in the third act.
Dr: Drinkable to an extent. It's so simple and boring it's unbelievable. I wouldn't get this again, even on draught. Only slightly better than an American macro shite lager.
D
1,172 characters
3.4
/5
rDev
+9.3%
look: 3.5 | smell: 3.5 | taste: 3.5 | feel: 3.5 | overall: 3
real basic german style pils. a good summer refresher, but perhaps even a bit malty for my lighter beer palate. smells like german bread malts, balanced hops at the end. flavor is the same, more malt that hops, but not unbalanced. tastes quite generic and nondescript. feel is pretty good, bright carbonation makes it go down easy, less than medium body. overall its a pretty good down easy summer beer, but definitely not my favorite. best enjoyed ice ice cold. i thought bristol would have put something a little more spirited out for summer, but this isnt it. maybe in bombers?
580 characters
2.03
/5
rDev
-34.7%
look: 2.5 | smell: 2 | taste: 2 | feel: 2 | overall: 2
Had on-tap at their brewery. Poured a very pale yellow with a light head that fizzled away. No lacing. Smelled of grains and malts. Tasted grainy...slight hop flavor but overall, watery.
LIGHT bodied...I'm glad I only got a sample. Basically flavorless to the point that it was like drinking water. Bland. Not recommended.
324 characters
1.49
/5
rDev
-52.1%
look: 3 | smell: 1.5 | taste: 1 | feel: 2.5 | overall: 1.5
Garret Oliver's tome on beer and beer pairings has enlightened me. That touch of sulfur, that wisp of eggy stench is actually an appropriate addition to a good pilsner. I can see that. One of my family''s favorite recreation spots growing up as a nearby town featuring natural hot springs, including one that smelled like a vat of long forgotten Easter eggs. I became inured to the smell, and became fond it, a sort of bizzaro Madeline of road trips long past. Consequently I don't shy away from sulfur when it rears its jaundiced head. It's a tolerable smell, even welcome. I affiliate it with sub-surface geologic healthiness, and know that it is simply a mineral, which in my head sounds much more sterile than rotting eggs or decomposing road kill. Unfortunately, Bristol Brewery's Yellow Kite is cursed with such a strong aroma and taste of sulfur that it goes way beyond what my palate can tolerate. The smell is both crisp and light, a nod to the pilsner malt, but there's a lurking smell of sulfur and a hit of a septic aroma. Images of lightly used portable toilets appear in my head with each smell, putting me off from the beer entirely. This off-taste carries over to the flavor too, where ample carbonation makes its best efforts to cleanse my palate of the unpleasant septic taste, but it never works hard enough. While I enjoy Bristol Brewery and think of them as a gift Colorado College's craft beer drinkers, the Yellow Kite is disappointing and even a little gross.
1,499 characters
3.68
/5
rDev
+18.3%
look: 4 | smell: 3.5 | taste: 3.5 | feel: 4 | overall: 4
Had a pint at Spring Orleans in Colorado Springs. Poured a clear gold with a short white head. This is a clean, basic lager. There's a touch of caramel toast but largely there's a big lemon and grapefruit hops hit with an herbal edge. Overall, a fine summer pils, just as the brewers here intended.
298 characters
2.06
/5
rDev
-33.8%
look: 3 | smell: 2 | taste: 2 | feel: 2 | overall: 2
First had: on tap at their brewpub / tasting room
Hmm... Poured a light, clear straw yellow, with a little fizzy head that fizzled out quickly. This is the kind of beer I can just tell right off the bat that I'm not going to like. But sometimes I'm proven wrong, so I go for the glass anyway. Light aroma of grains and pale malts. Very weak taste, light, simple pils malts, lightly hopped, straw-like and more of a skunk/metallic/adjunct flavor than anything. Very light body, and very low drinkability, unless bland and watery is your thing.
543 characters
3.9
/5
rDev
+25.4%
look: 4 | smell: 4 | taste: 4 | feel: 3 | overall: 4
A little low on carbonation. The nice straw color and lacing on the glass is pleasant. I enjoyed the predominant malt flavor typical of this classic style. Clean and refreshing. In learning that I need more characters for my comment, I noticed that atypically of pilners this Yellow Kite is unfiltered. I am now curious if they bottle carbonate.
345 characters
3.52
/5
rDev
+13.2%
look: 3 | smell: 3.5 | taste: 3.5 | feel: 4 | overall: 3.5
Poured into an antique Czech pilsener glass. "Bottled on" date clearly marked on the label. Thanks Bristol!
Pours a very pale and slightly cloudy straw color (chill haze) with a small white and fluffy head. Some swirling revives the head into a pillowy layer capping the body.
Smells of fresh noble hops and nicely layered toasty malts. Clean and fresh, but not quite as energetic in the nose as the best of this style can be.
Wow, this flavor is better than I expected. Fresh, lively, and lush. The hops and malts are in an off-centered balance, tipped slightly in favor of the hops, which are green and floral in quality, with just a little touch of the spiciness that I would expect in this style. The malts are pale and present a nice array of biscuit and light toast flavors. The aftertaste is quite nice, with more leafy hops melding with the malts. Interestingly, this beer doesn't taste as "clean" as a typical beer of this style, and in a blind taste I would have labeled it as an ale, not a lager. I wonder if the fermentation temp was a little high?
The mouthfeel is smoother than I would expect, with less carbonation than is usual for this style (in my opinion, this is a good thing). Medium to light bodied.
Conclusion: This is a nice drinking beer, and I am enjoying it while hiding indoors from the summer heat. This is not a masterful brew however, as it just doesn't taste clean enough. I wonder if there is a slight problem with the yeast or the fermentation temps...
1,492 characters
3.87
/5
rDev
+24.4%
look: 3.5 | smell: 4 | taste: 4 | feel: 4 | overall: 3.5
Bristol, from Colorado Springs, does make a few very nice beers. As this is a newly favored style of mine I will happily review one.
I picked a tulip type glass and poured the beer which is very pale clear and yellow and has a slight, white head that laces up just a bit.
Smell is crispy-clean and pilsnery. I can really smell the malt and the floral notes from the hops. Really nice.
Taste is understated and very balanced. Malts and hops and just a bit of yeastie goodness are all there but nothing overwhelms.
Mouthfeel is just over light into the medium range and the finish is clean and dry save for just a bit of remaining malt flavor.
This is a good pils and on par with the Czech style pils from Lagunitas.
Slainte.
730 characters

3.08
/5
rDev
-1%
look: 3.5 | smell: 3 | taste: 3 | feel: 3.5 | overall: 3
A: Pale gold with nice clarity and mild carbonation. A small whiet cap has OK retention and leaves a little lace.
S: Very un-pilsener. Citrus dominates, plus a little straw.
T: Again, very un-pilsener. Dry malts start things off. Bitterness comes on quick, with a lemon and grapefruit bite that's a bit too much for the style and a distinctly APA tasting. Finishes with lingering citrus flavors.
M: The medium-light body has about the right amount of fizz.
D: This is a very drinkable beer, but all of the people I was with agreed that the flavors didn't match the intended style. More of an American Blonde than a true Pils.
629 characters

3.95
/5
rDev
+27%
look: 3.5 | smell: 3.5 | taste: 4 | feel: 4 | overall: 4.5
A: Clear, bright gold color. Poured a 1 finger fizzy white head that slowly dissipated to an even skim. Decanted lazily. Laced in thin rings.
S: Wet grains, hay and grass. Very simple and straighforward.
T: Lightly sweet malts with a crackery character. Sharp noble hop bitter. Finish is crisp, dry and clean (thought the bitter does linger a little bit).
M: Lught body. Moderate carbonation. Crisp and refreshing.
D: Very easy to drink, and drink a lot of. Good representation of the style.
495 characters

4.05
/5
rDev
+30.2%
look: 4 | smell: 4 | taste: 4 | feel: 3.5 | overall: 4.5
This is the "YK68" summer pils that was on test in a few places like the Rackhouse during the Summer of 2010. This review is for the bottled version, though.
Pours a nice medium golden color with a billowing white head that forms with minimal effort. Not as dark as a Czech version, but still miles from the other international variants. Good so far.
The nose is hoppy, but with a definite malty grain note keeping things balanced thus far.
Semi-sweet malts hit initially, but then you get a wave of noble hops that take over and finish dry. Not too sharp or bitter, I'd say this pils has roots in the variations from the south and eastern parts of Germany, rather than the puckering examples to the far north. Still, there's no mistaking this beer is a German Pils, and not a renamed hell, export, or misc. pale lager. In fact, it's really similar to Bitburger, and captures all of the things that make a fresh one so good.
Mouthfeel's slightly chewier than expected, but I find that on draft it tends to be more spot on...just as an FYI.
Did someone say session lager? Yup, you certainly can quaff this one, and it's a terrific quencher while still having a ton of flavor.
One of the best US lagers and especially pilseners I've had that didn't come from Germany or Pennsylvania.
1,281 characters
3.38
/5
rDev
+8.7%
look: 4 | smell: 3.5 | taste: 3 | feel: 4 | overall: 3.5
Pours a light to medium golden color, with a little white head that disappears almost entirely within moments after pouring. A little candy sweetness on the nose initially, but that to goes away, leaving cereal and malt. On the palate, this one is lightly spicy, with some light maltiness and a lingering bitter finish.
319 characters
Yellow Kite from Bristol Brewing Company
3.11
out of
5
based on
42
ratings.