Christmas Ale
| Bristol Brewing Company
BA SCORE
84
good
11
Reviews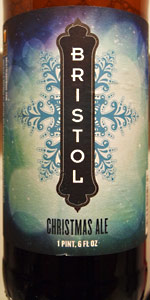 BEER INFO
Brewed by:
Bristol Brewing Company
Colorado
,
United States
bristolbrewing.com
Style:
Herbed / Spiced Beer
Alcohol by volume (ABV):
5.61%
Availability:
Winter
Notes / Commercial Description:
No notes at this time.
Added by RuckusDu on 11-30-2011
Reviews: 11 | Ratings: 26

3.91
/5
rDev
+7.4%
look: 3.75 | smell: 4 | taste: 4 | feel: 3.75 | overall: 3.75
Pours a nice brown color, but it looks a little thin. It had good head and great lacing. The nose is strong on Christmas spices. The tastes follows the nose completely. However fora Christmas beer, it is very thin. It lacks depth and a stronger alcohol flavor.
268 characters
3.45
/5
rDev
-5.2%
look: 3.25 | smell: 3.75 | taste: 3.25 | feel: 3.5 | overall: 3.5
December 17th, 2013 - I must have really liked Bristol's Christmas Ale, because by the time I had the wherewithal to take a picture of the beer for my records, there was a small centimeter or so left in my sampler glass, barely a flicker left in the candle, with a used, tired top (no head) and a chocolate labrador brown puddle, quivering near the bottom. But the tasting notes were taken when the beer was closer to mint condition, and there I caught heavy scents of pumpkin spices: cinnamon and brown sugar dominate, but there's some vanilla notes too once I give it a swirl and a cautious shake. Also, and this comes with two-raised eyebrows worth of surprise, I smell some egg egg, the creaminess and the spice combined in a seasonally decadent drink, and evident here in a beer. The beer's taste is defined by the heavy palate, thick and bubbly. Once the carbonation lifts I detect almonds and hazelnuts. Closer study of the foretaste reveal's the nose sweeter elements like the brown sugar. Leaning back, it seems that this beer is neither a Christmas Ale nor a pumpkin ale, but something that spans the Autumn and Winter culinary traditions, rounding up a chef's shelf worth of spices and tastefully seasoning a beer with them.
1,235 characters
3.9
/5
rDev
+7.1%
look: 3.25 | smell: 3.25 | taste: 4.25 | feel: 4.25 | overall: 4
22 oz bottle (2014 recipe)
This is an extremely easy drinking spiced Christmas brown ale. Warm biscuit malt notes, nice vanilla and brown sugar spices. Pleasing aftertaste with almost no alcohol presence. Very low bitterness and hop levels. Pleasing and very smooth mouthfeel. Overall, an excellent spiced Christmas beer on the sweeter/softer side. Not a winter warmer, more like a mild brown. For what it is (and intends to be) I think it is excellent.
455 characters
2.18
/5
rDev
-40.1%
look: 3 | smell: 2.5 | taste: 2 | feel: 2 | overall: 2
22 oz bottle. Pours dark ruby amber brown with a small head that quickly goes to a thin collar.
The aroma is sweet malts and floral, perfumey spices and cloves.
The flavor is sweet peaty malts with a little roast, and more soapy, perfumey spices. The mouthfeel is medium bodied with very low carbonation and pretty watery.
Overall, lots of floral perfumey spices...not really a fan.
386 characters

4.04
/5
rDev
+11%
look: 3.5 | smell: 4.5 | taste: 4 | feel: 3.5 | overall: 4
22 oz bottle, poured into tulip.
Pours a deep red with a good amount of white head. Head fades away to light lacing, leaves almost nothing on side of glass.
Smell is heavenly. Lots of nutmeg and dark fruits. Basically smells like you took eggnog, added some slight hop bitterness and malty goodness. I am a huge fan of the smell.
The taste doesn't quite get there, but it's close. Not much actual hoppiness, but enough bitterness in the aftertaste to balance. TONS of spices. Yum.
Mouthfeel is medium. I could have asked for a little more thickness, but that might have been overpowering.
Overall, this is a VERY spiced beer, but I'm into that. Stay away if you hate eggnog.
679 characters
4
/5
rDev
+9.9%
look: 4 | smell: 4 | taste: 4 | feel: 4 | overall: 4
nice beer, very deep winter style. pours a lovely glowin brown color with a copper fire underneath. smallish off-white head. smells like the same exact spice profile as a good pumpkin ale, cinnamon, clove, vanilla. yeasty too. flavor is the same with a hefty malt backbone. mouthfeel is nice also, like a belgian, bubbly at first but calming down as it warms. great complex aftertaste not dry in the slightest. a really nice beer from bristol, glad i picked this up
465 characters
4.15
/5
rDev
+14%
look: 5 | smell: 5 | taste: 4 | feel: 3.5 | overall: 3.5
served from a bottle into a glass.
a. deep mohogany with a reddish translucence.
s. smells like christmas. hints of cloves, allspice, and roasted nuts. similar to their pumpkin ale but stronger smell of spices.
t. light, roasted nuts, a dollup of apple cider. sweet.
m. fizzy, not much sticking, but quite smooth.
o. perfect for a wintery evening at christmas time sitting by the fire enjoying the smell of roasting pine cones.
432 characters
4.11
/5
rDev
+12.9%
look: 3 | smell: 4.5 | taste: 4.5 | feel: 3.5 | overall: 3.5
Appearance: Dark, ruby red body. Nice head on pour, but it dissipates rapidly, leaving very little lacing on the glass and very little head left as you finish the glass.
Smell: Spices! Cinnamon, nutmeg, ginger, and allspice. Some citrus-like hop notes.
Taste: Like a Xmas cookie. Like the smell, it's all about the spice flavors. There's a touch of malt sweetness, perhaps some rye. Slight bitterness in the finish.
Mouthfeel: Light to medium in body. Light carbonation noted.
Overall: A good example of what I would consider a traditional holiday ale, emphasis on holiday spices in the smell and taste. A tad weak on the head retention and mouthfeel, nor special or distinct per se, but that's the way some beer styles should be. A solid holiday brew.
756 characters

3.08
/5
rDev
-15.4%
look: 3.5 | smell: 3 | taste: 3 | feel: 3.5 | overall: 3
A nice amber brown in the Orval chalice. Reminds me of the parade of Anchor Christmas ales with too much clove and cinnamon. Modest maltiness with a little sweetness. Lots of fruity tart flavors. Very light body and increasingly sharp as you sip. If you like a flavored lager this may do the job, but I find the spice less pleasant. Rather woody in the mouth and just a slight earthy bitterness.
From the great selection of Christmas beers at Grapevine in Denver.
464 characters
3.6
/5
rDev
-1.1%
look: 4 | smell: 4 | taste: 3.5 | feel: 3 | overall: 3.5
Bomber into pint glass
A – 2 finger + dusty white head had respectable retention while leaving OK broken lacing around the glass, brew is a clear dark brown 4
S – My mother's fruit cake recipe… really. Dark fruits, allspice, cloves, brown sugar and sweet dark bread… it's all there with a mild floral. 4
T – Malts are dark semi sweet bread, fruit faint in the background, finish turns up the spice with a mild bitterness, hits the mark of a Xmas ale 3.5
M – Watery with too mild of carbonation, moderate body 3
O – An enjoyable drinkable Christmas beer that I don't think I'll be buying again but am glad to have tried 3.5
640 characters

3.55
/5
rDev
-2.5%
look: 4 | smell: 4 | taste: 3.5 | feel: 2.5 | overall: 3.5
The Good - Poured a 2 finger off-white head that quickly dissipated but some decent lacing. Body is dark with only the slightest reddish-brown when held up to the light. Smell is of Christmas. Gingerbread cookies (molasses) and hot apple cider (cloves, cinnamon, and some apple).
The Average - Taste is not quite there. Some definite molasses and cloves again but just okay. Maybe it is the weak mouthfeel that brings this down. Light body on the mouth with moderate carbonation. A winter, Christmas ale should be hearty in my mind. There are some soft hops on the finish.
The Judgment - Started off with so much potential then let me down once it hit my mouth. Still tasty and may be a nice thing to have Christmas morning.
731 characters
Christmas Ale from Bristol Brewing Company
3.64
out of
5
based on
26
ratings.