I'm In Love With The Simcoe
| Connecticut Valley Brewing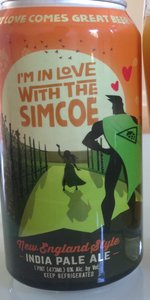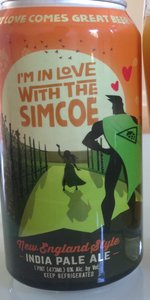 BEER INFO
Brewed by:
Connecticut Valley Brewing
Connecticut
,
United States
ctvalleybrewing.com
Style:
American IPA
Alcohol by volume (ABV):
6.00%
Availability:
Rotating
Notes / Commercial Description:
Our only single-hop brew to date, this 6% New England IPA showcases all of the complexities of the versatile Simcoe hop. Light lemony zest with bold resinous citrus characteristics, finishing with notes of mandarin orange rind and a little bit of spice. We are in love with the Simcoe!
Added by OntheLambic on 08-02-2017
HISTOGRAM
Ratings: 14 | Reviews: 5
Reviews by agreenman19:
3.91
/5
rDev
-4.9%
look: 4.25 | smell: 3.75 | taste: 4 | feel: 3.5 | overall: 4
L - Hopman returns? Pours a hazy pale grey orange. Almost greenish. Looks like a Pioneer beer. Same razor sharp head too that immediately dissipates. I look away for one second and poof!
S - green melon and an almost cola-esque cherry tingling. Now, I haven't even taken a sip yet, but I'm sure you all know the feeling when taking a huge whiff of Coke. Maybe some far too ripe banana and kiwi rind. Resiny.
T - that's Simcoe alright. Piny and sharp. Subdued on the "New England Style", but has muddled notes of passion fruit, underripe honey dew, and a clinical acidity. Mixed berries, but mostly the ones in the middle, nothing to extreme toward dark or red. Finishes with a mealy bitterness, typical for these guys.
F - it's smooth the moment it touches your tongue, but then seemingly falls apart, like popping a bubble underwater erupts into a million other tiny bubbles. Very airy and almost no substance. Todd brews these strange beers where there is zero head and the carb isn't overboard, but it's super prickly and clearly unrefined like something is wrong with the beer. Maybe that's just his style though?
O - probably the weakest NEIPA offering so far, but at 6% and with a readily available hop, this looks to be a new addition to the rotation. I personally don't think Simcoe is a good hop for NEIPAs, but that doesn't stop people from trying. This is not a bad beer and is enjoyable when you're not looking to get roasted by a few cans of Trailblazer.
1,472 characters
More User Reviews:

3.58
/5
rDev
-12.9%
look: 3.5 | smell: 3.5 | taste: 3.75 | feel: 3.25 | overall: 3.5
Tall can...9/7/17
Pour medium clouded, dull shade of darker orange juice, next to no head, and just the faintest of collars...
Just a hint of ripe fruit on the nose
The first think I notice is that the carbonation seems to be on the high side, strange because of the lack of any sort of head on this one
Notes of melon, biting lime, pepper, and a load of drying hops late on the palate
Meh, I wish this was softer "feel" wise, just seems kinda harsh
Not my favorite NE style IPA, one and done for me
507 characters

5
/5
rDev
+21.7%
look: 5 | smell: 5 | taste: 5 | feel: 5 | overall: 5
The tast is new for me because it's Simcoe Hops but the taste is wicked awesome.
80 characters

4.28
/5
rDev
+4.1%
look: 4.25 | smell: 4.25 | taste: 4.25 | feel: 4.5 | overall: 4.25
4
/5
rDev
-2.7%
look: 4 | smell: 4 | taste: 4 | feel: 4 | overall: 4
Full disclosure.
I like CTValleyBrewing.
I like hazy NEIPAs.
I like single hop IPAs.
And, while I must admit, this is my first all Simcoe beer........I like it. It works for me. There are a lot of citra-centric NEIPAs out there...so, one without citra, comes across refreshing. I'd agree with the lemon/limey flavor.
Hey, I like to keep a variety in my fridge, and there'll always be room for I Love The Simcoe.
412 characters
4.09
/5
rDev
-0.5%
look: 3.75 | smell: 4 | taste: 4.25 | feel: 4 | overall: 4
4
/5
rDev
-2.7%
look: 4 | smell: 4 | taste: 4 | feel: 4 | overall: 4

3.66
/5
rDev
-10.9%
look: 3.5 | smell: 3 | taste: 4 | feel: 3.75 | overall: 3.75
L - Very very cloudy. Poured out of the tallboy can into a pint glass and it's cloud city! Very beautiful orange juice color.
S - This is the weakest part of the whole package. There is a whole lot of smell but the rest of it makes up for it.
T - This is where the beer shines (where it should obviously). It's a gorgeous, smooth, yet very hoppy with lots of Simcoe goodness. This is a phenomenal tasting beer.
F - Cloudy, smooth, great.
O - This is one that I'll be keeping in my ammo. Definitely a repeat buy and will purchase it anytime I see it. Way to go CTValley!
573 characters

4.25
/5
rDev
+3.4%
look: 4.25 | smell: 4.25 | taste: 4.25 | feel: 4.25 | overall: 4.25
4.15
/5
rDev
+1%
look: 4.5 | smell: 3.75 | taste: 4.25 | feel: 4.25 | overall: 4.25
4.16
/5
rDev
+1.2%
look: 3.75 | smell: 4 | taste: 4.25 | feel: 4.25 | overall: 4.25
4.35
/5
rDev
+5.8%
look: 4 | smell: 4 | taste: 4.5 | feel: 4.5 | overall: 4.5
Acquired an attractive 16 oz. can in a trade. Had not previously heard of the brewery but give it initially a high grade for the quality of its packaging. Fortunately, the product itself lived up to that standard. I personally love simcoe hops so I'm in agreement with the brand name. Not much I can say other than its an excellent presentation featuring my favorite hop. Wish I could purchase it closer to home but will seek it out on my next trip to CT.
455 characters
3.75
/5
rDev
-8.8%
look: 3.75 | smell: 3.75 | taste: 3.75 | feel: 3.75 | overall: 3.75

4.39
/5
rDev
+6.8%
look: 4.5 | smell: 4.25 | taste: 4.5 | feel: 4 | overall: 4.5
I'm In Love With The Simcoe from Connecticut Valley Brewing
Beer rating:
4.11
out of
5
with
14
ratings