Dismiss Notice
Black Oak Ten Bitter Years
| Black Oak Brewing Co.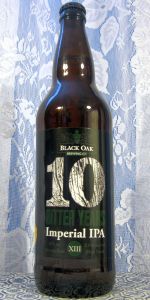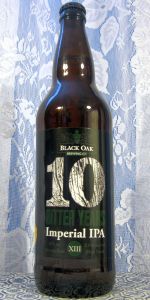 BEER INFO
Brewed by:
Black Oak Brewing Co.
Ontario
,
Canada
blackoakbeer.com
Style:
American Double / Imperial IPA
Alcohol by volume (ABV):
8.00%
Availability:
Year-round
Notes / Commercial Description:
To celebrate our 10th Year Anniversary in 2009, Ken wanted to put out a hoppy, bitter brew as a witty way to commemorate a decade of survival in the craft brewing industry. The result? Our 10 Bitter Years Imperial IPA. This strong brew pours a burnt orange colour and has a fresh, bright citrus and tropical fruit aroma. This beer is double dry hopped using three different varieties of North American hops leading to a full flavour of bitter pine and citrus. Although it packs a good hoppy punch, it finishes as smooth as possible for the style, with just enough alcohol warmth to enhance the flavour.
Added by Sammy on 11-26-2009
HISTOGRAM
Ratings: 190 | Reviews: 79

4.42
/5
rDev
+7.5%
look: 3.5 | smell: 4 | taste: 4.5 | feel: 4.5 | overall: 5
Orange toned copper in colour; capped by off-white foam that, here and there, clings to the walls of my glass in small patches. Ten Bitter Years smells citric and tropical, also showing notes of bread and cedar. It's a laser guided tangerine bomb aimed straight for my taste buds, leaving behind an aftermath of citrus pith, pine, and lingeringly embittered taste buds. Mildly sweet. Medium bodied and smoothly carbonated. Feels oily, resinous, and a little bit sticky. Sadly staring at my empty glass, I wish I had more of this extremely moreish drink. It's a damned shame this is a one off.
592 characters

4.2
/5
rDev
+2.2%
look: 4 | smell: 4 | taste: 4 | feel: 4 | overall: 5
Bottle pours a dark golden clear orange. The taste is very bitter with a nice piney hop background. It goes down quite smooth and very damn easy to drink. Its average in the pack compared to american ipas and iipas as this is in the middle. But considering this is from Ontario, wow. A very damn good offering for the style. Finally, its a start. Lets hope we get some more in this shitty province for beer.
407 characters

4.27
/5
rDev
+3.9%
look: 4 | smell: 4.5 | taste: 4 | feel: 4.5 | overall: 4.5
Thanks to Meisterburger for this one:
Poured into a Sam Adams perfect pint glass. This is on the darker side for a DIPA. Nose has a heap of hops coming off it ( especially for an Ontario beer). Beer is smooth and well rounded with notes of vanilla showing up with the hops. Would never know that this is a 8% beer as it drinks very well. Not as hoppy as some West coast DIPAs ( even double Hophead is bigger in the hop department ) but still a fantastic beer that ranks among the best I have had from Ontario
509 characters
4.3
/5
rDev
+4.6%
look: 4.5 | smell: 4.5 | taste: 4 | feel: 4.5 | overall: 4.5
On tap at Volo.
Pours a clean orange, with a large thick white head, that left some good lacing and had nice retention. Lots of hop in the aroma, with an emphasis on grapefruit and pine, but with a light malty base underneath. This is a surprisingly hoppy beer for Ontario, and there's a nice focus on grapefruit, pine, floral and herbal notes. You really don't see this much hops in this province, and its nice to see them take centre stage here. That said, at no point does this beer lose its balance, and there's some nice caramel malt to help even things out and prevent it from becoming one-dimensional along with some delightful vanilla. Doesn't really drink like an 8% beer. Mouthfeel is medium with moderate carbonation that helped pick up the bitterness a little.
An excellent effort, which only really suffers in comparison because I'm drinking it side-by-side with a Hopsickle, which adds a percentage point, a bucket more hops, and hand Black Oak its ass on a plate. Nonetheless, a damn good beer and a nice way to celebrate one of our best breweries. Cheers to Ken, Adrian and all the staff down the years!
Re-review: Tried again from the bottled run, and the appearance and aroma are both improved, so I upped them a notch. I've also drastically upped the mouthfeel, which is now wonderfully creamy. Really nice stuff, and a great price at $2.50!
1,363 characters

4.1
/5
rDev
-0.2%
look: 4.5 | smell: 4.5 | taste: 4 | feel: 3.5 | overall: 4
Huge thanks to Jason for picking these up from the brewery, and big thanks to Eric for schlepping them down to Dark Lord Day. Served in my Kuhnhenn tulip. This can't be more than a few weeks old.
A - Pours with two fingers of creamy off-white foam that leaves behind glass-coating lace as it recedes to a thick cap. Transparent dark copper-gold color.
S - Pine, citrus rind, light tropical fruits. Definitely hop-forward, with a slightly spicy and bready backbone. There's a bit of catty pungency too.
T - The taste is a bit disappointing compared to the smell. The malt character is more sugary than spicy, and the hop character is one of bitter grapefruit, pine, and only light sweetness. Aftertaste gets pretty intense bitterness-wise after half a bottle. This is probably a 3.75 but I'm going to invoke "homer" bias here.
M - Carbonation is a little higher than I like, but not harsh. Medium body that is sufficient for 8%. Finish is more sticky than dry. Not what I prefer in a DIPA, but still solid.
D - At 8% this is on the lower end of the ABV spectrum of DIPAs. However, the aggressive bitterness and so-so feel keep it from being super session worthy. It also has the misfortune of being consumed a few days after the incredible Kern River offering.
All that being said, this is the best beer of this style that I've had from Ontario. Kudos to Black Oak for brewing an East Coast American-style DIPA that I wouldn't be embarrassed to serve to my American friends. Look for this on the Canada Top 25 any day now.
1,528 characters
4.45
/5
rDev
+8.3%
look: 4.5 | smell: 4.5 | taste: 4.5 | feel: 4 | overall: 4.5
Pours a deep copper-orange colour with a nice cloudy white head. Tons of lacing and nice head retention. The smell was just coming at me before I even poured it into the glass. Tons of citrusy and piny hops, with some melon maybe. Taste is a load of hops and bitterness. There is also a lot of fruity sweetness in here, but it isn't like the some of the east coast DIPA's that I find the sweetness overpowers the hops. It has a little bit oily mouthfeel. I only bought one case of 24 and I wish I bought more.
I absolutely love this beer in bottle, on cask and on tap. It is my favourite Ontario beer. A note to Black Oak, if you read this: Please keep brewing this beer! We need this in Ontario on a regular basis.
716 characters
4.18
/5
rDev
+1.7%
look: 4.5 | smell: 4 | taste: 4 | feel: 4.5 | overall: 4.5
Picked up a 6 pack from the brewery on day 1, so this stuff is FRESH. And damn, it's good too.
Appearance: Pours a clear copper orange. Forms a nice light, white, foamy head that recedes to a
clearly defined ring leaving a sudsy lace in it's wake.
Smell: Hops. First and foremost. Citrusy goodness all around. It's your typical grapefruit and pine combo, but it does it well.
Taste: Nice caramel sweetness up front that leads into an assertive grapefruit character. Bitterness comes in beatifully on the back 9 of the palate. Some mild alcohol notes through out that play well with the hops and malt creating a satisfyingly complex experience.
Mouthfeel: Carbonation is spot on. I'll call it medium bodied. Doesn't dry you out too much.
Drinkability: As it's on the lighter side of the ABV spectrum for DIPA's at 8%, but I think this does it justice. 2 to 3 bottles can be consumed comfortably in a session without getting "plastered".
This beer is a big success for Ontario. Ken and Adrian should be proud of a job well done. Hopefully it sets the tone for more to follow and shows the Ontario brewers out there that craft drinkers like their big beers.
If you can get your hands on some, it's defintitely worth trying.
1,229 characters

4.27
/5
rDev
+3.9%
look: 4 | smell: 4.5 | taste: 4.5 | feel: 3.5 | overall: 4
Bottle: Decants a turbid orange-amber color with a frothy white cap. Decent lacing.
Aroma Is big on citrus and pine resins, some exotic fruit tones and a whaft of malt.
Mouthfeel is oily,
Flavor gives a big blast of hop mixture throughout the profile; piney resinous, leafy, citrus rind...very bitter but without a sharp delivery ...just enough malting to keep the bitterness from becoming overly astringent. Semi-dry finish alcohol shows...long lingering metallic bitterness.
Sure is a hop bomb but if it were a tad better balanced it would be a great DIPA.
UPDATE: On tap Second batch: Taps a clouded gold-amber with a billowy puffy 3 finger cap which rides out the drink. Massive aroma of citrus, passion fruit rich toffee lalts. Tastes about how it smells with a long drying finish with fruity esters and citrus-pine hops battling it out on the palate. Best West coast styled DIPA I've sampled in this market. Bottled version doesn'r do it justice
960 characters

4.35
/5
rDev
+5.8%
look: 4.5 | smell: 4.5 | taste: 4.5 | feel: 4 | overall: 4
Multiple bottle samples at the Black Oak Beer Dinner at Chancey Smith's in London, ON. Ken and Adrian were kind enough to bring this beast down three weeks ahead of the official second release. Thanks guys!
Pours a hazy amber orange with one finger of cream white head and speckles of webbed lacing all over the shaker.
Smell is a strong bouquet of flowery hops, pine needles, citrus, and herbal aromas.
Taste is red grapefruit, mandarin oranges, lemon, toasted wheat cracker (a little buttery), sweet caramel malt, slight woodiness, and alcohol. Finishes with a bright, fruity, and citric hop bitterness that sticks to the palate for quite some time.
Full mouthfeel is juicy and acidic with a bold and spicy hop bite and mild dryness to end. A beautiful DIPA, and no doubt one of the best beers brewed in Ontario.
EDIT: this is even better on tap, with mango, tangelo, and pineapple on the nose and palate. Truly excellent stuff.
938 characters
4.22
/5
rDev
+2.7%
look: 4 | smell: 4.5 | taste: 4 | feel: 4 | overall: 4.5
On tap at Volo. Very nice appearance. Clear and dark-amber in colour with a finger of off-white head. Wicked lacing, though the retention could be improved.
This smells American! Pineapple, grapefruit, flowers, tangerine, candy malt. Tons of hops. Ridiculous smell, for a Canadian IPA.
This is one of the most American Canadian IPAs I've had. Tons of hops: pineapple, grapefruit and grass along with some wheaty cracker. There's enough malt to serve as a good base, but the hops definitely outweigh it, like many of the great American IPAs. Not balanced...in a good way! The ABV wasn't listed on the chalkboard at Volo and for some reason I didn't think to ask, just assuming it was in the area of 5%. I didn't think twice about this, going to show how well the extra ABV is covered up. There was no style listed at Volo, so I'm not quite sure what to review this as. I wouldn't say it's a double IPA; more like a strong regular IPA, somewhere in the middle of the two.
Great medium body and lightly carbonated. The feel pairs very well with the flavour.
Maybe an evening of sampling good-but-slightly-disappointing beers biased this review, but I definitely think this is an awesome IPA. Pretty much as good as any I've had. This could very well be the best Ontario-brewed beer I've tried. It really tastes like it was brewed somewhere else, not in meek little Ontario. These hops are not polite. Hopefully other Ontario brewers take Black Oak's lead.
1,460 characters

4.13
/5
rDev
+0.5%
look: 4.5 | smell: 4 | taste: 4 | feel: 4 | overall: 4.5
Pint at Chancy Smith's in London. Described on their menu as an Imperial India Pale Ale, and possibly one of the best beers brewed in Ontario. They might just be right.
Pours a golden amber with a nice, tight head and thick walls of lacing. A thin but even head retains nicely.
Aroma is nicely sweet, mildly caramel and toasty, with a nice big bouquet of grapefruit and pine. Wonderfully citrusy.
Caramel malt meets a piney grapefruit pith bitterness along with some nice grapefruit flesh flavor and a underlying steely, herbal bitterness coming out as things progress. Tastes like a poorly peeled sweet juicy mandarin with lots of pith left on. Really just a nicely balanced beer.
Mouthfeel is medium bodied with a good amount of smooth carbonation.
It's incredibly easy drinking for an eight percenter. Really, a very quaffable beer, and no surprise there; Black Oak seem to excel at making their beers moreishly drinkable.
Since the brewer hasn't defined the style I can't fault it for being a toned down version of a DIPA. Still, this is Ontario and the fact that anyone has brewed a beer of this caliber is pretty remarkable.
1,136 characters
4.37
/5
rDev
+6.3%
look: 4 | smell: 4.5 | taste: 4.5 | feel: 4.5 | overall: 4
I had the chance to sample this one on tap at rhino while waiting for my girlfriend to return from a meeting.
What came to my table was a beautiful clear dark amber beer with a very nice thick off white head to crown it.
The aroma was simply wonderful. A powerful fruity, floral hoppiness greets the nose. Aromas of blond raisins and peaches drizzled with fine honey mingle3 beautifully with a hint of malt toastiness and hope resin character.
A fine bitterness first hits the palate followed by caramel coated peaches and other fruits playing around in the mouth. Rich honey malt sweetness with a sense of infused spices perfectly plays between resinous hop flavours. The bitter sweet ballet works wonders on the tongue all backed up by a wonderful viscous full body which is marvelously smooth.
Well I think my girlfriend put it best when she sipped the beer and I quote "holy shit that really is 10 bitter years" as she scoffed, She's not much of a hop head. An excellently balanced beer with a wondrous bitter taste and aroma, a pity this is only a one off as its one of the best I've had from an Ontario brewer.
1,121 characters

4.3
/5
rDev
+4.6%
look: 4 | smell: 4 | taste: 4.5 | feel: 4 | overall: 4.5
sampled on cask at volo nov 29/09.
pours hazy orangey amber with a small off-white head. the head drops fairly fast but leaves lots of spotty lace behind.
aroma is good. big juicy citrus - tangerine, mandarin orange, bit of blood orange, bit of grapefruit. light alcohol. white bread and cracker. touch of toasty and woody character.
taste is great. again the big juicy citrus hits - mandarin orange, tangerine, blood orange, light grapefruit. bit of pine. just over medium bitterness level with a nice lingering but pleasant finish. slightly toasted white bread. bit of cracker and biscuit. touch of caramel. bit of tropical fruit in the background too - pineapple and mango mostly.
mouthfeel is great. just over medium body. silky smooth medium-low carbonation level. semi-dry finish.
drinkability is great. 8%? drinks more like 4 or 5%. great balance. nice malt presence. excellent hop character and depth. although the brewery refuses to classify this in any particular style, i'd probably call it an american imperial ipa - ontario's first commercial iipa too! i wish this was a regular offering!
1,106 characters
4
/5
rDev
-2.7%
look: 4 | smell: 4 | taste: 4 | feel: 4 | overall: 4
On cask at Volo.
Pours a hazy orange/amber, thick off white head forms, drops to a solid layer on the glass, good lacing, looks nice.
Smell is neat, big grapefruity hoppiness, some pine and floral, caramel sweetness, a bit spicy, alcohol comes through but is well hidden, more grapefruit, a bit yeasty, some toasty bite to it.
Taste is nice too, brown sugar and caramel, a bit sweet, nice grapefruit, yeasty, toast, earthy, pine, big herbal bitterness, alcohol, but still well balanced, yeastiness is throwing me off though.
Mouthfeel is medium bodied with low carbonation, goes down too easy for 8%. I've heard this is better on tap, so I'll have to check that out. It was a little muddled on cask. Still a great accomplishment for a brewer here to make a beer this in your face.
*Had this on tap a bit later and it was quite nice. Very clean compared to the cask version. Pretty drinkable stuff as well, its like an 8% session beer!
939 characters
3.78
/5
rDev
-8%
look: 4.5 | smell: 4 | taste: 3.5 | feel: 4.5 | overall: 3.5
Enjoyed on-tap at Rhino's. This beer is the rage, and a rare DIPA in the Ontario market, worth the try. Pours cloudy grapefruit with sitting pretty white crowning head, and a sheet of lace. Hop aromas. The taste is big bitter, with malting to tame it somewhat. A DIPA all the way, and alcohol is well hidden. Full mouthfeel.
Had on cask at Volo's, and the aroma came through a little stronger, the drinkability better, however the appearance and mouthfeel were not the same. Just as good, overall, on cask, which is saying a lot.
530 characters
Black Oak Ten Bitter Years from Black Oak Brewing Co.
Beer rating:
4.11
out of
5
with
190
ratings